This is a naturally sweetened version of the mint limeade drink at my favorite Mexican grill — Cafe Rio. Just send a handful of ingredients for a ride in your blender, and you'll have this refreshing drink in no time.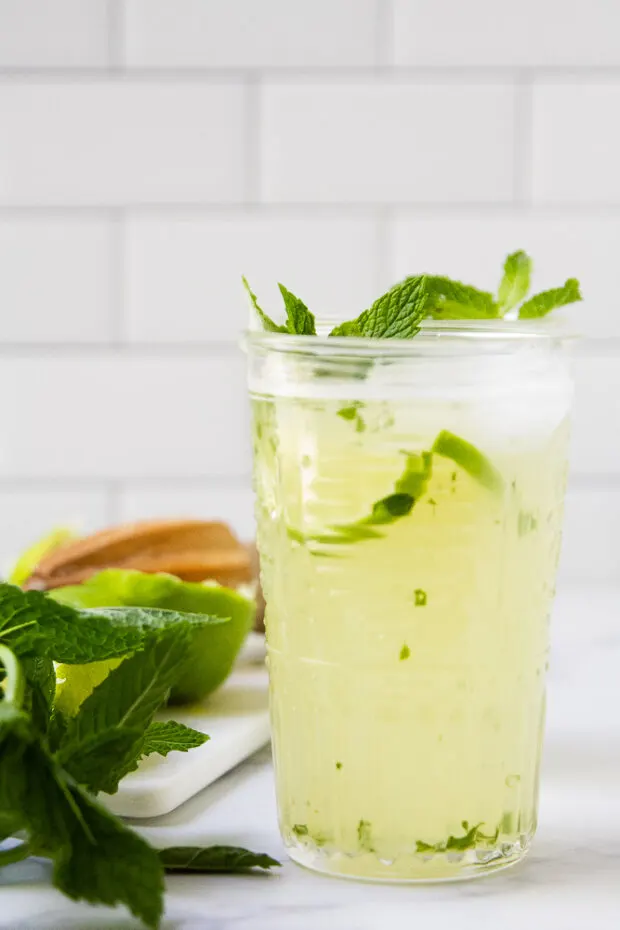 Every time I eat at Cafe Rio, I order a mint limeade. I'm not usually big on sugary drinks, but that one is worth it to me.
The thing is… it's REALLY sweet and probably has loads of sugar, which is why I wanted to recreate a naturally sweetened version at home!
Because hacking things at restaurants is one of my favorite things.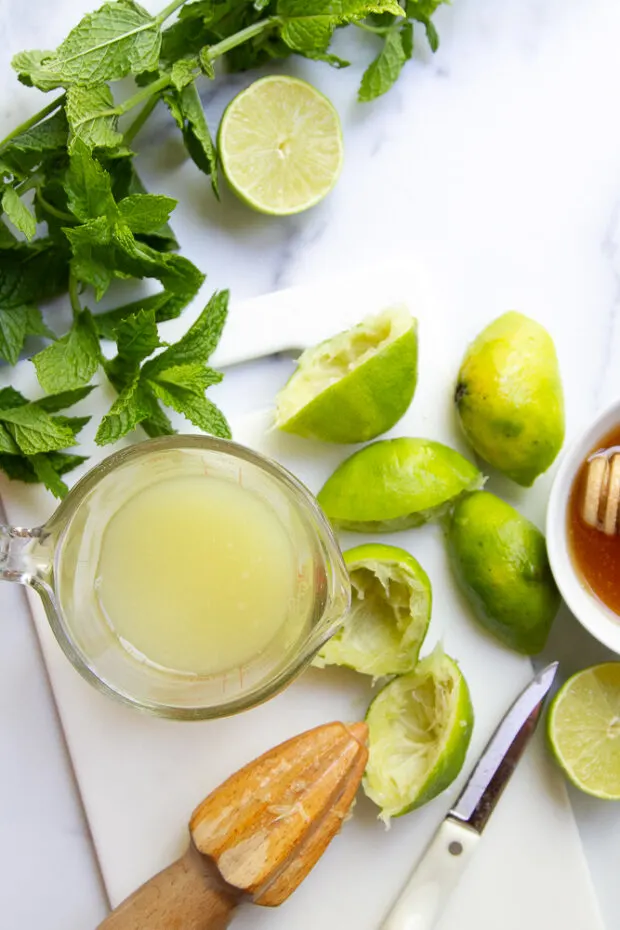 Limeade Ingredients
There are only a handful of ingredients in this recipe and it all gets buzzed up in your blender!
This one is obviously going to taste a little different than the restaurant kind because I'm using natural sweeteners.
I chose honey because I like honey + lime + mint together.
I also supplemented with a little stevia to boost the sweetness without using a lot of honey because honey can be overpowering sometimes. If you'd rather sweeten it completely with honey, go right ahead.
You can also try using a carb-free granulated sweetener or maple syrup or another natural sweetener that you prefer.
My favorite citrus juicer
I don't have an electric juicer. Just a wooden citrus reamer that I purchased because Paula Deen told me to a decade ago.
It works so well. I love it.
Here's a similar on on Amazon: Wooden Citrus Reamer.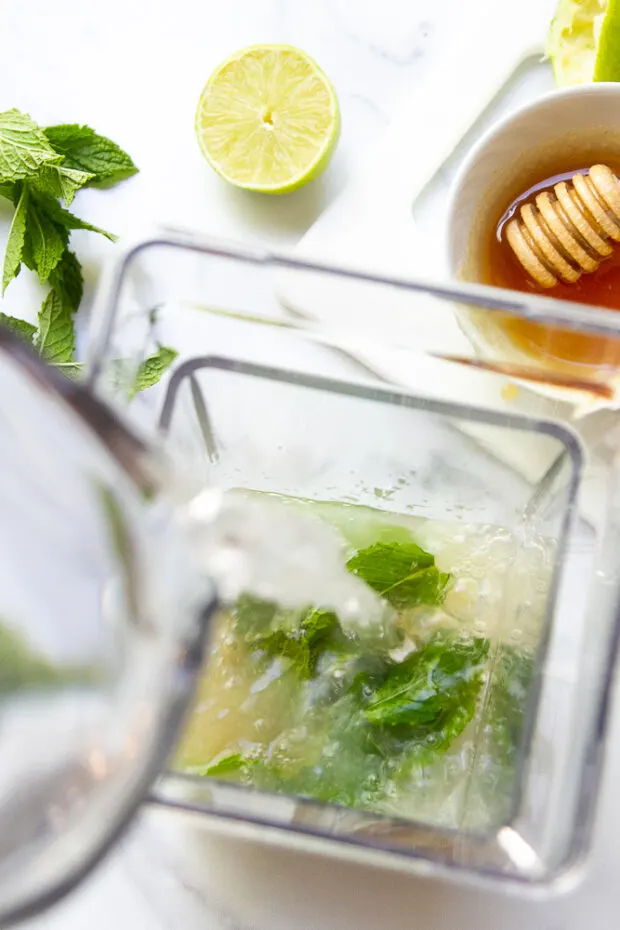 How to make Limeade in the Blender
I put "10-minute" in the recipe title for a reason. This literally comes together in minutes.
Probably less than 10-minutes, actually.
Just add the lime juice, honey, fresh mint leaves, stevia, and water in your blender and buzz it up.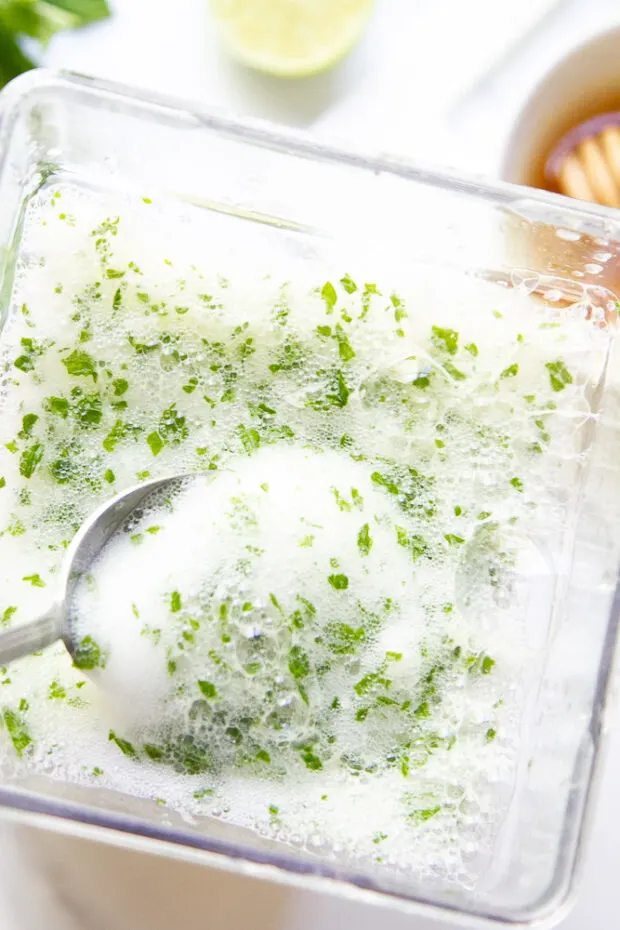 It foams up. This is normal. And you might get a little annoyed that a lot of the mint gets caught in the foam.
It'll be ok, though. Just stir the foam around to reduce it a bit .
Adjusting the Limeade to your taste
Taste it to see if it needs anything.
I like it more subtle as-is, but if you want it more tart, add more lime juice.
Or add more mint or more sweetener.
You could also add some lime zest if you want a stronger lime flavor!
Tinker with it until you get it the way you like it.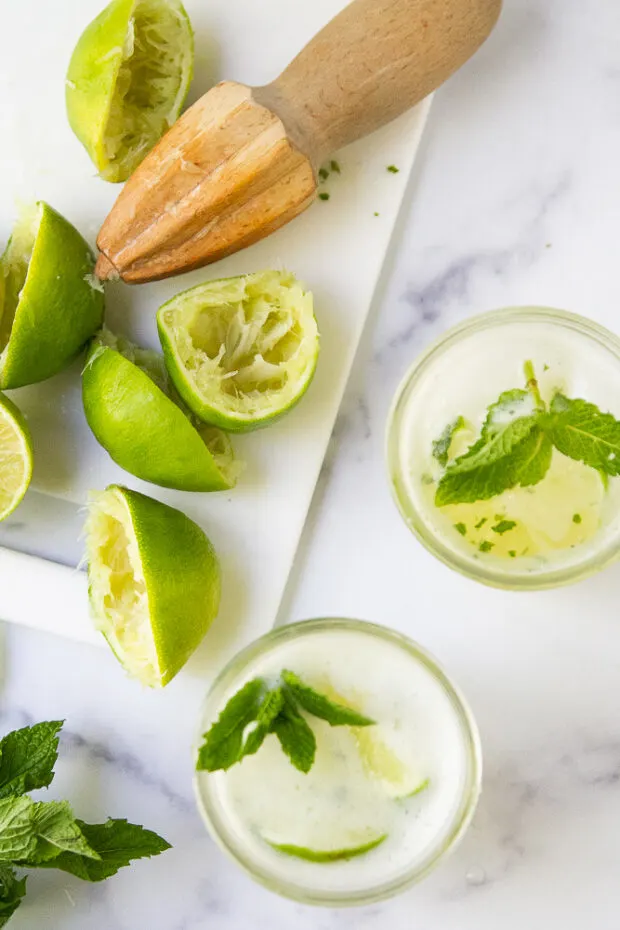 I prefer the limeade chilled, but if you can't wait for it to chill in the fridge, pour it into glasses full of ice.
Add a mine sprig and a lime slice if you're feeling fancy.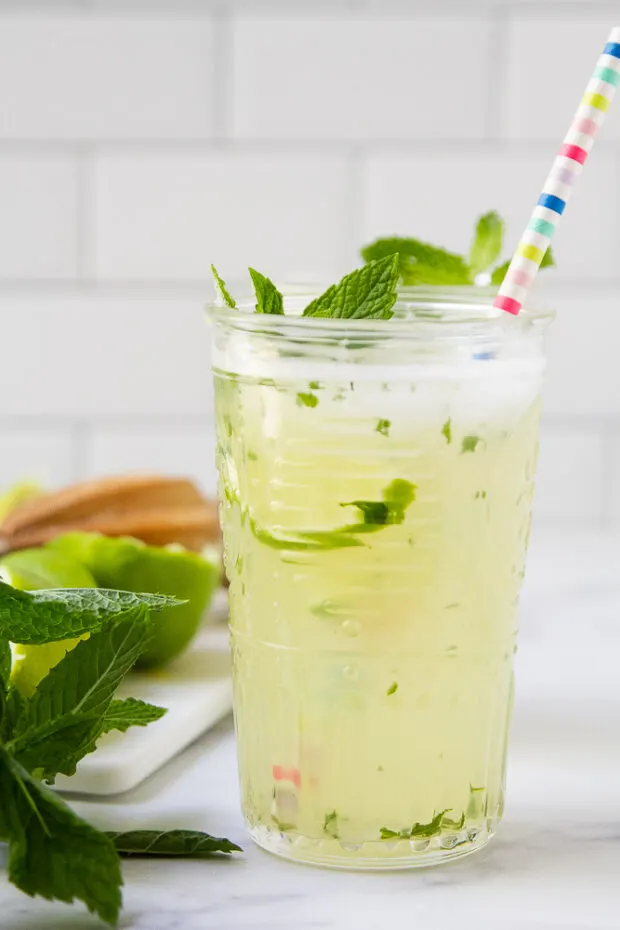 This is such an easy, refreshing little drink to make in the summertime! One pitcher makes about 4 cups, but it's so quick to make you can whip up more in no time.
If you like this recipe, try another one of my refreshing summer drink recipes!
More Easy Summer Drink Recipes on Perry's Plate
5-Minute Watermelon Lemonade is also made in the blender!
Pineapple Basil Smoothie can be made into a sorbet, too! It's a unique combination and reminds us of our trip to Mexico.
Strawberry Watermelon Smoothie with Ginger is probably my favorite fruity smoothie. I love making this in the summer.
Paleo Vanilla Bean Frappuccino is a naturally sweetened version of a drink at Starbucks! It's ice, delicious, and doesn't contain any coffee (in case you're wondering).
---
If you make one of my recipes, be sure to post it on social media and tag me at @perrysplate or #perrysplate so I can send you some love!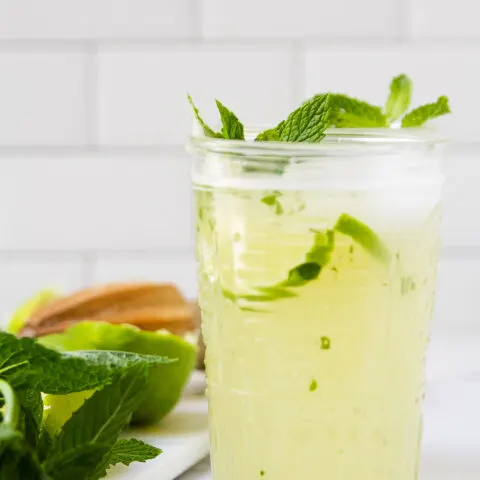 10-minute Mint Limeade (Cafe Rio Copycat)
This is a naturally sweetened version of the mint limeade drink at my favorite Mexican grill -- Cafe Rio. Just send a handful of ingredients for a ride in your blender and you'll have this refreshing drink in no time.
Ingredients
1/2 cup freshly squeezed lime juice
12 mint leaves
1/4 cup honey
1/2 teaspoon liquid stevia (see note)
4 cups cold water
Instructions
Put all of the ingredients in a blender and blend on low for 15-20 seconds until the honey is blended and the mint is minced up well.
Stir it gently with a spoon to loosen some of the foam that has accumulated on top.
Taste the limeade and add more lime or sweetener if you think it needs it.
Pour into glasses of ice and serve.
Notes
I use a combination of honey and stevia because the honey flavor might overpower the limeade if you use it to sweeten the drink completely. If you'd rather not use stevia, try more honey or a little maple syrup. You can use granulated sugar, but you'll have to stir it well in order to get it dissolved completely.
Recommended Products
As an Amazon Associate and member of other affiliate programs, I earn from qualifying purchases.