I love the Mediterranean feel of this Roasted Carrot and Chickpea Salad!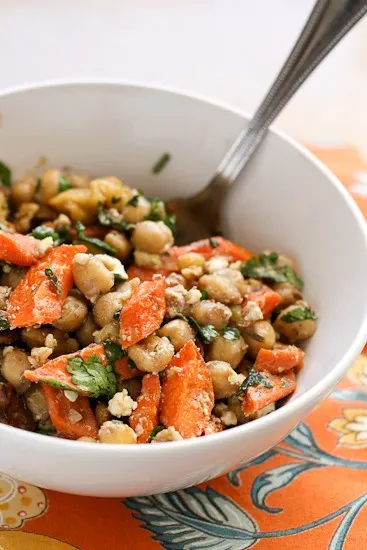 Oh, wow. This salad probably doesn't sound very exciting, does it?
But calling it "Roasted Carrot And Chickpea Salad with Feta and Walnuts and All These Fresh Herbs and This Killer Vinaigrette Holy Cow It Rocked, and I Love Carla Hall" would be a cumbersome title, dontcha think?
All those things are true, though. I have four other people to back me up on this, too. (Guests at our dinner table tend to end up as my taste-testing guinea pigs.)
It went really well with some Middle Eastern spiced chicken skewers, but it could also hold its own as a light vegetarian meal. I don't typically like cooked carrots, but they took really well to roasting (like most other vegetables do) and the spices in the dressing.
This is another fab recipe from Carla Hall's book Cooking with Love that I reviewed last fall. Love, love this book!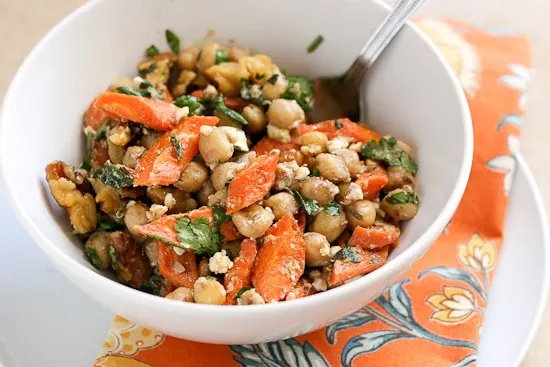 ---
If you make one of my recipes, be sure to post it on social media and tag me at @perrysplate or #perrysplate so I can send you some love!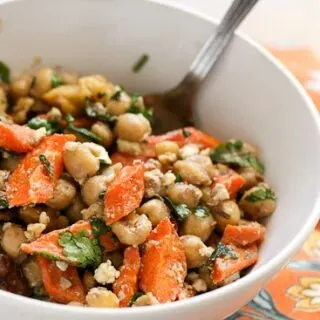 Roasted Carrot and Chickpea Salad
This is such a fun and unique take on a bean salad -- using cumin-roasted carrots and hearty mix-ins like feta and walnuts.
Ingredients
For the dressing
1 teaspoon crushed or grated garlic
1/4 teaspoon kosher salt
2 Tablespoon apple cider vinegar
1 teaspoon Dijon mustard
3/4 teaspoon cumin (or 1 teaspoon cumin seeds, toasted and crushed)
1/2 teaspoon honey
a generous pinch of cayenne pepper (or more if you like it spicy)
1/4 cup extra virgin olive oil
For the salad
2 15-ounce cans chickpeas (garbanzos), rinsed and drained
2 pounds carrots (about a dozen), peeled, cut in half lengthwise then into 1/3-inch slices at an angle
6 garlic cloves, smashed and peeled
2 teaspoons cumin seeds
2 Tablespoons heat-safe oil, like coconut or grapeseed
1 teaspoon kosher salt, plus more to taste
2 cups walnut halves
1/2 cup crumbled feta cheese
1/2 cup lightly packed chopped fresh cilantro
2 Tablespoons chopped fresh mint
Instructions
Make the dressing by whisking all of the ingredients (except the oil) in a large serving bowl, then adding the oil in a steady stream while whisking. Add the chickpeas and stir well to coat. Let it stand while you roast the carrots.
Preheat the oven to 400 degrees F.
On a large, rimmed baking sheet, toss the carrots, garlic, cumin, oil, and salt until well-coated. Spread evenly, then roast, shaking the pan occasionally, until tender and browned, about 25 minutes.
Remove the garlic cloves from the pan and chop them into small pieces. Transfer the garlic and roasted carrots to the bowl with the chickpeas. Toss until well mixed. Cool slightly, then toss in the walnuts, feta, cilantro, and mint. Season to taste with salt, if necessary. Serve warm or at room temperature.
Notes
Nat's Notes:
1. You can make the dressing ahead of time and store in a mason jar until you're ready to add the chickpeas.
2. You can toast the walnuts after you remove the carrots and garlic from the pan. Just spread them evenly and put the pan back into the oven for 5 minutes or so while you put the rest of the salad together. Let them cool for a few minutes before adding them to the salad.
This post may contain affiliate links. Any purchases made by using these links won't cost you any extra and helps keep my content free. These links may be Amazon links as I am part of the Amazon Associate Program.