The addition of ginger and garlic make this chicken soup a sickness fighter!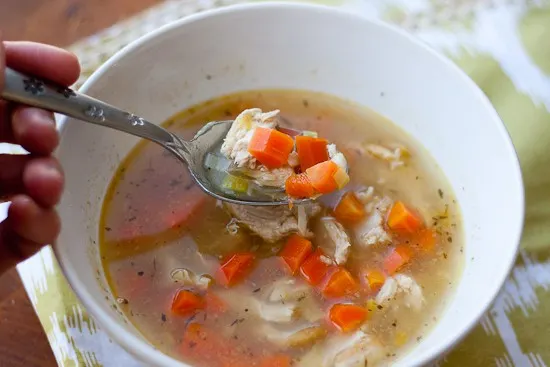 This chicken soup recipe has been updated and adapted for the Instant Pot — this post includes all kinds of variations and tips! –> The Best Instant Pot Chicken Soup
Lately it's impossible for me to keep my shirt clean for more than a couple of hours.
And that's when BabyGirl doesn't have a cold. Add snot and excessive drooling from teething, and I'm lucky if I can keep my shoulders slime-free for more than 15 minutes.
Unfortunately she wasn't the only one who had a cold last week. It made its way through all of us. Because we don't jump to the medicine cabinet for every sniffle, we went through all of our usual natural remedies (supplements, essential oils, vapo-rub, baths, smoothies, fresh air, lots of cuddling) including a couple of new ones I discovered from our Facebook chat. (Thanks, by the way!)
Recurring mentions of lemon, ginger, and garlic swirled in my little head, and since I was planning on making chicken soup for the kids, I threw those in for good measure. I also used coconut oil and homemade bone broth in the soup, both of which do your body good.
Adding ginger to the soup, I expected it to have a strong ginger flavor, but it just had more flavor in general. I made it the next day without ginger (we ran out. boo.) and I could tell a big difference. Not nearly as flavorful.
Did I mention this soup only takes about 30 minutes?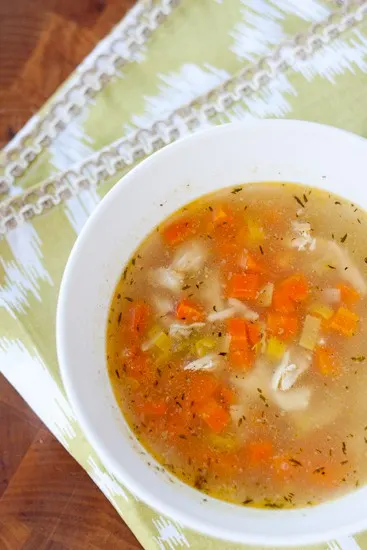 If you're looking for a vegetarian version of a warming, comforting soup, check out the Wild Rice Soup from Lindsay at Veggie Balance!
---
If you make one of my recipes, be sure to post it on social media and tag me at @perrysplate or #perrysplate so I can send you some love!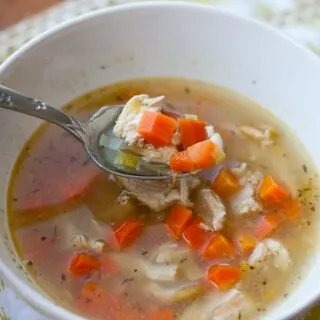 Cold Remedy Chicken Soup
This is our go-to chicken soup for winter, for colds, or for when we're in a chicken soup mood -- which happens quite often. Ginger might seem like an odd addition, but it really boosts the flavor without making the soup taste gingery.
Ingredients
1 quart chicken broth (homemade if possible!)
2 Tablespoons coconut oil
3/4-1 lb uncooked boneless, skinless chicken (a large breast or a couple of thighs)
3 large carrots, peeled and diced
1 leek, trimmed, quartered and sliced into small pieces
3 cloves garlic, peeled and minced
1-inch knob of fresh ginger, peeled and finely grated (with a Microplane if you have it)
1/2 teaspoon dried thyme
juice from 1 large lemon
Instructions
Bring the coconut oil to medium-high heat in a large pot.
When the pot is hot, add the chicken breast and brown on both sides. (It doesn't have to cook all the way through.) Transfer chicken to a plate and set aside for now.
Add the carrots, leek, garlic, ginger, and thyme to the pot. Stir often and cook until the onions begin to brown slightly. If they start sticking to the bottom of the pot, add 1/4 cup of the broth to loosen things up.
Return the chicken to the pot and add the broth. Let everything simmer for about 10-12 minutes until the chicken is cooked through.
Removed the chicken, shred or dice, and put it back into the pot. Add lemon juice and season with salt and pepper to taste. Ladle into bowls.
Notes
Nat's Notes:
1. You can use 1/3 cup minced onion in place of the leek if you like.
2. You can also add 1/4 cup of rice if you like, at the same time you add the broth.
Instant Pot Directions: Do the first 3 steps in the Instant Pot with the Saute mode. (Make sure the pot is preheated all the way before you add the chicken.) After adding the chicken & broth, switch to Manual mode on high pressure for 8-10 minutes depending on the size and thickness of your chicken breasts. Follow the rest of the directions as usual.
This post may contain affiliate links. Any purchases made by using these links won't cost you any extra and helps keep my content free. These links may be Amazon links as I am part of the Amazon Associate Program.