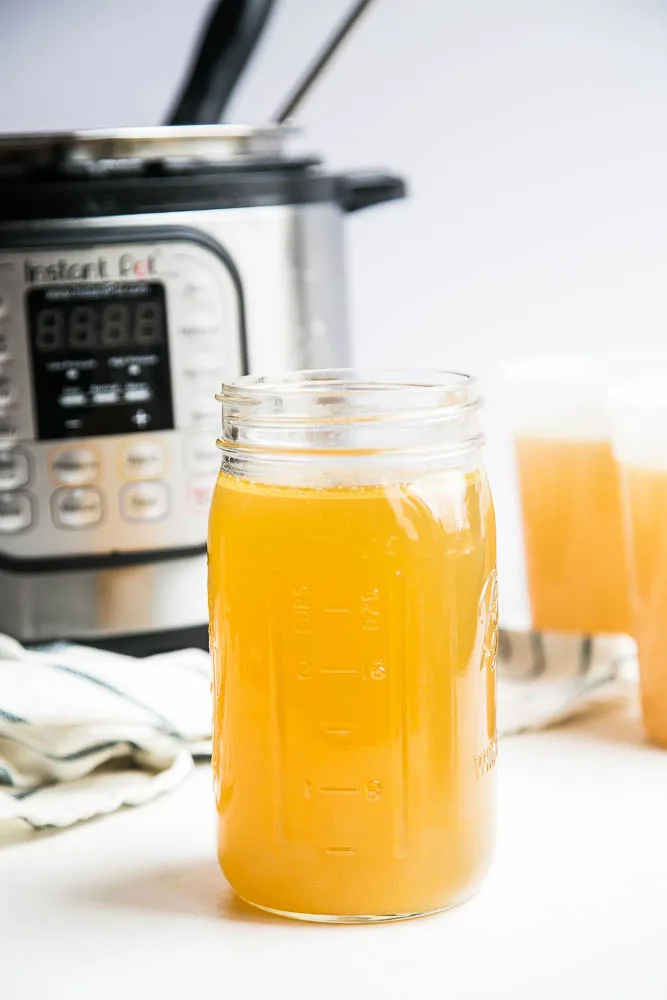 I always feel super domestic when I make homemade bone broth.
I went through a phase about 10 years ago where I made a LOT of what we ate from scratch on stove top. That was back when I "only" had 2 kids and our lives were a lot less busy and complicated.
These days I still make a few things from scratch, but I'm more choosey about how I spend my time. I do make bone broth every time I roast a chicken, but I also keep some Costco chicken broth stocked in the pantry.
I'm not fanatical about it. I'm cool with using either one, but obviously the homemade stuff is tastier. And better for you!
What's the difference between broth and stock?
The difference between broth and stock is mostly about the length of time it simmers and what's in the pot.
Stock is made from more bony parts and is simmered for a long time to release the gelatin from the bones. Broth is made from the more meaty parts and isn't simmered quite as long.
So, technically bone broth should be called "bone stock". But it isn't. Because language is weird sometimes.
What are the health benefits of bone broth?
To sum it up, collagen.
Bones and connective tissues are the only sources of type II collagen — a protein that is known for supporting smooth and vibrant skin and strengthening bones and joints. It has a whole lot of other benefits, too, including:
Supports gut & digestive health
Supports sleep
Supports skin, hair, and nails
Supports bones and joints
In this article by Louise Hay, she lists even more benefits, referencing medical studies.
In my last post I showed you my favorite, easiest way to roast a chicken. A lot of the chickens I roast end up stripped and made into chicken soup of some sort.
What are the best bones to use when making bone broth?
First off, this recipe can be used for making beef bone broth or pork bone broth.
To make homemade bone broth, you just need a couple pounds of chicken bones (or feet) or a stripped chicken carcass which usually looks like the photo above.
Using chicken feet, necks, or knuckles will give you more gelatinous broth which is higher in collagen. If you can find some well-sourced chicken bones from a local butcher, I'd highly recommend using those.
You don't HAVE to roast the bones or use leftover from a roasted chicken, but roasting gives the broth more flavor.
ALSO — If you don't want to make broth from a roasted chicken carcass right away, put it in a freezer bag and freeze it until you're ready to make the broth.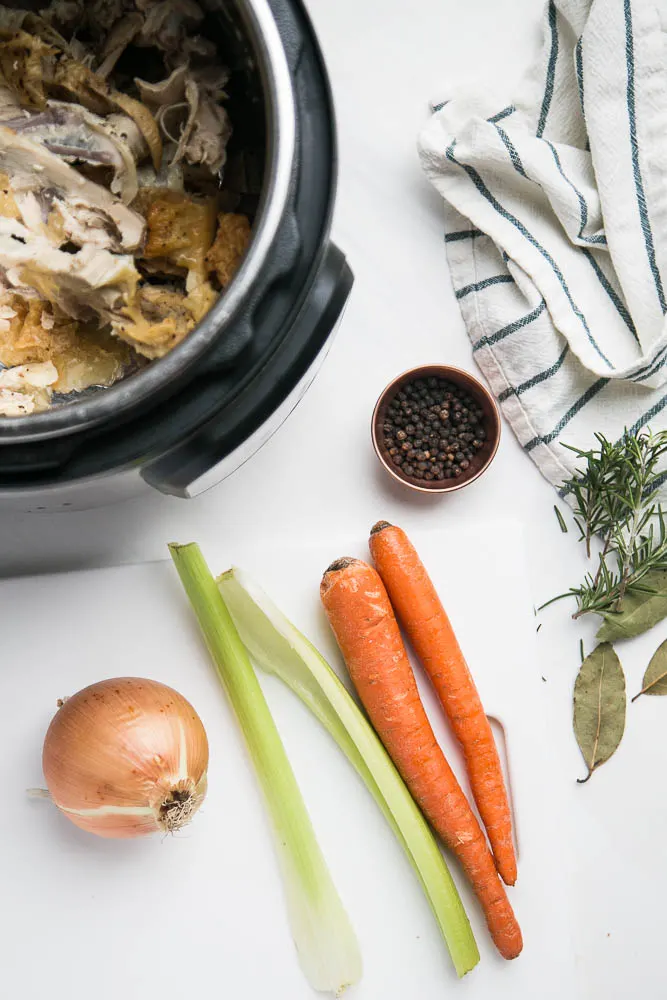 What do you need to make bone broth?
These are the basics that go into making bone broth or chicken stock. I always use onion, carrots, celery, peppercorns, a few bay leaves and either some fresh or dried rosemary or thyme. And a couple tablespoons of apple cider vinegar. (More on that later.)
You could use other types of vegetables or vegetable scraps like bell pepper tops or leek trimmings. I wouldn't add anything bitter or pungent — like kale stems or garlic (unless you add just a clove — it's overpowering otherwise).
Like the bones, you can keep a stash of celery, carrot, and onion scraps in the freezer and pull them out when you want to make some broth.
Usually I forget to save mine, so I end up using fresh vegetables, but I don't mind. Onion, carrot, and celery are cheap and it's still way less expensive than buying high-quality bone broth at the grocery store for $6/quart.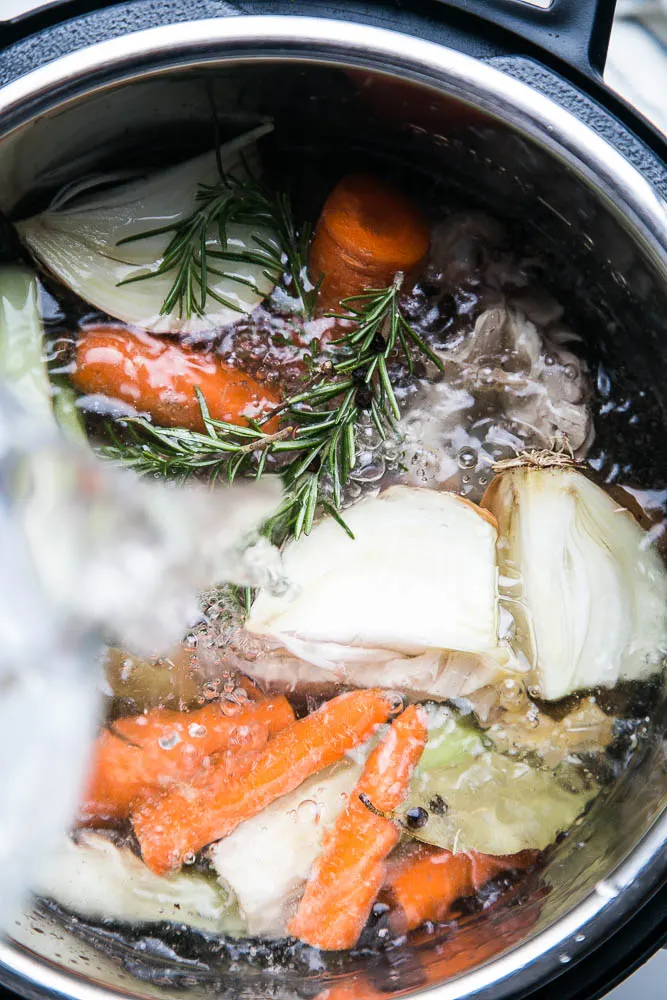 Making bone broth seems intimidating, but it's crazy easy — especially in an Instant Pot.
It literally takes me 5 minutes to toss all of these things into a pot and fill it with water.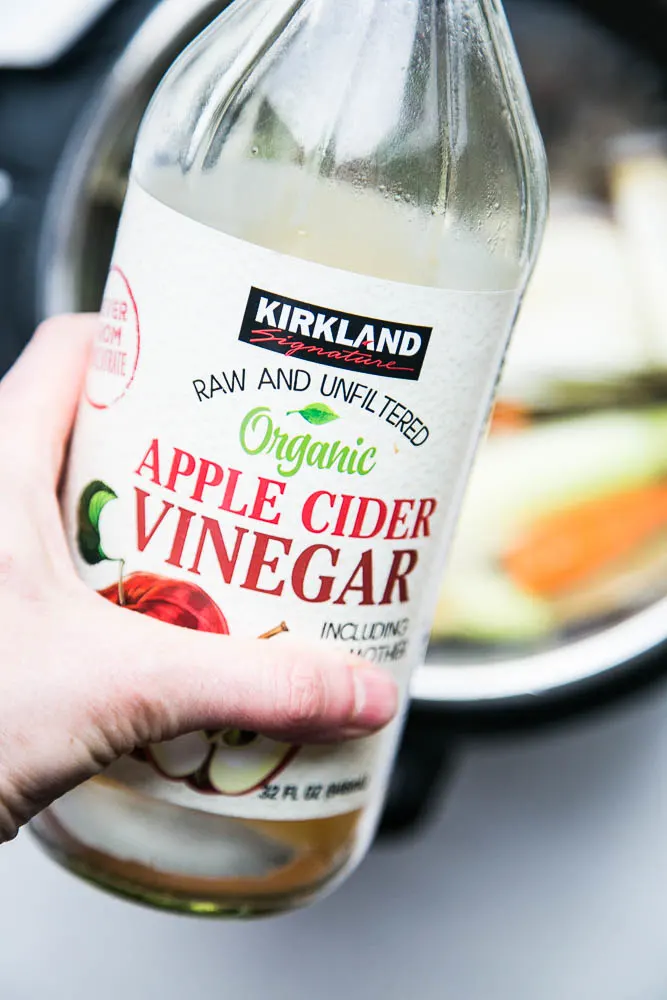 I also add a couple tablespoons of apple cider vinegar. This helps the bones to release their minerals and nutrition more quickly so more of it ends up in the broth. I don't notice a flavor difference, either.
How long do you cook bone broth in the Instant Pot? High or low pressure?
When you make bone broth on the stove it's recommended to let it simmer at least 18-24 hours to get the maximum nutritional benefit from the bones.
Instant Pots have made homemade bone broth SO much easier. Not only can you have broth ready to go in 2-3 hours, it won't make your entire house smell like a soup kitchen.
Whether or not you cook on high or low pressure is up to you. Low pressure cycles need more time to extract the nutrients from the bones, and some would argue that you actually get more nutrients with low pressure cycles.
For high pressure, set your Instant Pot for 120 minutes.
For low pressure, set your Instant Pot for 180 minutes.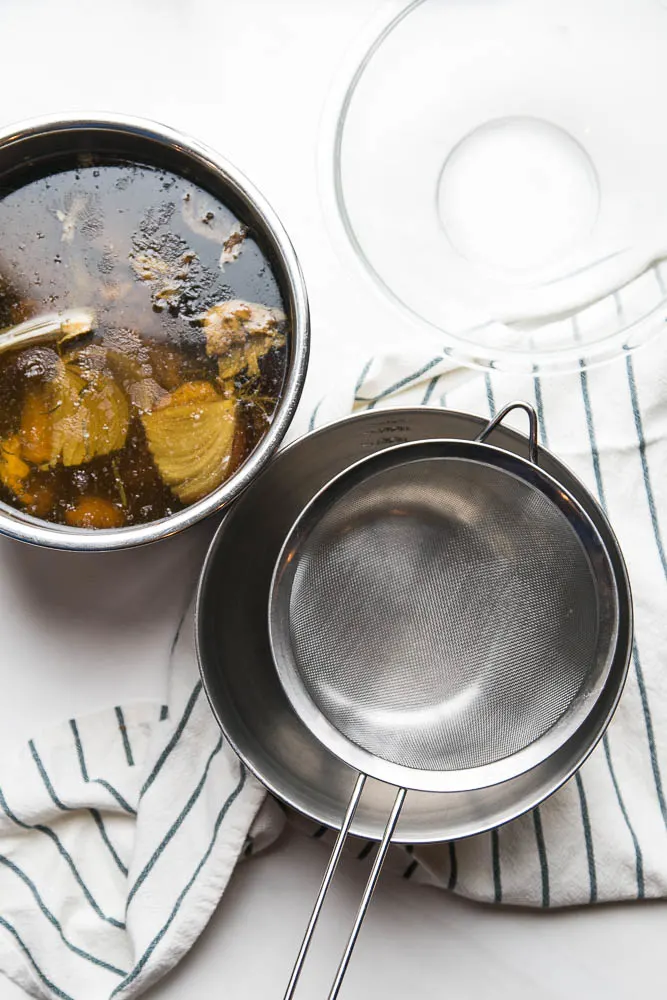 How do you strain bone broth easily?
The first time I strained a big stock pot of broth I made a huge mess, and I wondered if it was even worth it.
The next time I was more organized and now, after doing this dozens and dozens of times, it literally takes me 10 minutes to strain off the broth and divide it into containers.
Here's what I do:
Take the insert pot out of the Instant Pot — you don't want to spill it all over your cooker and end up washing that, too.
Grab your tools:

a strong ladle
a bowl big enough to hold the broth
a bowl for garbage
a kitchen towel (I still drip sometimes.)
a fine mesh strainer (I have this set of three strainers and I use them ALL the time)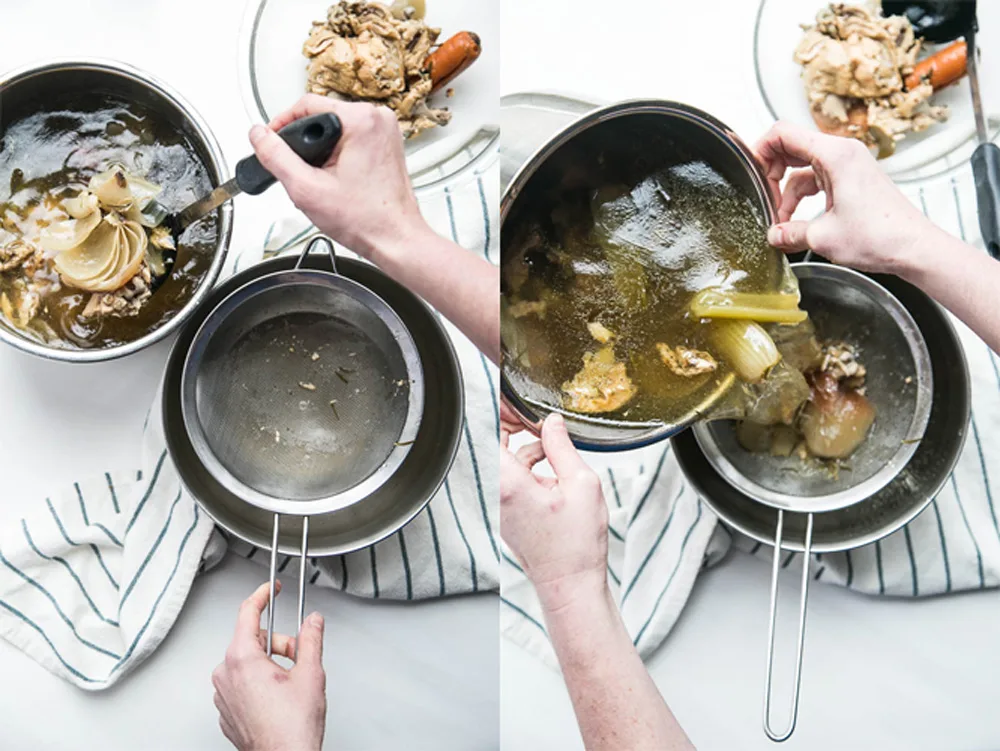 Nestle the strainer in the large broth bowl. Pull out the large pieces of bone and vegetable with the ladle and set them in the strainer to allow any broth to drip off. Transfer it to the garbage bowl. Repeat until most of the large pieces are fished out.
Pour the rest of the broth directly into the strainer, catching any bits left in the broth.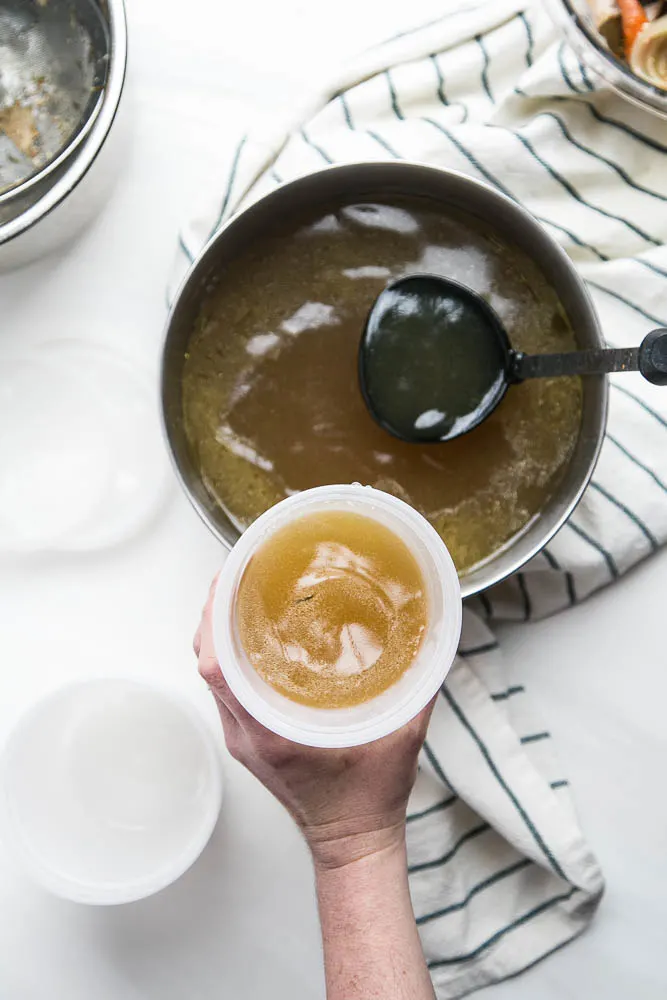 How to freeze bone broth?
Now, you'll choose how you want to store the broth. If I'm going to use it in the next few days I'll just cover the bowl and put the whole thing in the fridge once it cools off.
If I plan to freeze it, I use these BPA-free freezer-safe deli containers. I bought them a few years ago when I was working on my cookbooks because I had so much food leftover and needed to freeze a lot of it. They're sturdy and dishwasher safe, too.
If you're 100% against freezing things in plastic, you can use glass canning jars. Just be sure to leave an inch or so of open space at the top so they don't crack.
And when you pull one out to thaw it, don't stick it into a sink full of hot water. (I feel like you already know this, but you never know, right?)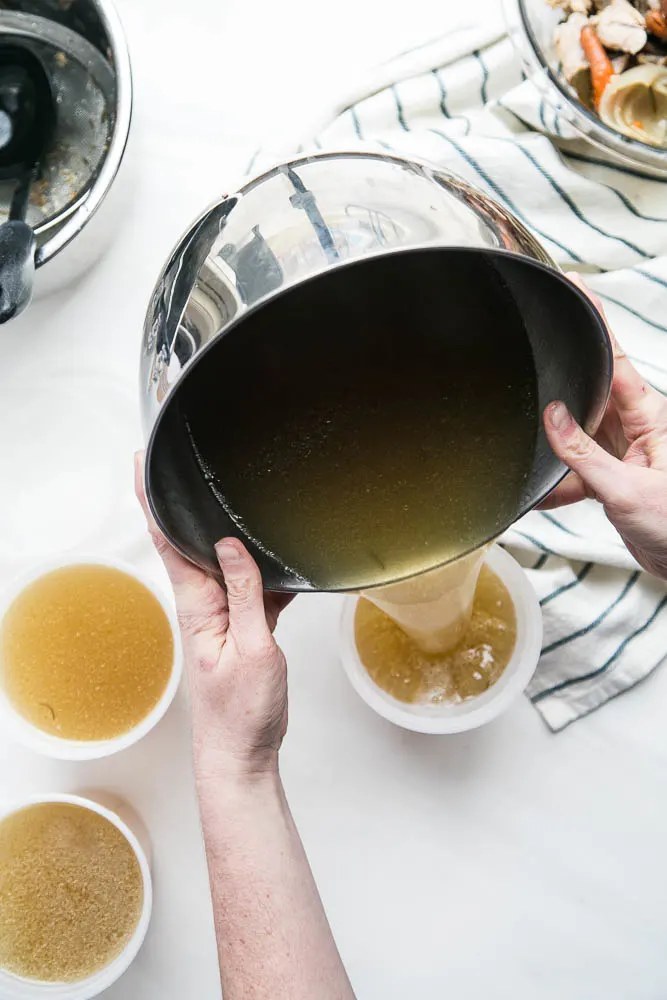 I've heard of people freezing broth flat in freezer-safe zip-top bags.
Yes, they thaw much faster than using containers or jars, but 95% of the time they leak when they thaw out. I've had this happen so many times that I don't do it anymore.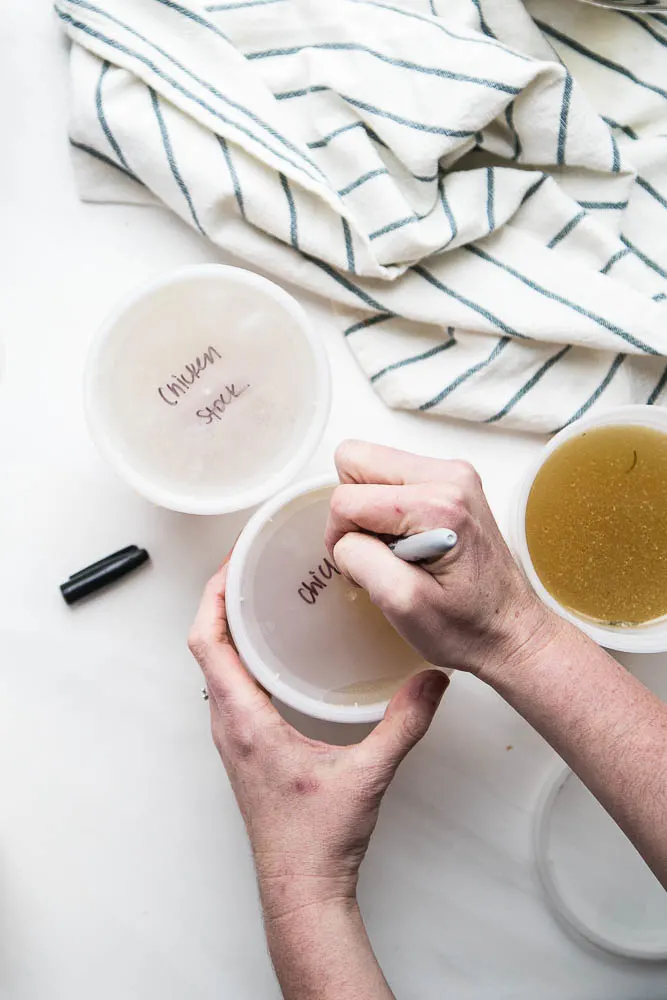 To label my containers, I usually put a piece of masking tape and use that as a label to write on with a Sharpie.
This time the roll of masking tape I had just bought to replace the one my kids had lost… was lost. #kidsman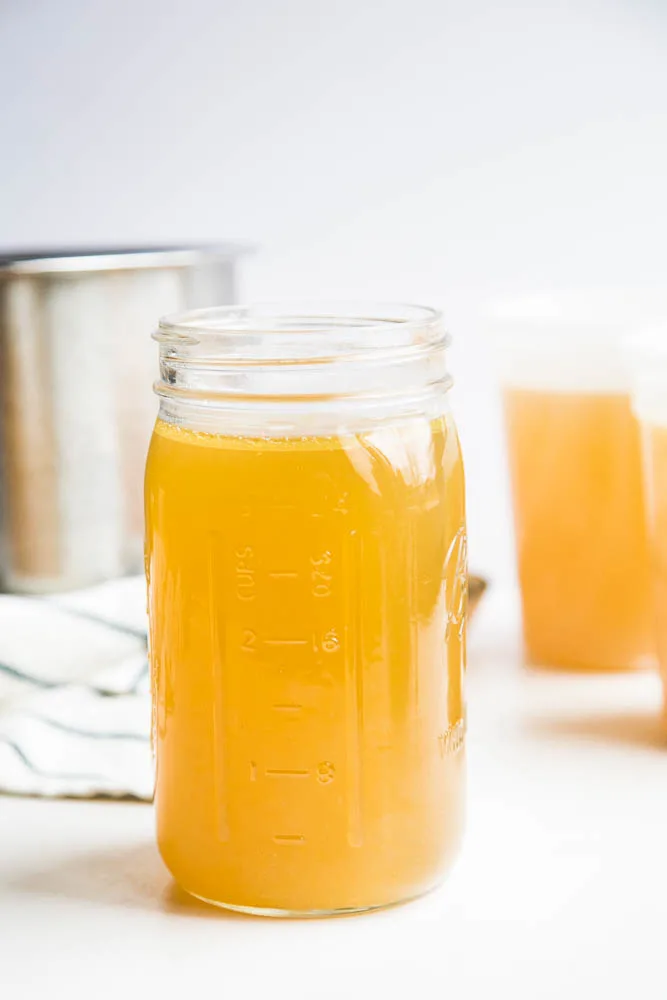 Can you use the same method for beef bone broth?
YES.
Actually, I don't change anything about this when I make beef broth. I should roast my beef bones first, but most of the time I don't. :)
I add the same aromatics & herbs for beef broth, too. Literally no difference when I make chicken bone broth vs been bone broth.
Do You Need to Salt Bone Broth?
Technically no, but it doesn't taste that great without salt.
I intentionally do not salt my broth when I make it so I can control the salt content in the recipes where I use the broth.
If I'm drinking it alone, then YES I add some sea salt or Himalayan pink salt.
---
And that's it! Do you have any other questions? Drop me a comment!
Homemade bone broth (or chicken stock, or whatever you want to call it) is one of my favorite pantry staples to keep on hand. I also love that I'm getting so much more out of the organic whole chickens I roast!
Use this chicken broth to make The Best Instant Pot Chicken Soup!
---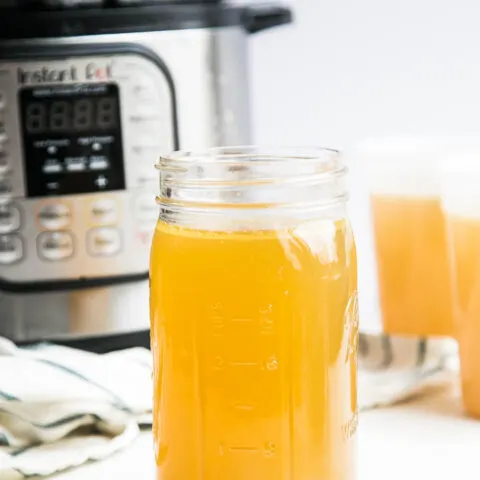 Instant Pot Chicken Bone Broth
Cook Time:
2 hours
30 minutes
An Instant Pot makes it SO easy to make nutritious, collagen-rich bone broth in a fraction of the time!