My kids love this hearty sweet potato and bacon breakfast hash!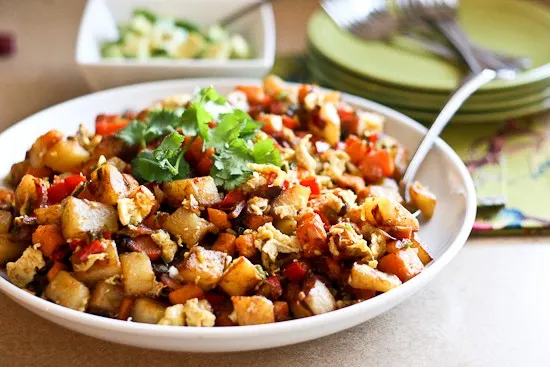 Oh, the ideas my husband has.
"Let's eat our freeze-dried food storage, only drink the water we've saved in bottles in the back of the cabinet, and not use electricity. For a week."
Then he waves good-bye as he heads to work, where they are not currently practicing for an emergency.
OK, I'll back up before I tell you about this Sweet Potato and Bacon Breakfast Hash.
Our church is big on food storage. We've been encouraged (for the past, um, 50 years) to have long-term food and water storage as well as emergency packs in case there's some reason we lose access to clean food and water or need to leave our homes. With all of the natural disasters and state of the economy, it's smart to have a plan B. It really is.
Sometimes wards (congregations) will ask for volunteers to live on their storage and use as few outside resources as possible for a week to gauge how prepared they would be in an actual emergency.
That's when my husband raised his hand.
I wasn't in the room. Or else I may have tackled him to the ground.
A few people are going all-out, camping in their backyard and giving up indoor plumbing to get the full experience. I'm not one of those people.
Eat freeze-dried food for a week? OK, but only if I can NOT let all of the produce in my fridge rot. I'm totally eating that, too.
Quit using electricity? Lights are easy. Major appliances aren't too hard, either. (No, we didn't unplug the fridge. Are you nuts?) And an excuse to use my grill for every meal? OK, FINE. It does have a burner on the side, which has saved my sanity.
No Internet? Um… I do have deadlines this week. And I haven't posted an actual recipe since last Tuesday. Limited Internet is OK.
No phone? If you can get it out of my death-gripped hands. In my defense, I actually deleted my Facebook, Twitter, and Pinterest apps. See? I am trying.
I'll give you a report when we're finished. After I curl my hair and make a few smoothies, that is.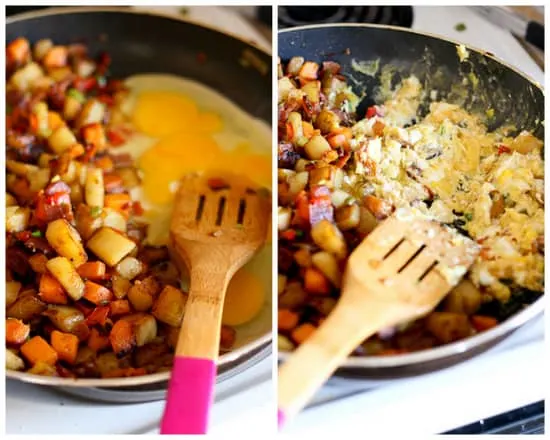 So while we're practicing for the zombie apocalypse, here's a hash. It's another one of those flexible recipes that I throw together, and it ends up being a little different every time, depending on what I have on hand. There are a few tips I wanted to share, too…
1. I don't usually go around praising nonstick cookware, but I'd rather have a hot poker in my eye than clean up an egg-potato mess in my cast iron skillet. (I haven't quite mastered the seasoning ritual yet. I don't trust it for some things.) Occasionally I do use a nonstick skillet. This is one of those times.
2. Don't throw everything into the pan at once. Just don't. Good hashes with lots of browned, crispy spots take some patience. It's worth it.
3. Make more than you think you'll need. We never have leftovers. Ever. No matter how hard I try.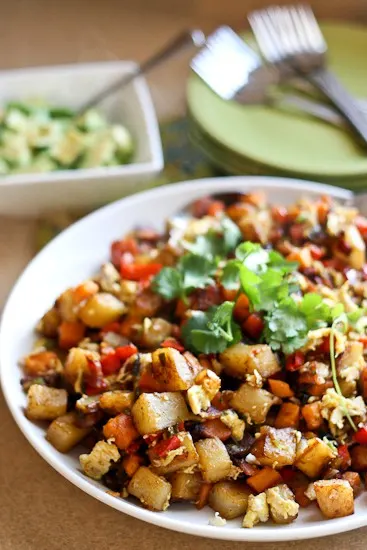 Don't want to use white potatoes? Use all sweet potatoes. Cubed squash is good, too.
I also found this recipe for Egg and Hashbrown Casserole from Vegetarian Mama if you're more into a hashbrown bake than a skillet hash. Honestly, I could eat loads of both — with lots of hot sauce and guac.
Now excuse me while I run out to the grill. My 4-year-old's breakfast needs a reheat.
---
If you make one of my recipes, be sure to post it on social media and tag me at @perrysplate or #perrysplate so I can send you some love!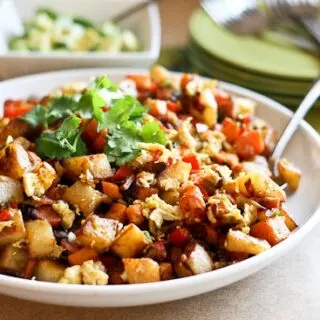 Sweet Potato and Bacon Breakfast Hash
This is the hash to end all hashes. It checks all of hash requirements: white potatoes, sweet potatoes, bacon, a little heat, and a touch of creaminess.
Ingredients
4 slices of uncooked bacon, halved
2 shallots, peeled and sliced thinly (or 1/2 cup diced yellow onion)
3 medium potatoes (sweet, Russet, red, Yukon)
Salt and pepper
1/2 teaspoon ground cumin
1 red bell pepper, diced
1 jalapeno, seeded and diced
2 green onions, sliced thinly
4 eggs
fresh cilantro, for garnish (optional)
diced avocado and hot sauce, for serving
Instructions
Heat a skillet (something that won't stick, either a well-seasoned cast-iron or a nonstick skillet), over medium heat and cook bacon until it's crispy. Remove bacon from the pan, chop it and set it aside (leave the grease).
Add the shallots to the pan and cook for 1-2 minutes until they begin to soften. Add the potatoes, a few generous pinches of salt and pepper, and the cumin. Cook for 5-7 minutes or until the potatoes begin to soften and turn golden in spots.
Add the bell pepper and jalapeno and cook until all of the vegetables are cooked through and are dark brown in spots.
Cover and reduce heat if things are getting too dark too fast.
Slide all of the vegetables to one side of the pan and crack the eggs into the other. Move the pan so the eggs are over the burner; stir gently while they scramble.
When they are no longer liquid, but not quite cooked through (see photo in post), mix them with the vegetables. Stir in the bacon and green onions.
Tasted and adjust salt and pepper to taste. Top with chopped fresh cilantro, if desired, before serving. Serve with diced avocado and hot sauce.
This post may contain affiliate links. Any purchases made by using these links won't cost you any extra and helps keep my content free. These links may be Amazon links as I am part of the Amazon Associate Program.