This Thai Coconut Curry Soup tastes like restaurant-quality and made paleo by using spaghetti squash!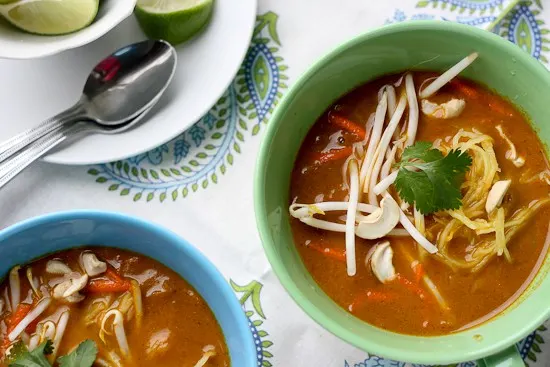 There are a few things I was up to last month that I didn't tell you about. No, I wasn't trying to be secretive, I just um… forgot to tell you.
(This Thai Coconut Curry soup isn't one of them. I teased you on Instagram and Facebook a couple of weeks ago, remember?)
1. Steve and I were sugar and grain free for about 99% of March. While it was intended to be a detox of sorts, it was one of the reasons I felt I was ready to go about 80-90% paleo, like I said in my announcement post recently. I've done months like this before and to be honest, it hasn't been that difficult. Plus I feel great. (And I've lost a few pounds, too, but that wasn't my goal.)
2. To make last month even more "exciting" I decided to start training for a 5K with some good friends. (Who I talked into going sugar free with me. I hope we're still good friends.)
It's a color run. In June. To prepare, I use a Couch to 5K app on my phone.
This sounds all fine and dandy to most of you I imagine, but if you know me in real life, you might know that I don't enjoy running.
Or exercising.
Or getting sweaty.
Or over-exerting myself.
Or wearing shoes with laces.
Basically I find every excuse in the world not to work out. I have a handle on healthy eating, but exercising regularly is something I've always struggled with. I wish I was the type of person (like Jessica) who freakin LOVES to work out. But I'm not.
That being said, the Couch to 5K program isn't bad. Even for a pansy like me.
Finding healthy things to eat like this incredibly rich and flavorful soup makes running easier, too. Seriously, have you noticed when you eat healthy, exercise seems a tad bit easier? I noticed a while back when I took a yoga class. When I was eating right, my balance was much better. If I went to class after eating pizza or something, I was teetering all over the place.
And sometimes fell flat on my backside. Which is what I anticipate doing in June during the run. (Just thinking ahead…)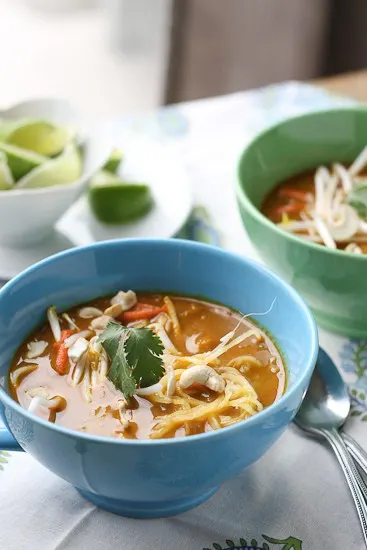 If Thai isn't your thing, but you want some ethnic Asian flavors, try the Pho Soup over at Veggie Balance — she makes it in a mason jar!
---
If you make one of my recipes, be sure to post it on social media and tag me at @perrysplate or #perrysplate so I can send you some love!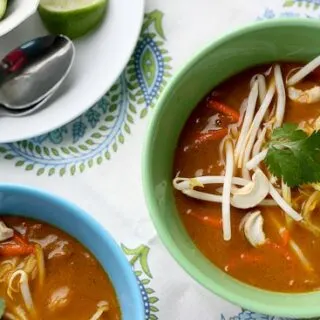 Thai Coconut Curry Soup (Chicken Khao Soi)
Total Time:
1 hour
15 minutes
Using spaghetti squash "noodles" adds sweetness and makes it a great paleo soup!
Ingredients
For the curry paste
4 large dried New Mexico or guajillo chiles
2 medium shallots, halved
8 garlic cloves, peeled
1 2-inch piece of fresh ginger, peeled, and sliced
1/4 cup chopped fresh cilantro
1 Tablespoon ground coriander
1 Tablespoon ground tumeric
1 teaspoon curry powder
For the soup
1/2 spaghetti squash, seeds scraped out of the middle
2 Tablespoons coconut oil
2 14-ounce cans unsweetened coconut milk (or equivalent of homemade)
2 cups low-sodium chicken broth (plus 1-2 cups more, if needed)
1 1/2 pound skinless, boneless chicken thighs or breasts, halved lengthwise (to make two thin cutlets)
3 Tablespoons fish sauce
1 Tablespoon raw honey
sea salt
Garnishes
bean sprouts
fresh cilantro
lime wedges
shredded carrots
cashews
Instructions
Preheat the oven to 400 degrees F.
Place the squash, cut-side down in a baking pan. Add some water to cover the bottom of the pan. (Alternately you can place a whole, uncut squash on a rimmed baking sheet and save the other half of the squash for something later on.)
Bake for 25-40 minutes, or until the outside of the squash pierces easily with a butter knife and the inside is tender. Cooking time varies wildly depending on the size of your squash. (Increase baking time if you're cooking the squash whole.)
Meanwhile, make the curry paste. Place the dried chiles in a bowl and cover with boiling water. Let them sit for 25-30 minutes or until softened.
Drain chiles, reserving the soaking liquid. Discard stems and seeds. Place chiles in the bowl of a food processor or in your blender. Puree chiles as well as the remainder of the paste ingredients, adding 2 Tablespoons of soaking liquid (or more more, if necessary), until everything is smooth.
Heat oil in a large, heavy pot over medium heat. Add all of the paste to the pot. (Yes, it's a lot of paste. I kind of freaked out the first time, but it ended up being alright in the end!) Stir paste constantly, until slightly darkened, about 4-6 minutes.
Add coconut milk and broth. Bring to a boil, then add the chicken to the pot. Reduce heat and simmer for 25-30 minutes until chicken is cooked through and tender.
Transfer chicken to a plate. Let it cool slighty, the shred or chop the meat.
Your squash should be ready by now. Remove seeds (if you baked it whole), then scrape out the "noodles" with a fork.
Add desired amount of squash to the pot of soup along with the shredded chicken, fish sauce, and honey.
Season with salt and taste, adjusting seasonings or honey if necessary. If the soup tastes too strong or too spicy, add more chicken broth to tone it down.
Divide soup among bowls and serve with garnishes.
Notes
Nat's Note: Once the paste is made, this soup comes together quickly and easily. You could do the paste a day or two ahead of time or even freeze it. If you don't want to make your own paste, you could use prepared red curry paste. The recipe above makes about 1 1/2 cups of paste.
This post may contain affiliate links. Any purchases made by using these links won't cost you any extra and helps keep my content free. These links may be Amazon links as I am part of the Amazon Associate Program.