This grilled lemon chicken is a household staple. It goes with everything and is to easy to make!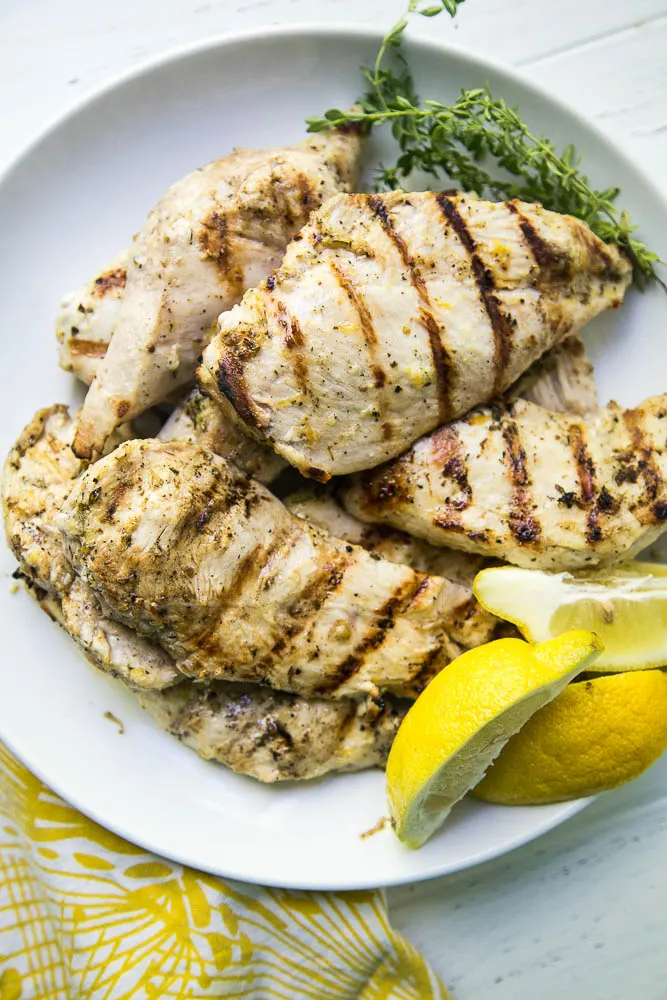 I've made two ginormous batches of this grilled lemon chicken in the past couple of weeks (for company and for a smallish catering job), and I think it will be a staple this summer.
Everyone has LOVED it. And any excuse to grill, right?
So, boneless, skinless chicken breasts aren't the most exciting thing ever. They can very easily turn into dry, chewy, tasteless pieces of BLECH. You've experienced this, yes?
Not this chicken.
This chicken turns out so moist, tender, and flavorful, it blows me away. Lots of lemon, herbs, and garlic make for a very happy piece of chicken.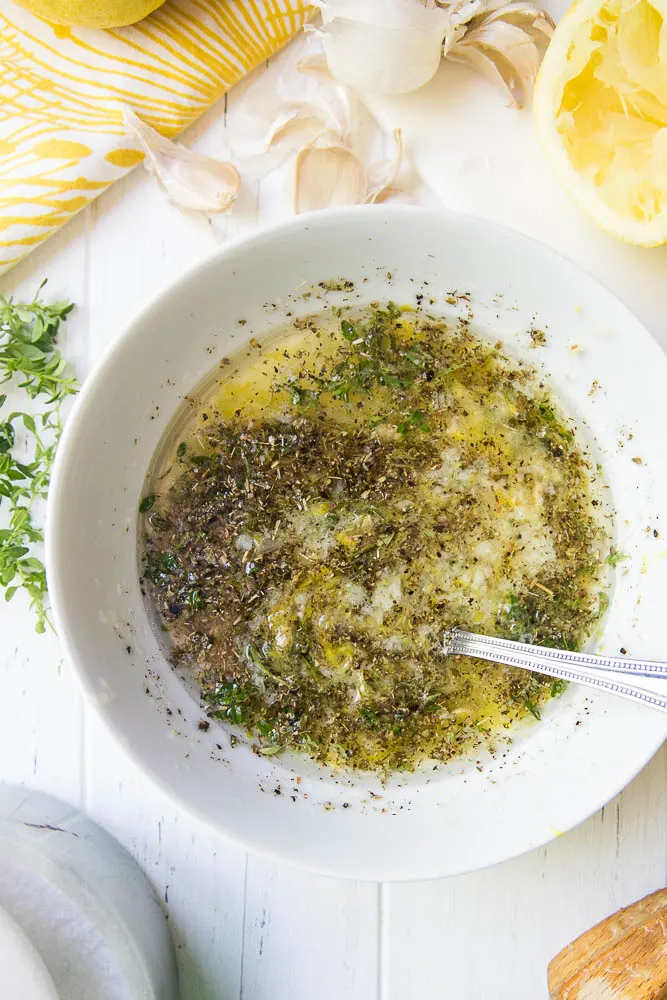 And you can actually taste the lemon flavor — unlike a lot of "lemon" marinades I've tried which don't really taste like lemon at all when you're finished. That's not an issue here. With the zest AND juice of TWO lemons — there's no lack of lemon flavor here.
It's easy, too. Just throw it in the marinade and then throw it on the grill. And because the marinade is strong, you don't need to marinade it overnight in order to get big flavor — 3-4 hours ought to do.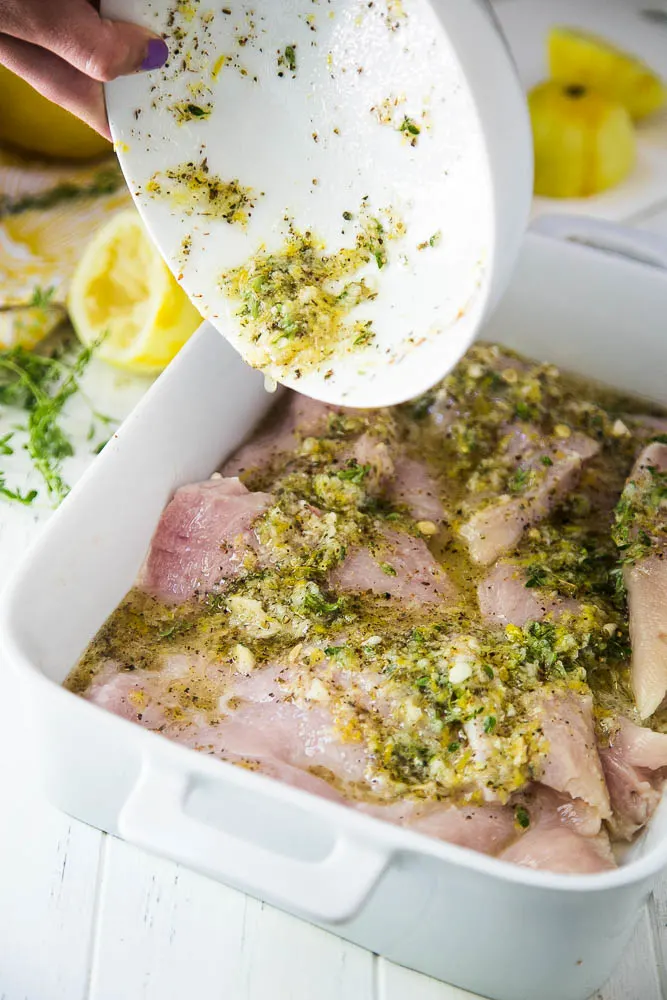 One little tip though… butterfly your chicken breasts. If you've never done that, it's like cutting the breast open like a book, so you have two thinner halves. It helps if the chicken is partially frozen and you have a good, sharp knife.
Why do this? The marinade gets into more of the meat since the pieces are thinner. It also cooks faster for that same reason. Unless the breasts are thin to begin with, I ALWAYS butterfly my chicken before I grill it. Totally worth the extra few minutes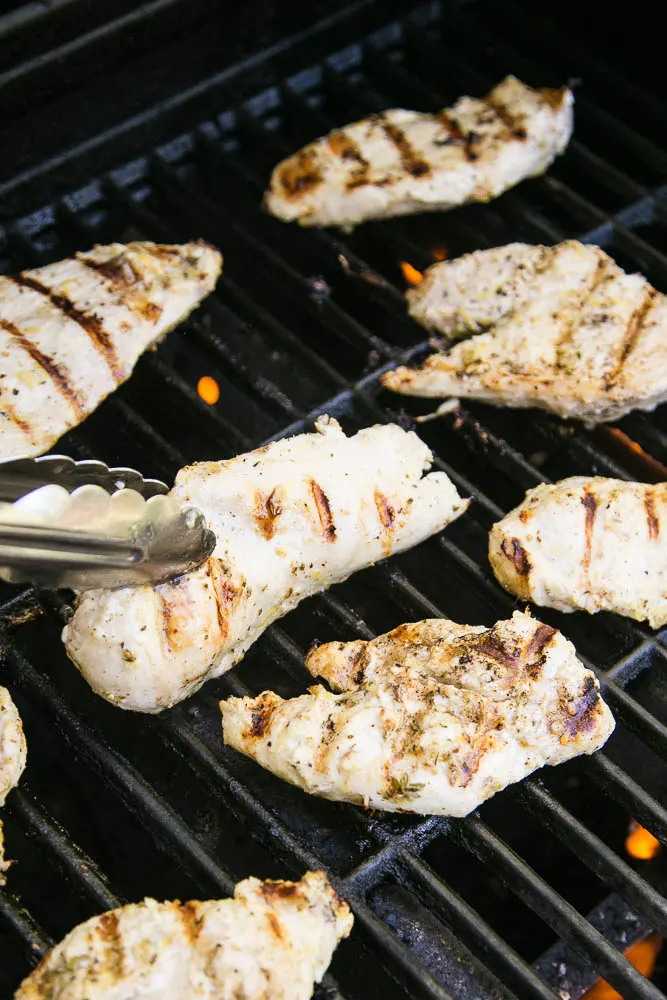 Seriously, try this. If it helps sweeten the deal, know that it was adapted from a recipe from Ina Garten. She knows her stuff.
P.S. You can totally grill chicken thighs or bone-in, skin-on with this marinade. Bone-in chicken always takes longer to cook, but it's well worth the wait and it's less prone to drying out.
This chicken goes with just about everything. Pair it with any grilled vegetables or salads. One time I threw the slices of cold, leftover chicken in a skillet with some salsa verde and it made a tasty taco filling.
If you like this recipe, head over to my Best Grilled Chicken Recipes post where I highlight all of my favorite grilled chicken recipes in one place!SaveSave
---
If you make one of my recipes, be sure to post it on social media and tag me at @perrysplate or #perrysplate so I can send you some love!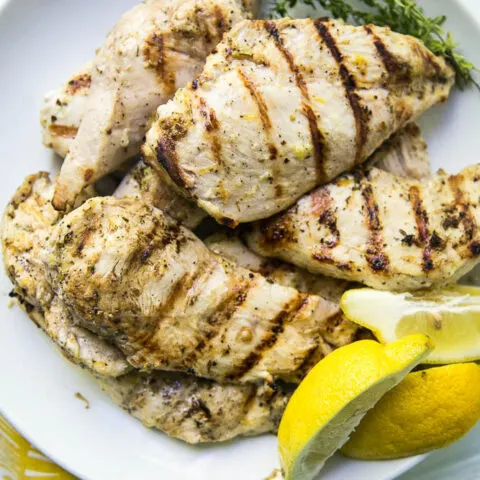 The Best Grilled Lemon Chicken
Ingredients
1/4 cup avocado or melted coconut oil
3 Tablespoons minced garlic (about 9 cloves)
1 Tablespoon grated lemon zest (about 2 lemons)
1/3 cup freshly squeezed lemon juice (from the 2 lemons, doesn't have to be exact)
1 1/2 teaspoons dried oregano
1/2 teaspoon dried thyme (or 1 1/2 teaspoons fresh thyme leaves, removed from stems)
1 teaspoon sea salt
1/2 teaspoon freshly ground black pepper
4 boneless, skinless chicken breasts (butterflying recommended)
Instructions
Combine oil, garlic, lemon zest and juice, herbs, salt, and pepper in a large bowl or zip-top plastic bag.
Add chicken and squish the bag around to evenly coat the chicken.
Let it marinade, chilled, for at least 2 hours, or up to 24 hours.
Preheat BBQ grill to medium-high heat. Grill chicken, flipping once, for about 10 minutes or until juices run clear and chicken is cooked through.
Let it rest for about 5 minutes or so before slicing.
This post may contain affiliate links. Any purchases made by using these links won't cost you any extra and helps keep my content free. These links may be Amazon links as I am part of the Amazon Associate Program.