Even non-paleos don't know they're eating paleo chocolate ice cream! Everyone loves it!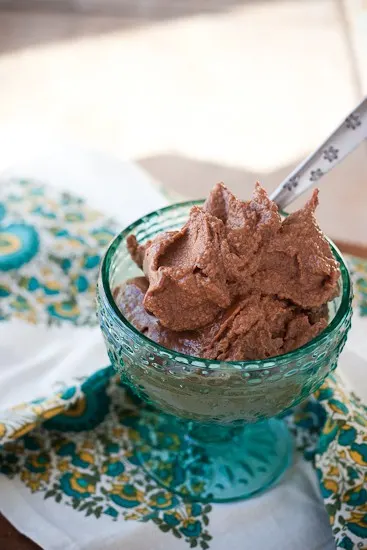 I can't believe I've been sitting on this recipe for so long without sharing it with you. My apologies.
Perry's Plate turned 6 years old last week! I thought I'd celebrate by giving you paleo chocolate ice cream. Not just any ice cream, but ice cream you can probably eat for breakfast and feel OK about it.
When we got our Blendtec blender (about 18 months ago) it came with a recipe book. The very first thing I tried was this frosty/ice cream thing. I tweaked the ingredients a bit, and we've been making this ever since. It's such a great everyday dessert because we feel great about everything in it!
It also completely made up for the fact that we had just spent over $300 on a blender.
I've made this for so many people who have come over. I mention that it doesn't have dairy or refined sugar and they act all confused like it's impossible to make good ice cream without milk and sugar.
Pah-leeze. It's totally possible.
Then they ask me, very suspiciously, what's in it. Then I make them try it before I tell them.
Mean? Maybe.
I don't know why they wouldn't want to know before hand. I mean, this totally looks like I'm about to make ice cream.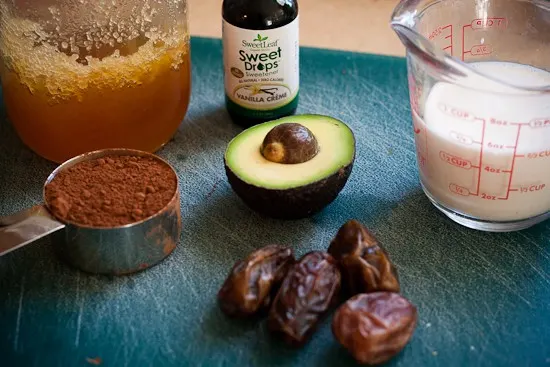 Ok, maybe it doesn't.
All of these go into the blender and end up looking like chocolate pudding. A super-rich chocolate pudding.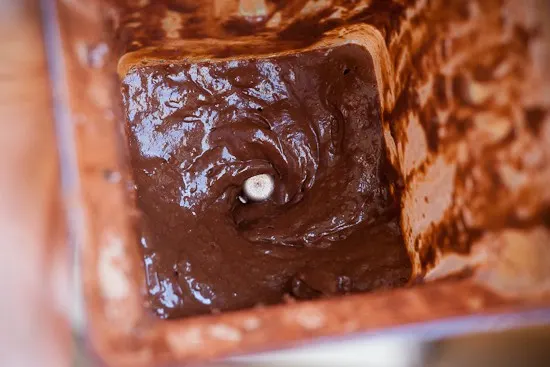 Then you add a bunch of ice, blend again and you get this…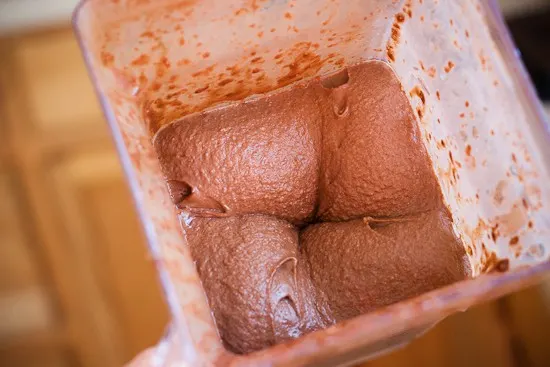 Totally looks like a frosty.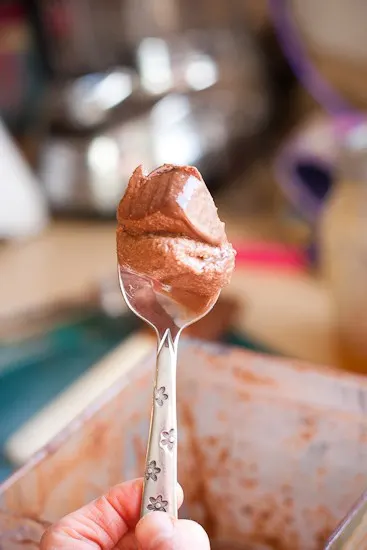 It's even thick like soft-serve ice cream!
A weird combination, but it really does taste like a frosty. We like to add peppermint oil for a chocolate-mint version. That's our favorite.
And yes, I've tried this with a regular blender. (Notes in the recipe!)
My kids go ga-ga over this stuff. Last time we ate this my 1-year-old was shoveling it into her mouth so fast she gave herself an ice cream headache. Poor little thing. Now she knows to take "baby bites" like the rest of us.
Here's another no-churn paleo ice cream recipe by Flippin' Delicious! –> No Churn Dairy Free Ice Cream sounds fabulous, doesn't it?
OR these Date-Sweetened Cream Vegan Fudgesicles from Megan at Allergy Free Alaska. They're paleo, too! I love how paleo and vegan desserts sometimes overlap.SaveSave
---
If you make one of my recipes, be sure to post it on social media and tag me at @perrysplate or #perrysplate so I can send you some love!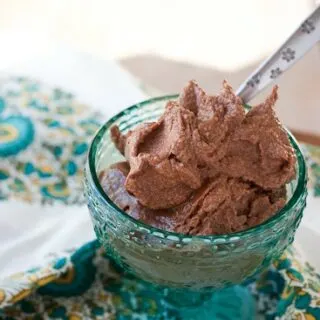 Paleo Chocolate Ice Cream
If you've got 10 minutes and a powerful blender, then chocolate ice cream can be in your mouth REALLY quickly.
Ingredients
2/3 cup coconut or almond milk
1/3 cup unsweetened cocoa powder
4 medjool dates, pitted and ripped in half
1/2 of an avocado
2-3 Tablespoons of honey
vanilla stevia (optional, to taste)
3 cups ice cubes
Instructions
Combine milk, cocoa powder, dates, avocado, honey, and stevia into a blender. If you have a Blendtec, use the "sauces" program once or twice, scraping down the sides of the jar as needed. Otherwise, blend until you reach a pudding-like consistency.
Add ice and blend again (using the "ice cream" program on the Blendtec twice, pushing down the ice as needed). Serve!
Notes
Nat's Notes:
If you don't have a Blendtec or a Vitamix, I would suggest using a food processor for the first blend, then transferring the "pudding" mixture to the blender and adding ice for the second blend. You may need to add more milk to help it go. Your blender should be able to handle ice fairly well to get a smooth consistency.
Adding 2-3 drops of peppermint oil at the beginning is a good idea. Just sayin'.
This isn't a great make-ahead recipe. If you make it and stick it in the fridge you only have an hour or so before it freezes as hard as a rock. Just make it and eat it. It only takes about 10 minutes!
SaveSave
This post may contain affiliate links. Any purchases made by using these links won't cost you any extra and helps keep my content free. These links may be Amazon links as I am part of the Amazon Associate Program.