Spicy Garlic Hasselback Eggplant with Tomato-Basil Relish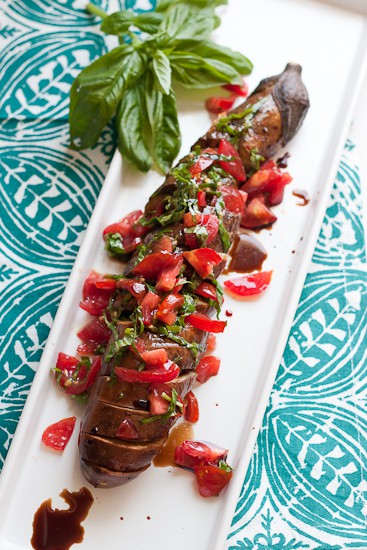 Confession: I have never hasselbacked anything until now. Not even potatoes, which is weird because I really, really love potatoes.
I think hasselback potatoes might fall into the same category as twice-baked potatoes being really fussy and time consuming. Sometimes I'm in the mood for fussy, but not usually.
So ya, eggplant. I had this Japanese eggplant sitting in my fridge (which I bought for a photograph and had no other plans for) and one afternoon I was feeling munchy. My littlest Little had gone down for a nap and the older two were quietly reading. (Um, my favorite part of the day. I just wish it lasted 6 hours instead of 2.)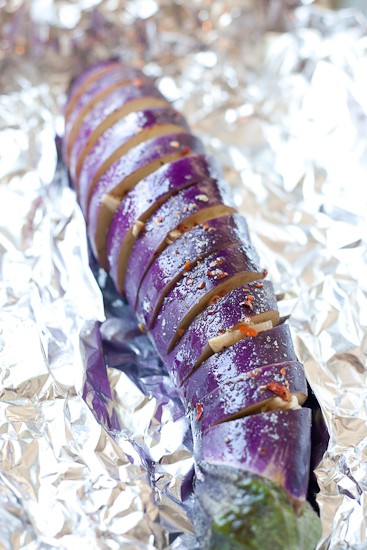 I had an idea swirling around in my head so I put slits in the eggplant and stuck garlic, salt, pepper, and some crushed red pepper in it. And all over it.
Japanese eggplant are so pretty! The tragedy is that they don't keep their pretty color.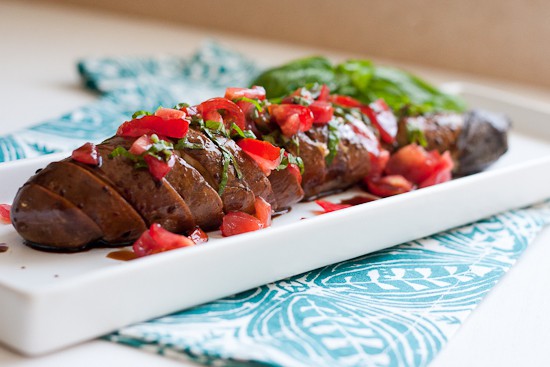 Another confession: my primary reason for adding a tomato relish was to add some color. I like pretty food. And I don't like photographing things that are brown and blah.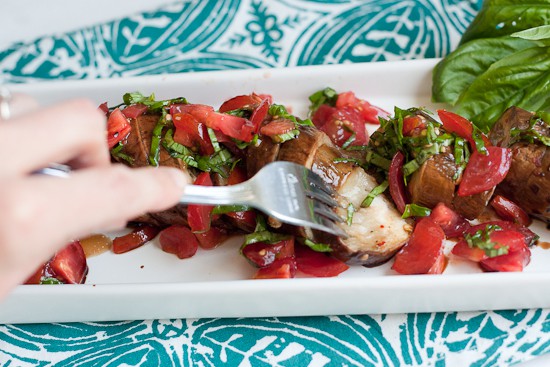 It ended up being a good decision though. Eggplant and tomatoes work beautifully together!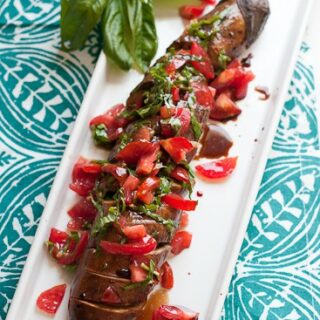 Spicy Garlic Hasselback Eggplant with Tomato-Basil Relish
Yield: Serves 2 as a side
Prep Time: 15 minutes
Cook Time: 25 minutes
Total Time: 40 minutes
This is such a fun grilled vegetarian grilled dish! Garlic-studded eggplant turns silky soft when grilled for a long time and that slightly spicy tomato relish is the perfect topping!
Ingredients
1 long Japanese eggplant
2-3 cloves garlic, peeled, and thinly sliced
sea salt
freshly ground black pepper
crushed red pepper flakes
heat-safe oil (like avocado)
1 medium-sized tomato, seeded and diced
5-6 basil leaves, rolled together and sliced thinly (chiffonade)
1 Tablespoon extra-virgin olive oil
1-2 Tablespoons balsamic vinegar
Instructions
Preheat your BBQ or grill pan to medium heat.
Slice into the eggplant 3/4 the way through (leaving the bottom in tact), making slices about a 1/2-3/4 inch apart. Place a thin slice of garlic in each of the eggplant slices. Sprinkle liberally with sea salt, making sure salt gets into the slices as well. Do the same with the black pepper and sprinkle some crushed red pepper flakes on top (to your liking).
Place the prepared eggplant on a sheet of aluminum foil and fold the eggplant tightly in the foil.
Grill for 25-30 minutes, covered, until the eggplant is tender. Turn the eggplant side to side every few minutes, but don't turn it upside down. When it is finished, transfer the eggplant to a serving dish or leave it in the foil.
Meanwhile, combine the tomato, basil and olive oil. Add a few pinches of salt if you like. Spoon the mixture over the eggplant and drizzle with balsamic vinegar. Serve immediately.
Notes
Nat's Notes:

1. You can probably use a regular eggplant for this if you can find one that's more slender. It will take a lot longer to grill though, so you might want to reduce the heat so the outside doesn't burn before the center is cooked through.

2. You can also bake it in the oven. I didn't actually do it, but I would suggest 400 degrees for 30 minutes or so, or until the eggplant is cooked through.