Pineapple and ginger are the perfect combo for a cool, healthy treat!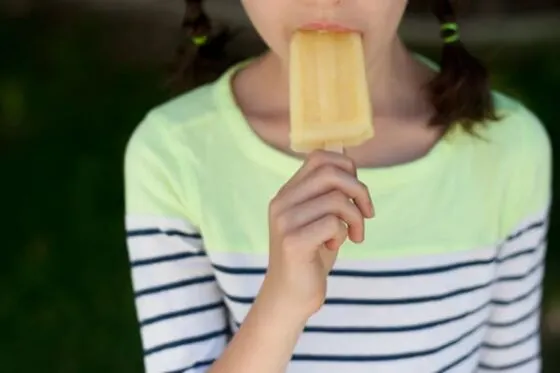 I finally broke down and got some proper popsicle molds. These ones, in particular. About time, right? For years I used little bathroom-sized paper cups. That was actually really nice when my kids were smaller and needed a smaller popsicle.
Then I tried those rubbery smoothie pop ones with the lids. Of course they leaked. And half the lids got lost. And I they were a pain in the rear to clean.
I like these molds so far.
I also like my little hand model. She just turned eight last month, got baptized, and I'm wondering where all the time went. She was only eight months old when I started blogging. ?!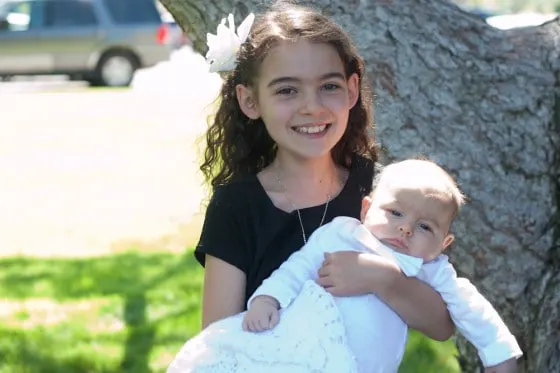 She was baptized the same weekend our little man was blessed in church. She's grown into such a beautiful, responsible, creative girl. She is in that sweet innocent stage where she still loves to play fairies and watch Magic School Bus and has no idea who Justin Bieber is. I know it won't last long because she's asking for shoes with heels, prefers jewelry over toys, and loves to have any excuse to wear make up.
She's also strong enough to lug around her little brother which means I HAVE A FREE NANNY THIS SUMMER.
She likes to make popsicles, too. I just need to get her excited about doing dishes.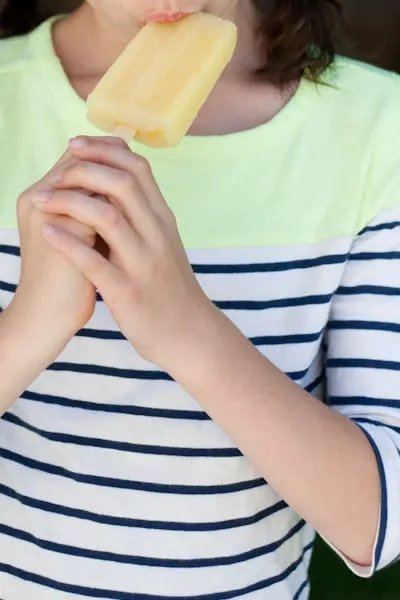 I've decided that ginger is the perfect compliment to lots of different kinds of fruit. Especially melons and pineapple. These have just the right amount of gingery bite, but if ginger isn't your thing, just leave it out.
Here's another paleo (and vegan!) popsicle recipe — Vegan Froyo Popsicles over at Allergylicious. (Just omit the agave or use a smaller amount of honey.)
---
If you make one of my recipes, be sure to post it on social media and tag me at @perrysplate or #perrysplate so I can send you some love!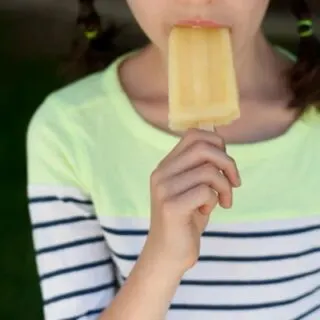 Pineapple Ginger Popsicles
These naturally sweetened popsicles combine two of my favorite flavors -- pineapple & ginger. They're light and refreshing, and disappear really quickly.
Ingredients
1 20-ounce can of crushed pineapple with juice
1/2 cup unsweetened pineapple juice
juice from 1 lime (1-2 Tablespoons)
1-inch knob of fresh ginger, peeled, and chopped
1-2 Tablespoons of raw honey, to taste
Instructions
Combine all ingredients in a blender and blend until smooth.
Pour into popsicle molds and freeze for a few hours until firm.
Notes
Nat's Note: If you don't have a blender you can simply mix the ingredients together. You'll have to chop the ginger finely or grate it with a Microplane grater.
This post may contain affiliate links. Any purchases made by using these links won't cost you any extra and helps keep my content free. These links may be Amazon links as I am part of the Amazon Associate Program.