This has all of your favorite parts of a sushi roll in an easy-to-eat format! If you're like me and don't eat sushi very gracefully, you'll love this.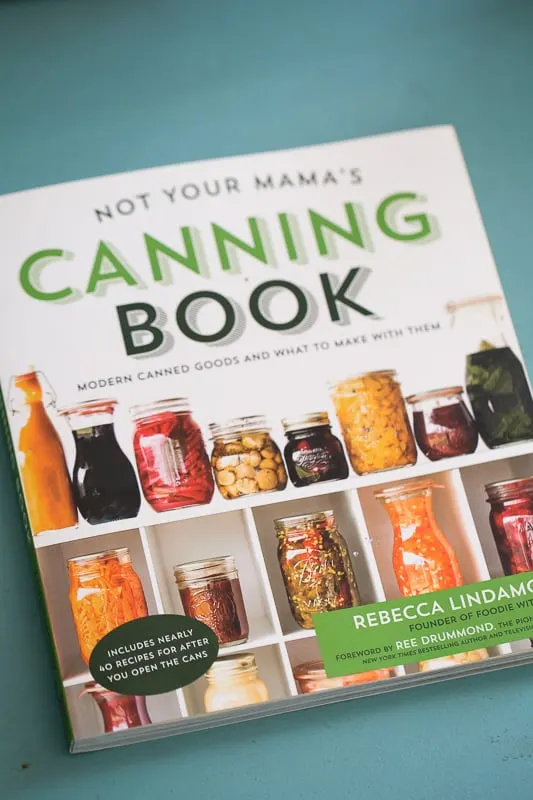 I've got a treat for you today! My lovely blogging friend Rebecca from Foodie with Family has published a book you must order right now — Not Your Mama's Canning Book. (Find it on Amazon!)
Especially if you like canning. Or you're thinking about canning. Or you're thinking about liking canning. Or if you know someone who likes canning. Or if you eat. At all.
You'll love Rebecca's talent for delightful and witty writing. She is a wealth of information and an excellent cook, but she writes like you're besties and you're sitting in her kitchen while she's showing you some tricks. Completely unpretentious.
I received a review copy of Not Your Mama's Canning Book along with a jar of Rebecca's Korean BBQ Sauce, and dang. I love Asian BBQ, and I think this was the best sauce I have ever eaten.
I wanted to make the Korean Inspired Flank Steak Lettuce Wraps with the BBQ sauce and noticed that she recommended the Ginger Pickled Carrots to go with it.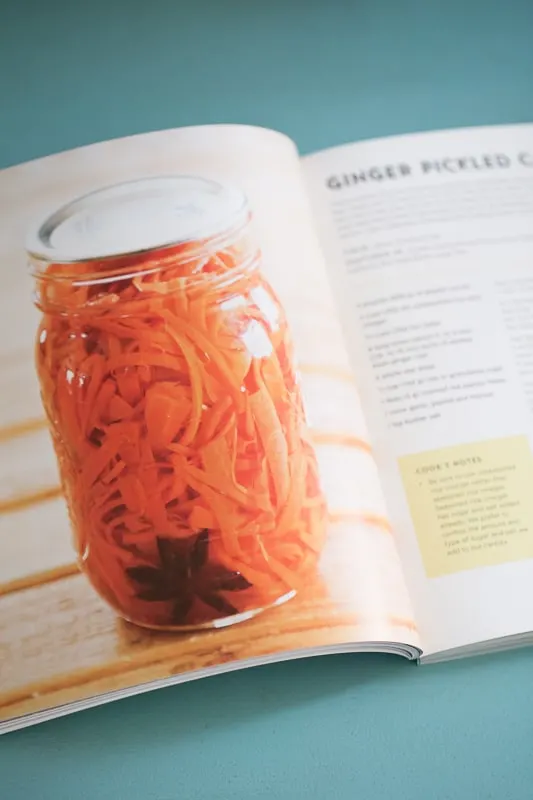 I'm not a serious canner. In Rebecca's description of the most prevalent types of canners I'm a combination of the "Fearful Canner" and "Not Actually a Canner at All" aka "The Mooch" (Thx for the jam, Grandma!!) I do own a waterbath canner, though, and I whipped these carrots out during a naptime one afternoon. That's about as long as I can stand in a canning session.
So. Easy.
Like, the hardest part was waiting for the giant pot of water to boil. And I just used the shredding disk on my food processor to cut the carrots. Now I have three pints of sweet, gingery carrots to use on Asian lettuce wraps and in sushi bowls! (I'll talk about those in a sec.)
I can't wait to try her Chile Infused Honey, Smoky Roasted Salsa, and Tikka Masala Sauce.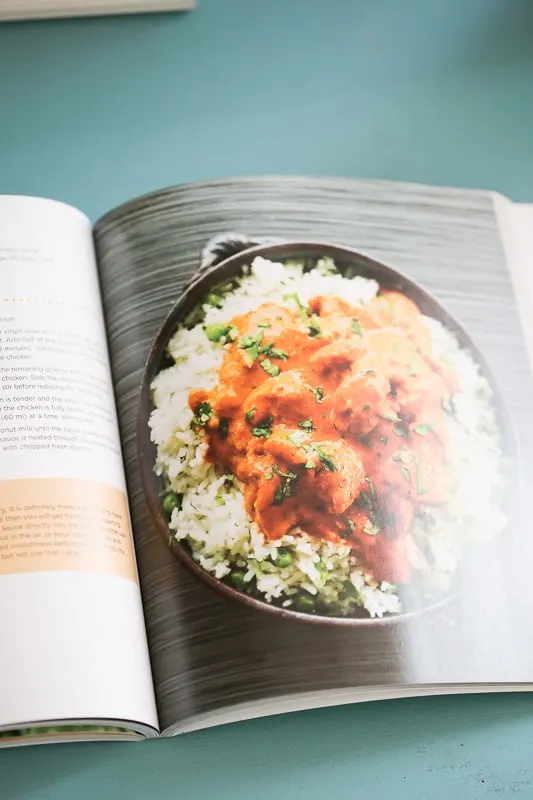 So I can make Chicken Tikka Masala super crazy fast. I love that her book includes recipes and ideas to best use your canned goodies!
This was my favorite though…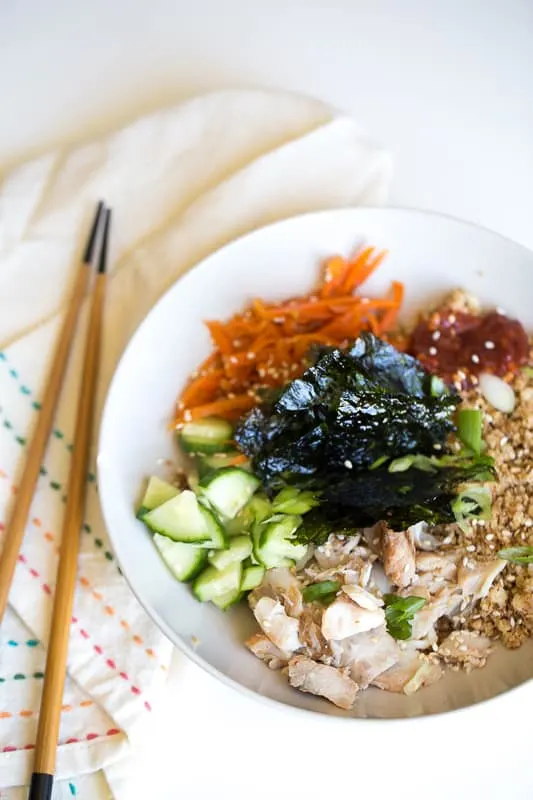 I was dying to try her California Roll Sushi Bowls with those Ginger Pickled Carrots.
LOVED. IT.
I tweaked it a little and made some paleo modifications. Most of the family ate rice, but I'm realizing I need to pace myself with that stuff because I tend to overeat, so I used some leftover Roasted Cauliflower Rice (with ginger added). I also made some shrimp and rockfish marinated in coconut aminos, lime, ginger, and chile sauce.
I included her original recipe below with my changes in the notes. These are so versatile though! You can throw anything on there that you'd put in a sushi roll. My kids even requested that I pack these in their lunches when they start school in a couple of weeks.
Many, many congratulations to Rebecca and her book! Now that I'm nearly finished with a book of my own, I'm realizing how much hard work it takes to put one of these together — and take photos.
And here's the California Roll Sushi Bowl Recipe I promised you….
Update 2/13/17: We have started having sushi bowls every Sunday! You can check them out for topping ideas over on my Instagram feed (#perrysushibowls). If you make one and post it, please tag me or use the hashtag #sushibowlsunday so I can see!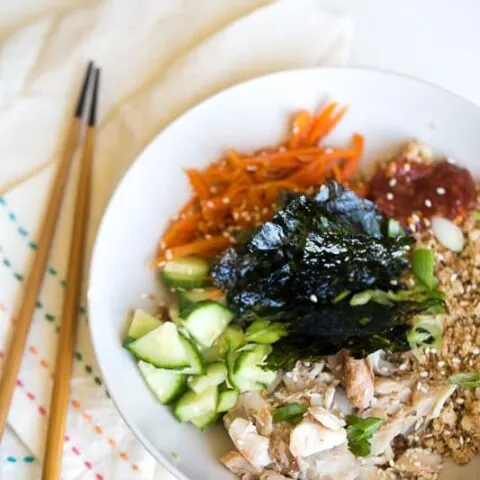 California Roll Sushi Bowls
This has all of your favorite parts of a sushi roll in an easy-to-eat format! If you're like me and don't eat sushi very gracefully, you'll love this. This recipe is for one sushi bowl, but the dressing recipe is enough for 16 bowls.
Ingredients
Sushi Dressing:
1 cup plain rice vinegar
2 Tablespoons raw sugar
1 Tablespoons + 2 teaspoons Kosher or sea salt
Sushi Bowls:
1/4 - 1/2 cup uncooked sushi rice
1 Tablespoon sushi dressing
1/4 cup lump crab meat
1/2 of a drained can of albacore tuna (optional)
1/4 of an avocado, peeled, pitted, and cubed, tossed with a little rice vinegar to prevent browning
2 Tablespoons Ginger Pickled Carrots (optional)
2 Tablespoons finely cubed English cucumber
3-4 small cubes of cold cream cheese
Thinly sliced green onions, to taste
Wasabi, to taste
Coconut aminos or tamari, to taste
Torn or cut nori or furikake, to taste
Toasted sesame seeds, to taste
Instructions
To prepare the sushi dressing, combine all of the dressing ingredients in a microwave-safe bowl (or in a small saucepan), heat until very warm and stir until the sugar and salt dissolve. Pour into a canning jar or other heatproof container with a tight fitting lid and store in the refrigerator for up to 1 month, using as needed.
To prepare the California Roll Sushi Bowls, cook the desired amount of rice according to the package instructions. When the rice is done, turn it into a large-ish mixing bowl, fluff it gently and pour the appropriate amount of Sushi Dressing over the top. Fold the dressing in gently, taking care not to smash the rice. Lay damp paper towels over the surface of the rice to prevent it from drying out and let the rice cool to room temperature.
When the rice is cool, divided among serving bowls and arrange the toppings in the order listed to the left. Serve immediately.
Notes
Nat's Notes:
You can substitute cauliflower rice for the sushi rice if you like. I used some Roasted Cauliflower Ricewith fresh ginger added before roasting and it was excellent! I also used coconut sugar in place of the raw sugar in the dressing.
Instead of crabmeat, I used wild-caught rock fish marinated in coconut aminos, fresh ginger, lime juice, and Asian garlic chili paste, then grilled.
The cream cheese is, of course, optional, especially if you're strict paleo or avoiding dairy, but good grief, it's good. :)
To make it Whole30 friendly use cauliflower rice and coconut aminos. No sushi dressing is needed -- unless you want to throw a splash of vinegar in the cauli rice for extra flavor.
Disclosure: I received a complimentary copy of Not Your Mama's Canning Book for review, but was not compensated for this post. All opinions shared are my own. There is also an Amazon affiliate link in this post. Purchases made by using these links do not cost you any extra and provide Perry's Plate with a few pennies.