Make these Spicy Shrimp Rolls at home for a fun, easy dinner! You can make them as spicy or as mild as you like — just pull out some frozen shrimp and you can have these shrimp rolls (or bowls!) on the table in under an hour.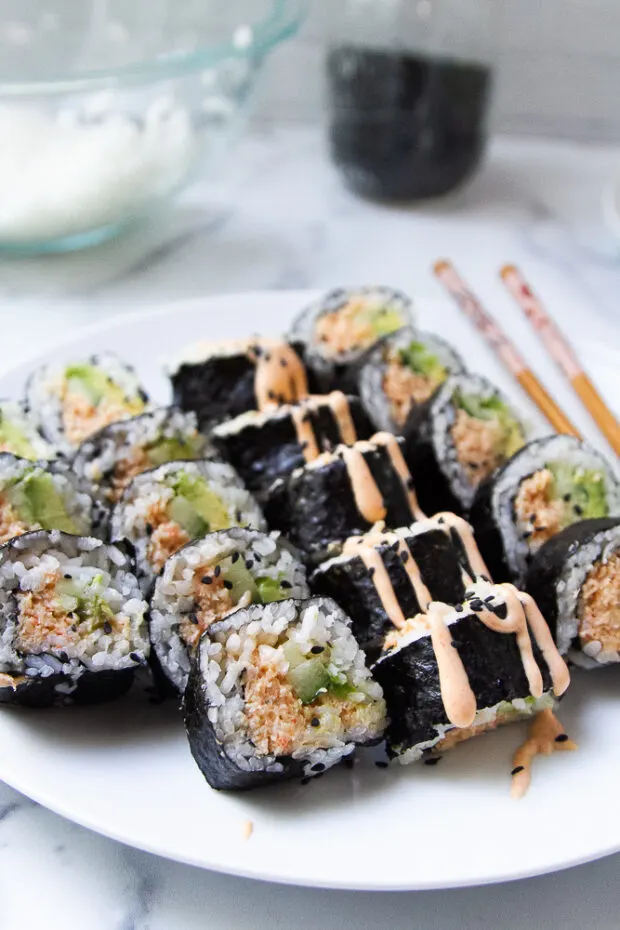 Sushi rolls (or maki sushi) seems rather intimidating, but it's actually quite easy to make simple rolls like this at home.
And WAYYYY less expensive. Going out for sushi is definitly a splurge for us, but those complicated rolls are something that I don't try to tackle at home, so it's worth it occasionally.
What's in Spicy Shrimp Rolls
For these spicy shrimp rolls, you'll need these components:
Sushi rice
Spicy Shrimp Salad
Cucumbers & Avocado
Nori wrappers
The easiest way to roll sushi is by using a sushi mat. You can find inexpensive bamboo sushi mats for rolling sushi on Amazon or in an Asian grocery store.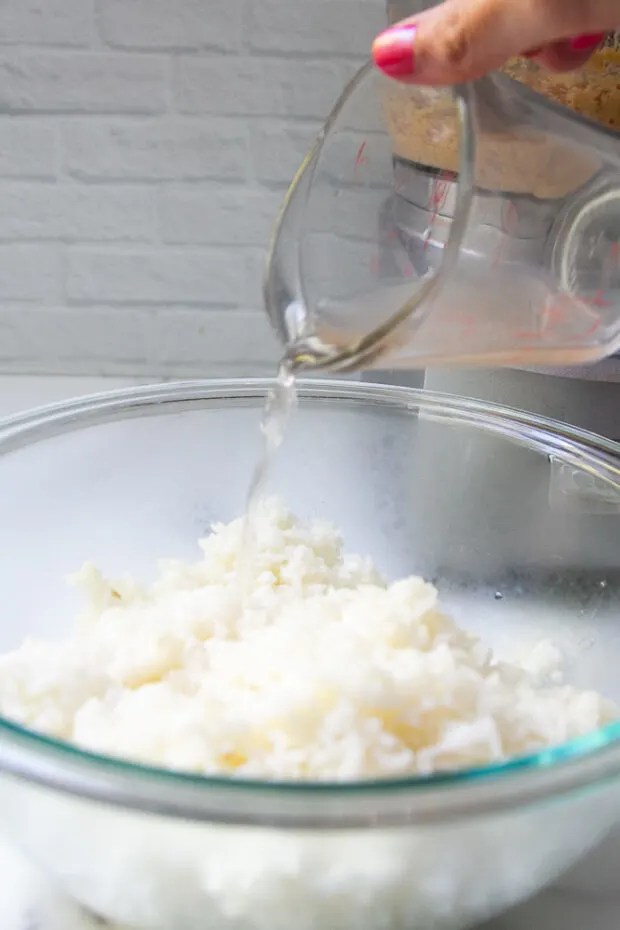 How to make Sushi Rice
Choose short grain or sushi-specific white rice.
Short grain rice is higher in starch which creates stickier rice — ideal for making sushi rolls. Try to find short grain white rice or rice that is specifically labeled as "sushi rice" for best results.
Soak the rice
Usually you'd make fluffy rice by rinsing the rice until the water runs clear, but in this case you want to soak the rice and then cook the rice in the water you soaked the rice in.
This only takes about 15 min, so you can start gathering the rest of the ingredients for your components.
Cook the rice
Even though I have a rice cooker, I like to do this on the stovetop so I can have more control over the steaming. Sometimes extra starchy rice burns or sticks to the pot in my Instant Pot, so I like to do it in a smaller pot on the stove.
Bring the rice to a boil, then reduce the heat to medium low, cover, and simmer fro 15 minutes.
Remove the pot from the stove and let it sit for another 10-15 min, covered.
Make the sushi dressing
Combine the rice vinegar, sugar, and salt in a small bowl and mix well until the salt and sugar is dissolved.
Finish the sushi rice
Transfer the rice to a medium or large bowl. I do this so the rice cools more quickly.
Pour the dressing over the finished sushi rice and cover the bowl with a tea towel.
Ideally the sushi rice should be close to room temperature when you use it, so set it aside while you finish prepping the other components.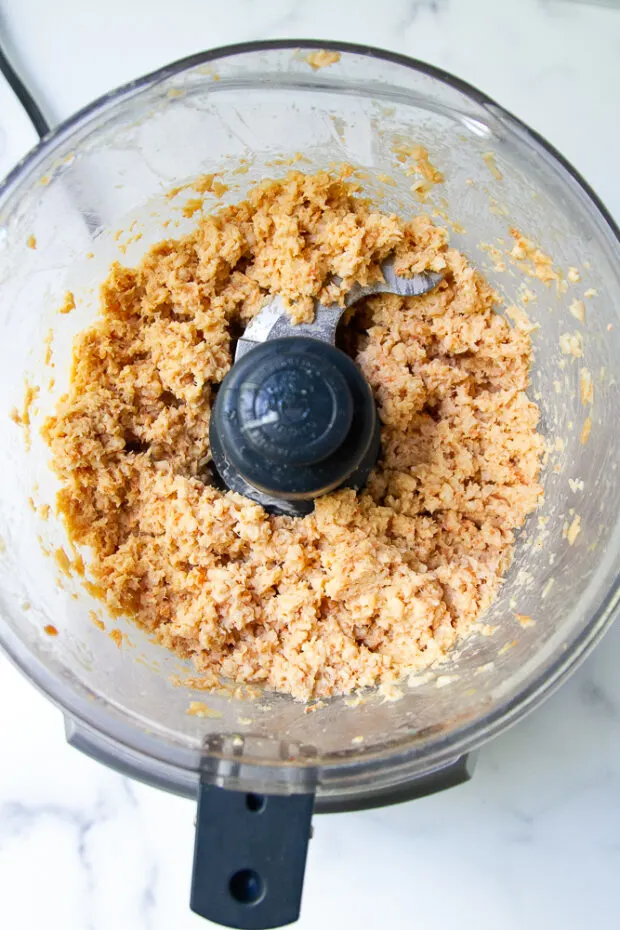 Make the Spicy Shrimp Salad
Cook the shrimp in a skillet with the lime juice and either tamari or coconut aminos (if you're avoiding soy).
Transfer it to a food processor and pulse a few times to chop it roughly.
Add the rest of the ingredients (mayonnaise, sriracha sauce, etc) and pulse until everything is smooth. Add as much or as little sriracha as you like!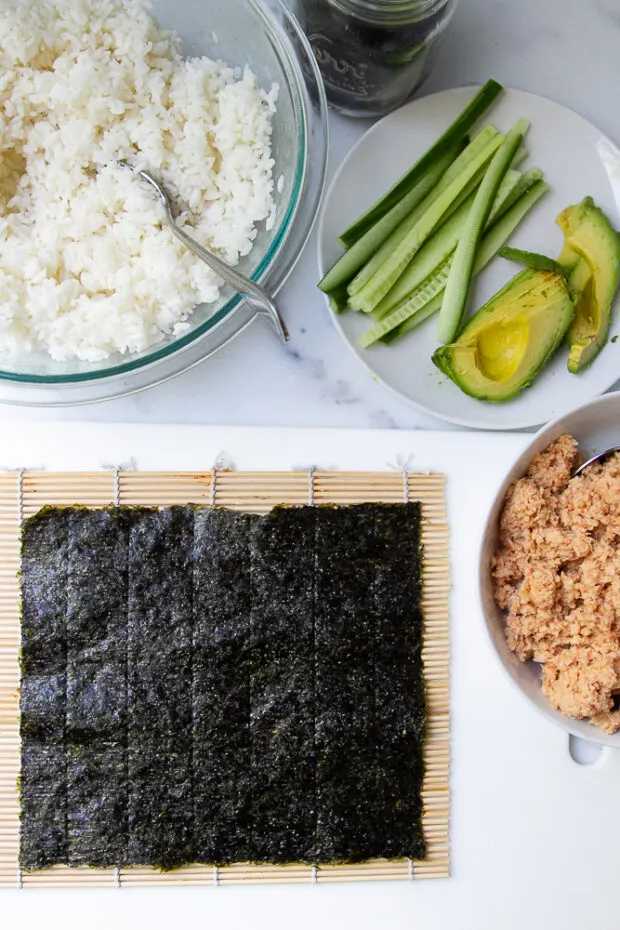 Assemble the spicy shrimp rolls
Prepare the nori wrapper
Gather your components — including a small bowl of warm water (you'll see why in a minute)
Lay the bamboo mat flat on your countertop or a cutting board. Place a nori wrapper on the bamboo mat, shiny-side down.
Spread about 1/2 cup sushi rice evenly on the mat. Dip your fingers in that little bowl of water and use your fingertips to spread the rice around without it sticking to your fingers. (Cool trick right?)
Leave about an inch of space at the bottom of the mat (the edge close to you).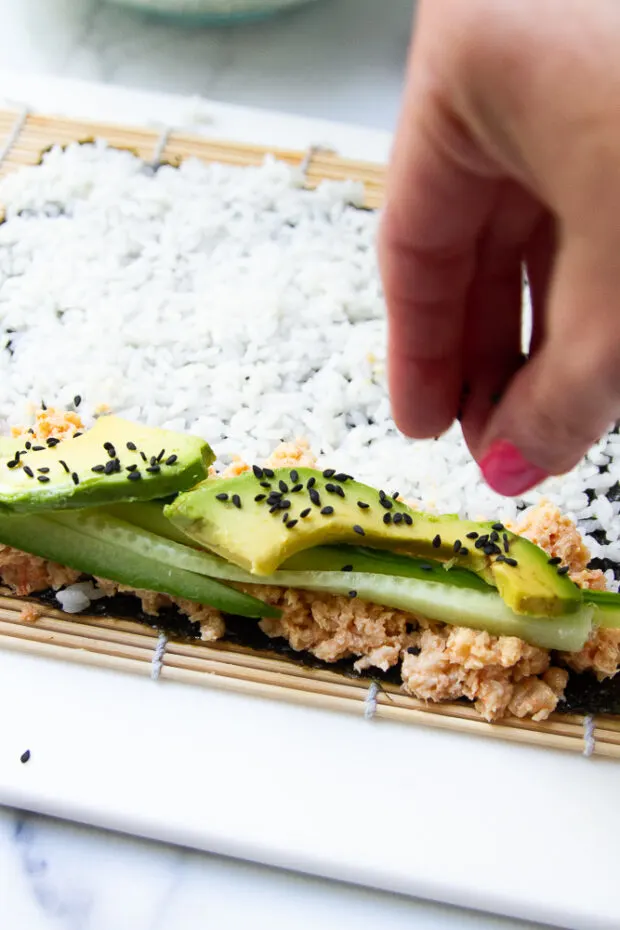 Spread a few spoonfuls of the shrimp salad on that bottom edge (about 3-4 Tablespoons) and lay your thinly sliced cucumbers and avocados on top.
Sometime I like to sprinkle some toasted sesame seeds on the rice for some extra flavor, but that's totally optional.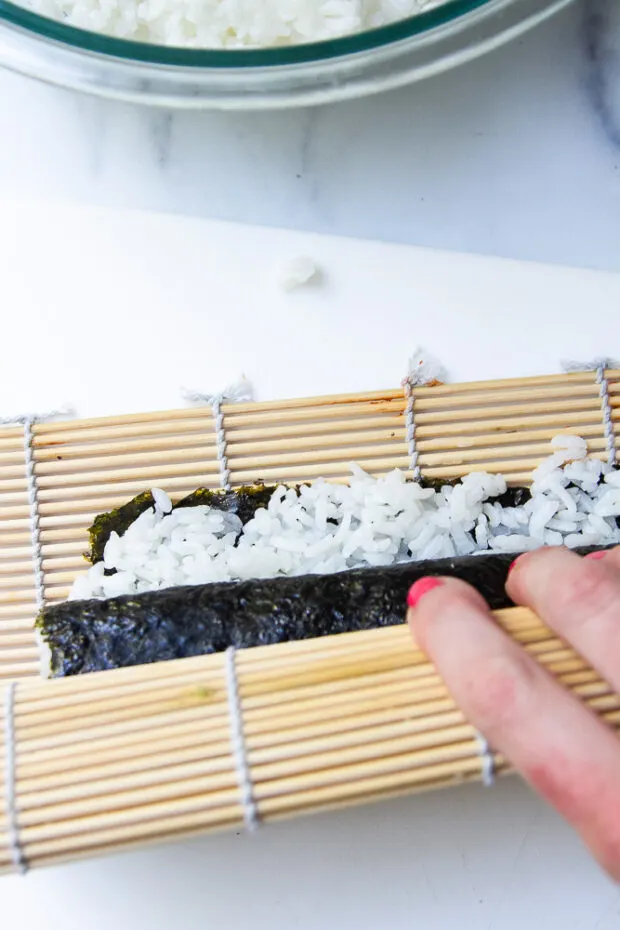 Roll it up
Use the bamboo mat to roll the nori wrapper around so the filling is enclosed. Then tightly continue to roll the nori wrapper while using the mat to compress the roll — without rolling the mat up in the sushi roll. Does that make sense?
When you get the whole thing rolled up, squeeze the bamboo mat around the roll to tighten it further.
Now you have a homemade sushi roll ready to slice!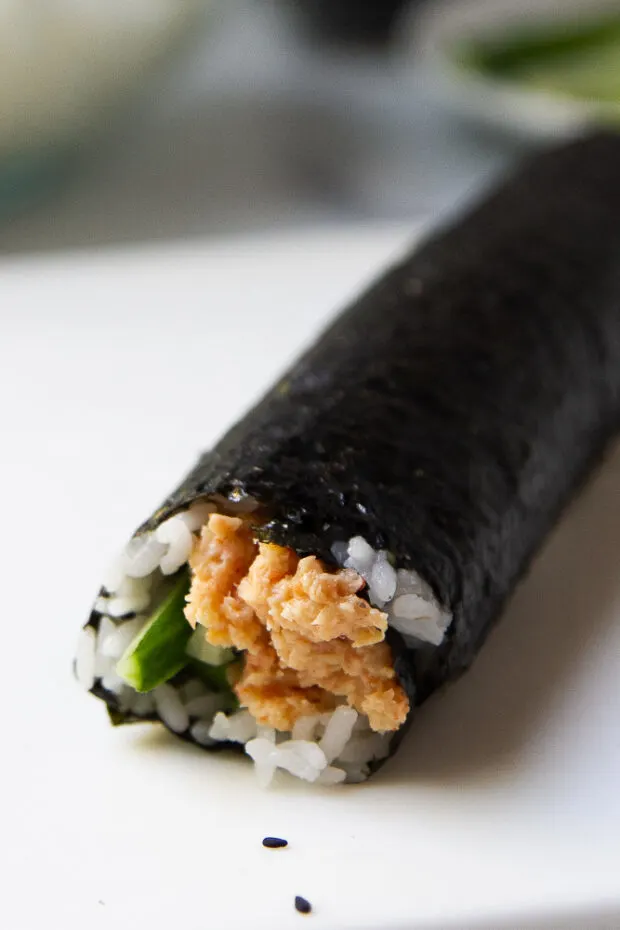 Slice it
Use a sharp serrated knife to cut the roll into 1/2-1 inch pieces and serve!
How to serve sushi rolls
I like to arrange them on a platter and let me family go nuts!
If I'm feeling fancy I drizzle some sriracha mayo on them and sprinkle on more sesame seeds and maybe some thinly sliced green onion or chopped cilantro.
Or straight sriracha if I'm feeling feisty.
You can also serve them traditionally with some tamari, pickled ginger, and wasabi paste.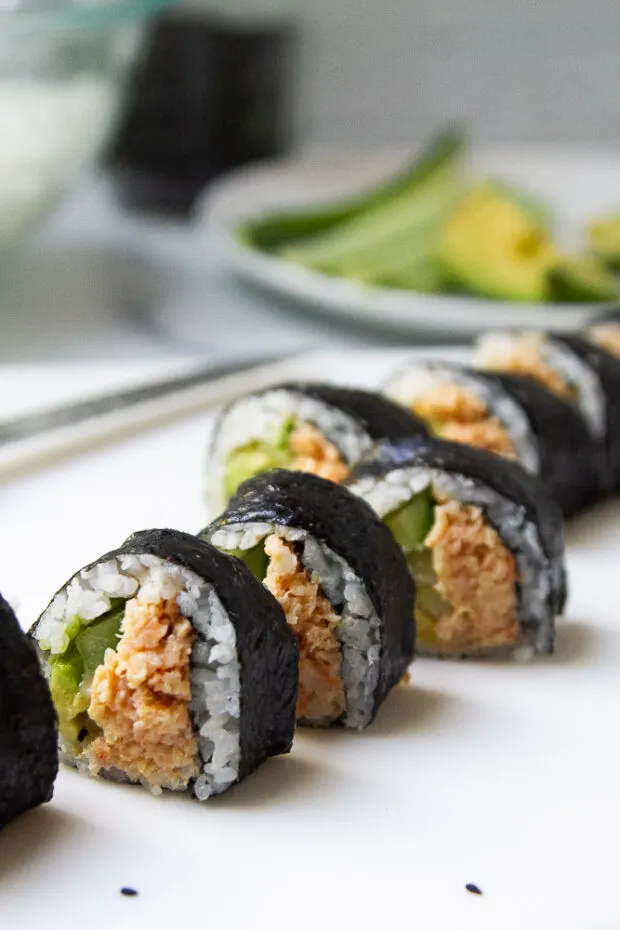 FAQ
Where can I buy nori wrappers?
Just about every grocery store has nori wrappers these days in the Asian food section!
What else can I put in sushi rolls?
Here are some other things you can add to these sushi rolls if cucumbers or avocados aren't your thing:
Thinly sliced green onion
Fresh chopped cilantro
Thinly sliced jalapenos
Thinly sliced bell peppers
Bits of cream cheese
Can I use a different kind of rice?
If you really don't want to use white rice, you can use brown rice to make sushi. It will alter the flavor and texture quite a bit, but if you prefer brown rice, you'll be fine.
If you're avoiding grains completely, you can try using some sauteed or roasted cauliflower rice. Again, the flavor and texture will be very different.
Can I use tempura shrimp?
Yes! If you buy store bought tempura shrimp or coconut shrimp, bake it up crispy and chop it up. I wouldn't use the food processor since you want to preserve that yummy breaded crust.
(That actually sounds super delicious and I plan on making that soon.)
Can I use something other than shrimp?
You could try making a spicy salmon roll by using sushi-grade salmon. Just remove the skin, cut it into large chunks and pulse it just a few times in your food processor. Hand-stir in the rest of the ingredients so it doesn't get too mushy.
(Yes, I'm suggesting that you use raw salmon for this. You could make a cooked salmon salad, too, but you just need to crumble it with your hands instead of using your food processor.)
What if I don't have a food processor?
If you don't have a food processor, get one! :)
Untll then…
Chop everything as finely as you can. The shrimp salad won't be quite as smooth, but it'll be good!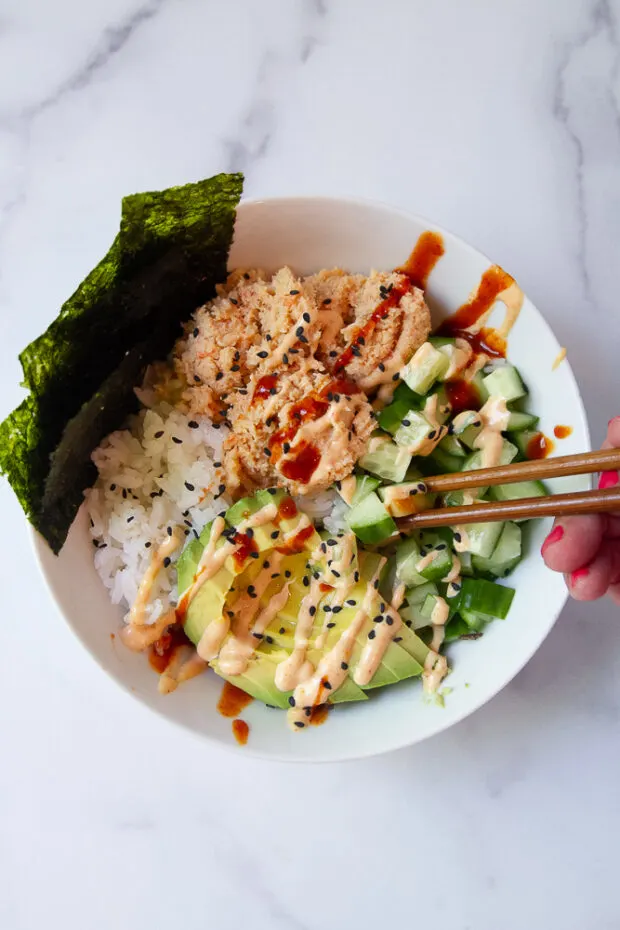 Spicy Shrimp Sushi Bowl Option
The components for the spicy shrimp rolls can be made into a sushi bowl if rolling sushi isn't your thing! Just make the sushi rice, the shrimp salad, and chop the cucumbers and avocados.
I prefer to swap out the nori wrappers for roasted seaweed snacks and have some kind of dressing and toppings.
I like to make some sriracha mayo (in recipe notes!), straight sriracha, and some extra roasted sesame seeds (or Japanese furikake seasoning — they sell it at Trader Joe's), thinly sliced green onion, and/or chopped fresh cilantro.
More Sushi-related recipes on Perry's Plate
If you like this recipe, you might like these ones too!
Paleo California Roll Sushi Bowl
Ahi Tuna Poke Bowl with Spicy Mayo
---
If you make one of my recipes, be sure to post it on social media and tag me at @perrysplate or #perrysplate so I can send you some love!
Spicy Shrimp Rolls (or Bowls)
Make these Spicy Shrimp Rolls at home for a fun, easy dinner! You can make them as spicy or as mild as you like -- just pull out some frozen shrimp and you can have these shrimp rolls (or bowls!) on the table in under an hour.
Ingredients
For the sushi rice
1 1/2 cups sushi rice or short-grain white rice
4 Tablespoons rice vinegar
1/2 teaspoon sea salt
1/2 teaspoon sugar
For the shrimp salad
1 Tablespoon coconut oil
1 pound shrimp, peels and tails removed
2 Tablespoons + 1 teaspoon tamari or coconut aminos
1 lime
2 Tablespoons mayonnaise
1-2 Tablespoons sriracha sauce
For the sushi rolls
4-5 nori seaweed wrappers
1/2 English cucumber
1/2 avocado
Toasted sesame seeds (optional)
Sriracha mayo (see note)
Extra sriracha sauce (for garnish)
Instructions
Put the sushi rice in a medium sauce pan with 2 cups of water. Let it sit for 15 minutes. Bring to a boil, then cover the pan, reduce heat to medium-low, and let it cook for 15 minutes. Remove from heat and let it sit, covered, for another 10 minutes.
Meanwhile, Put the coconut oil in a large skillet over high heat. When the pan has pre-heated, add the shrimp, 2 Tablespoons of tamari and the juice from 1/2 the lime. Cook until the shrimp is just barely pink all the way through.
Transfer the shrimp to the workbowl of a food processor and let it cool for a few minutes until no longer steamy.
If your rice has finished cooking, transfer it to a medium bowl and fluff it with a fork. Combine the rice vinegar, sugar, and salt in a small bowl and mix until everything has dissolved. Pour the dressing over the rice and mix gently to combine. Put a tea towel over the bowl and set it aside until ready to use.
Pulse the shrimp a few times until roughly chopped. Add the mayonnaise, 1-2 Tablespoons sriracha, 1 teaspoon tamari, and the juice from the other half of the lime to the workbowl and pulse a few more times until the shrimp is minced and everything is blended well.
Thinly slice the cucumber and avocado into strips. Put some warm water in a small bowl. Prepare your sushi rolling work station by gathering your components.
Lay the bamboo mat flat on a cutting board. Place a nori wrapper on the bamboo mat shiny side down. Spread about 1/2 cup of sushi on the nori wrapper leaving an inch of space on the edge closest to you.
Spoon about 2-3 Tablespoons of shrimp salad evenly on that bare edge and top with a few strips of cucumber and avocado. If you're using sesame seeds, sprinkle a little some over the filling and the rice.
Start rolling up the nori wrapper, using the bamboo mat to help you keep it tight. Roll it all the way up and cover the roll with the mat and squeeze it tight. Pull the bamboo mat off the roll and... voila! (Don't get discouraged if your roll isn't tight at first. Sometimes this takes practice.)
Slice the roll into 1-inch pieces using a sharp serrated knife.
Serve with sriracha mayo, sriracha, and/or tamari.
Notes
Sriracha Mayo: blend 1/2 cup mayonnaise, 2-4 Tablespoons sriracha, juice from 1/2 a lime, and a few pinches of salt, to taste. Add more sriracha if you want it spicier.
Make Ahead Suggestions: You can make the sushi rice a few hours ahead of time. In fact, it's easier to work with if the rice is room temperature. The shrimp salad and cucumbers can be prepped a day or two in advance as well.
Sushi Bowl Variation: Combine the components in a bowl instead of making sushi rolls. Just chop the cucumbers into cubes and swap out the nori wrappers for some roasted seaweed snacks (that's what we prefer). Top with a drizzle of sriracha mayo.
Recommended Products
As an Amazon Associate and member of other affiliate programs, I earn from qualifying purchases.