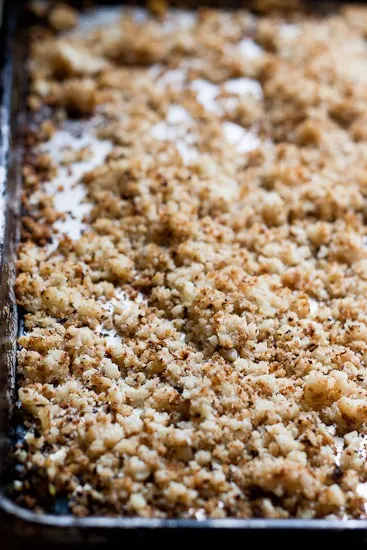 Cauliflower rice reminds me of my dad.
I made it once when we were there visiting, and I told him it was a "special kind of rice", and he — Mr. Meat-and-potatoes-hates-all-vegetables paused for a second then ate two helpings. I guess he figures I eat weird stuff so "rice" seemed safe.
We never told him what it really was.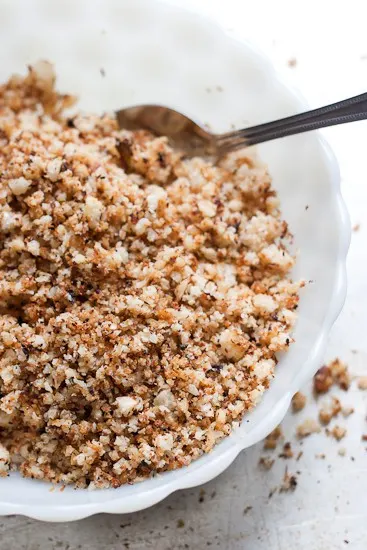 I actually prefer roasting my cauliflower rice to sauteeing it. It gives it a more um… roasty flavor, for lack of a better term. Plus I think most things can be improved by roasting them. Especially vegetables.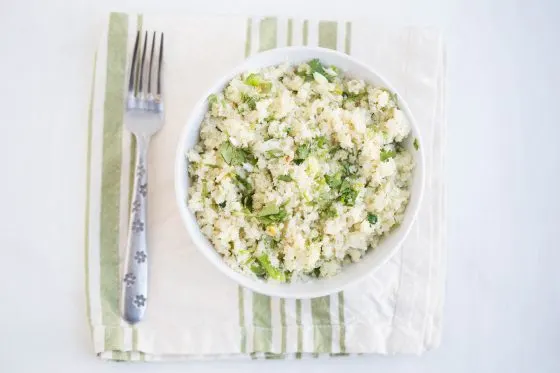 For more ideas on flavoring cauliflower rice, check out my post over on The Pioneer Woman: Food & Friends — How to Make Cauliflower Rice!
Cauliflower rice goes with SO many things. I'll be truthful, though. It does get old during rounds of Whole30. Some people tire of eggs. Not me. I could eat eggs every single day and be happy. For me, I didn't want to see another bowl of cauliflower rice for a very long time.
Don't get me wrong though, it totally SAVES you during Whole30, and it's so nice that you can actually buy cauliflower rice PRE-RICED! (I even saw some frozen riced cauliflower in the freezer section at Costco.) It makes California Roll Sushi Bowls and Thai Curries totally amazing.
If you're wanting to change things up, though, and I don't blame you one bit, you can try some of our other favorite go-to easy vegetable side dishes! We makes these ALL the time…
Easy Vegetable Side Dishes
Sweet Potato Fries — We ALWAYS eat our Sloppy Joe's with sweet potato fries. Always. They make other appearances, too.
Marinated Cucumbers — I love these as a quick, briny topping for salad bar night or for sushi bowls especially.
Southwest Cabbage Slaw — The base of many taco salad nights. And a topping for ALL the tacos.
Caesar Salad — Often made with stuff from the grill. I mean, served alongside. We don't actually make the salad out of grilled chicken.
Crispy Shredded Roasted Brussels Sprouts — I don't always shred them, and although most of my kids won't touch them, I still make the. Persistence, yo.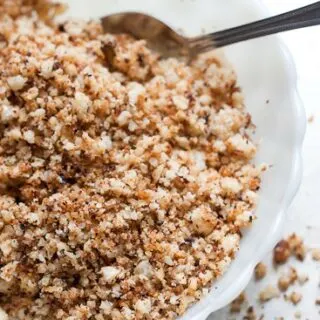 Basic Roasted Cauliflower Rice
Yield:
Serves 4-5 as a side
Roasted cauliflower is WAYYYY better than sauteed cauliflower. Eons better. If you love roasted vegetables, you NEED to roast your cauli rice.
Ingredients
1 large head of cauliflower
3 Tablespoons heat-safe oil (like coconut or avocado)
sea salt
Instructions
Preheat oven to 425 degrees F.
Trim the cauliflower down to 1-2 inch florets. Depending on the size of your food processor, work in batches and pulse the cauliflower until the pieces are about the size of rice grains.
Transfer minced cauliflower to a rimmed baking sheet. Drizzle oil over the top and add a generous sprinkling of sea salt. Using your hands, mix everything thoroughly and spread it out in an even layer.
Roast for 25-35 minutes, stirring occasionally until the cauliflower is as roasted as you like. In the photos up there, I left them for 35 minutes and then turned the oven off while I finished prepping dinner. That's about as dark as I've ever roasted it. You don't have to leave it in that long. Just leave it in until it's lightly browned if you like.
Transfer to a serving bowl and serve immediately.
Notes
Nat's Notes:

1. Feel free to add any spices or aromatics to this! Minced onion, garlic, ginger are excellent. I've also tried different dried herbs and spices (cumin is great for mexi-rice). Just toss the add-ins with the cauliflower and oil before you roast it. If you add garlic, be sure not to roast it too long and stir it often so it doesn't burn.

2. You can double this, too! Just use one head of cauliflower per baking sheet and rotate the sheets halfway through roasting.