This tender roasted pork loin is perfect with a sweet butternut squash mash swirled with maple. It's really as good as it sounds!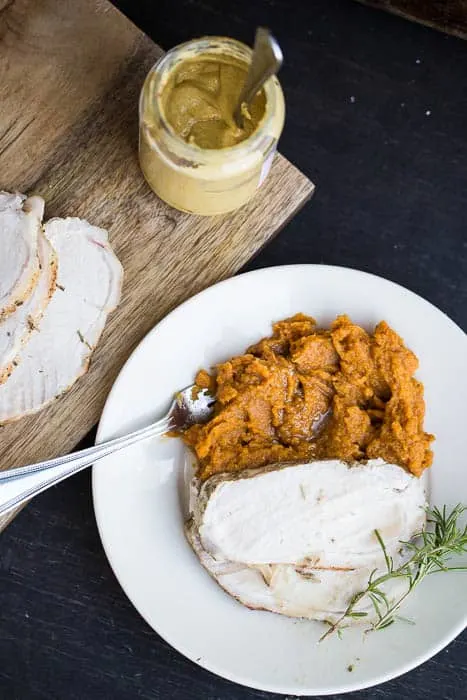 This post is somewhat of a milestone for me.
I've been blogging for almost 9 years, and this is the first pork recipe that isn't bacon, ham, or sausage. (I know, right?)
Want to hear a confession?
I don't like pork. There, I said it.
Actually, let me rephrase that….
I'm not fond of uncured pork except for sometimes.
When I was planning out my cookbook, I realized, with dread, that I probably needed a pork chapter. I mean, you can't have a slow cooker cookbook without some kind of pulled pork. And since I couldn't make an entire chapter full of pulled pork recipes (I considered it, though), I stretched my little wings and made some pork loin and pork chop recipes, too.
An interesting thing happened. First, by some miracle, I actually created some pork recipes even I could love. Second, pork doesn't totally turn me off anymore. It's not my first choice (at all), but I don't mind it terribly.
Last week when I finished my photos for the book, I had half of a big pork loin sitting in the fridge staring at me. I figure I might as well use it and maybe even add an un-processed pork recipe to my blog.
I was shocked how much I liked this. The pork is seasoned perfectly, and it wasn't dry and tough.
And that mash? The squash roasts in the pork drippings with all of that herb-y goodness. Oh, and maple. *swoon*
Enjoy!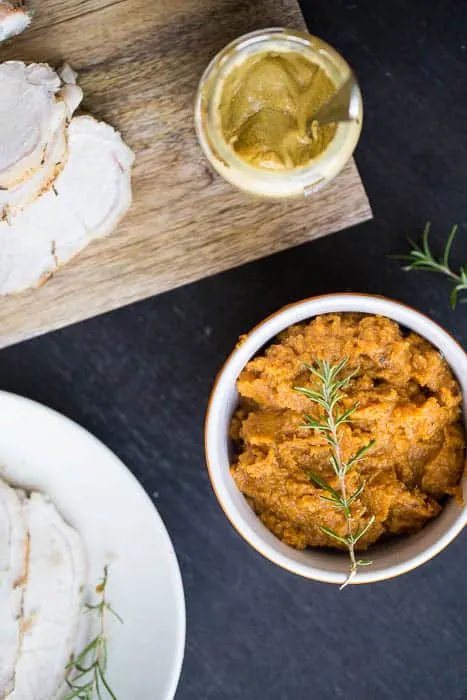 SaveSaveSaveSaveSaveSaveSaveSave
---
If you make one of my recipes, be sure to post it on social media and tag me at @perrysplate or #perrysplate so I can send you some love!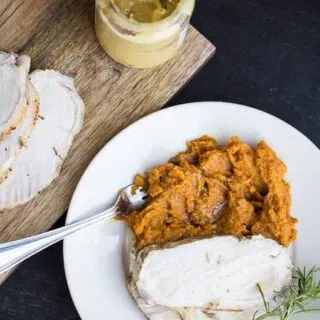 Mustard-Herb Pork Loin with Maple Butternut Mash
Cook Time:
1 hour
30 minutes
Total Time:
1 hour
45 minutes
I love the sweet maple-spiked butternut mash against the tangy, herby, perfectly seasoned, moist (is that too many adjectives?) pork.
Ingredients
3-pound pork loin roast
2 Tablespoons Dijon mustard
1 Tablespoon sea salt
3 Tablespoons avocado oil or other heat-safe oil, divided
1 teaspoon dried, crushed rosemary
1 teaspoon dried rubbed sage (or 1/4 teaspoon ground sage)
1/2 teaspoon black pepper
2 pounds of butternut squash cubes
2 shallots, peeled and sliced thinly
1/4 cup pure maple syrup
1/2 cup chicken stock
Instructions
Place the pork roast on a large platter or small baking sheet. Combine the mustard, sea salt, 1 Tablespoon avocado oil, rosemary, sage, and black pepper in a small bowl. Stir to create a paste, then rub the paste over the entire pork roast. Cover the roast with plastic wrap and chill in the fridge for at least 2 hours, up to 12 hours.
When you're ready to cook the roast, preheat the oven to 450 degrees F.
Place the roast, fat-side up, in a roasting pan or large casserole pan. I used my 9x13 pyrex dish, but the squash was a tight fit.
Scatter the squash cubes and shallots around the roast. Sprinkle with a pinch of salt and pepper, then pour the maple syrup over the whole thing.
Roast in the oven for 10 minutes. Reduce the heat to 350 degrees F, then continue to roast for another 60-80 minutes, or until the internal temperature of the roast reaches 145 degrees F.
Transfer the roast to a serving platter and cover it with a piece of foil to keep it warm. Let it rest at least 10 minutes before you slice it.
Meanwhile, transfer the squash with a slotted spoon to a food processor, leaving any juices in the pan. Blend the squash until smooth, adding a little chicken stock if necessary, to reach the desired consistency. If you don't have a food processor, mash the squash with a potato masher in a medium-sized bowl.
Slice the pork and serve it with the butternut mash and a drizzle of pan juices.
Notes
Note:
If the roast is finished cooking before the squash, transfer the roast to a platter and cover it to keep warm. Spread the squash evenly in the pan, crank the heat up to 425 degrees F, and continue to roast it for another 10 minutes until the squash is fork-tender.
This post may contain affiliate links. Any purchases made by using these links won't cost you any extra and helps keep my content free. These links may be Amazon links as I am part of the Amazon Associate Program.