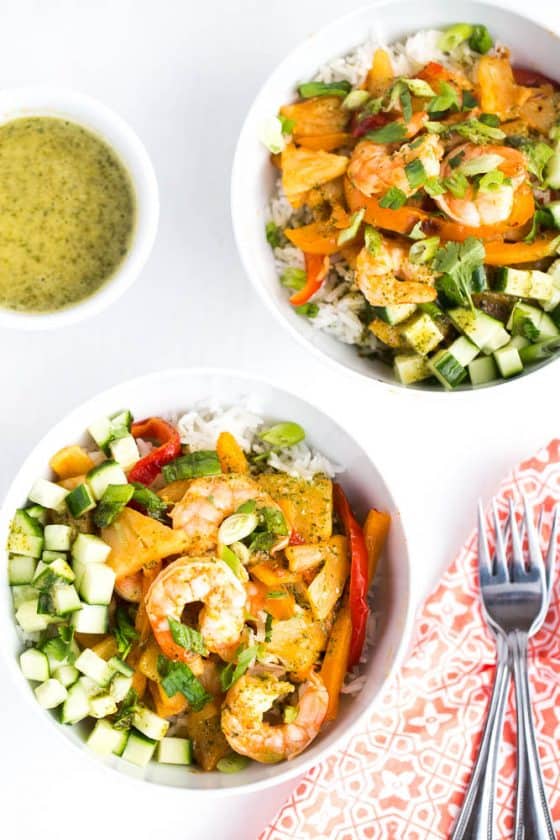 Recipes like this go over so well with my kids. Give them a bowl of rice or salad greens, a bunch of toppings they can choose from, and they're happy campers.
One thing I don't get, though, is why a couple of my kids are occasionally anti-dressing. Dry salad? What? They don't even like ranch. *weirdos*
I loved this coconut vinaigrette so much with this salad that I reached over and gave each kids' salad a drizzle. Without asking first. I know, I expected some lash-out, too. And I got a little.
But then they tasted it.
I totally won that round.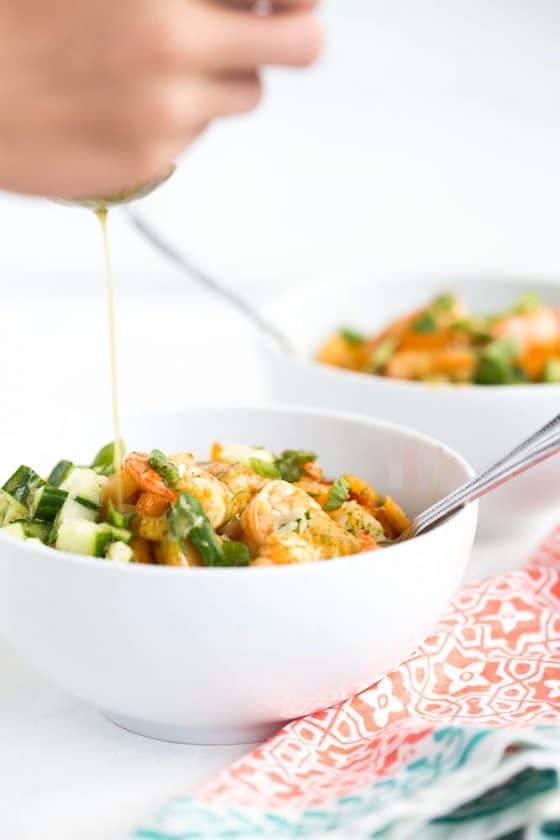 You'll love this. The shrimp, pineapple, and peppers are doused in a chipotle mixture and broiled until slightly caramelized. You could also put them on skewers and grill them if you're not up to grilling in the snow. (I'm not a fan unless I have a strong hankering.)
Piled on top of salad greens, cauliflower rice, or jasmine rice with some cool chopped cucumbers and a drizzle of coconut vinaigrette… *swoon* It's such a wonderful combination.
I feel like I tell my kids a million times that when you taste things all mixed together (instead of dissecting it) it's so much better. The whole is greater than the sum of its parts, yo.
Apparently not when there are tomatoes, cooked bell peppers, broccoli, squash, microscopic pieces of onion, or anything resembling a mushroom. (Among other things.)
Kids, man.
Luckily they inhaled these bowls. And I'm grateful they like avocados (or at least guac), because I would question our biological relationship if they didn't.
I'm convinced that avocados will improve almost anything, and if I have a ripe one in the house it WILL get used (even in ice cream), but I realize that if I don't reign in my avocado obsession my blog would turn into Perry's Avocado Plate. Not necessarily a bad thing, but not what I'm going for.
I had intended to throw some avocados on there, but my planning wasn't stellar (and I didn't have a ripe one) so, I didn't. And guess what? It was super good.
If you have a lonely avocado you could still give it a good home right on top.
If you've got extra shrimp laying around, throw it into this Easy Jalapeno Shrimp Veggie Bake by Lindsay at Cotter Crunch. I love how bright and fresh her recipes are!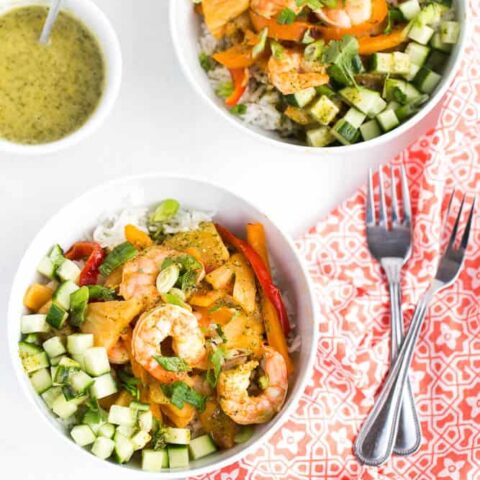 Chipotle Shrimp & Pineapple Bowls with Coconut Vinaigrette
The shrimp, pineapple, and bell peppers can also be grilled on skewers or in a grill pan for extra smokey flavor!
Ingredients
For the shrimp:
1/2 of a fresh pineapple, peeled, cored, and sliced into 1/4 inch pieces
2 bell peppers (any color), sliced thinly
2 pounds of medium or large uncooked shrimp, peeled and tails removed
sea salt and black pepper
1/4 cup freshly squeezed lime juice (about 2-3 limes)
1/2 teaspoon dried chipotle powder or a seeded, diced chipotle from a can of chipotles in adobo sauce
1 minced garlic clove
1 Tablespoon avocado oil
For the dressing:
1/3 cup coconut cream or milk
1 cup loosely packed fresh cilantro (about a handful)
3 Tablespoons lime juice (1-2 limes)
1 Tablespoon honey
1/2 clove garlic
1/2 teaspoon salt
1/2 cup avocado or light olive oil
For the bowl:
Salad greens, cauliflower rice, or cooked jasmine rice for the base
1 English cucumber, diced
2-3 green onions, thinly sliced
Additional chopped fresh cilantro
Hot sauce, if desired
Instructions
Preheat oven broiler.
Place the pineapple, bell peppers on a rimmed baking sheet. Place the shrimp in a bowl. Sprinkle the shrimp and vegetables with a generous pinch or two of sea salt and black pepper.
In a small bowl mix the rest of the ingredients in the top section (lime juice through avocado oil). Mix well, then pour half of the mixture over the pineapple/peppers and half over the shrimp. Toss each to combine.
Broil the pineapple and peppers for about 15 minutes, until they're mostly cooked through and are starting to develop color on the edges.
Meanwhile, Make the dressing by combining all of the dressing ingredients (except oil) into a food processor or blender. Pulse until smooth. While the machine is running, drizzle in the oil. Taste, and add more salt, lime juice, or honey if necessary.
Flip the pineapple and peppers around on the pan and add the shrimp to the hot pan along with the remaining marinade. Spread everything evenly in the pan and broil for another 5-6 minutes until the shrimp is completely pink and just barely cooked through. Remove from the oven and set aside.
Prep the remaining bowl ingredients and garnishes.
Put a layer of salad greens or rice in the bottom of each bowl. Top with shrimp and pineapple mixture and sprinkle on desired garnishes. Add a drizzle of dressing over the whole thing.
Notes
Nat's Note:
To make the dressing Whole30 compliant, use one chopped date in place of the honey. Blend extra long to get that date incorporated into the dressing!
Using coconut cream will give the vinaigrette a more pronounced coconut flavor, but coconut milk is good, too.

SaveSave