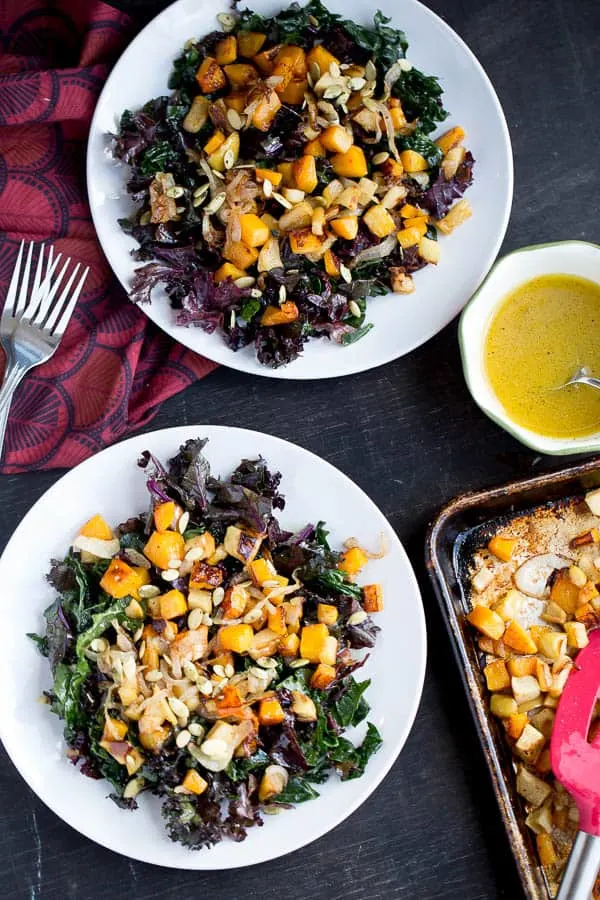 I think I've eaten kale salad every day for a week. That's what happens when you find organic kale on sale at Whole Foods. Three bunches for $5, people.
How do you turn that down? You don't. You buy one of every kind, and then torture your kids with kale salad all week. Luckily mine actually eat kale without too much resistance because I told them along time ago that kale makes them grow faster.
So I made a kale caesar salad, a quick chicken soup, and used the rest for this salad.
I'm so glad I made this.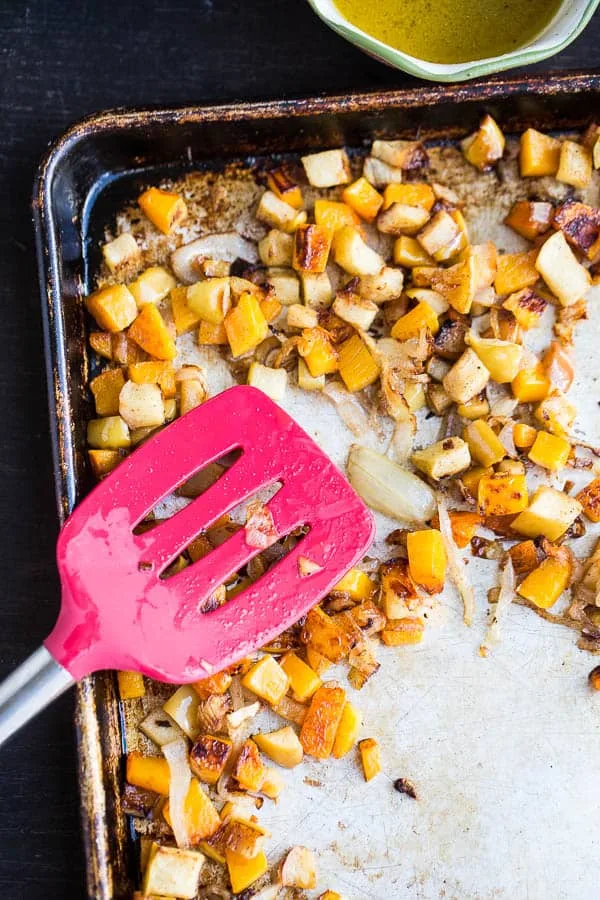 I used chunks of tender squash, sweet apples, and slivers of caramelized onions with a pinch of cinnamon. It's so warm and cozy and substantial — perfect for fall or winter. I could eat this roasted vegetable mixture all season, with or without kale.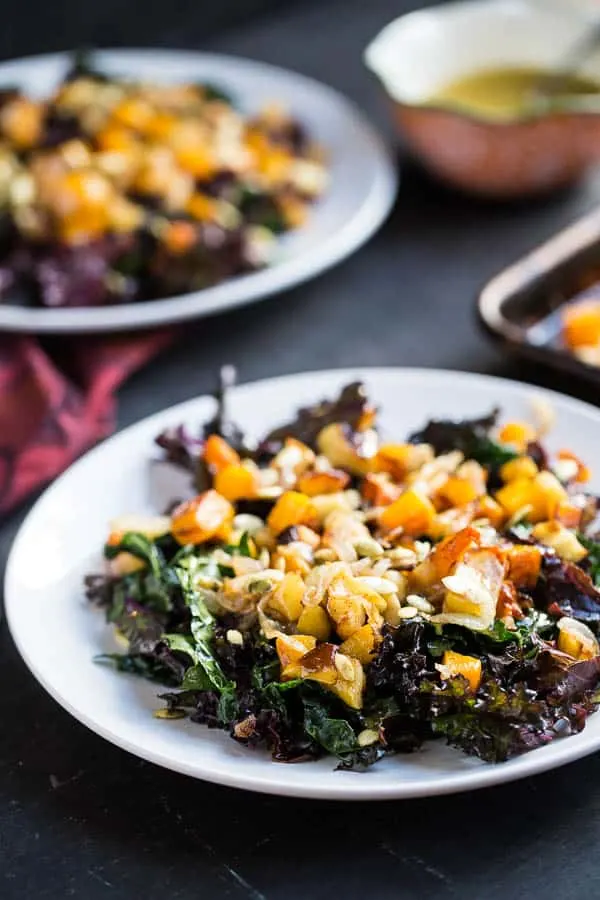 I threw it over a bed of massaged kale with a sprinkle of toasted pumpkin seeds and a drizzle of mustardy dressing.
Have you ever massaged kale? I thought it was a weird at first — like a vegetable spa treatment, but rubbing some acid (either citrus juice or vinegar) and a little oil into the kale softens it and takes away a lot of the bitter flavor. I never enjoyed eating kale raw until I tried this.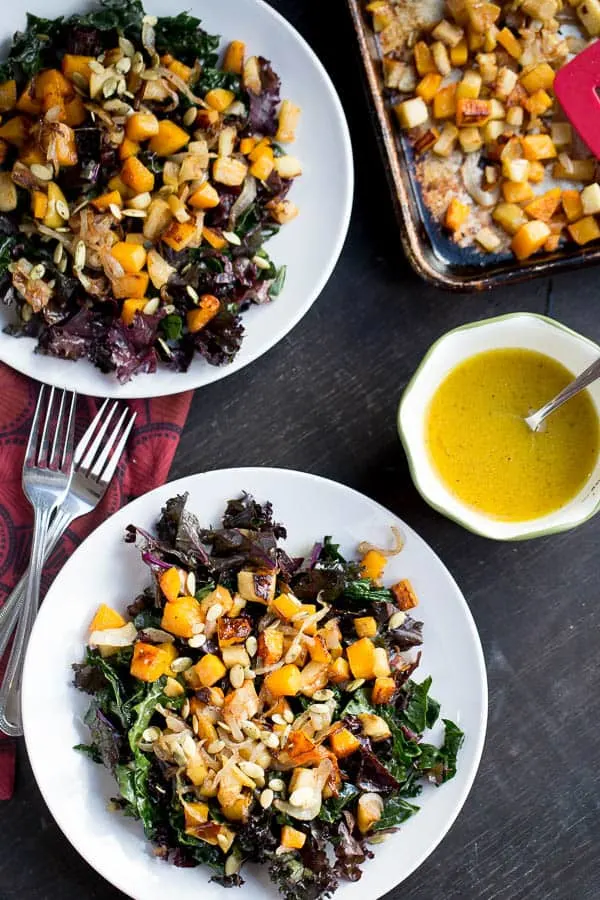 What surprised me most about this salad was how hearty it was despite being meatless! The leftovers are amazing with some bacon and eggs. Just saying.
And it'll get you through the 2398726th snow day in a row.
And did I mention that it's paleo AND Whole30 compliant? You're welcome.SaveSave
---
If you make one of my recipes, be sure to post it on social media and tag me at @perrysplate or #perrysplate so I can send you some love!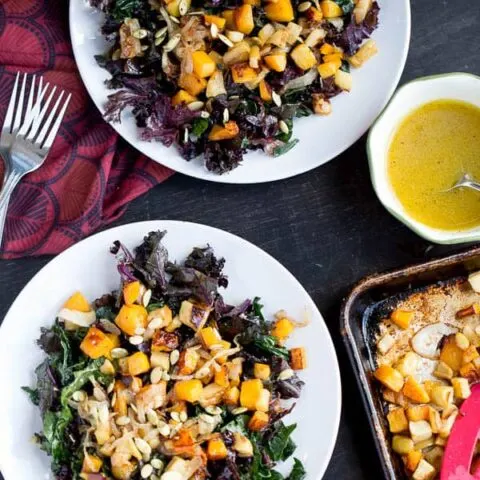 Kale Salad with Roasted Butternut Squash and Apples
Yield:
Serves about 6 as a main dish
Total Time:
1 hour
10 minutes
This is a perfect meatless meal that screams fall! You can also add some grilled chicken or steak to boost the protein content if you like.
Ingredients
For the roasted topping:
1 pound of butternut squash cubes
2 large, tart baking apples, cored and chopped
1 medium onion, halved and sliced thinly
1 Tablespoon avocado oil
1/2 teaspoon sea salt
1/2 teaspoon cinnamon
1/2 teaspoon ground mustard
1/4 teaspoon black pepper
For the dressing:
3 Tablespoons apple cider vinegar
1 teaspoon Dijon mustard
1 garlic clove, minced
1 teaspoon pure maple syrup or honey
1/4 teaspoon sea salt
1/4 teaspoon black pepper
1/2 cup extra-virgin olive oil or avocado oil
For the salad:
2 bunches of kale, any kind
1 Tablespoon apple cider vinegar
1 teaspoon extra-virgin olive oil or avocado oil
Toasted pumpkin seeds, for garnish
Instructions
Preheat the oven to 425 degrees F.
If the butternut squash cubes are larger than 1/2-inch, cut them down to roughly that size. Place them on a rimmed baking sheet with the chopped apple and thinly sliced onion. Drizzle the avocado oil over them. Sprinkle the salt, cinnamon, ground mustard, and pepper on top and use your hands to toss the apples and vegetables together to incorporate the oil and seasonings. Spread everything evenly in the pan and roast in the center of the oven for 35-40 minutes, tossing them once or twice during cooking, until the apples and vegetables are golden brown in spots. Remove from the oven and set aside to cool.
Meanwhile, make the dressing by combining the apple cider vinegar, Dijon mustard, garlic, maple syrup, salt, and black pepper in a small bowl. Whisk everything together and while whisking, slowly drizzle in the extra-virgin olive oil. Taste, and add a little more salt or sweetener, if needed. Cover and chill until ready to use.
Pull the leaves off of the kale stems and chop them into bite-sized pieces. Put the chopped kale into a large salad bowl. Drizzle with a Tablespoon of apple cider vinegar and a teaspoon of extra-virgin olive oil. Use your hands and rub the vinegar and oil into the kale for a minute or two. The leaves should soften slightly and take on a deep, rich color. Cover and chill until ready to use.
When all the components are ready, serve the salad by placing bed of massaged kale on a plate, top with some roasted vegetable mixture, a drizzle or two of dressing, and a sprinkle of toasted pumpkin seeds.
Notes
Whole30 modifications: Use equal amounts of Date Paste and yellow mustard in place of the maple syrup and Dijon mustard.
This post may contain affiliate links. Any purchases made by using these links won't cost you any extra and helps keep my content free. These links may be Amazon links as I am part of the Amazon Associate Program.