These cute little skillet meatloaves are a quick weeknight meal that cook up much faster than a traditional meatloaf!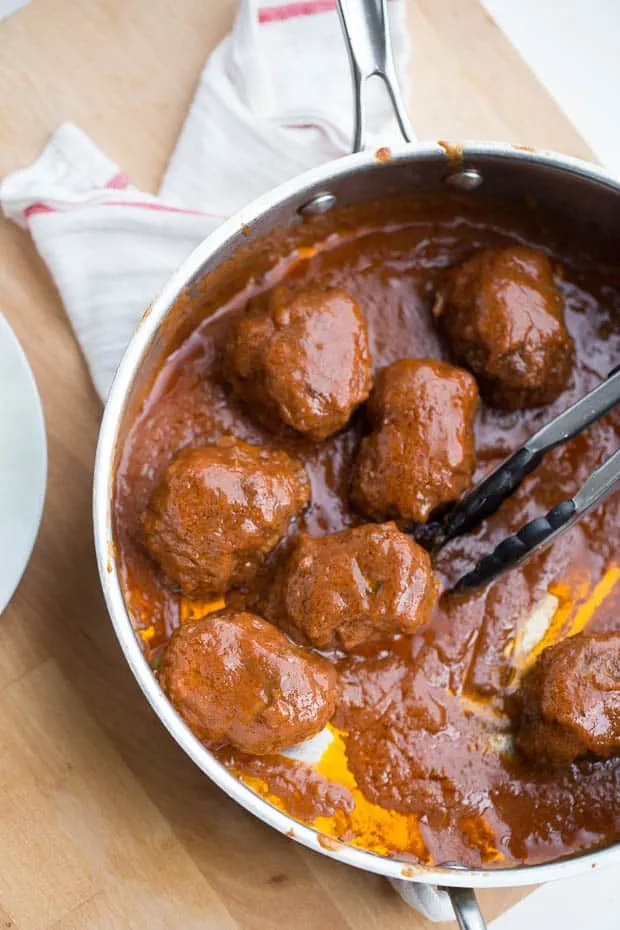 This is another recipe from my archives (circa 2010) that I picked up, dusted off, and made it healthier for you. The last time I made them was about two kids ago, and I had forgotten how good they were.
These Mini Skillet Meatloaves were a HUGE hit with my kids, too. They wolfed them so fast I had to make them again the next week just so I could snap some photos.
No complaints, here. They also made fantastic Whole30 leftover lunches.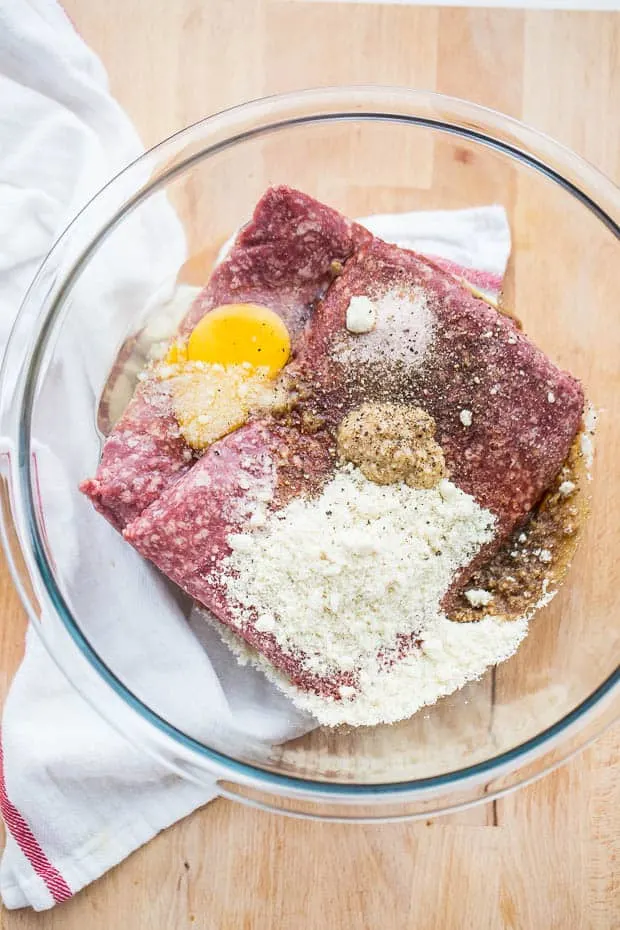 We get our grass-fed beef from the local university's ranch. It's so easy — I just walk in there and pull a bunch of meat out of the freezer and get my card swiped and it doesn't require my firstborn (take that Whole Foods). They've got grass-fed/pastured beef, lamb, and pork. I don't ever want to move.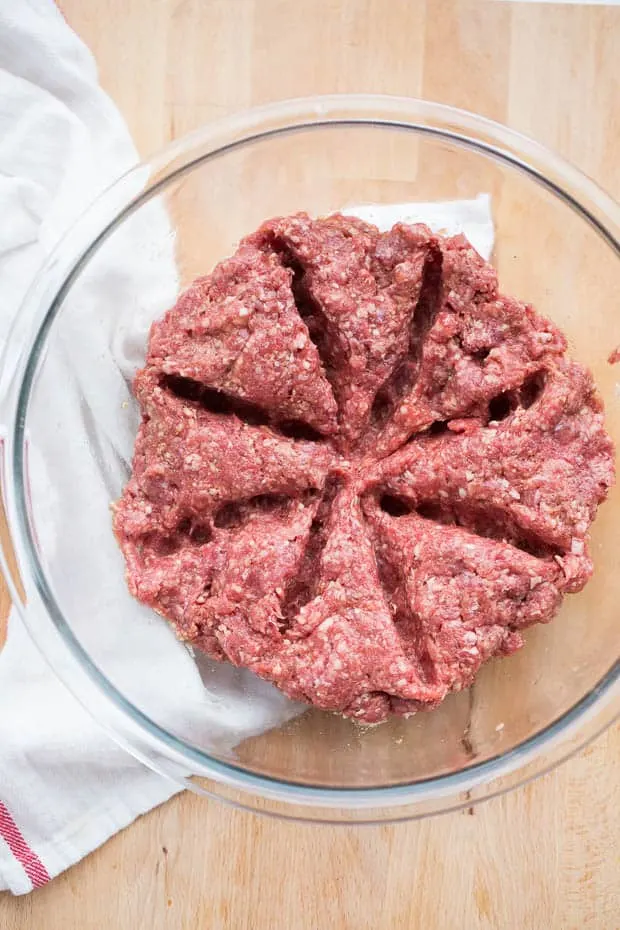 These Mini Skillet Meatloaves are a cinch to throw together. You could even form the meatballs a few days in advance!
Oh, and three seconds after I divided up this meat and snapped a photo, I realized I forgot to add the onions.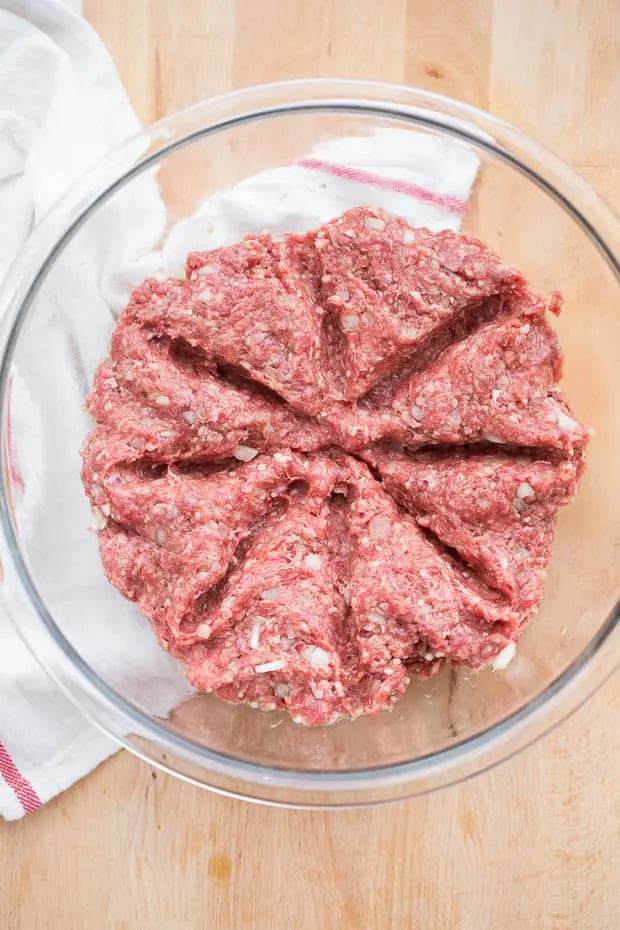 Ok, that's better.
And then I realized I forgot to add the chili powder. Sigh.
I was trying to cram this project into the last few minutes of a certain 1-year-old's naptime.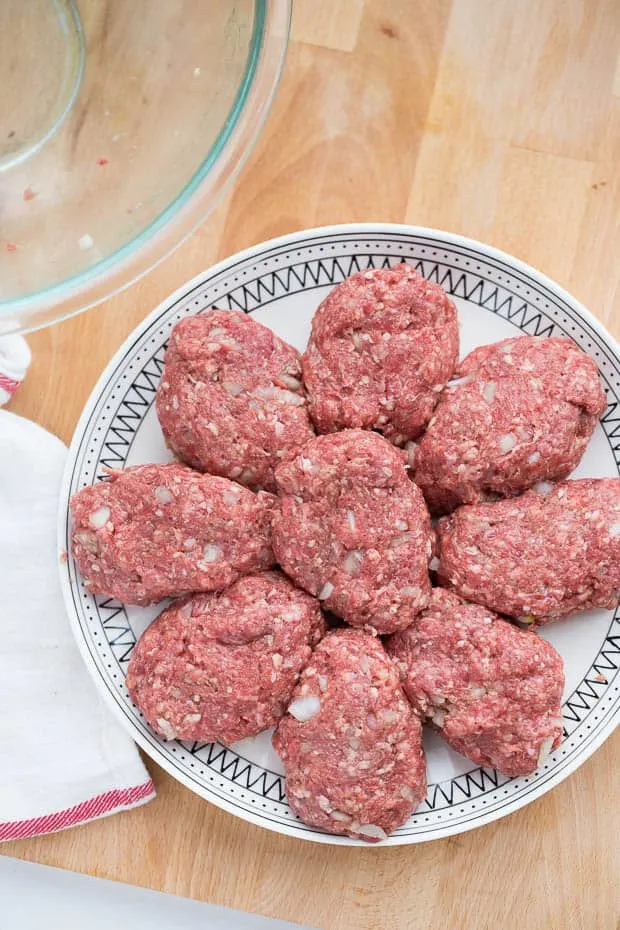 Little meatloaves!
I've always wondered if meatloaf was just one, giant meatball. So these mini meatballs would also be extra large meatballs?
(Psst, I just sprinkled the chili powder over them at this point. One day I'll have my act together, I promise.)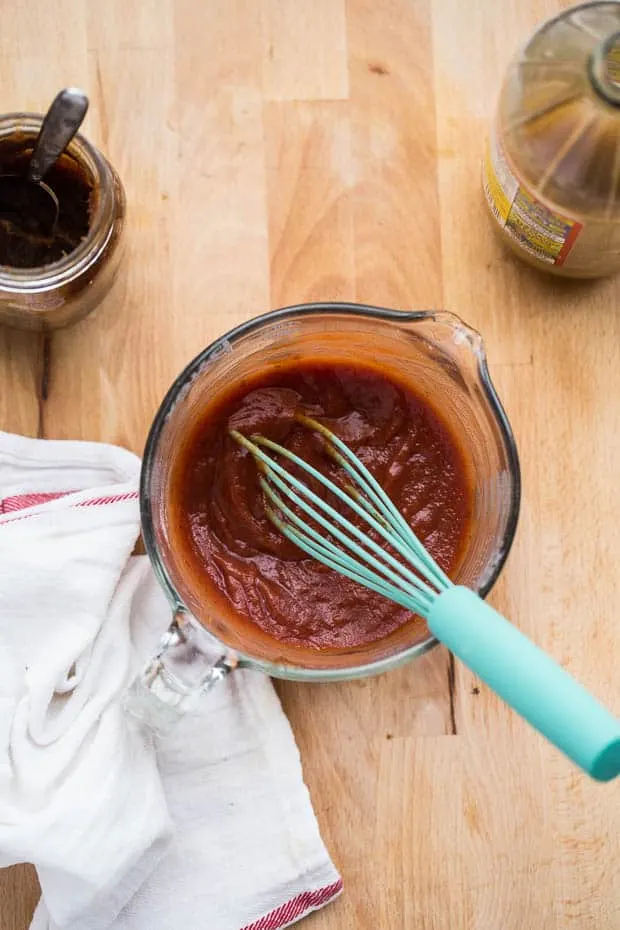 The original recipe for the sauce was basically ketchup, brown sugar, and vinegar. After replacing the ketchup in my favorite Sloppy Joe's recipe with tomato sauce and honey with no devastating consequences, I did the same thing here.
If you're on a round of Whole30, just use Date Paste in the sauce. That's what I did with mine, and I didn't even notice a difference! You could also use 1/4 cup of fruit juice (like apple or pineapple).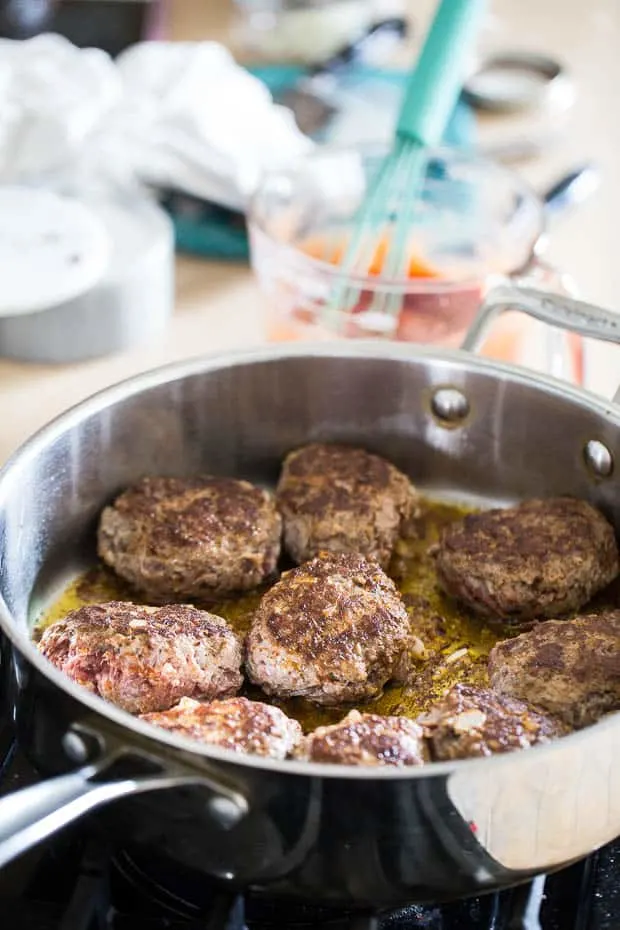 Ok, cook time.
Brown the meatloaves so they get a nice, caramelized crust.
TIP: If you're using a stainless pan and you have trouble with meat sticking, it's probably due to one of two things:
Your pan isn't hot enough. Let the pan get hot — not to the point where the oil is smoking, but just before then. Water flicked into the pan should sizzle a lot.
The meat gets poked and moved around too early. Once you put the meat in there and hear a sizzle, DON'T TRY TO MOVE IT. I know it's tempting. I like to fidget with what I'm cooking, too. Let it cook for a few minutes first. Then try to get a spatula underneath. If you are met with a lot of resistance, then it's not ready to flip. Once the meat forms that crust it will release itself from the pan — for the most part. Sometimes you'll still have a little bit of stickage, but it's a lot better if you wait.
If food sticks to the pan anyway, (sometimes it does happen) add some liquid to the pan while it's still hot and as it bubbles and sizzles, scrape the bits off the bottom. (It's called deglazing the pan if you've noticed that word in recipes before.) Sometimes you'll take out the meat first and add some liquid for the next step in the recipe. Sometimes you're at the very end of cooking, so take out the meat and then use water to deglaze. Sometimes you'll add the sauce right in with the meat (like in this case) and it'll deglaze itself as it continues to cook.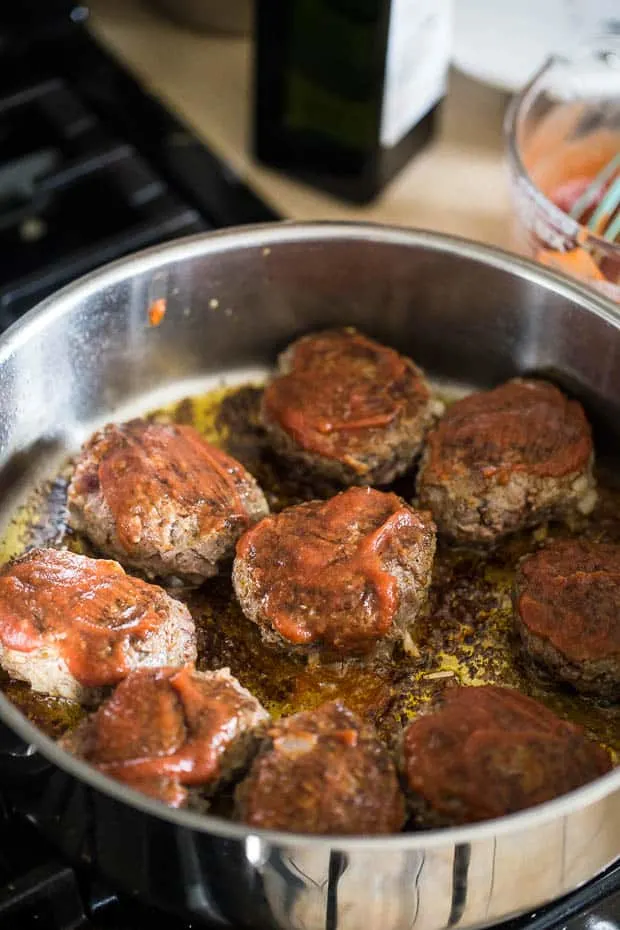 See those bits that are kind of stuck to the bottom? It's fine, really. In fact, it's a good thing because it'll give that basic tomato sauce mixture a giant flavor boost.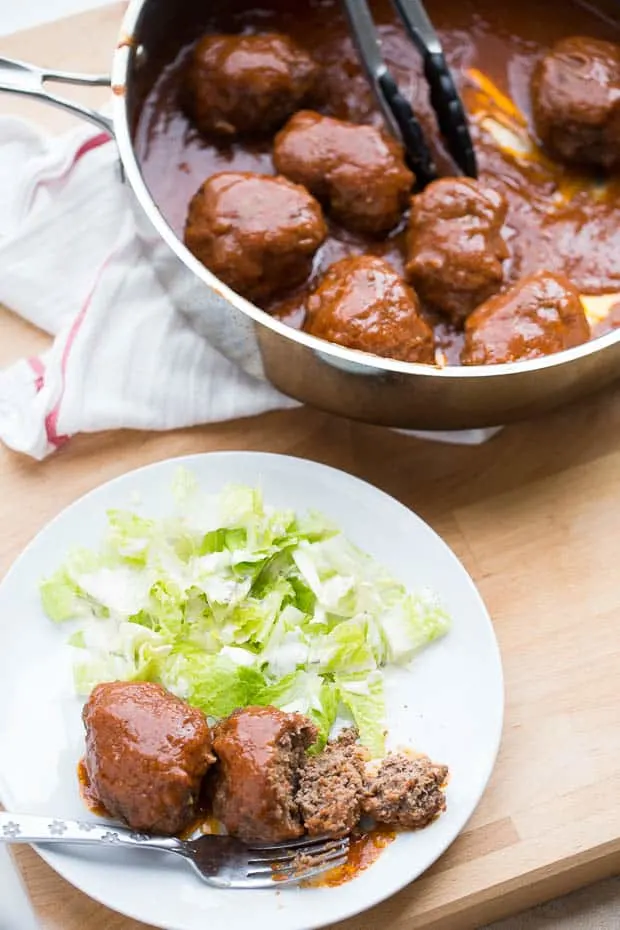 Cute, right? And you don't have to wait over an hour for it to bake in the oven. I call that a win-win.
If you'd rather have your meatloaf in a true loaf form and want something clean AND easy for a weeknight, try the Paleo Meatloaf from Sheena at Noshtastic!
SaveSave
---
If you make one of my recipes, be sure to post it on social media and tag me at @perrysplate or #perrysplate so I can send you some love!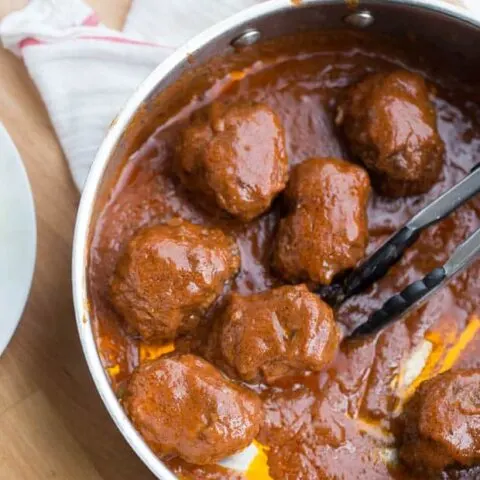 Mini Skillet Meatloaves (Paleo & Whole30)
Yield:
Makes 8-9 mini meatloaves
These little meatloaves are perfect for when you're in the mood for meatloaf but don't want to wait a whole afternoon for it to bake. OK, maybe it doesn't take that long, but an hour and a half is a long time to wait when you're hangry.
Ingredients
2 pounds of ground meat (beef, pork, or turkey)
2/3 cup minced sweet onion (about 1 small onion)
1/3 cup blanched almond flour
1 large egg
3 Tablespoons coconut aminos
3 cloves of garlic, minced
1 teaspoon chili powder
1 1/2 teaspoon sea salt, divided
1/4 teaspoon black pepper
2 Tablespoons avocado or coconut oil
1 cup tomato sauce
3 Tablespoons Date Paste or 3 dates, pitted and minced
3 Tablespoons apple cider vinegar
1/2 teaspoon onion powder
Instructions
Place the ground meat into a large bowl.
Add the minced onion, almond flour, egg, coconut aminos, garlic, chili powder, 1 teaspoon of the salt, and the black pepper.
Mix everything with your hands until combined. Be sure not to squeeze the meat between your fingers - be gentle or else you'll end up with squishy, mealy meat. Flatten the meat in the bowl and score the top to divide it evenly into 8 sections.
Shape each section into a 3-to-4-inch oval loaf and place them on a large plate or back into the bowl you were using. You may end up with extra meat in the middle -- if so, just make a 9th meatloaf. Set aside. (Can be done ahead of time.)
Heat the oil in a large skillet over medium-high heat. Add the loaves and brown about 3 minutes per side.
Meanwhile, whisk the tomato sauce, date paste, and vinegar, onion powder, and remaining 1/2 teaspoon of salt, and brush a few tablespoonfuls over the browned loaves.
Add 1 cup water to the skillet, cover and simmer over low heat until cooked through, about 12-15 minutes.
Transfer the loaves to a clean plate. Add the remaining tomato mixture to the skillet and cook over high heat, stirring, until thick, 3 to 5 minutes.
At this point you can pour the sauce over the meatloaves and serve or return the meatloaves to the skillet and toss them around in the sauce to coat them well.
Serve.
Notes
Nat's Note: If you're not doing Whole30 and don't want to use dates, substitute 2 Tablespoons of honey. Use erythritol if you're low-carb.
This post may contain affiliate links. Any purchases made by using these links won't cost you any extra and helps keep my content free. These links may be Amazon links as I am part of the Amazon Associate Program.