This Syrian Salad. It's seriously SO bold. It's the best punch of flavor in the face that you'll ever get. And you won't be able to stop eating!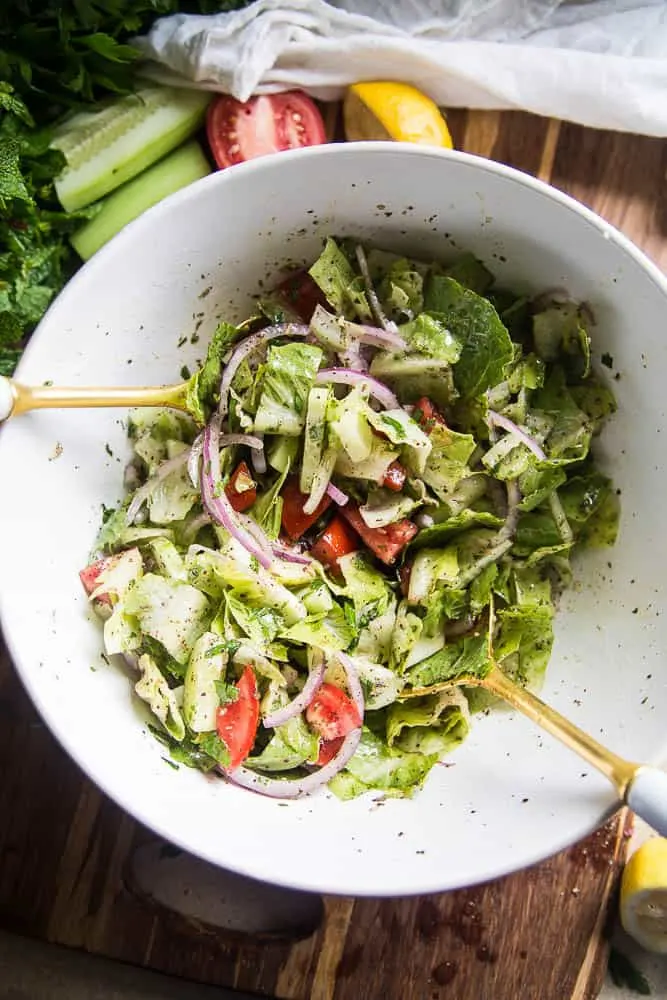 This salad, guys. It's SO bold.
Salad with wimpy dressings make me sad. This Syrian salad is definitely not one of those.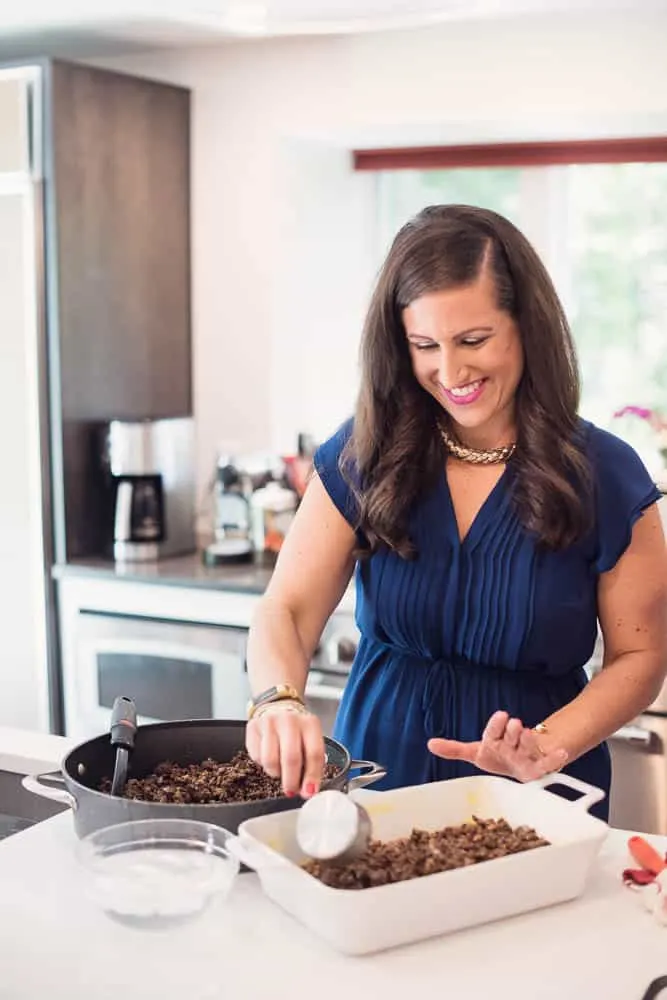 Before I give you the low down on that salad, let me talk about Liz. Do you follow Liz's blog, The Lemon Bowl? She's fabulous — super confident and adventurous, and totally gorgeous.
Liz also has a rich family heritage, and she just released a new recipe ebook dedicated to her Syrian family — The Ultimate Syrian Sunday Dinner. It's the fourth part in her Food From Our Ancestors Series.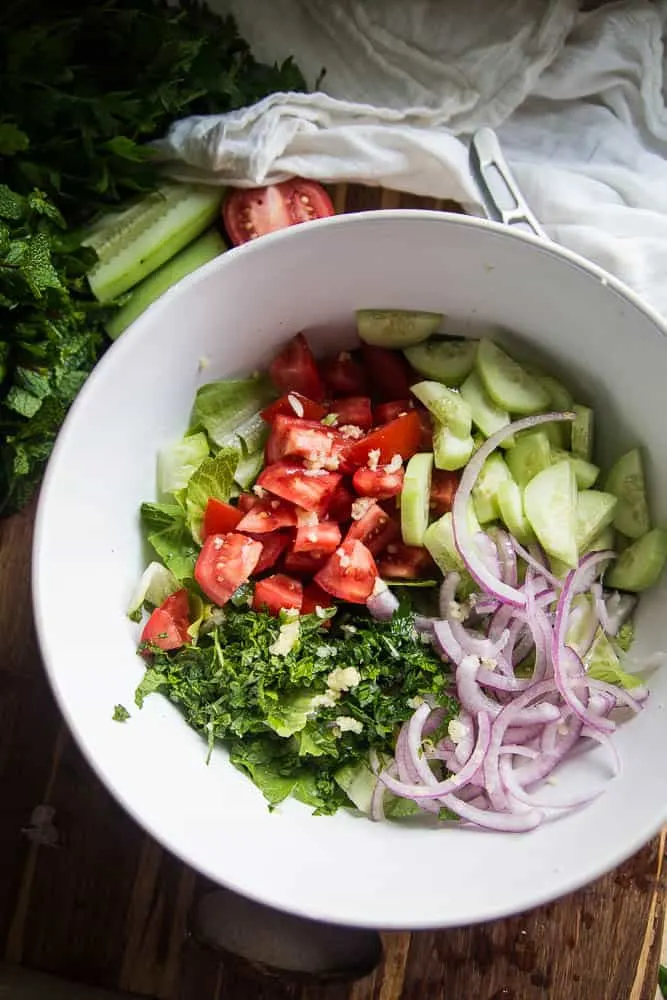 This may have been the first time I grated fresh garlic directly onto a salad. I like it.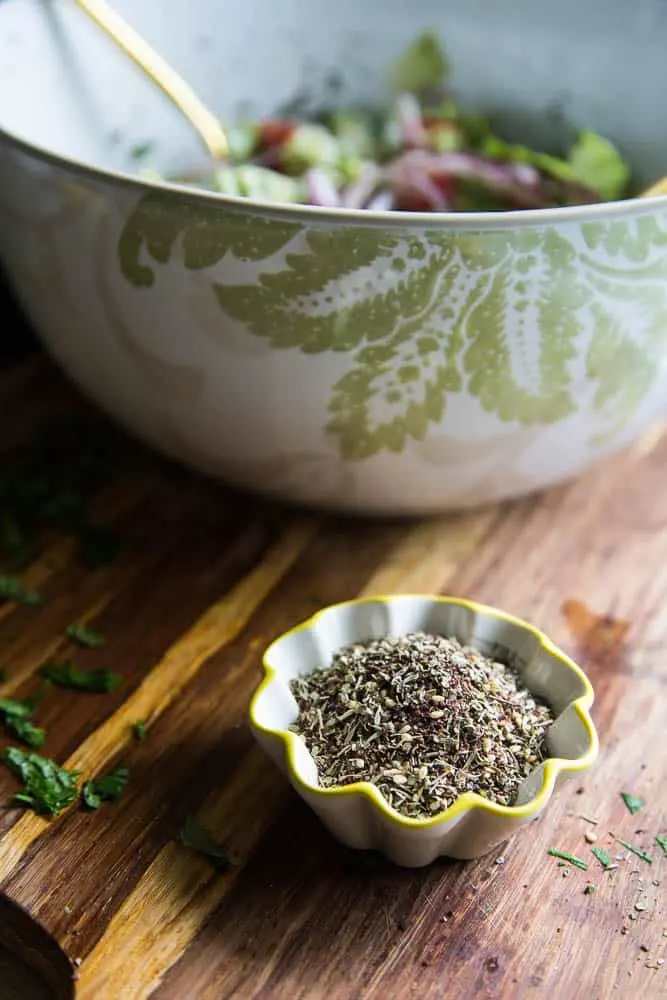 This is the star of the show, though. Have you ever used za'atar seasoning? It's a Middle Eastern herb and spice blend.
I have a lame story about za'atar. Want to hear it? Several years ago we lived down the street from the nicest Israeli couple who were going to grad school the same time we were. Nitzan, the wife, gave me a jar of za'atar blend once, and I was thrilled because I'd never tried it before! It was in an empty baby food jar and…. I couldn't get it open. Neither could Steve. So it sat in my spice cabinet for EIGHT YEARS, and I finally tossed it last year because I figured it would be old and flavorless even if I could get it open. The end.
Don't be scared when you sprinkle a whole lot of this blend on your salad.
I looked in few stores for this blend and couldn't find it, and after a quick Google search, I realized I had everything to make it at home! Sumac isn't something I usually have on hand, but I happened to have some in a Trader Joe's spice blend pack. If you need a recipe, here's the one I used: Homemade Za'atar Seasoning (except I didn't blend the sesame seeds)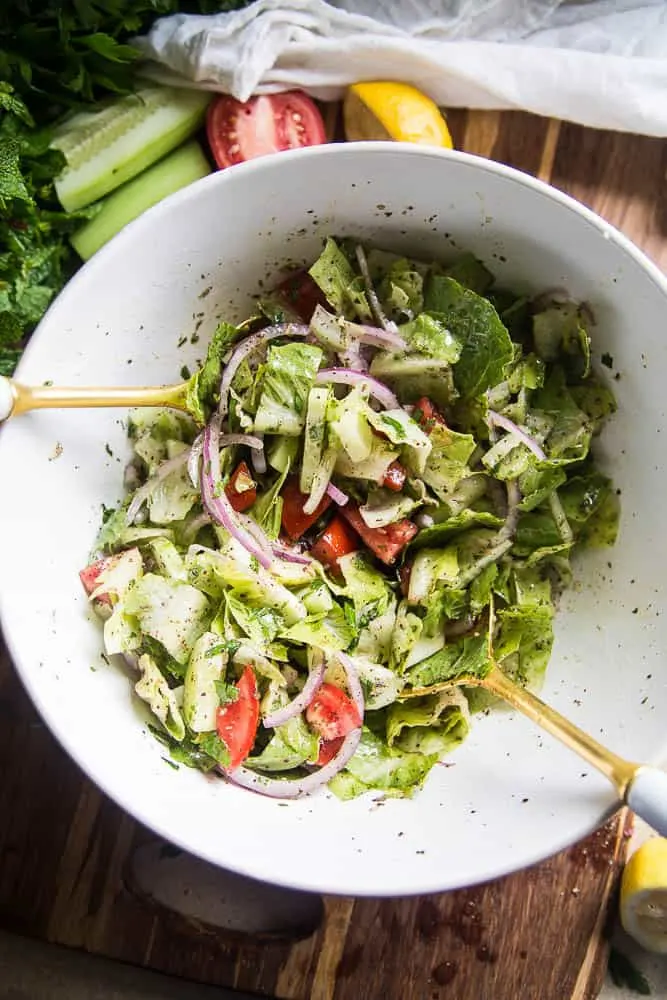 I'm excited to try the other recipes from The Ultimate Syrian Sunday Dinner book! Go grab a copy and whip up this Syrian Salad and some Stuffed Cabbage Rolls. And a big bowl of Aunt Vieve's Hummus. Or buy the whole Food From Our Ancestors bundle and get the Jewish, Mexican, and Italian Sunday Dinner books, too!
And then call me and we can do an ultimate Sunday dinner potluck.SaveSaveSaveSaveSaveSaveSaveSaveSaveSave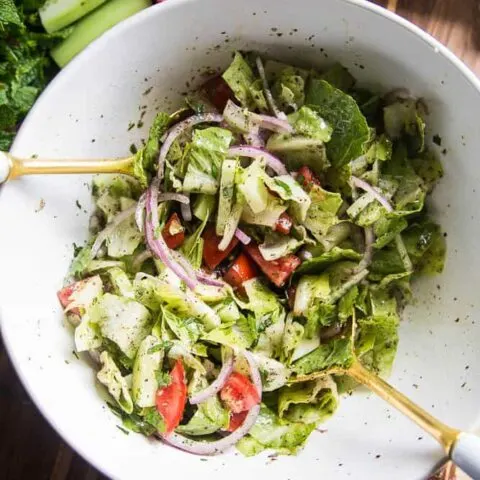 Syrian Salad
This Syrian Salad. It's seriously SO bold. It's the best punch of flavor in the face that you'll ever get. And you won't be able to stop eating!
Ingredients
4 cups Romaine Lettuce, chopped
1 cup diced tomato (about two medium)
1 cup diced cucumber
1/2 cup thinly sliced red onion
1/4 cup minced parsley
1/4 cup minced fresh mint or 1 Tablespoon dried mint
2 cloves garlic, grated/crushed
1/4 cup olive oil
1/4 cup lemon juice
2 Tablespoons za'atar (a Middle Eastern spice and herb blend)
salt and pepper, to taste
Instructions
Place the first six ingredients in a large salad bowl (Romaine through mint)
Squeeze juice of one lemon around the bowl, carefully holding your opposite hand underneath to catch the seeds.
Using a microplane, grate the garlic directly over the salad.
Drizzle salad with olive oil and lemon juice, then sprinkle with za'atar. Season with salt and pepper to taste.
Gently toss the salad together. Check for seasoning and adjusting accordingly.
Notes
Shared with permission from Food From My Ancestors: Ultimate Syrian Sunday Dinner by Liz Della Croce.