This easy grilled chicken salad! It's filled with marinated za'atar grilled chicken, spiced grilled feta, lots of crisp veggies, and a simple lemon-herb dressing!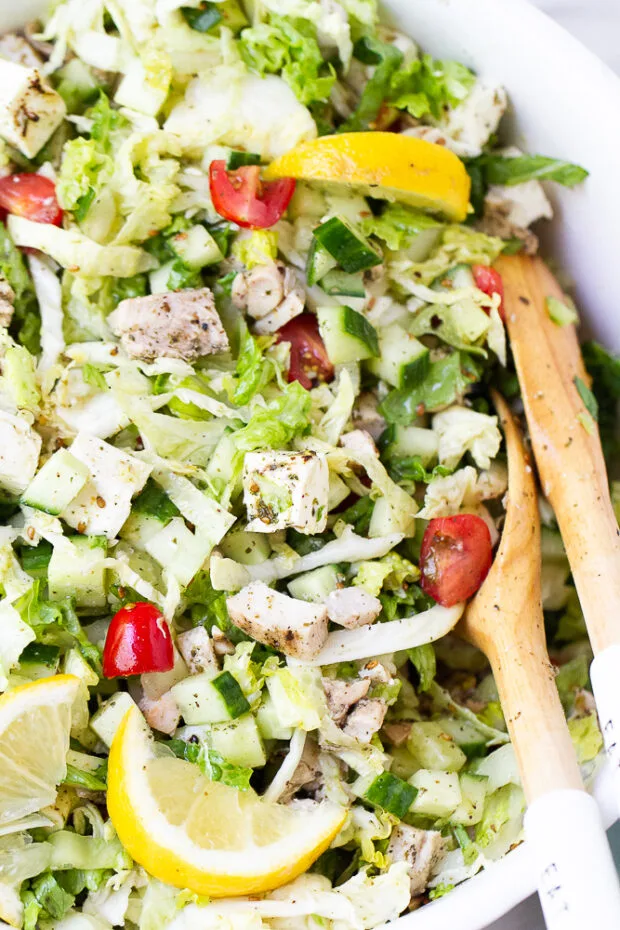 I REALLY love grilled chicken salads. I have so many healthy grilled chicken recipes on my site that are great for salads, but that never stops me from creating new ones.
What is za'atar seasoning?
If you've never used za'atar seasoning, it's a common blend used in Middle Eastern countries. The first time I used it was when I received some from a sweet Israeli neighbor.
There are regional variations of za'atar, but most blends have a mixture of thyme, sumac, & toasted sesame seeds. It's delicious! I love using in a marinade or a dressing with fresh lemon juice. *chef's kiss*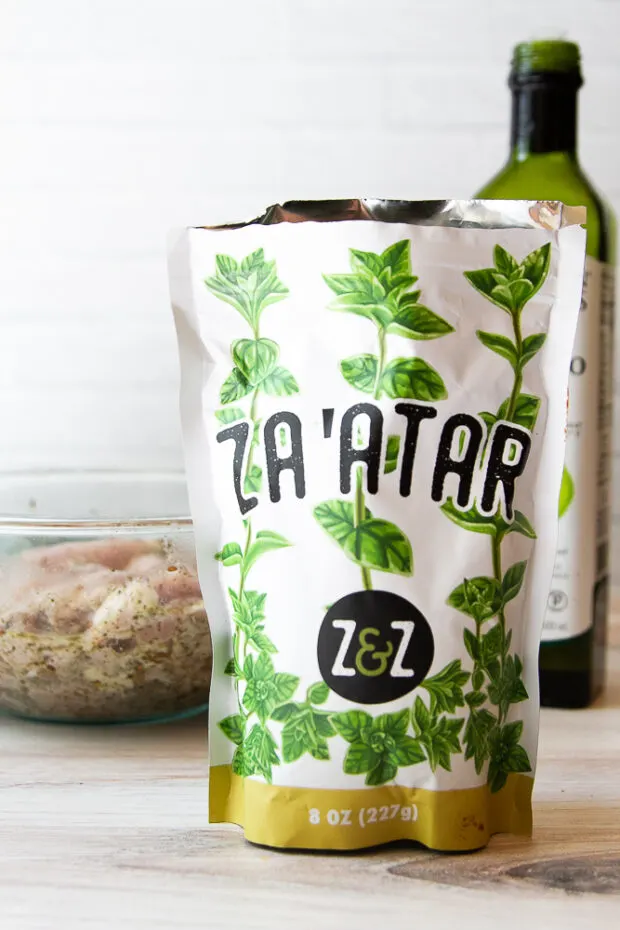 You can find it at some nicer grocery stores in the spice section. Or you can order it online. I just ordered this za'atar seasoning on Amazon and LOVE it. I use it frequently, so this amount is good for me. It's a lot if you're only wanting to try it out, so I'd find a smaller jar if I were you.
Substitute for za'atar seasoning
If you don't like or can't find za'atar seasoning, you can use my Greek Seasoning instead. Or another herb-based seasoning you prefer, like Ranch Seasoning mix or Herbs de Provence
Grilling Feta
OK, feta is great, right? But have you ever seasoned feta and GRILLED it?
*swoon*
You'll need to find a block of feta, obviously. If you can't, just use crumbled feta and skip the grill. Seasoned crumbled feta would also be great in this salad!
Substitute for Feta
If you don't like feta or would rather use another type of cheese, Halloumi cheese is also great for griling!
You could also sprinkle some goat cheese or blue cheese crumbles into this salad.
How to make Za'atar Grilled Chicken Salad
This one has a SUPER easy za'atar marinade that gets tossed on your chicken. Let it marinated for a couple of hours at least or up to 24 hours. Or if you're in a pinch, let it sit at room temperature for 30-45 minutes.
While it's griling, get everything chopped up. I liked this as a chopped salad, but you don't have to chop everything up that well if you'd prefer it as a traditional salad.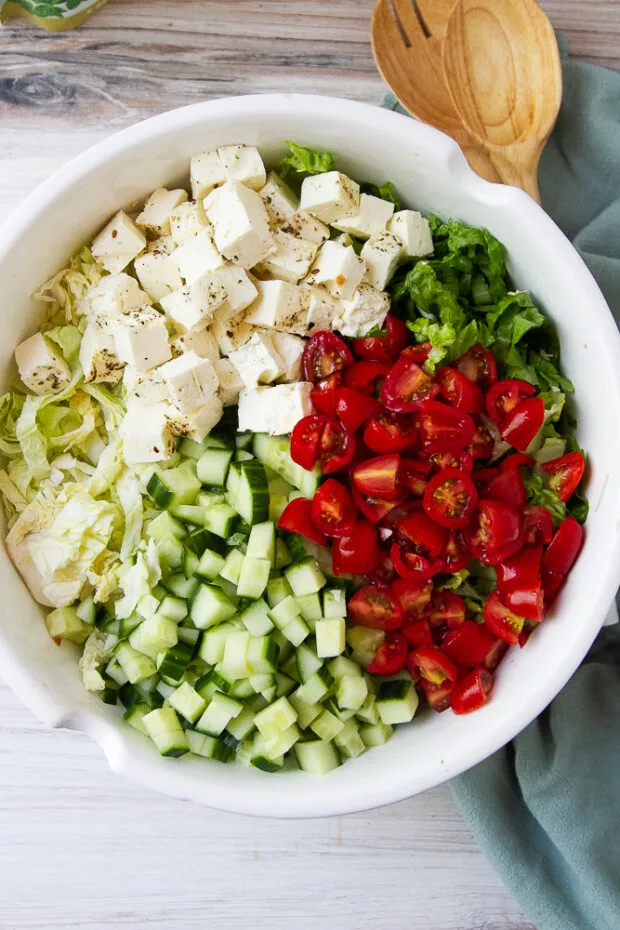 I used halved grape tomatoes and cucumbers (my favorite for things like this), but you can use any kind of chopped raw veg you want.
Here are some suggestions if you need some:
bell peppers
snap peas
zucchini (grilled or raw)
yellow squash (grilled or raw)
broccoli
cauliflower
red onion
fresh corn
Once the chicken's internal temperature reaches 140F, pull it off the grill. Let the chicken rest, chop it up and add it to the salad along with the dressing in a very large salad bowl.
That's it!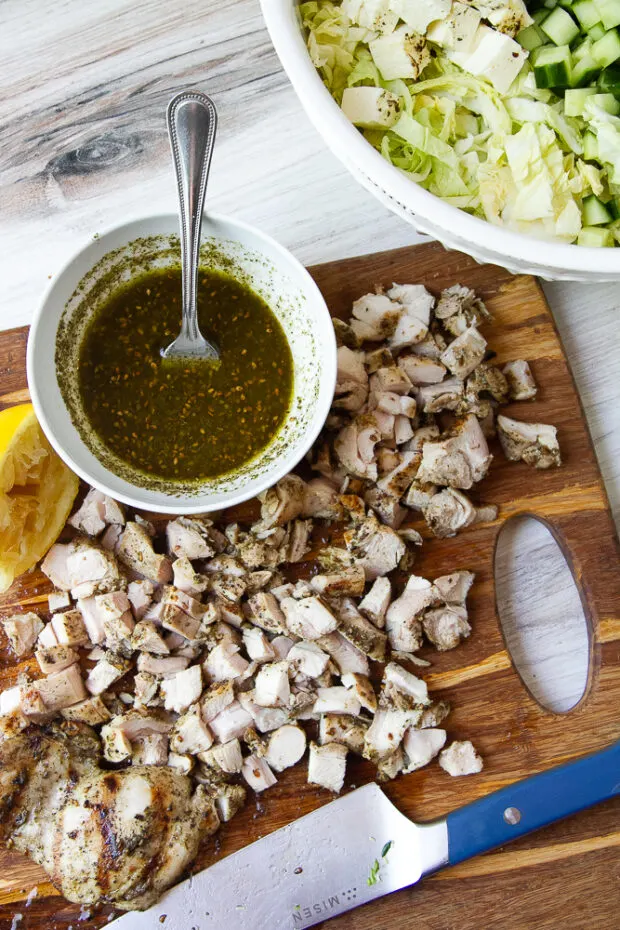 Grilled Chicken Salad Dressing
This dressing only has a few ingredients — just lemon juice, more za'atar seasoning, garlic, olive oil, and a little salt.
You could just sprinkle the individual ingredients over the salad and mix it up well. But if you don't want to risk a clump of grated garlic punching you in the tongue, you might want to mix it up in a little bowl first. (Speaking from experience here.)
What kind of chicken is best for this recipe?
I really love using chicken thighs because they're more moist and don't dry out or overcook as quickly as chicken breasts.
If you'd rather use boneless skinless chicken breasts, go right ahead. If your cuts are extra thick, butterfly them or slice them in half so you have two thinner breast pieces. This will give the marinade more surface area, help it to grill more quickly, and produce better tasting chicken.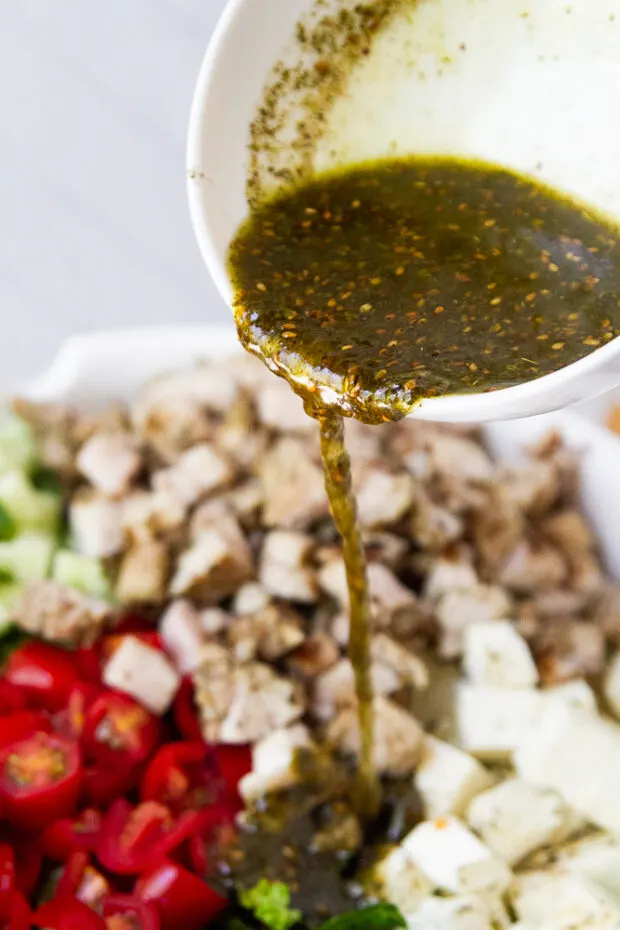 Can I use another type of lettuce?
Sure! I love Romaine in this salad, but you can use any lettuce you like.
You can even use napa cabbage or very finely shredded regular cabbage in place of half of the lettuce. I wouldn't recommend using all cabbage though, because it will make the salad a lot heavier.
How to store leftover salad
Store it in an airtight container for about a day. It would be best to eat the whole thing the same day you make it, honestly.
If you use some cabbage in your salad, it will last an extra day or so in the fridge. If you use all lettuce it'll get slimy more quickly.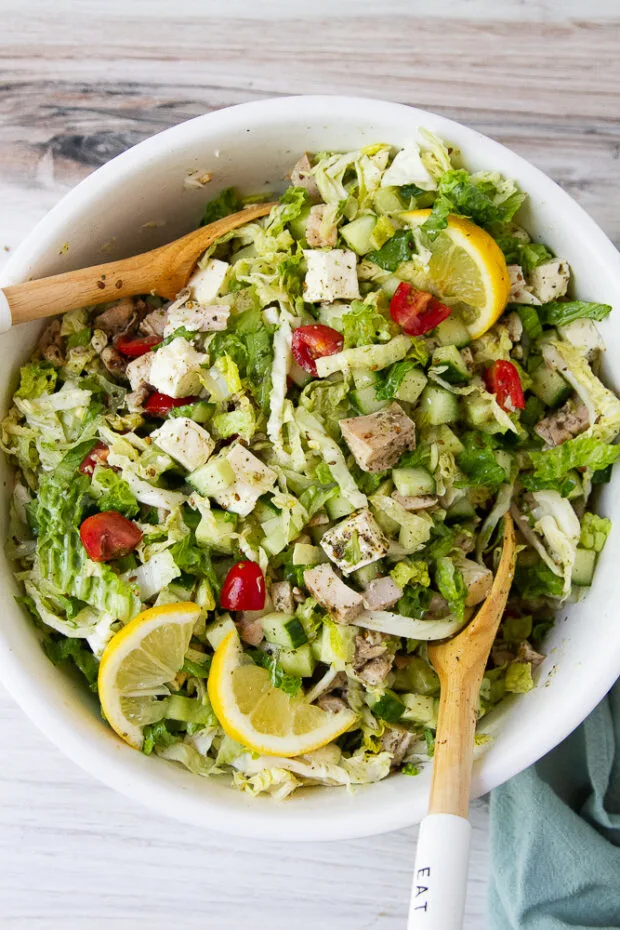 Can I make this salad ahead of time?
If you'd rather do some prep ahead of time, you can prep everything and store the chopped grilled chicken breasts, feta cheese, and vegetables in the large salad bowl and store the dressing separately. It'll keep for a day or so.
Toss everything together right before serving and you're good to go!
More recipes using za'atar seasoning
This Syrian Salad with Za'atar Vinaigrette is one of the best green salads I've ever eaten! It has SO much flavor and goes great with a lot of dishes.
You could also use za'atar in my Mediterranean Ground Turkey Bowls, too!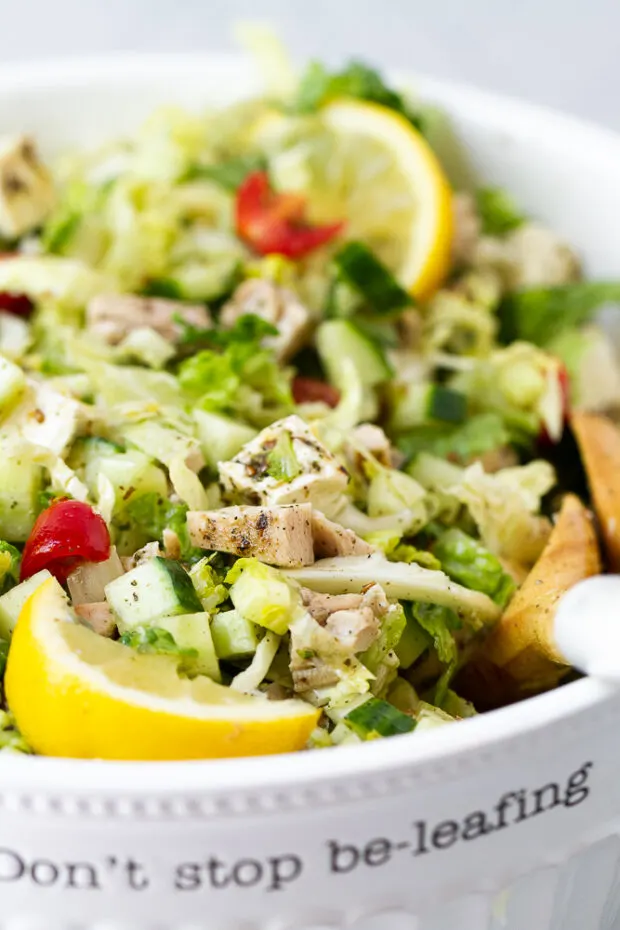 More Grilled Chicken Salad Recipes
If you like this recipe, try one of my other salads with grilled chicken!
Grilled Jerk Chicken & Mango Salad is a simple grilled chicken salad recipe with a ton of flavor! I love the sweetness from the mango with the jerk spices in the chicken.
Easy Fiesta Lime Chicken Salad is inspired by Applebee's Fiesta Lime Chicken — but in salad form. (I like it better this way!)
If you're looking for more grilled chicken recipes, here's a collection of mine: Best Grilled Chicken Recipes.
Some include a chicken marinade and some have just a simple spice rub. All of these can be turned into some kind of salad or used in a grain bowl. Those are my favorite ways to eat grilled chicken for lunch or dinner.
---
If you make one of my recipes, be sure to post it on social media and tag me at @perrysplate or #perrysplate so I can send you some love!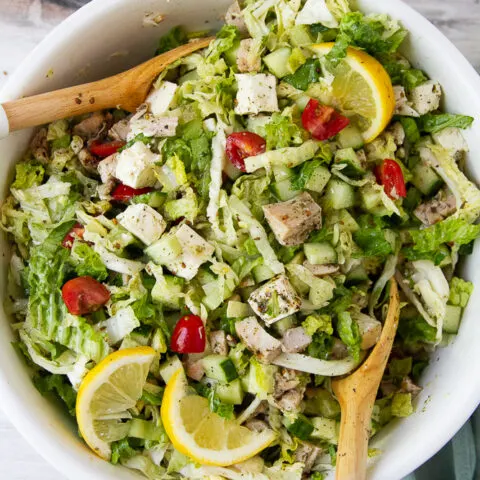 Za'atar Grilled Chicken Salad with Feta
I LOVE this grilled chicken salad! It's filled with marinated za'atar grilled chicken, spiced grilled feta, lots of crisp veggies, and a simple lemon-herb dressing!
Ingredients
1 1/2- 2 lbs chicken thighs or breasts
2 1/4 teaspoons sea salt
2 1/2 Tablespoons za'atar seasoning or Greek seasoning, divided
2 lemons, divided
3 Tablespoons avocado oil, divided
8 ounce block feta cheese
2 heads of Romaine lettuce (see note)
1 English cucumber
1 cup cherry or grape tomatoes
3 Tablespoons extra-virgin olive oil
1 clove of garlic, grated or microplanes
Instructions
Place the chicken in a medium or large bowl. If you're using really thick chicken breasts, I highly recommend butterflying them or slicing them so you have two thin breasts.
Sprinkle with 2 teaspoons of salt, 1 Tablespoon of za'atar, 3 Tablespoons fresh lemon juice (about half of one of the lemons), and 2 Tablespoons avocado oil. Use a pair of tongs to turn the chicken and get everything coated well. Chill and marinate for at least 2 hours, up to 24 hours.
When you're ready to grill the chicken and assemble the salad, preheat your grill to high heat.
Place the block of feta on a small plate. Sprinkle with a pinch or two of za'atar seasoning and drizzle with the remaining 1 Tablespoon avocado oil.
When the grill has preheated, grill the chicken until cooked through and nice grill marks have formed. Set chicken aside to rest for a few minutes.
Make sure the grill is really hot and grill the seasoned feta block for a couple of minutes on each side. Set aside.
Slice the romaine lettuce thinly, chop the cucumbers, chicken, & feta, and put them all in a very large salad bowl.
In a small bowl whisk together the olive oil, garlic, and the juice from one of the lemons (about 3-4 Tablespoons). Pour over the salad and toss to coat.
Serve immediately
Recommended Products
As an Amazon Associate and member of other affiliate programs, I earn from qualifying purchases.
Nutrition Information
Yield

8
Serving Size

About 1 cup
Amount Per Serving
Calories

582
Total Fat

41g
Saturated Fat

13g
Trans Fat

0g
Unsaturated Fat

27g
Cholesterol

243mg
Sodium

1314mg
Carbohydrates

13g
Fiber

5g
Sugar

6g
Protein

47g
The information shown is an estimate provided by an online nutrition calculator. It should not be considered a substitute for a professional nutritionist's advice.
This post may contain affiliate links. Any purchases made by using these links won't cost you any extra and helps keep my content free. These links may be Amazon links as I am part of the Amazon Associate Program.