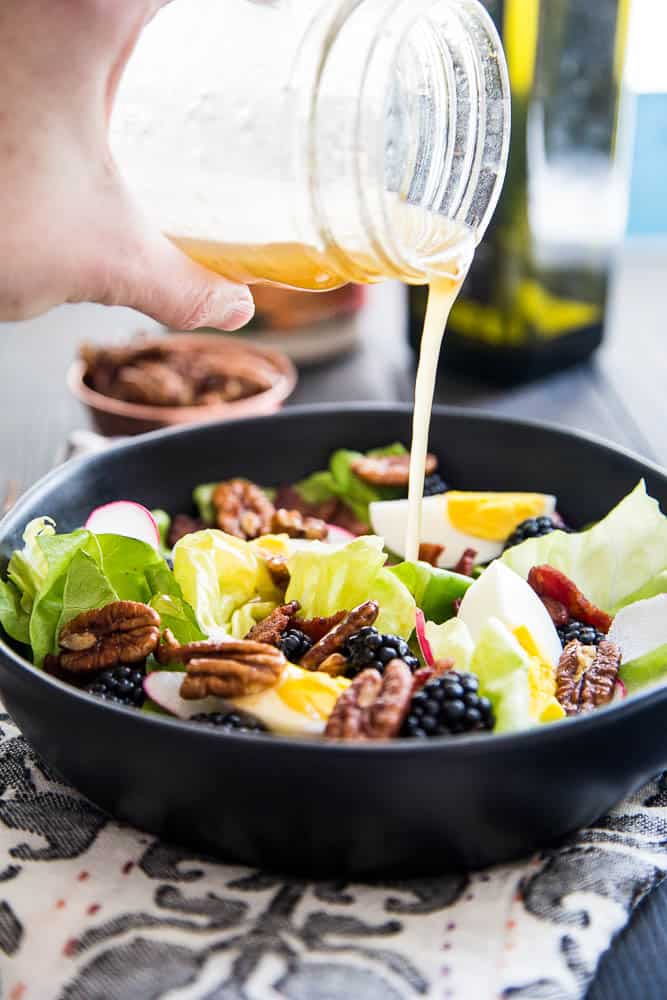 You know I love me a good salad. I also love bacon. And hard-boiled eggs. And candied nuts. Blackberries are probably my favorite berry, too. Making this salad dressed in maple dijon vinaigrette was a no-brainer when I saw it in Mary Younkin's book, The Weekday Lunches & Breakfasts Cookbook.
I've got the recipe down below as well as a couple of peeks inside Mary's book!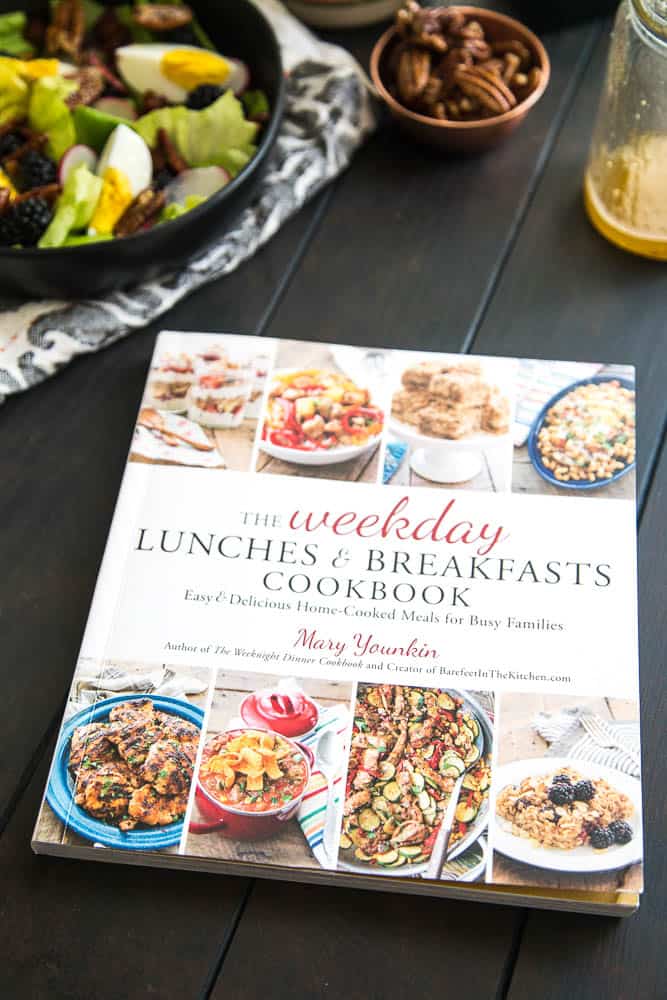 I often get into a breakfast or lunch rut really easily, and I KNOW I'm not the only one. I hear that from you guys, too.
Mary's book, The Weekday Lunches and Breakfasts Cookbook is a fabulous resource to get you thinking about other options for breakfast and dinner. Her book isn't paleo, but she offers gluten-free suggestions for many of her recipes and many are dairy free, too. Or easily adaptable.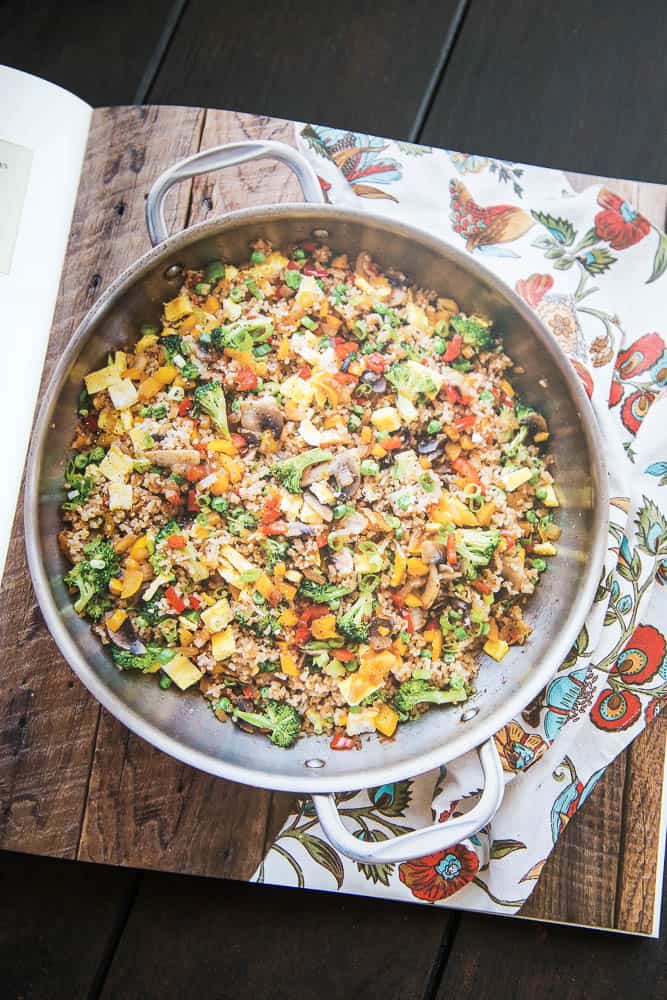 So many of the recipes are gorgeous and full of vegetables, too, like this Vegetable Lover's Fried Rice. Just sub cauli rice to make it paleo/low-carb. Making a batch of this over the weekend would make SUPER convenient lunches during the week.
And you wouldn't be quite as tempted to hit the In-N-Out drive through.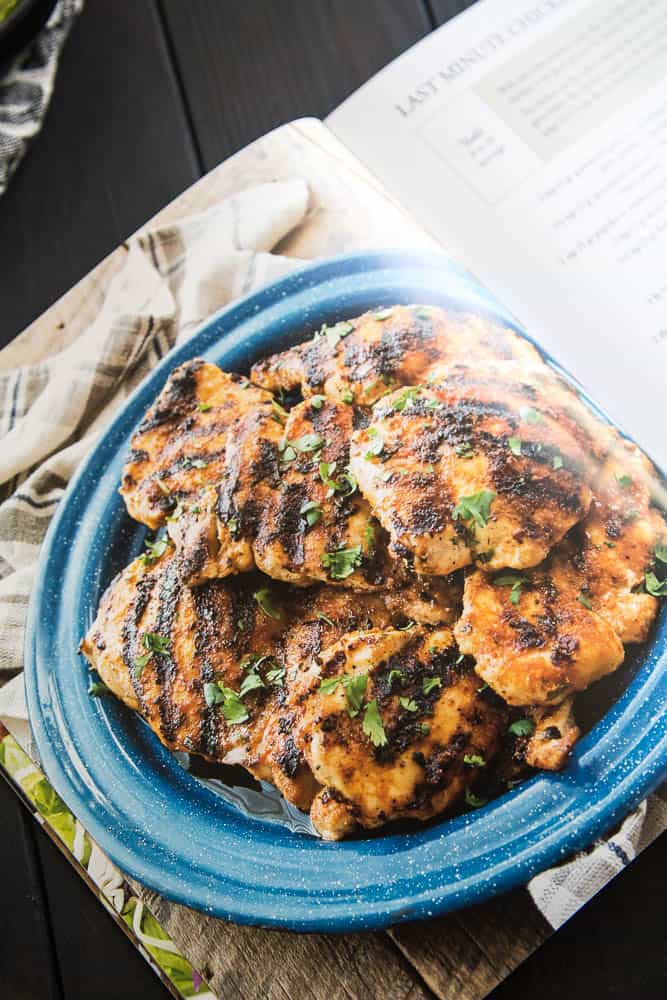 Check out this Last Minute Chicken. It totally doesn't look last-minute to me. And it's another make-ahead option to ensure you've got cooked protein to throw into salads and wraps and scrambles during the week.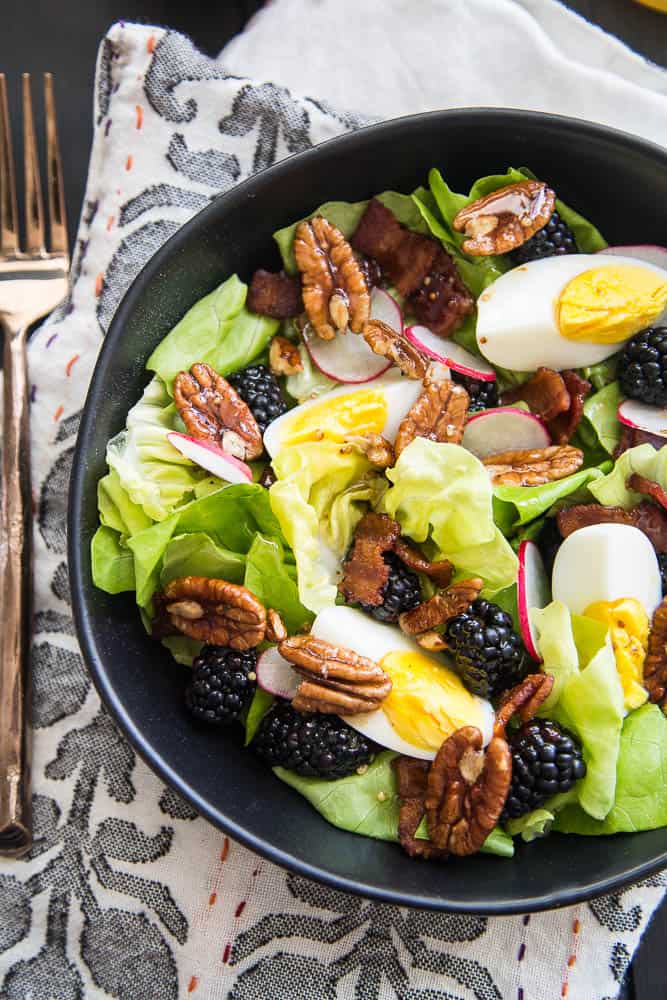 These recipes can also make some quick weeknight dinners, too. I totally ate this salad for dinner the other night while my kids were eating the leftovers from my photo shoots. Mashed potatoes and teriyaki wings were involved, so they were happy campers.
Grab a copy of Mary's book, The Weeknight Lunches & Breakfasts Cookbook and head over to her website, Barefeet in the Kitchen for more easy, fresh, from-scratch recipes!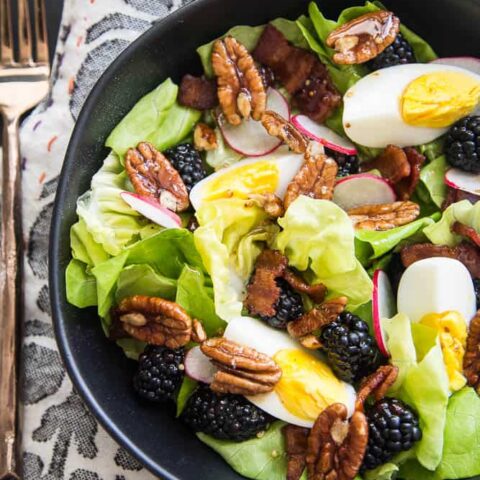 Blackberry, Bacon, & Egg Salad with Maple Dijon Vinaigrette
This is one of my favorite spring salads -- bacon and blackberries are such a great combination. Make extra hard-boiled eggs and maple dijon vinaigrette so you can make it for easy weekday lunches!
Ingredients
For the salad:
2-3 cups salad greens
1/4 cup thinly sliced cucumber
2 ounces blackberries
1 radish, shaved very thinly
2-3 slices crisp bacon, chopped into 1-inch pieces
1 hard-boiled egg, chopped
1-2 Tablespoon candied walnuts or pecans
1 tablespoon shredded very sharp cheddar or Parmesan cheese (optional)
For the vinaigrette:
2 Tablespoons olive oil
2 Tablespoons bacon drippings
1-2 Tablespoons maple syrup
1 teaspoon Dijon mustard
1 Tablespoon fresh lemon juice
1/4 teaspoon sea salt
1/4 teaspoon freshly ground black pepper
1/8 - 1/4 teaspoon cayenne pepper
Instructions
In a bowl, combine the salad greens, cucumber, blackberries, radish, bacon, egg, nuts, and cheese (if using).
In a small jar, combine the ingredients for the vinaigrette, using 1 Tablespoon of maple syrup, and shake well. Taste, and add a little more maple syrup if you'd like it sweeter.
Drizzle the salad with the vinaigrette. Toss well.

SaveSave