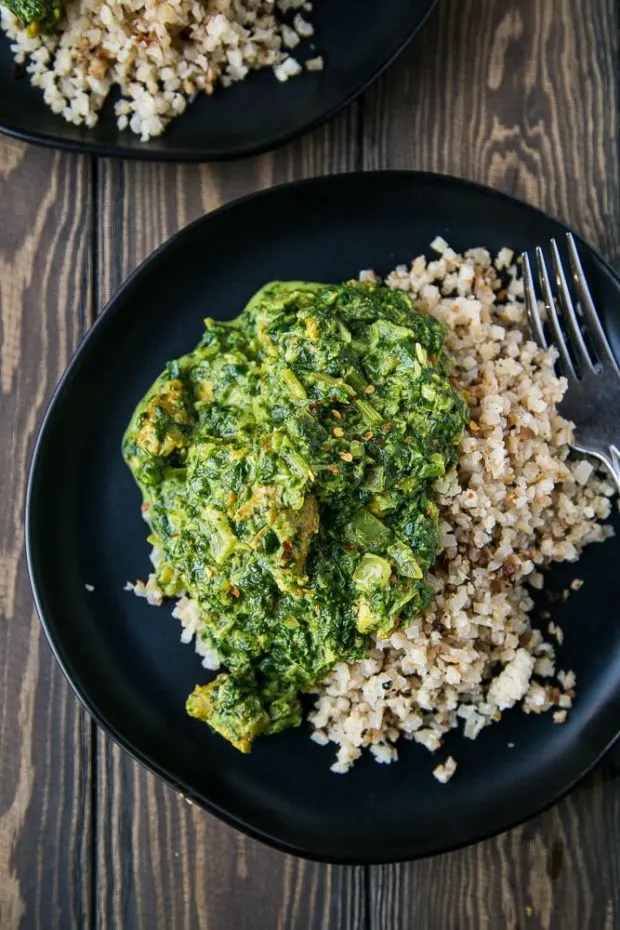 Indian food is the best. I love playing with Indian flavors and spices. It makes me so happy.
Have you ever had Saag Paneer? It's a spinach/greens (saag) curry with fresh cheese cubes (paneer). It's one of my all-time favorites.
I had this bright idea of swapping out the cheese cubes for chicken and tweaking the curry to make it dairy free. Like… a Chicken Saag.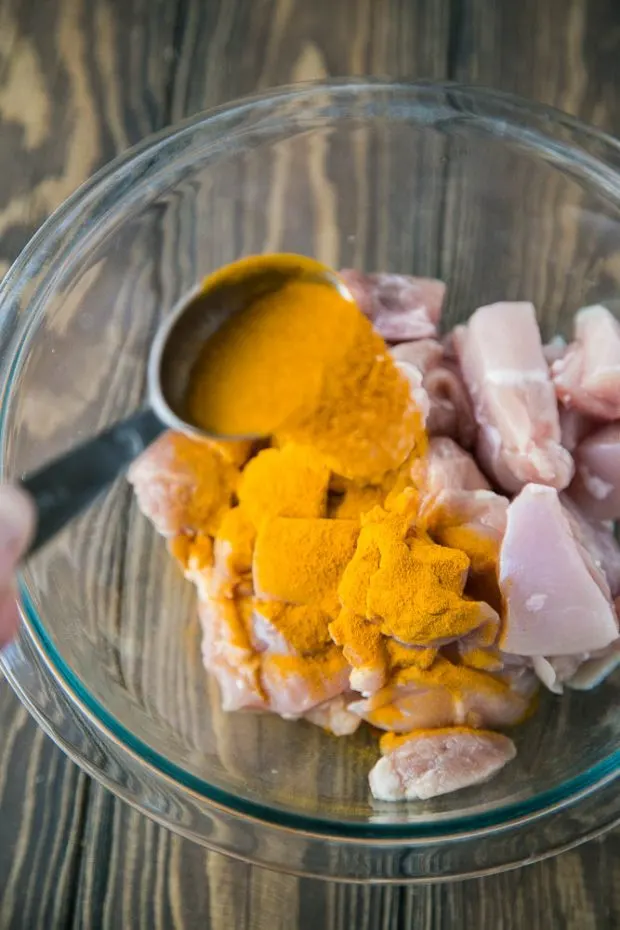 It turns out chicken saag is already a thing. Ha.
I'm shocked that I've never come across it considering how many different Indian restaurants we've been to. And the few Indian cookbooks I own.
At any rate, it's pretty fabulous, too.
But if you're looking for an easy Saag Paneer recipe, check out Aarti Sequeria's recipe.
Don't know where to find paneer? She includes a recipe to make it at home! Her saag paneer recipe was the one that inspired this chicken version.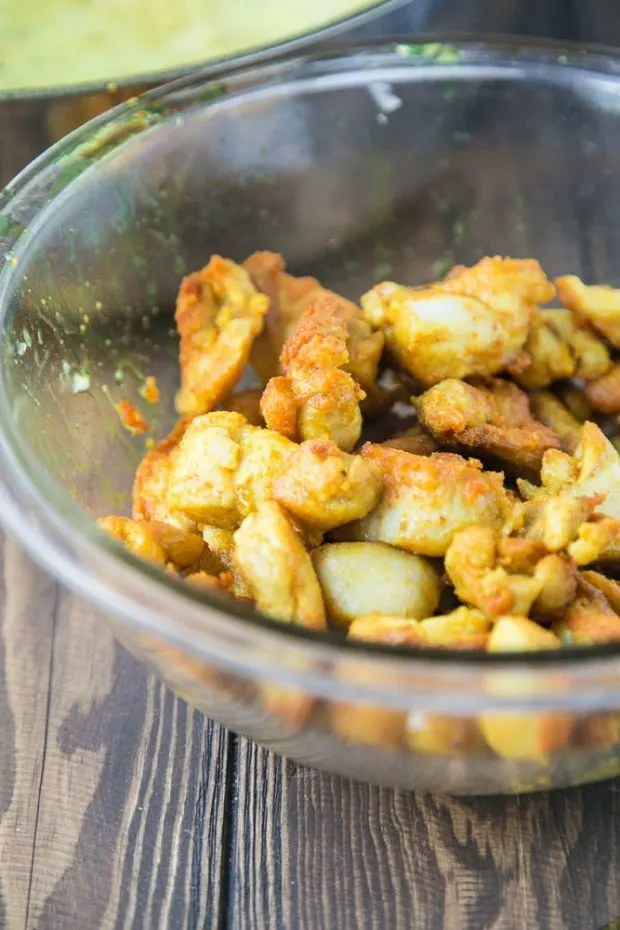 Let's get back to this chicken & spinach curry, shall we?
You can use chicken thighs or breast meat for this. Just toss them in turmeric and pan fry them for a bit to get some color on them.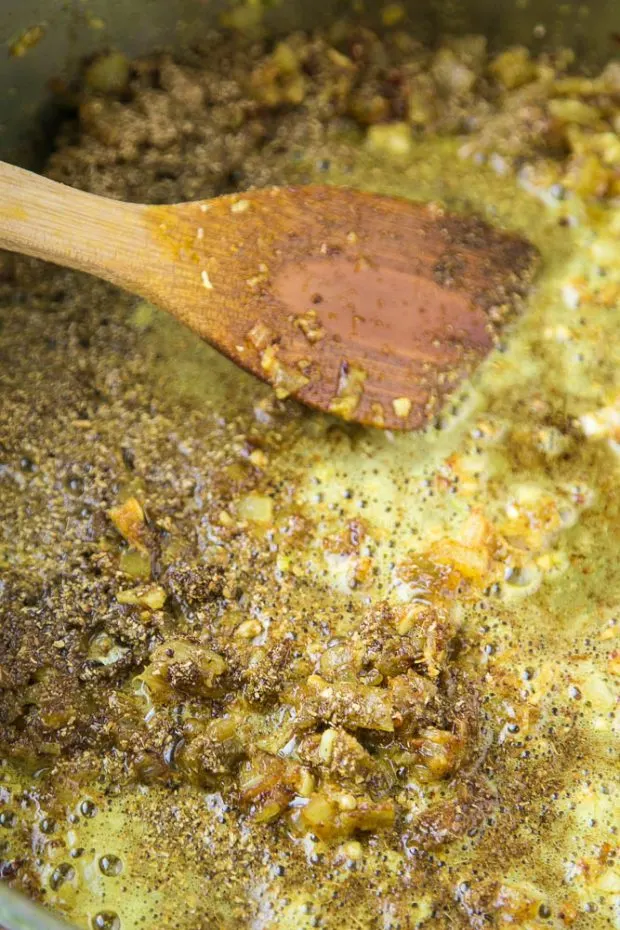 Why do you fry the spices for curry?
One secret I've learned as I've been exploring Indian dishes at home is to let the spices sizzle around in the oil for a bit.
It allows them to "bloom" and release brighter, fresher flavors into your curry.
Just don't burn them. Spices burn easily, so have your next ingredients on hand.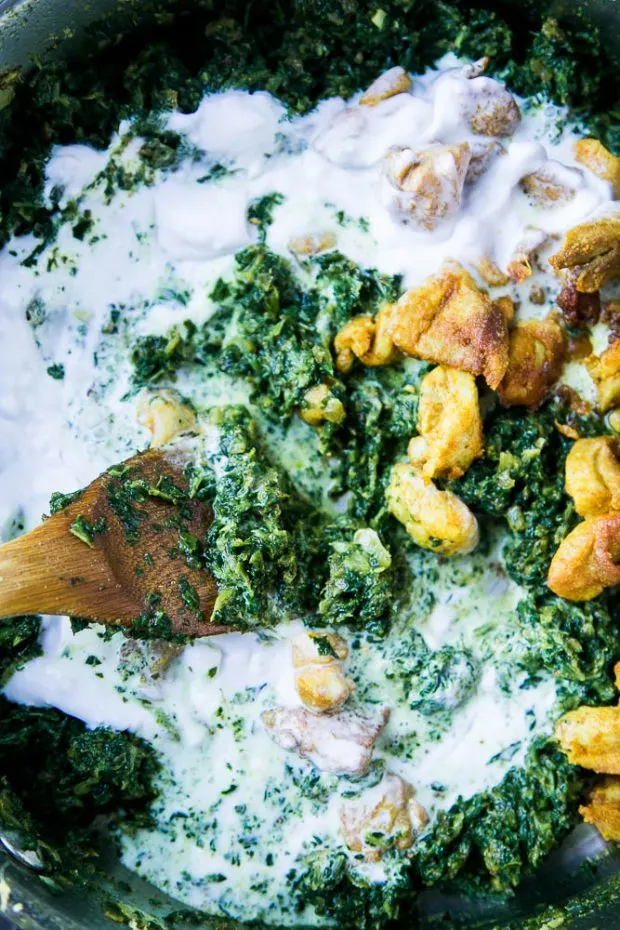 Can I get pensive with you for a minute?
I really love this photo. It's my favorite of the ones I shot that day (*cough* over 150 of them). Usually the "hero" shots are the favorites — the ones that show the finished product plated nicely.
Nope. I like process shots better for a couple of reasons.
First, there's more movement. That coconut milk is getting stirred into the curry, but it's not quite blended yet. I can see bits of all of the components, and I know how it's going to end. I can see it's potential.
Do you see where I'm going with this?
Messy things are OK if we know it's going to end well. Five minutes into curry making. Cracking eggs to make cookie dough. Halfway through mowing a lawn. One wall painted in a bedroom.
When it comes to really important things (family, relationships, career, finances), most of the time we don't know exactly what the end is going to look like.
And that's scary.
But the messy parts can still be beautiful anyways. Even if we don't know how it's going to look when it's finished.
Luckily this curry ends well. See?
(Thank you for coming to my Ted Talk.)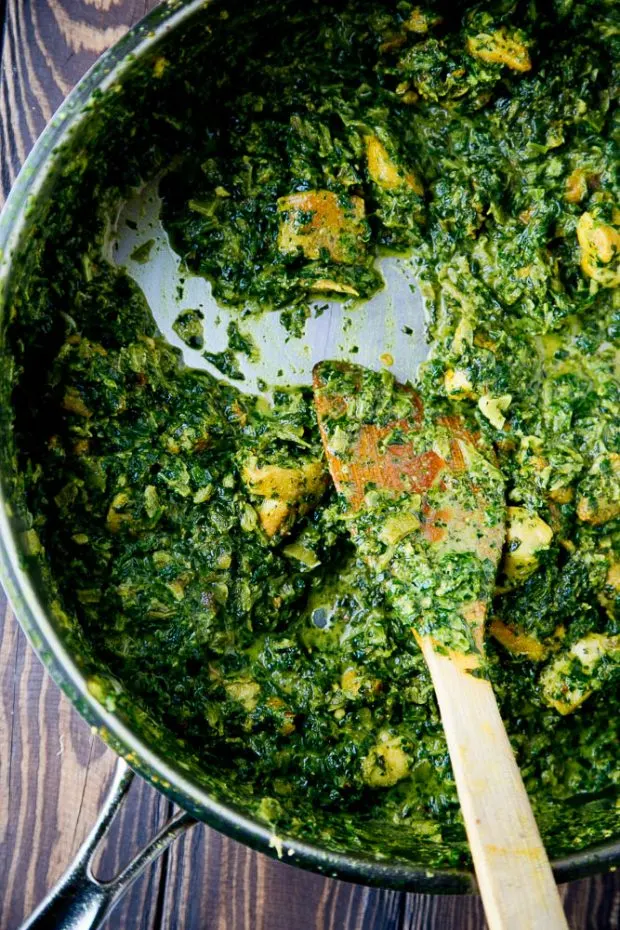 My favorite things about Chicken Saag
It's finished in 40 MINUTES!
It's a one pan situation.
You can use frozen spinach!
You don't have to squeeze any liquid out of said spinach. (I hate doing that.)
Even my kids like it. If they mix it with rice.
Which brings me to side dishes . . .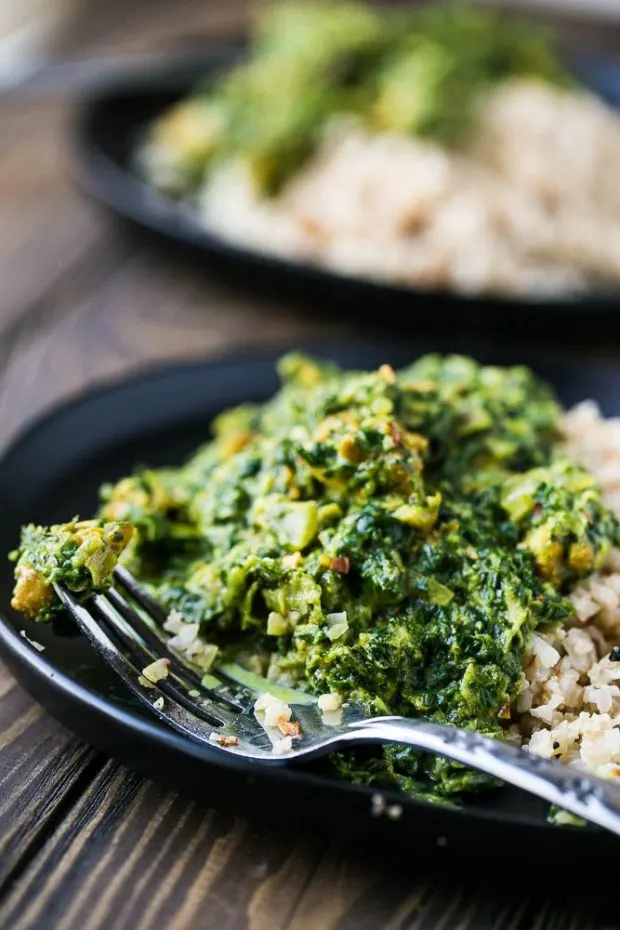 What do you serve with Chicken Saag?
Steamed jasmine or basmati rice. Mmm.
Cauliflower rice, if you're not a rice eater. (Try my Roasted Cauliflower Rice. You'll never go back to sauteed. And you won't have another pan on the stove to babysit.)
Fresh naan or flatbread.
If you don't want any of those things, try eating it alone or with some roasted potatoes or another vegetable. My Curry Roasted Cauliflower is to die for and would be delicious with this curry.
Add this easy chicken & spinach curry recipe to your menu this week! It'll be like eating Indian take out without driving out to pick it up.
---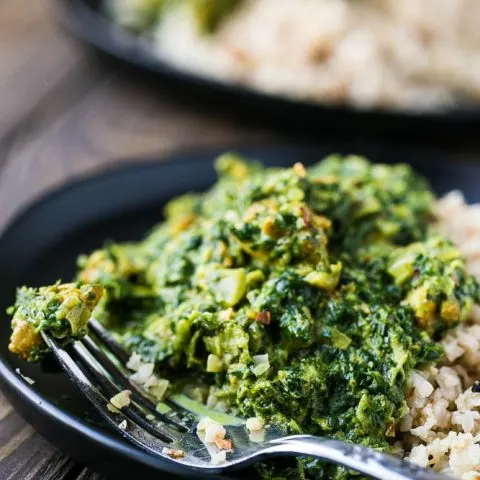 Chicken and Spinach Curry (Chicken Saag)
This easy, Indian-style Chicken Saag is done in just 40 minutes! Filled with warm spices and hearty greens, it's the perfect nourishing dinner for any weeknight.
Ingredients
1 1/2 pounds chicken breast or thigh meat cut into 1-inch pieces
1 1/2 teaspoons ground turmeric
1 teaspoon fine sea salt, divided
1 pound package of frozen chopped spinach
1/4 cup coconut or avocado oil
1 cup chopped onion
1 1/2 Tablespoons freshly chopped or microplaned ginger
6 cloves garlic, chopped or microplaned
1 serrano chili, seeded and chopped
1 Tablespoon ground coriander
1 1/2 teaspoon ground cumin
1 teaspoon garam masala
1 cup full-fat coconut milk
1 lime
Instructions
Put the chicken in a medium sized bowl and toss with the turmeric and 1/2 teaspoon of salt. Let it sit for a few minutes while you gather your ingredients.
Empty the frozen spinach into a microwave-safe bowl, cover with a paper towel, and cook on high for 5 minutes to completely thaw it out.
Heat the oil in a large skillet over medium-high heat.
Add half of the the chicken to the hot oil and cook for 3-4 minutes, pushing them around once or twice until they're browned a little. (It doesn't have to be completely cooked through at this point.)
Transfer the chicken to a plate and brown the other half of the chicken. Transfer the rest of the cooked chicken to the same plate.
Immediately add the chopped onion to the hot skillet along with the ginger, garlic, and chopped chiles. Cook for about 10 minutes or until the onion takes on a golden brown color.
Add the coriander, cumin, and garam masala. Cook for about a minute.
Stir in the thawed spinach and its liquid until combined. (You don't have to squeeze the water out. You're welcome.)
Add the chicken back to the skillet along with the coconut milk, juice from 1/2 of the lime, and the remaining 1/2 teaspoon salt. Cook for 3-5 minutes or until the chicken is cooked through and the spinach sauce is fragrant. If the skillet becomes dry and anything starts to stick, add 1/2 cup of water to the skillet and reduce the heat.
Serve immediately with steamed jasmine rice or cauliflower rice.
Notes
Nat's Notes:
You can use 1-2 Tablespoons of canned diced green chiles in place of the serrano if you like. If you don't want any heat, just omit it. If you want extra heat, leave the seeds in the serrano or add a pinch or two of crushed red pepper flakes when you add the spices.
If you plan to make jasmine rice, start it before beginning the Chicken Saag and it'll be ready by the time you finish.
If you want to make Roasted Cauliflower Rice, pop it in the oven while the chicken is cooking and it should be done at the same time as well. I get the frozen riced cauliflower at Costco and dump it onto a sheet pan, drizzle with oil & salt, and roast it at 425. It's super quick and easy that way.
If you'd like the spinach to have a smoother consistency, buzz it up in your food processor or blender before you add it to the curry.
Recommended Products
As an Amazon Associate and member of other affiliate programs, I earn from qualifying purchases.