Curry Roasted Cauliflower is the only form of cauliflower my kids will eat without complaining. I consider this a grand victory!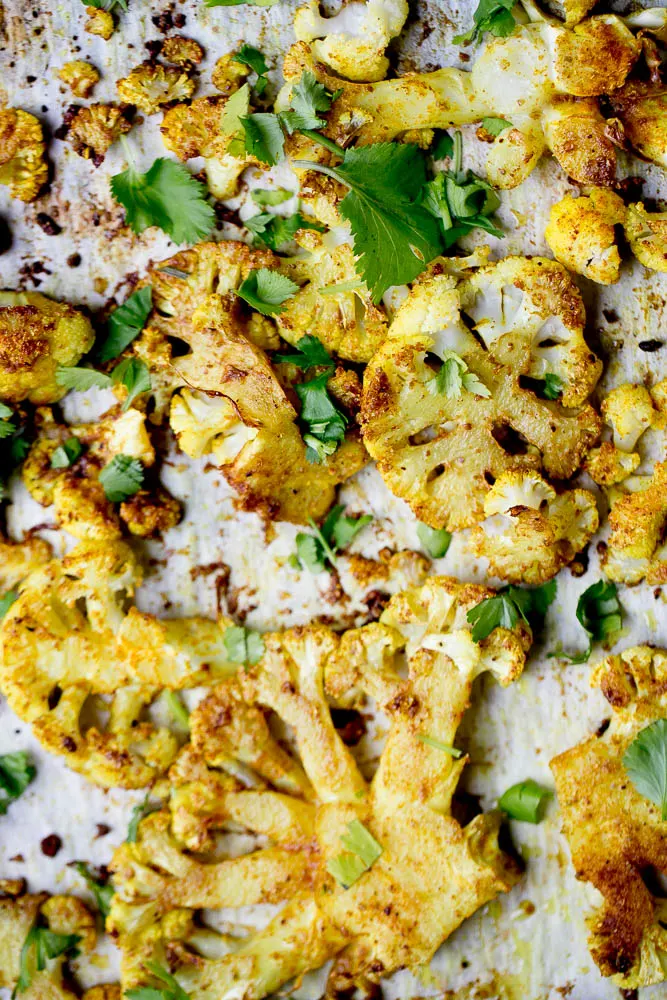 One night I was in a creative mood during dinner prep.
You might think that as a food blogger I'm always in a creative mood when I'm in the kitchen.
Not true. I usually have blocked-out creative time where I work on recipes, but 75% of the time I'm making dinner I'm just trying to get food on the table for my little hungry humans.
Anyway, one night I had a head of cauliflower I was planning to roast.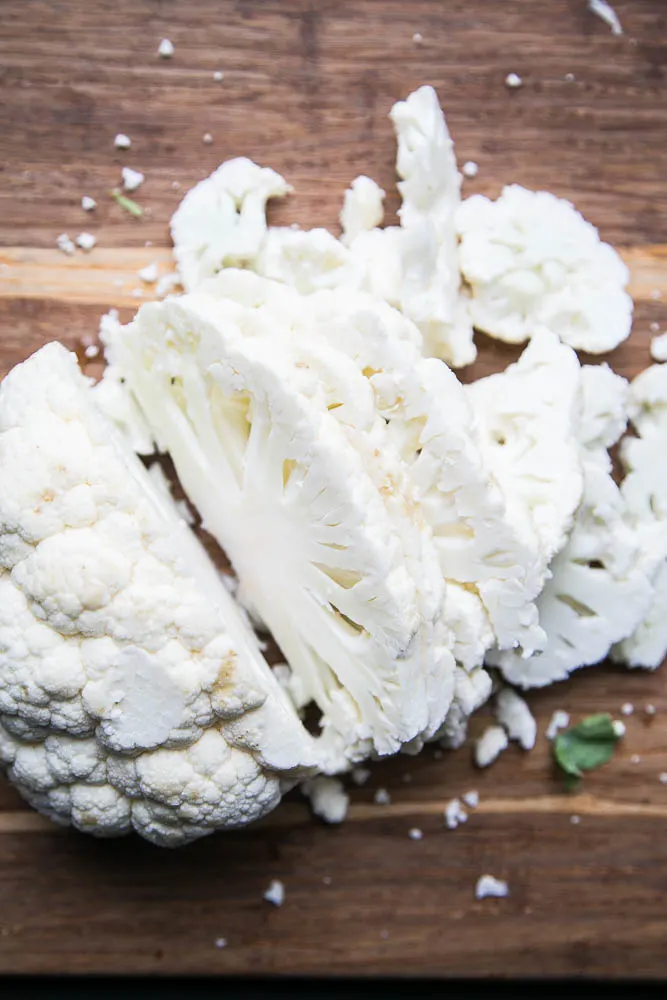 Instead of cutting it into florets (like i usually do), I removed the stems and cut the whole thing into "steaks".
I always snicker when I hear the term "cauliflower steak" — I mean, who are they trying to kid?
I was undecided on spices to use so I used six of my favorite blends.
Not all mixed together. Ew.
We had a little taste testing, too. By the way, that's a great way to get kids to try something.
Tell them you're looking for feedback or to find out which version of something is better. They love to give you their opinions on stuff.
Do you know what the winner for our roasted cauliflower tasting was?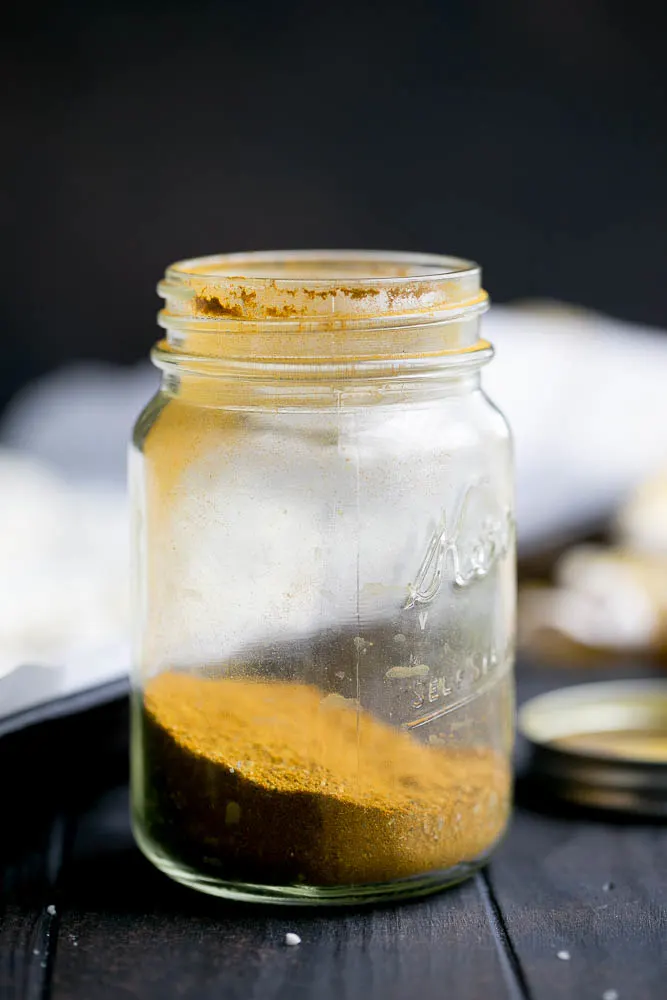 Curry powder.
My Homemade Thai Spice was a close second, though. I'm surprised the Mexican-inspired blends didn't fare better.
It goes to show that you shouldn't assume that your kids won't like stuff. I mean, it IS a fair assumption sometimes, but once in a while they'll surprise you!
I've been grinding my own Homemade Curry Powder for years. I don't expect you to do that. But if you want to give it a try, you have my full support.
The aroma and flavor of the fresh stuff is hard to compete with ground. I've seen higher-quality curry powders in grocery stores, so I'd recommend searching outside the McCormick display if you want better flavor.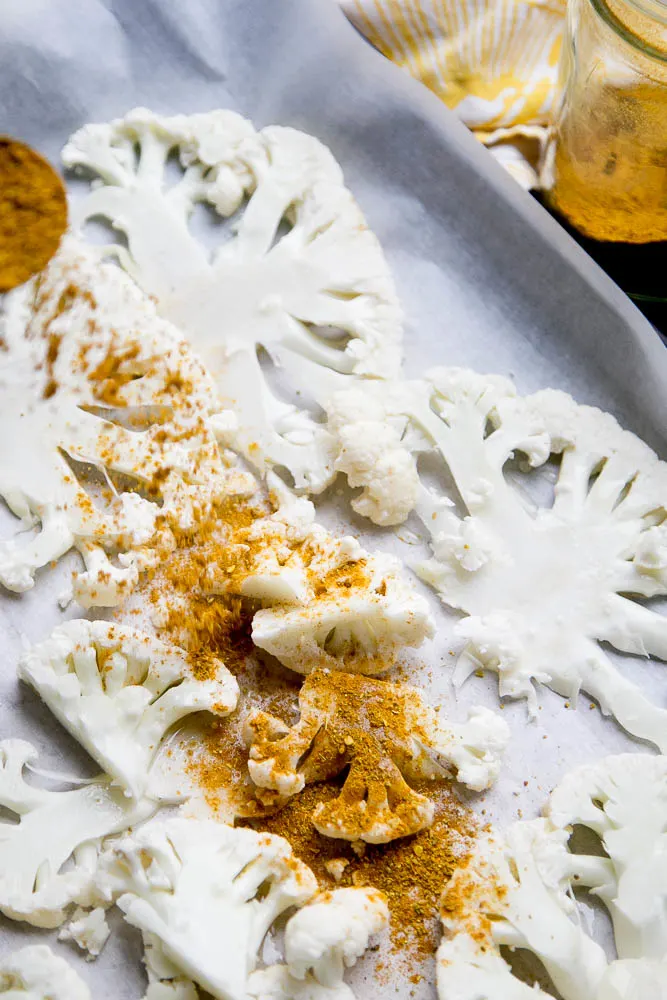 Tips for Roasting Cauliflower
Cut it into 1/2-inch "steaks" for more even roasting. After I tried it once, I decided not to roast them as florets ever again. They roasted more quickly and more evenly. Plus it's faster to chop that way.
Use more seasoning than you think you'll need. I use about a Tablespoon of curry powder (or any seasoning) per head of cauliflower. Cauliflower is a perfect blank slate, but when it's under-seasoned it can be super disappointing.
Don't crowd the pan! This is a general tip for any vegetable you roast, but it's probably the best tip out of them all. When you overload your pans and don't leave any space between the vegetables it creates a lot of steam when it roasts. Steam = steamed vegetables. You won't get those toasty caramelized edges if you crowd the pans. Use a second pan and rotate them halfway through roasting.
Roast in a hot oven. 425 is usually my go-to, but I use 450 for quicker cooking vegetables so I can get some caramelized edges before they overcook and turn to mush.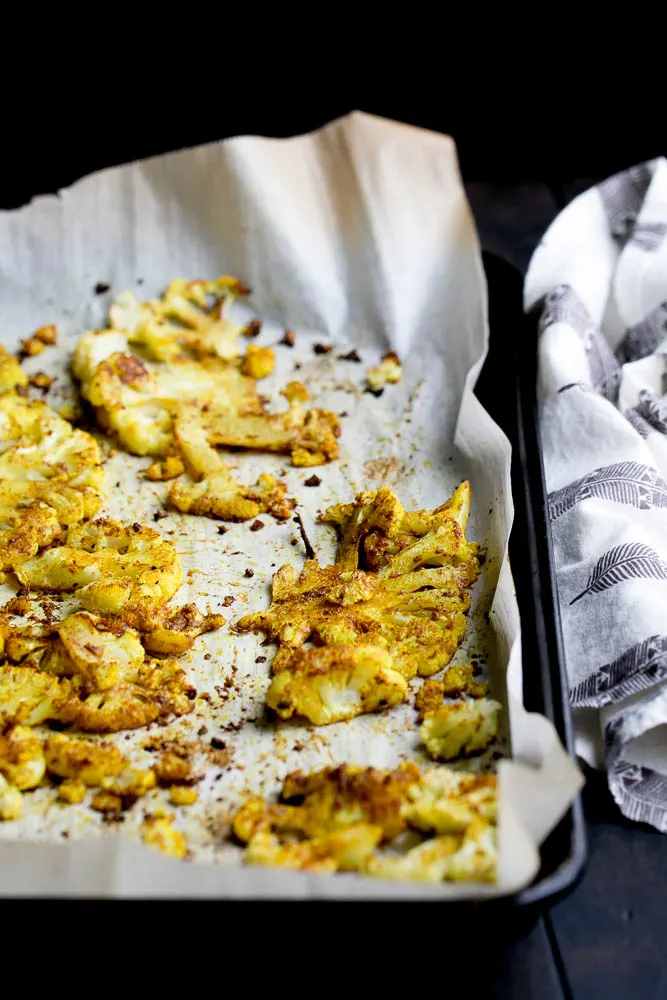 Do you need to use parchment when roasting cauliflower — or any vegetables?
Nope.
Sometimes I do if I don't feel like washing a pan. But you'll get basically the same result with or without parchment.
I wouldn't roast on foil though, because there are rumors of aluminum leaching into food when it's cooked on foil at high temps. Plus the foil rips easily when you're flipping food around and that's super annoying.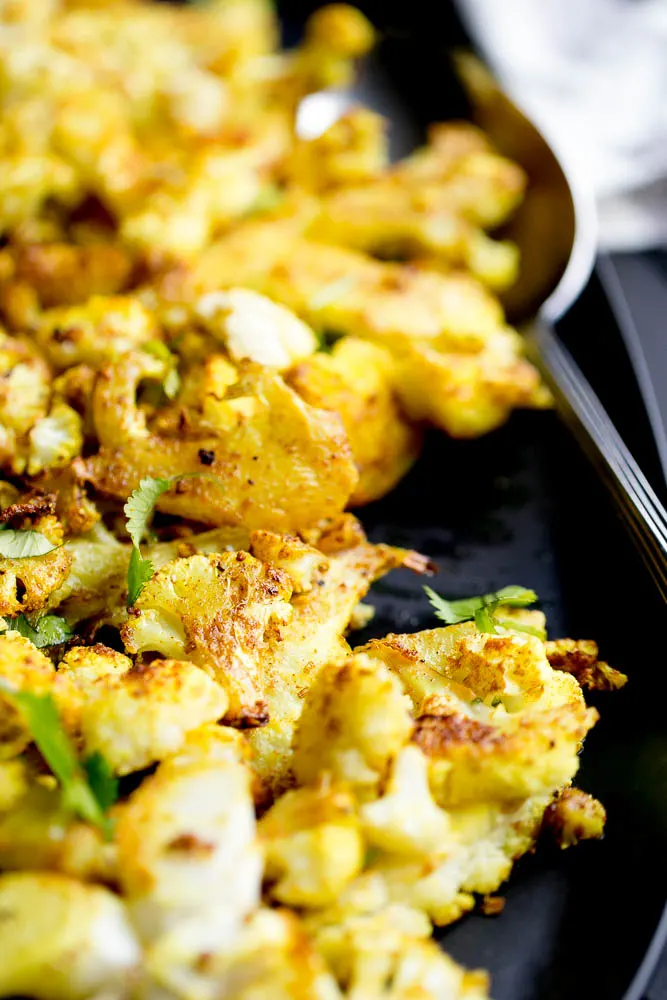 Turns out Curry Roasted Cauliflower is pretty fantastic.
I'm not exaggerating when I say that our 4 kids will eat an entire head of cauliflower in one sitting when I make it like this.
I also like to toss some chopped cilantro on top — if I have some on hand. A squeeze of lime is good too, but I don't want this to get too fussy.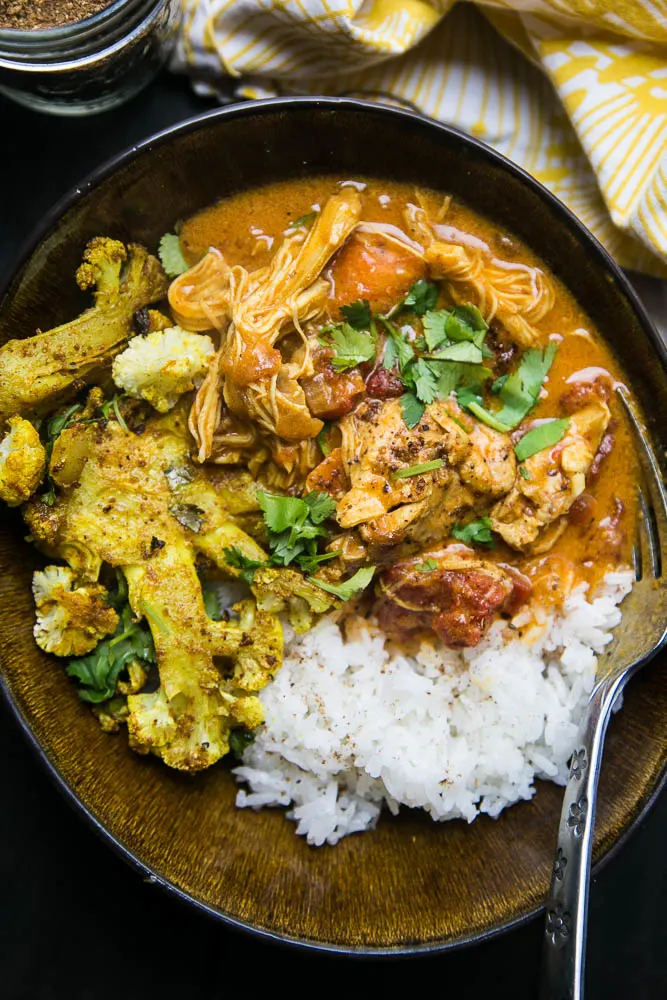 What to eat with Curry Roasted Cauliflower?
This roasted cauliflower was AMAZING with my Instant Pot Indian Chicken Curry! In fact, it's a great substitute for steamed rice if you're avoiding grains or extra starch. You could try it with my Slow Cooker Indian Beef, too. I bet that would be fantastic.
It would also be good with my Grilled Moroccan Chicken or Grilled Lemon Chicken. Or as a side to steaks or kebabs.
If you wanted to do a buddha bowl situation, you could throw some canned chickpeas on to the pan when you roast the cauliflower and serve it with my Instant Pot Coconut Rice.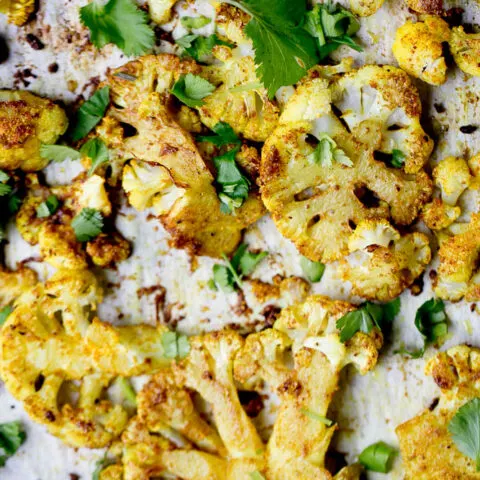 Curry Roasted Cauilflower
All you need is a head of cauliflower and some curry powder for a quick and easy side dish to serve alongside curry or anything off of the grill! We love this Curry Roasted Cauliflower!
Ingredients
1 head of cauliflower
2 Tablespoons avocado oil or another neutral, heat-safe oil
1 Tablespoon curry powder
1/2 teaspoon salt
Instructions
Preheat the oven to 450 degrees F.
Trim the leaves off of the cauliflower head and trim enough of the thick stem so it sits flat on the counter. Cut it into 1/2-inch "planks" - it's ok if you have some little bits that fly off or fall apart.
Put all of the cauliflower onto a rimmed baking sheet. (Parchment-lined, if desired, but not necessary.)
Drizzle the cauilflower with avocado oil and sprinkle on the curry powder and salt. Use your hands to spread the oil and seasoning around. You do not need to coat both sides in the seasoning.
Put the pan on a lower oven rack and roast for about 20-25 minutes, flipping the cauliflower halfway through cooking. It should have dark golden spots on it and be tender.
Serve.
Recommended Products
As an Amazon Associate and member of other affiliate programs, I earn from qualifying purchases.