These fruity spring rolls are filled with colorful fruit and sweet coconut rice to make a fun, summery dessert! Drizzle on some raspberry sauce to finish them off.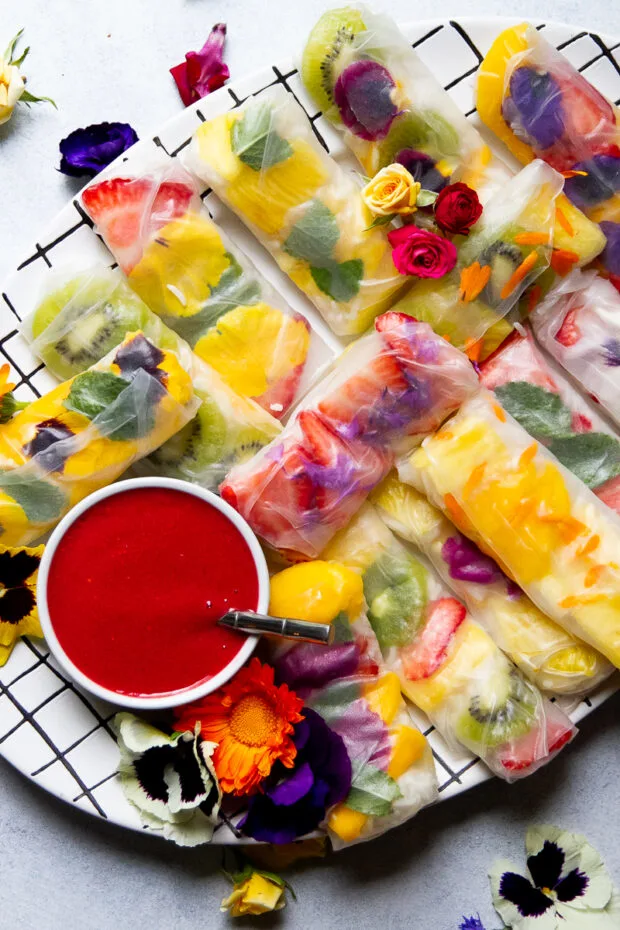 I'm so excited about these fruity spring rolls! Or summer rolls. I think they're technically summer rolls, but whatevs.
This recipe was inspired by a recipe my daughter found in Highlights magazine. Remember Highlights? I swear they've been around forever!
I love how colorful they are. And that I got to use flowers (totally optional, though). I should use edible flowers more often.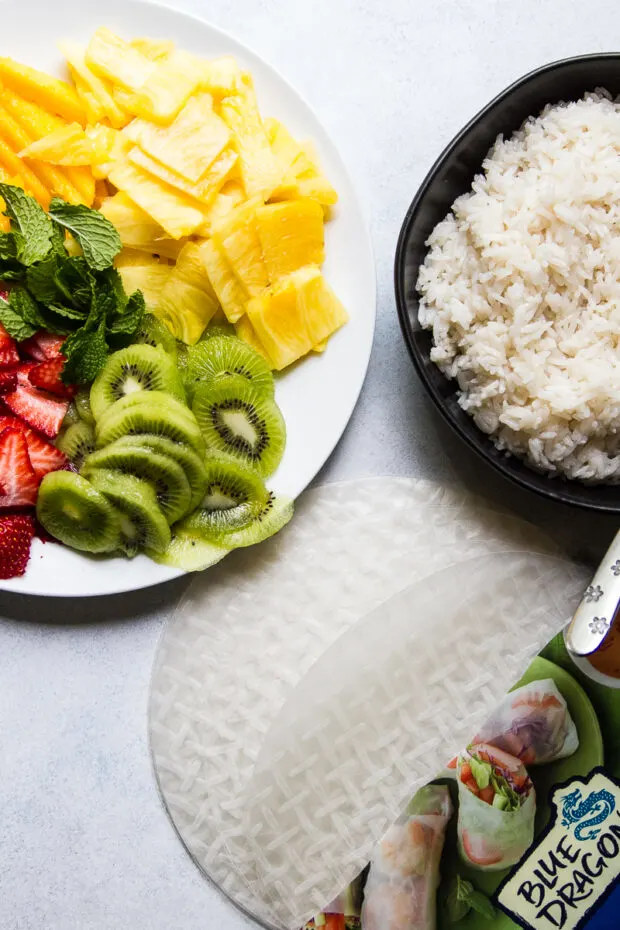 These look beautiful and impressive, but they're actually really easy and you only need a few things…
Thinly sliced fruit. I really liked strawberries, kiwi, pineapple, and mango, but you can use any fruit you like here. It's easier if you're able to slice them really thin and they don't brown soon after cutting.
Spring roll wrappers. These are large, plastic-looking sheets that are made of rice. I find them in the Asian section of the grocery store, but you can buy them online, too.
Coconut Rice. This is optional if you'd rather fill them full of fruit, but I LOVED the sweet coconut rice with it. I just used my Instant Pot Coconut Rice recipe cut in half with the full amount of sweetener. You can make it on the stovetop, too, and it actually turns out fluffier that way.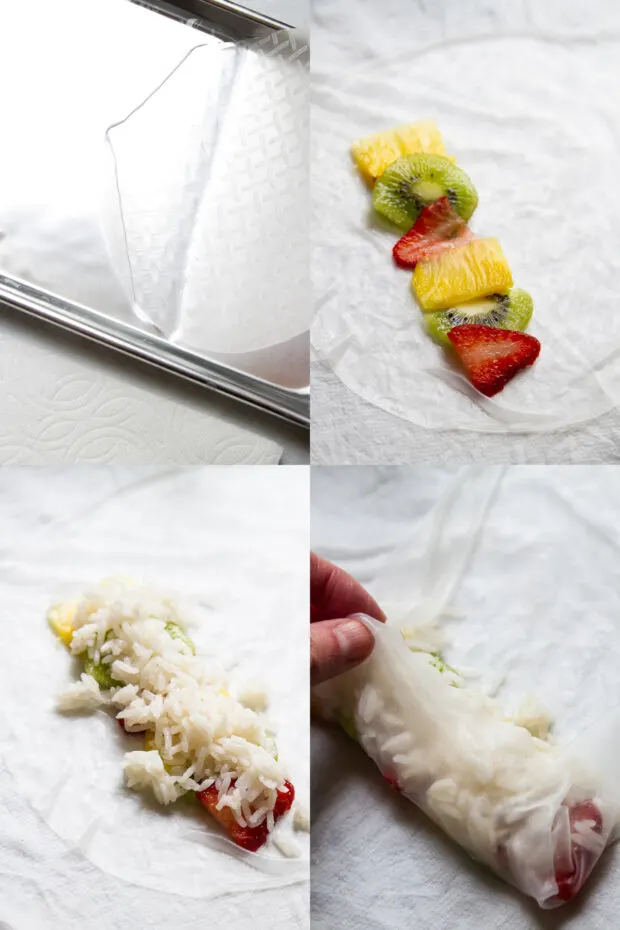 How to Make Spring Rolls
This is the same technique for making any kind of spring roll. The wrappers can be a little tricky to work with, but it's not too hard. Here's what you do.
Soak wrapper in warm water. Very warm, but not boiling hot. You only need to keep them in there for 15 seconds or so before they soften.
Lay it flat on a moist paper towel. The paper towel will help soak up some of the water on the wrapper, but it won't stick to it. Don't use a dry paper towel or it'll stick. You can also use a moist non-fuzzy kitchen towel, too.
Add the filling. Lay it slightly off center toward the bottom leaving an in inch or so of space on the edges.
Roll it up. Fold the sides in first, then wrap the edge closest to you tightly around the filling and roll the rest of the way.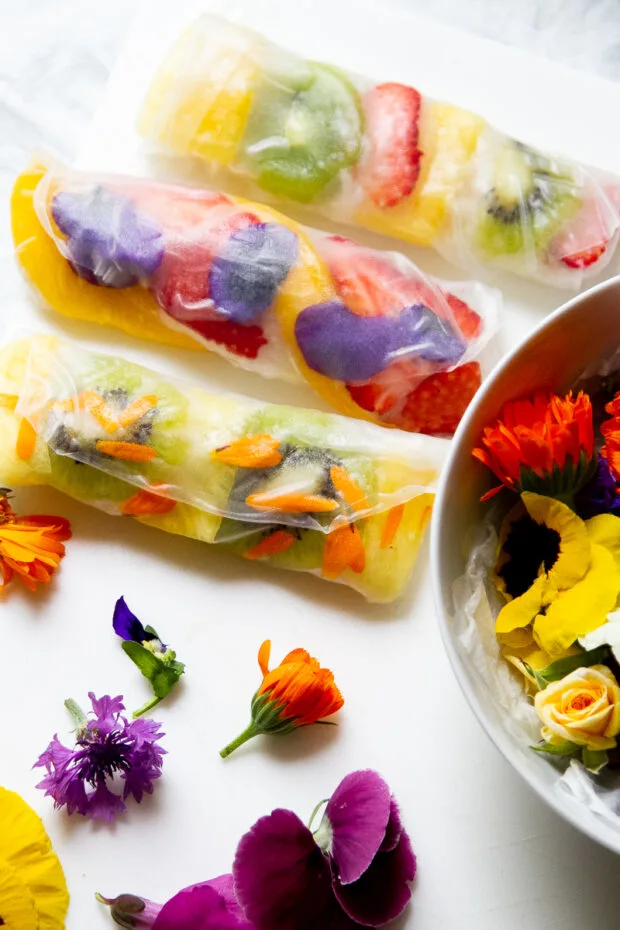 I jumped at the chance to use edible flowers for these because GOSH THEY'RE SO PRETTY!
I found them at a "hippie" grocery store in the produce section.
Mint leaves were also really good in these. I highly recommend those. Pineapple + mint was my favorite flavor combination.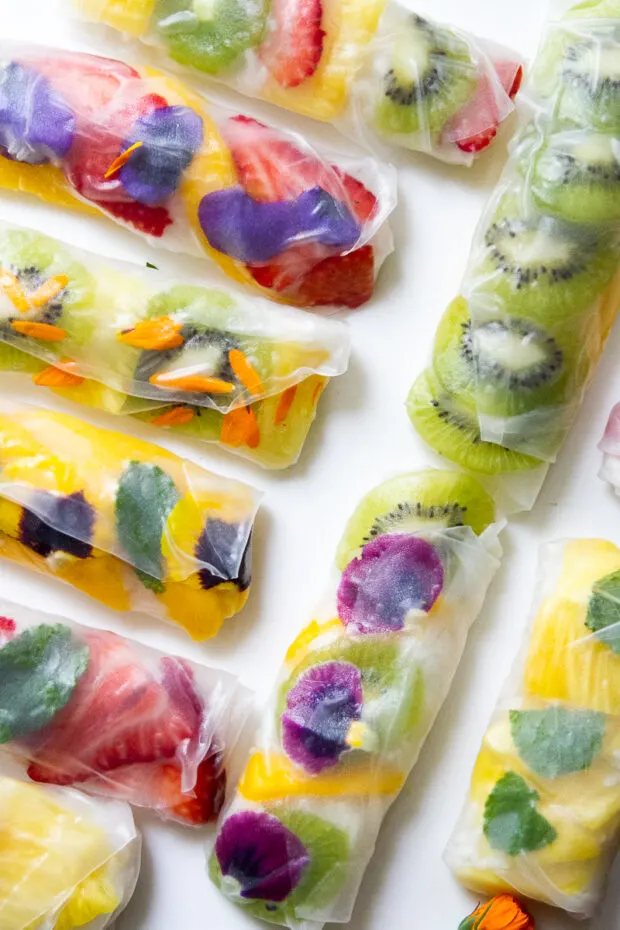 Most of my kids loved these. One wasn't a fan of the rice, but I won her over once I drizzled it with raspberry sauce.
Speaking of…
How to Make Easy Raspberry Sauce
Just throw frozen raspberries, water, a squeeze of lemon/lime, and a little sweetener in your blender and let it buzz around for a couple of minutes until the berries are thawed. (And it no longer resembles a smoothie.)
The measurements are in the recipe below!
I also made a mango version, which is quite good, too, but everyone preferred the raspberry. Steve and I liked drizzling a little of both on our spring rolls.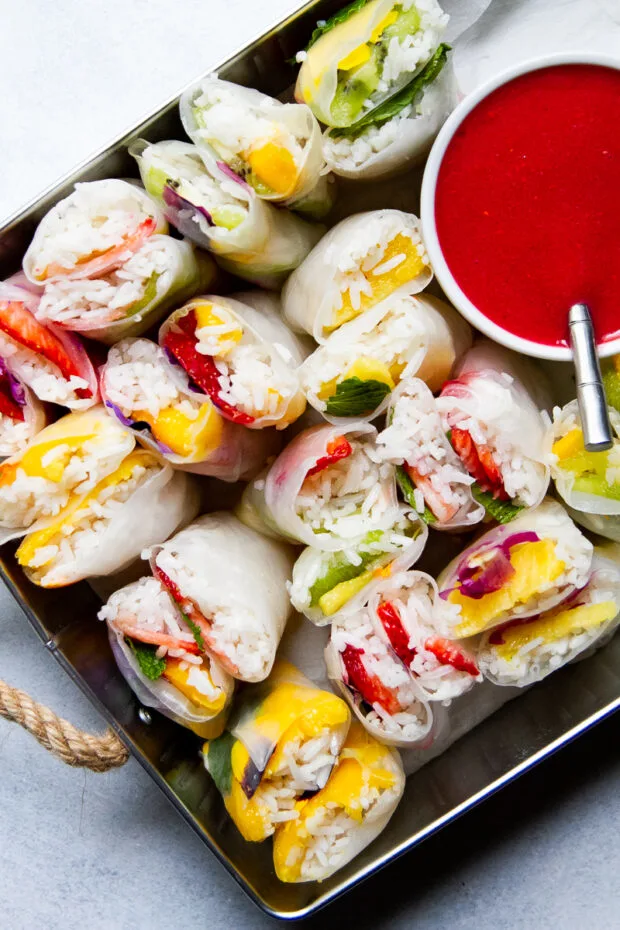 Can I Make Fruity Spring Rolls in Advance?
Maybe a few hours in advance. I wouldn't do it much further ahead because the wrappers will get a little mushy from the fruit. And the fruit might get weird, too.
You can serve these fruity spring rolls whole or cut in half like above.
If you like this recipe, try my other spring roll recipe: Thai Chicken Spring Rolls with "Peanut" Sauce. It's super delicious!
---
If you make one of my recipes, be sure to post it on social media and tag me at @perrysplate or #perrysplate so I can send you some love!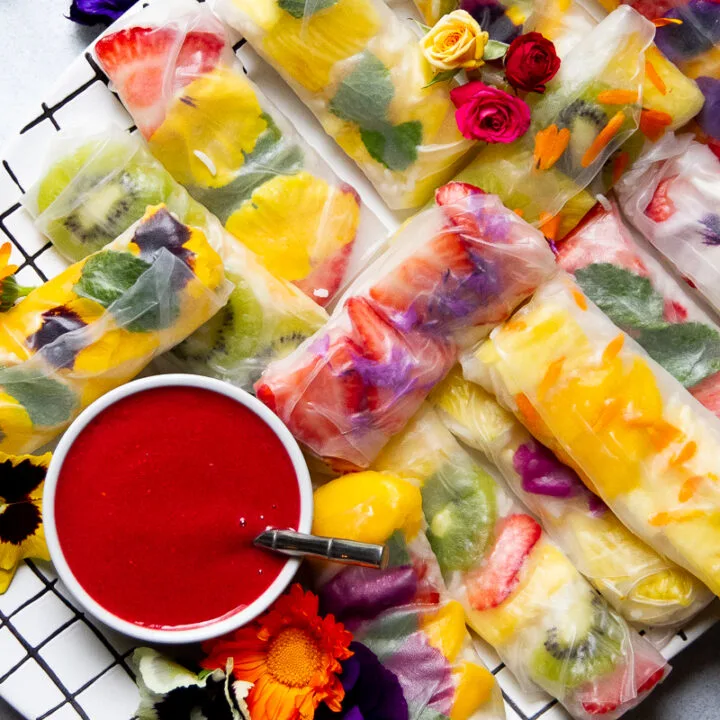 Fruity Spring Rolls with Raspberry Sauce
Total Time:
1 hour
15 minutes
These fruity spring rolls are filled with colorful fruit and sweet coconut rice to make a fun, summery dessert! Drizzle some raspberry sauce inside to finish them off.
Ingredients
1 package spring roll wrappers
Thinly sliced fruit (strawberries, mango, pineapple, kiwi, etc)
Mint leaves & edible flowers (optional)
For the Raspberry Sauce
1 cup frozen raspberries
Squeeze of lemon or lime juice
1-2 Tablespoons honey or maple syrup
Instructions
Cook the coconut rice and allow it to cool to lukewarm before assembling rolls.
Prep your fruit. Prepare a workspace by laying a moistened paper towel flat on your work surface.
Find a pan or a deep plate that will hold an inch or so of water and that the stiff spring roll wrappers will lay flat in.
Pour hot water (not boiling) into the pan.
Assemble the rolls by soaking each wrapper into the hot water for 10-15 seconds until it's completely softened. Gently transfer it to the paper towel and spread it out as best you can. It doesn't need to be perfectly flat.
Add a layer or two of sliced fruit to the wrapper, slightly lower than center, leaving an inch or so of space on either side.
Add a couple spoonfuls of rice over the fruit.
Fold the sides of the wrapper in, then bring the side closest to you over the top and roll the rest of the way.
Transfer the spring roll to a large plate or platter and repeat assembly for the rest of the rolls, adding more hot water to the pan if it starts to cool too much.
Make the raspberry sauce by putting the ingredients into a blender and blending for 1-2 minutes. You'll want the friction of the blender to defrost those berries so you don't end up with a smoothie.
Notes
Try adding mint leaves or edible flowers to these!
I made a mango sauce that was tasty, too! Just swap out the raspberries with fresh or frozen mango chunks.
These spring rolls can be made a few hours in advance, but not more than that. Store them chilled until you're ready to serve them. The raspberry sauce can be made a few days in advance, though.
Recommended Products
As an Amazon Associate and member of other affiliate programs, I earn from qualifying purchases.