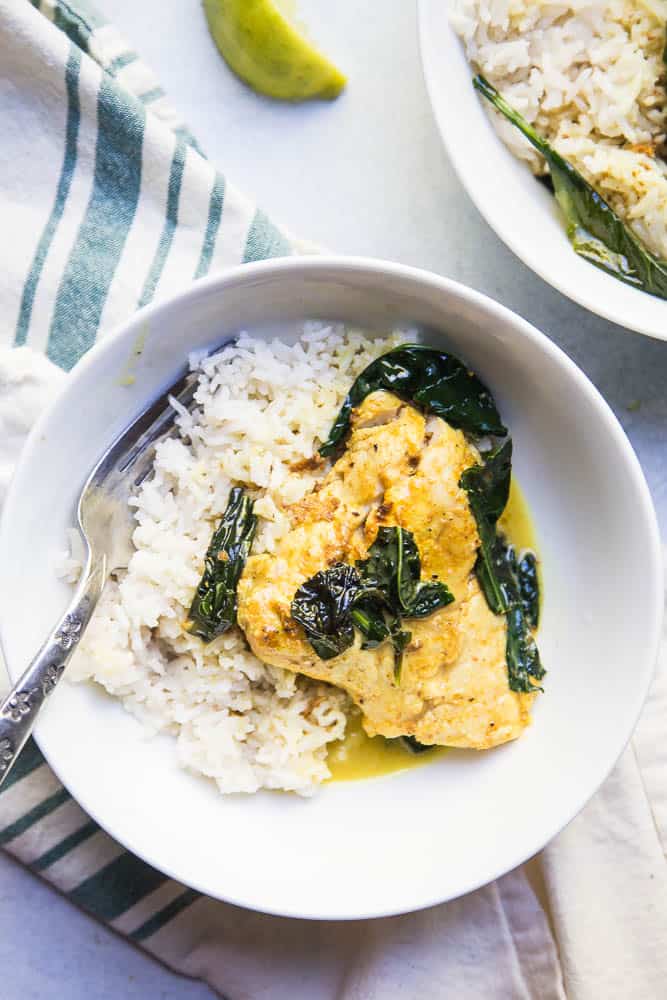 I'm not sure why I didn't try making coconut rice in the Instant Pot before. I've had my pantry stocked with coconut milk for over 10 years, and it was just in the last couple years that I've tinkered with making coconut rice.
Making coconut rice in an Instant Pot is even better.
I'm not sure I'll be able to make any kind of curry without coconut rice from now on.
I've tried substituting different amounts of the water, but I didn't get a big enough coconut punch until I substituted ALL the water for coconut milk. It ended up being sort of clumpy, so adding about a cup of water was good enough.
Do you have an Instant Pot yet? It's so fun hearing about people getting them for the first time! The excitement, the initial trepidation, then gingerly trying out a first recipe, and then the relief when their kitchen doesn't actually explode.
And then after a while when they get comfortable they wonder how they ever survived without one.
I have two Instant Pots (I bought a second when I was working on my Instant Pot cookbook and it made sense to have two).
They're both 6 quarts and I LOVE having two. Sometimes I have both of them going. Sometimes I grab the insert pot from the second one if the first one is storing something and I don't feel like washing it out.
It works out nicely.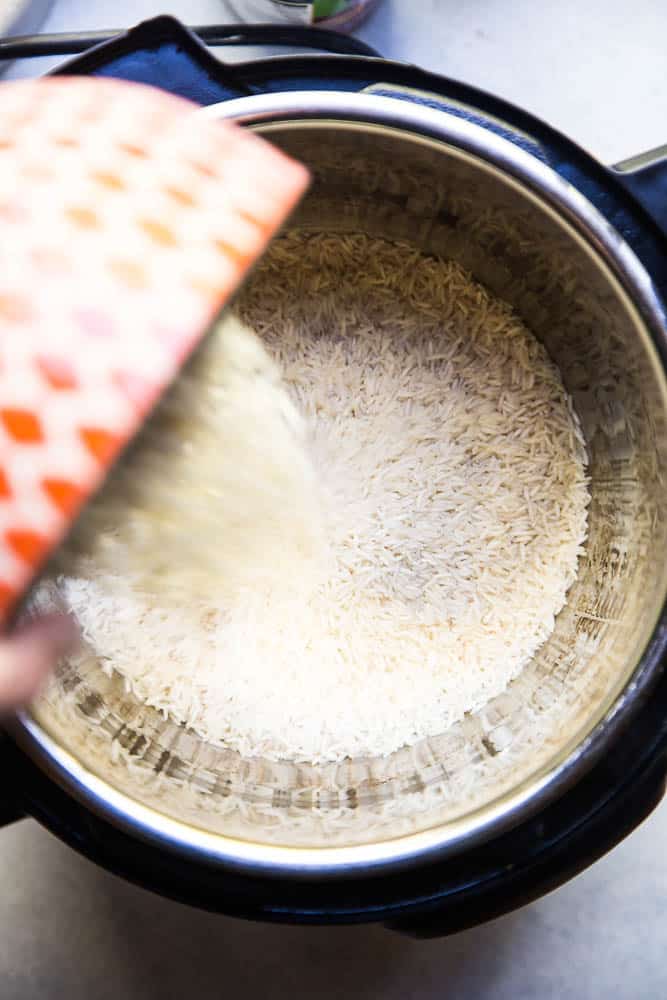 When someone gets an Instant Pot and asks me what they should try first, I usually tell them to make rice. It's easy and you can't really mess it up.
While I don't recommend getting an Instant Pot JUST for making rice, it does its' rice cooker job quite nicely. I love that I can just push the "Rice" button and walk away. Just like a rice cooker.
We usually buy basmati or jasmine rice. Those fragrant rices are super tasty. You could definitely use regular long-grain white rice for this. If you use brown rice, that's fine, too, just know the coconut flavor won't be as strong.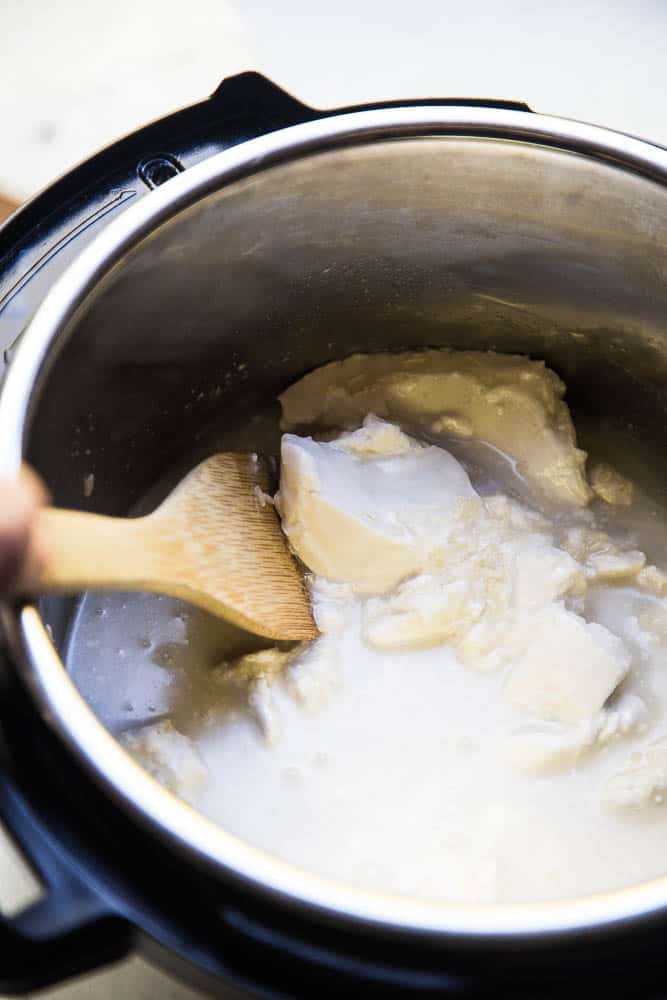 Ok, about this coconut rice. Depending on the coconut milk you use and the temperature of your kitchen, your coconut milk may have separated with hardened cream sloshing out of the can.
This is totally fine. Just stir it around a bit and the Instant Pot will take care of the rest.
I use full-fat coconut milk all the time, but you could use light coconut milk in this if you wanted to.
Another note — I add a little sweetener to my coconut rice, just to give it a little hint of sweet. But, this is totally optional.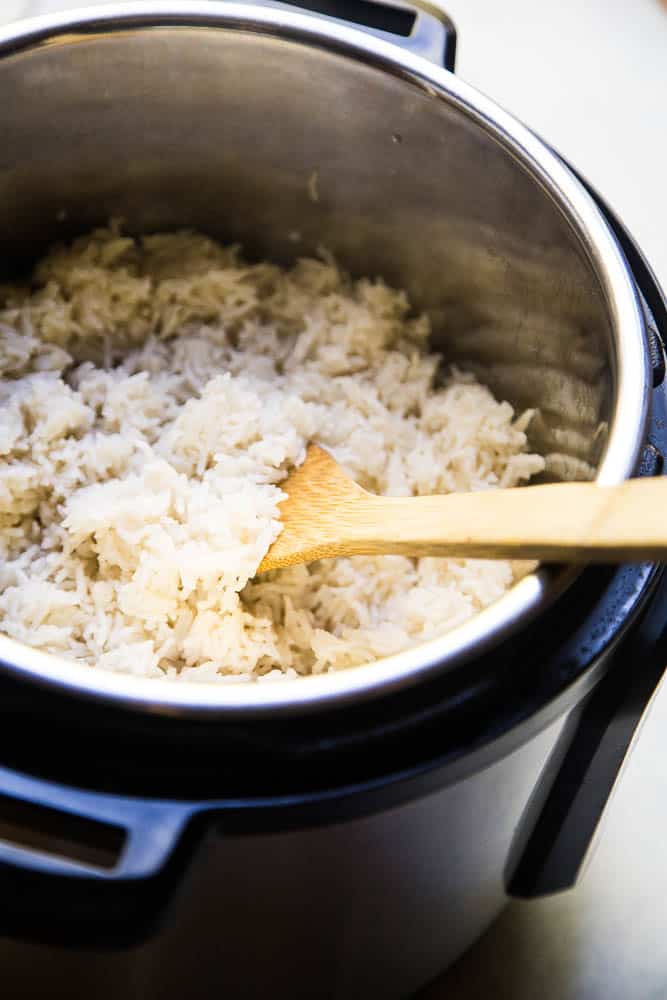 Mmm. Seriously so good.
You'll have to stir it well when it gets done, and it'll be a little stickier than regular steamed rice, but that flavor is AMAZING.
This coconut rice goes well with any kind of Indian/Thai curry dishes, Asian stir fries, and Hawaiian/Polynesian recipes. That first photo up there shows it with a Quick Thai Fish Curry!
What to Serve with Coconut Rice
These recipes would also be great with this coconut rice!
Mango Chicken Curry — An oldie from Perry's Plate (and in desperate need of an update!), but still such a great recipe. Mango + coconut is a stellar combo.
Easy Thai Chicken Curry for Instant Pot — Another reason to get a second Instant Pot. Heh.
Paleo Thai Grilled Chicken with "Peanut" Sauce — Yes. Just do this. That peanut sauce with this coconut rice?! I may have to throw that on my menu next week.
Ahi Tuna Poke Bowls — Poke bowls don't typically have coconut rice, but I think it's a fabulous idea.
Grilled Malibu Chicken — Anything with pineapple automatically goes with coconut. Yes? Maybe?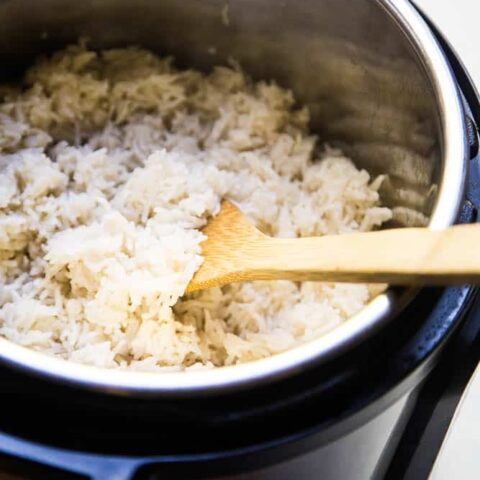 Instant Pot Coconut Rice
Instant Pot Coconut Rice is just a few ingredients, but has such a great flavor and compliments so many ethnic dishes! Try it the next time you make a curry!
Ingredients
2 1/2 cups long grain white rice, like basmati or jasmine
2 - 13.5 ounce cans of coconut milk (full-fat and light are both fine)
1 Tablespoon sea salt
3-4 Tablespoons sweetener of choice (I use monkfruit sweetener or coconut sugar)
Instructions
Pour the rice, coconut milk, salt, sweetener, and 1 cup of water into the insert pot of your Instant Pot or other type of multi-cooker. Stir everything together -- especially if the coconut milk has separated and the cream has hardened. It doesn't have to be completely stirred. Just break up the clumps.
Place the lid on your Instant Pot, sealing it closed and moving the steam valve to "sealing".
Push the "Rice" setting. Or, if you don't have an Instant Pot, set the cooker for 10 minutes on high pressure.
When the pressurization time is over, move the steam valve to "venting" to release all the steam.
Remove the lid and stir the rice around a bit. Cover to keep warm until ready to serve.
Recommended Products
As an Amazon Associate and member of other affiliate programs, I earn from qualifying purchases.
Disclosure: This post may contain Amazon affiliate links. Purchases made by using these links don't cost you any extra and helps to keep my content free.