This smash burger recipe is my favorite burger. I always say that about new stuff I post, but…. for real this time. Caramelized onions and jalapenos are cooked with a smashed grass-feed beef patty and covered with chipotle mayo in whatever bun you like!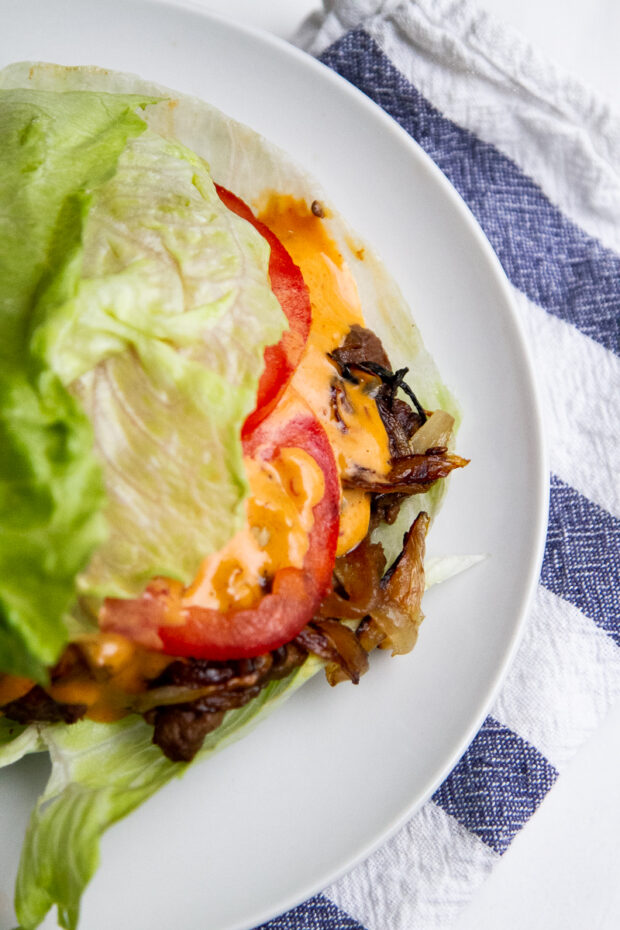 I'm a little late to the smash burger recipe party. Partly because I'm 100% team grilling burgers. I love that charred taste from the grill marks. You can't get that from a hot skillet.
What is a Smash Burger?
If you're unfamiliar with smash burgers, they're burgers that have been flattened while cooking.
Flattened patties = more surface area for caramelized outer edges. It's delicious. But you can't make them directly on grill grates.
They're some of the best burgers I've had, honestly, and super easy to make.
I started out with some grass-fed ground beef seasoned simply with kosher salt and smoked paprika. (Ground turkey or chicken would be good burger meat, too!)
I used the beef that came in my Butcher Box which is REALLY delicious, by the way. If you're interested, I have a link for you — Butcher Box Link. They'll give you 2 pounds of grass-fed ground beef for FREE in each box as long as your subscription is active! They have all kinds of meat — chicken, pork, and beef. We especially loved their ribs and steaks. Mmm.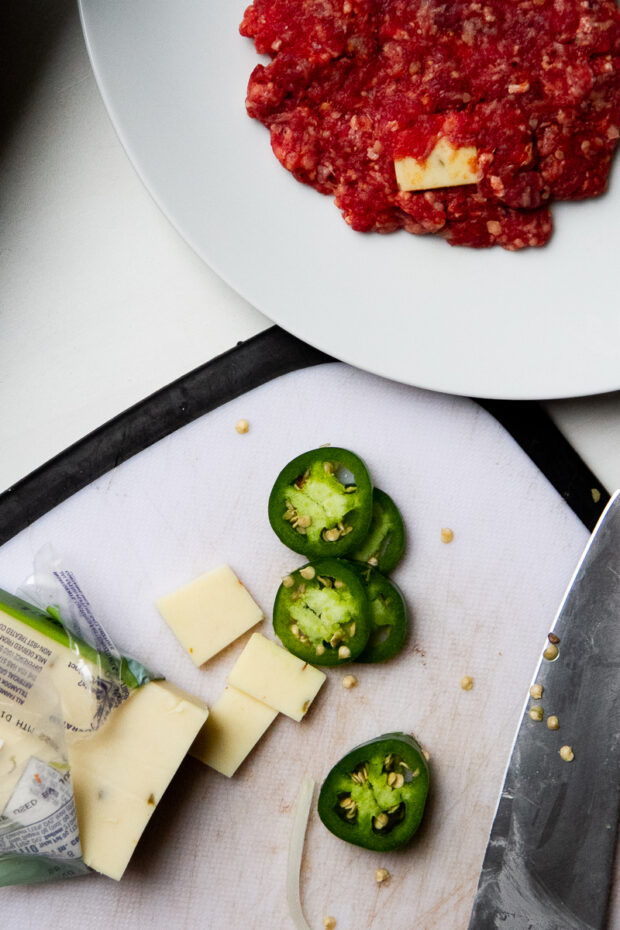 Can I prep the hamburger patties head of time?
Yes! Just stack patties on a large plate or platter and cover them with plastic wrap. Store them in the fridge for a day or two until you're ready to grill them.
Typically you'd start off the smash burgers with ground beef "burger balls" and smash them directly on the hot griddle or skillet. (If you have a cast iron skillet, pull it out!) I used a heavy metal grilling spatula, but you can use a burger press if you have one. You'll want a nice crust on the bottom.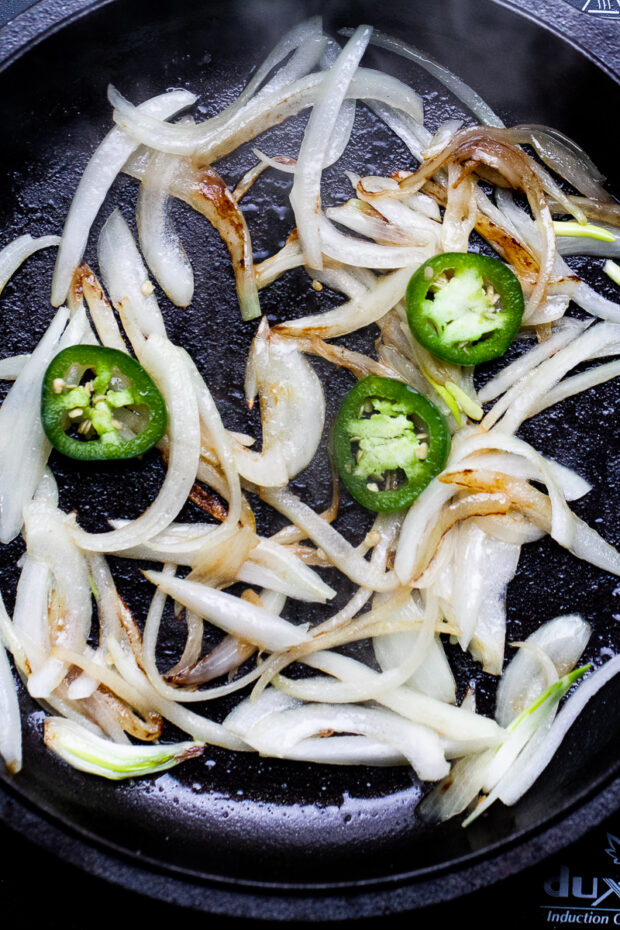 Because I started off with caramelizing onions and jalapenos, I thought that forming burger patties would be easier.
I also put chunks of pepper jack cheese inside the burgers, which is a fun little addition. It melts and oozes out and then you get some crispy cheese action. That's always a good thing.
If you'd rather put a slice of cheese on top (or leave it out completely) that's fine too.
Make sure those onions and jalapenos are very golden brown and caramelized before you add the beef. Since you've got such a thin patty it'll cook up really quickly and you want to make sure those vegetables are well done.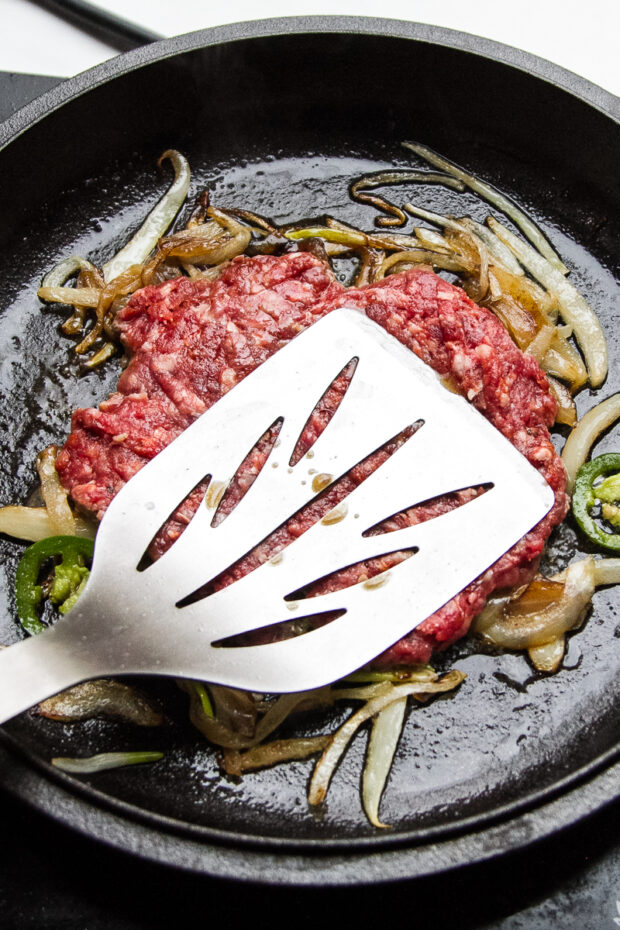 How to make Chipotle Mayo
I love burgers with some kind of burger sauce. Ketchup and mustard are nice, but a special sauce takes it over the top.
For this particular burger I threw together a quick chipotle mayonnaise (avocado oil mayo + diced chipotle peppers in adobo sauce + pinch of salt).
I have a great recipe for Chipotle-Lime Mayo, too, if you're wanting something a little fancier. (Also doubles as a FABULOUS french fry dip.)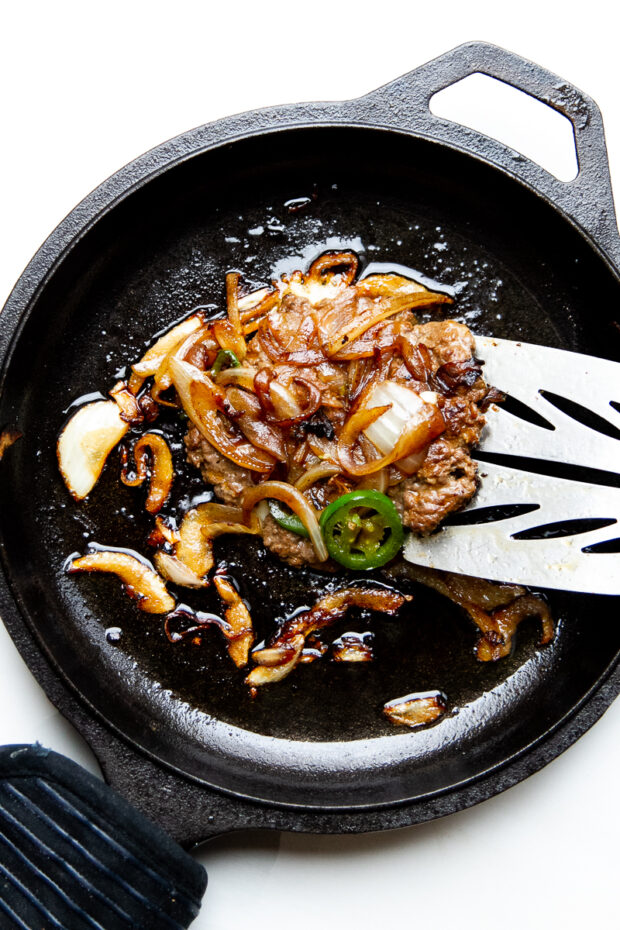 What Hamburger Buns are Best for Smash Burgers?
I just use lettuce. Ha.
While I do try to reduce the amount of grains (particularly wheat) that I eat, I'm just not a fan of most hamburger buns. So, I use lettuce or eat it alone. Iceberg lettuce is great and sturdy for lettuce buns.
If you're going for a traditional burger, brioche buns or a potato bun are delicious, too.
To assemble these burgers, lay a smashed patty (along with some caramelized onions and jalapeno!) on a bottom bun. Top with chipotle mayo, tomatoes, and your other favorite toppings. Avocado would be DELICIOUS here. Then top with the other bun.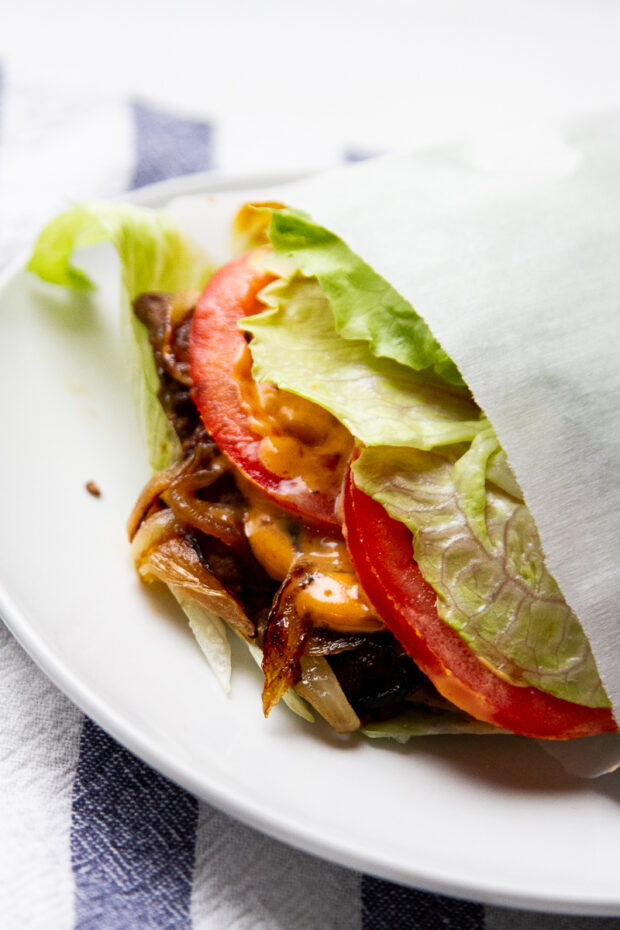 If you're really into these, try making a double patty burger. It'll be messy, but worth all of the napkins.
A toasted bun is always a nice touch, too, and you can lay them on the cast iron pan after the burgers have finished.
This is SUCH a delicious burger! My husband thought it was one of the best homemade smash burgers he's ever had.
---
If you make one of my recipes, be sure to post it on social media and tag me at @perrysplate or #perrysplate so I can send you some love!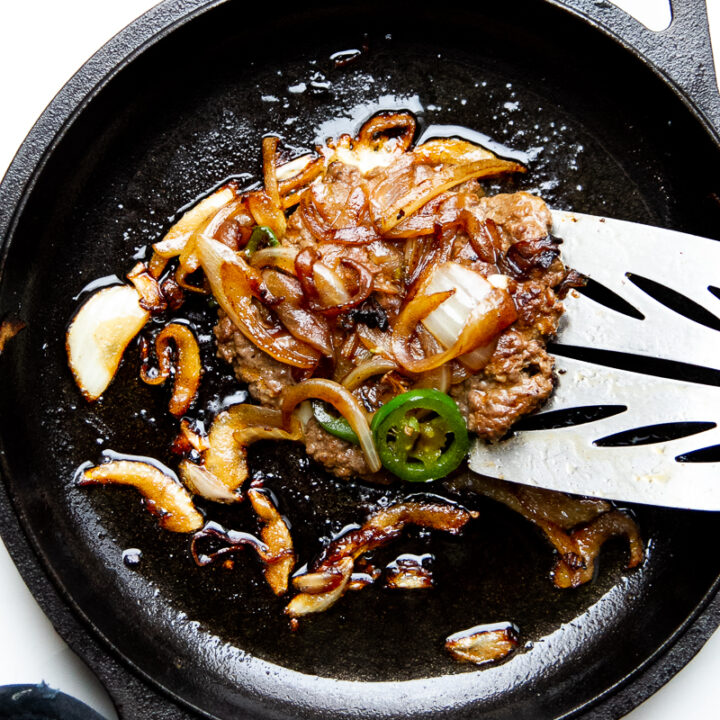 Smash Burgers with Caramelized Onions and Jalapeños
This smash burger recipe is my favorite burger. I always say that about new stuff I post, but.... for real this time. Caramelized onions and jalapenos are cooked with a smashed grass-feed beef patty and covered with chipotle mayo in whatever bun you like!
Ingredients
For the Burgers:
1 Tablespoon avocado oil or butter
3 medium sweet onions, sliced thinly
2-3 large jalapeno peppers, sliced thinly
1 1/2 pounds grass-fed ground beef or turkey
1 1/2 teaspoons kosher salt
1 1/2 teaspoons smoked paprika
6 slices of pepper jack cheese, cut into 3-4 pieces each (optional)
Buns and toppings of choice
For the Chipotle Mayo:
2/3 cup avocado oil mayo
1-2 Tablespoons chopped chipotles in adobo sauce
Pinch of salt
Instructions
Heat a very large cast iron skillet or flat top cooking surface to medium-high heat. Add the avocado oil and all of the onions and sliced jalapenos.
When they start to take on some color, reduce the heat to medium low and cook for 15-20 minutes until the onions are deep golden brown.
Meanwhile, add the kosher salt and smoked paprika to the ground beef and mix gently to combine. Form the meat into 6 patties. Add a few cheese chunks into each patty, if using. Set aside.
Make the chipotle mayo by combining the mayo, chipotles, and pinch of salt in a small bowl. Taste, and add more chopped chipotles if you'd like it spicier. Set aside.
If you have room to cook all 6 patties on your cooking surface, divide the onions and jalapenos into 6 piles. Add a burger patty to each pile and smash it very flat with a sturdy spatula or a burger press. If your pan isn't big enough, remove half of the onions and jalapenos and cook the patties 3 at a time like directed above.
After 2-3 minutes, when the edges of the burger patties have started to brown, flip the whole thing over along with the onions and jalapenos. Cook for another 3-4 minutes until the patty is cooked through.
Assemble burgers with buns, toppings, and chipotle mayo.
Notes
If you're worried about the heat from the jalapeno, cut off the stem end and use a small knife to remove the seeds and inner membranes before slicing it into rings.
You can use dried chipotle pepper powder in place of chipotles in adobo sauce if you like. I've found pre-chopped chipotles in the Latin aisles of a few grocery stores and it's so much more convenient!
If you'd rather top the burgers with a slice of cheese instead of adding cheese to the patties, do this during the last minute or two of cooking.
Nutrition Information
Yield

6
Serving Size

1
Amount Per Serving
Calories

647
Total Fat

48g
Saturated Fat

14g
Trans Fat

0g
Unsaturated Fat

32g
Cholesterol

107mg
Sodium

700mg
Carbohydrates

18g
Fiber

2g
Sugar

9g
Protein

38g
The information shown is an estimate provided by an online nutrition calculator. It should not be considered a substitute for a professional nutritionist's advice.