Want to know the secrets to making Crispy Sweet Potato Chips? I've got the tricks right here.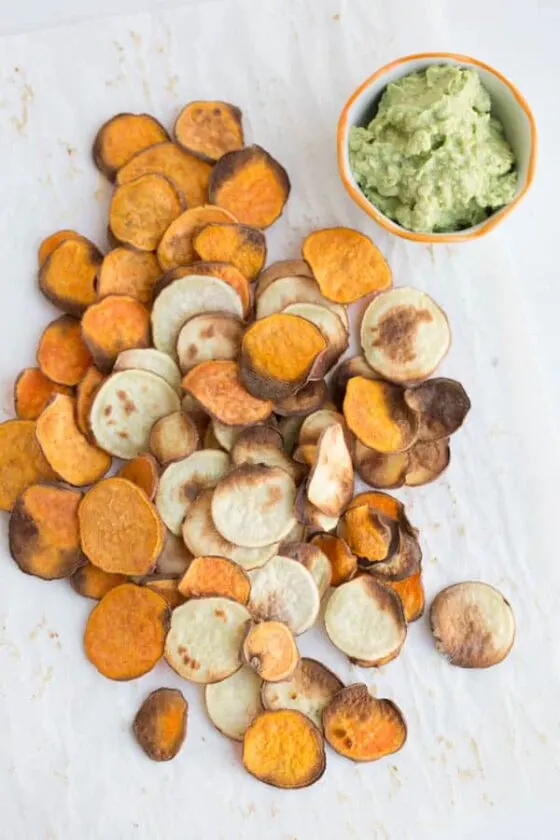 Well, hey there. I thought you might like some sweet potato chips. Do you know what the secret is to getting them crispy?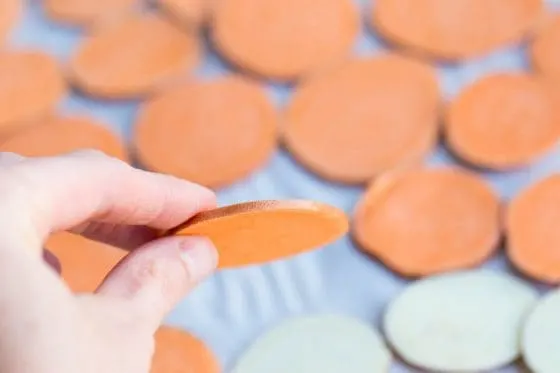 Even slicing is huge. If you have a mandoline slicer, NOW is the time to use it. Seriously. A slicing blade on a food processor would work, too, but I'm not sure it would slice them this thin. This is a newer version of the mandoline I have. I love it!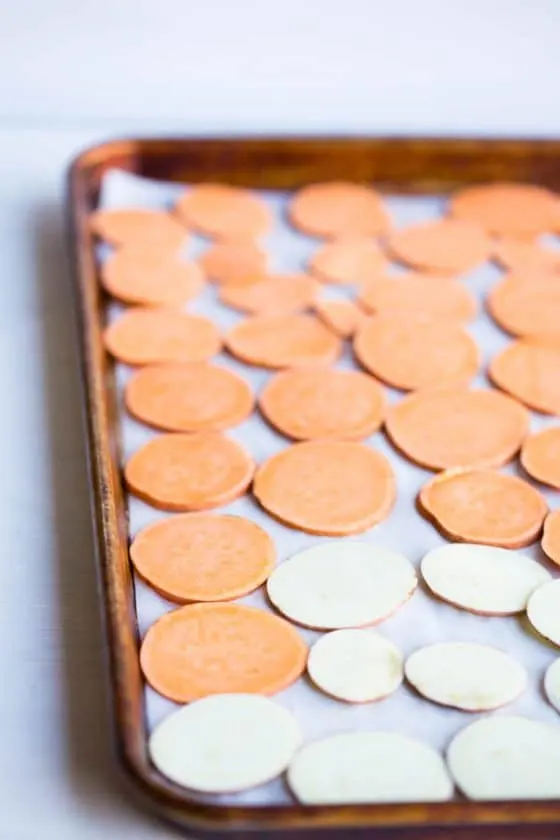 The other secret is even baking, which helps if the potatoes are sliced evenly. Sometimes those little guys get pretty dark though. You'll want them golden or darkish brown on the edges, but not black.
It's fine line though. One minute they'll be chewy and the next minute they'll be burned. You can always take out the finished, smaller ones and leave the larger slices in there.
And once they cool off completely, they crisp up even more. It'll give you some time to make guac. Or Balsamic Bacon Artichoke Dip.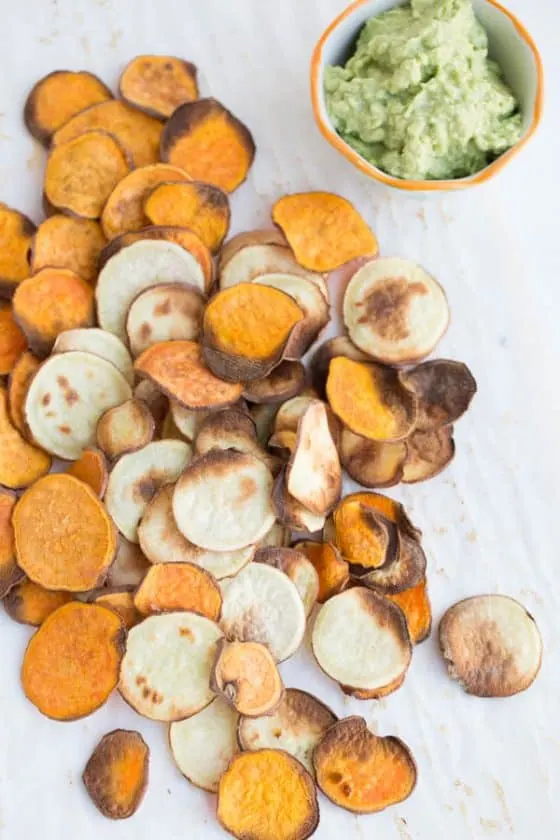 Or to slice up more potatoes, because I promise these will be gone in a jiffy.
I found another fun way too cook sweet potatoes that I'm dying to try. (HUGE salt & vinegar fan here!) These Salt & Vinegar Smashed Sweet Potatoes from Allergylicious sound amazing!
---
If you make one of my recipes, be sure to post it on social media and tag me at @perrysplate or #perrysplate so I can send you some love!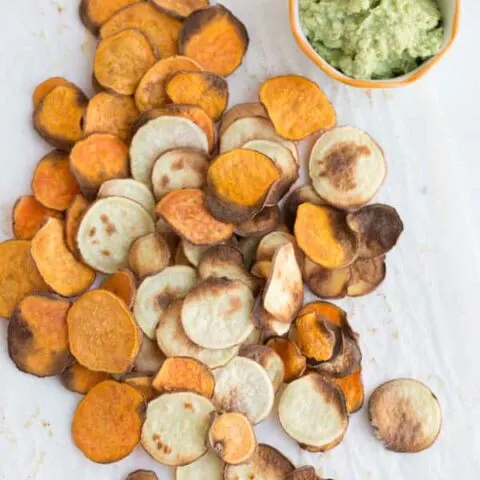 Crispy Sweet Potato Chips
You might want to make twice as many sweet potato chips as you'll think you'll need. (Extra guac, too.) Just warning you.
Ingredients
2 medium sweet potatoes
Avocado or coconut oil nonstick spray
Sea salt
Instructions
Preheat the oven to 425 degrees F. Line two rimmed baking sheets with parchment paper or spray them with nonstick spray.
Slice the sweet potatoes very thinly, about 1/16th thickness. I highly recommend using a mandoline slicer for even slicing so they cook more evenly.
Lay the potato slices on the prepared baking sheets in an even layer.
Bake for 15-25 minutes, rotating the baking sheets halfway through cooking. Watch them closely because they'll burn quickly. You'll want them golden brown around the edges with a few spots in the center.
Let them cool off for a while and put them in a serving dish.
Disclosure: This post contains an Amazon affiliate link. Purchases made by using these links don't cost you any extra and help me maintain my site and sponsor giveaways.
SaveSave
SaveSave