These healthy meal plans are for six dinner recipes and a dessert thrown in for fun! All of these recipes are (mostly) paleo friendly, seasonal, and most can be easily adapted to be Keto/Low-Carb or Whole30 friendly.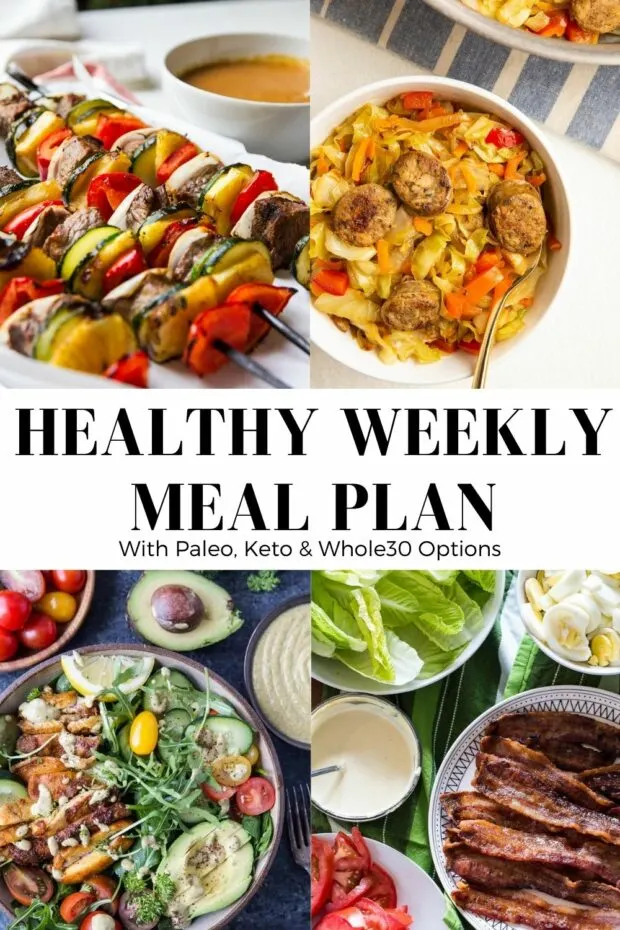 Hey, friend!
Yay, summer!!
Julia and I have gathered some of our favorite lighter, quick-fix meals that don't require much kitchen time. Specifically… oven time.
I'm dying to try her Crispy Mediterranean Chicken Salad especially!
Let us know if any of these become regulars in your rotation!
xoxo
Natalie
---
Sunday
CRISPY MEDITERRANEAN CHICKEN SALAD — This tasty salad features a fresh, zesty lemon herb tahini dressing, cherry tomatoes, avocado, arugula, and cucumber.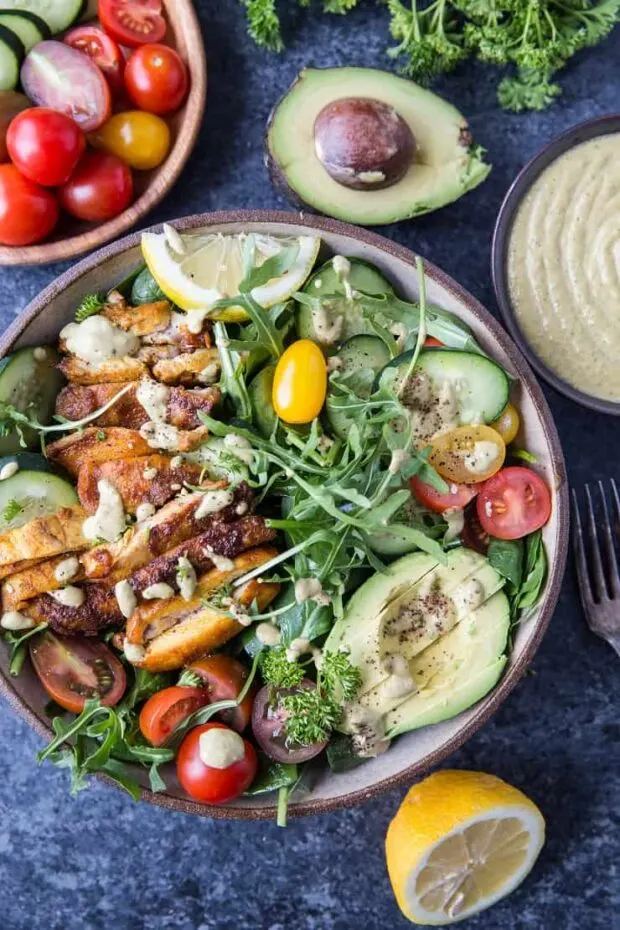 Special Diet Note: Recipe is Paleo, whole30 and low-carb.
Prep Ahead: The dressing can be made up to 5 days in advance, and the chicken can be marinated up to 1 day ahead of time.
Substitutions: Mix and match your favorite vegetables in the salad. You can also use chicken breasts instead of chicken thighs.
Monday
THAI STEAK KABOBS — These marinated Thai steak kabobs are easy, flavorful and delicious — especially with a drizzle of coconut curry sauce. If you serve them alongside some coconut rice, they're positively dreamy.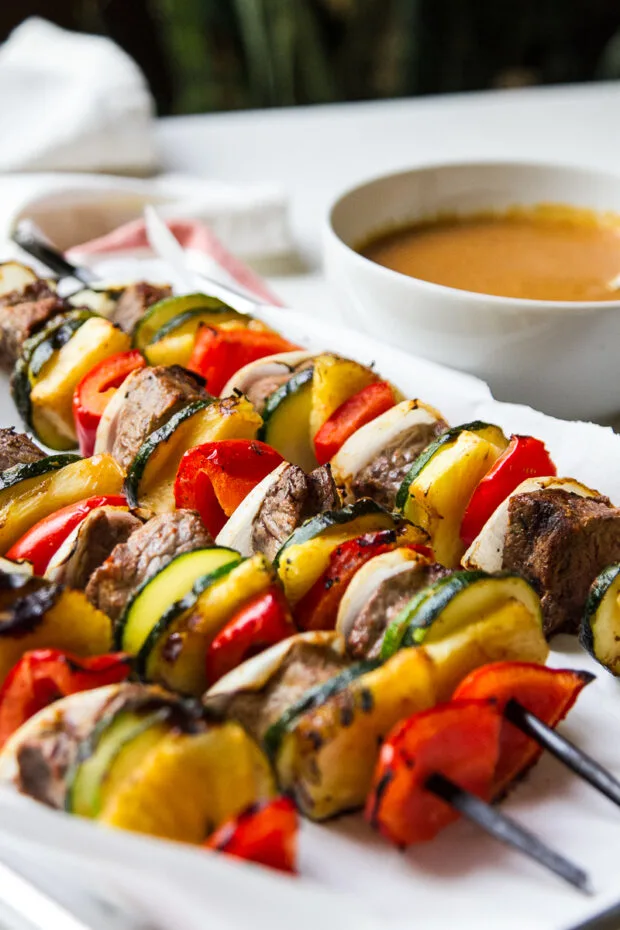 Special Diet Note: These kabobs and sauce are paleo friendly (if using almond butter) and keto/low-carb. Serve them with a salad or some coconut rice linked in the recipe card.
Prep Ahead: Marinate the steak up to 18 hours in advance. You can prep the vegetables up to 2 days in advance.
Substitutions: Use almond butter instead of peanut butter if you like or omit it completely. Swap any veggie out for another quick-cooking veggie you prefer.
Tuesday
30-MINUTE SAUSAGE AND CABBAGE SKILLET — This easy dish requires just a handful of basic ingredients and makes for a healthy low-carb dinner! Whip it up any time you're looking for something quick, tasty and filling.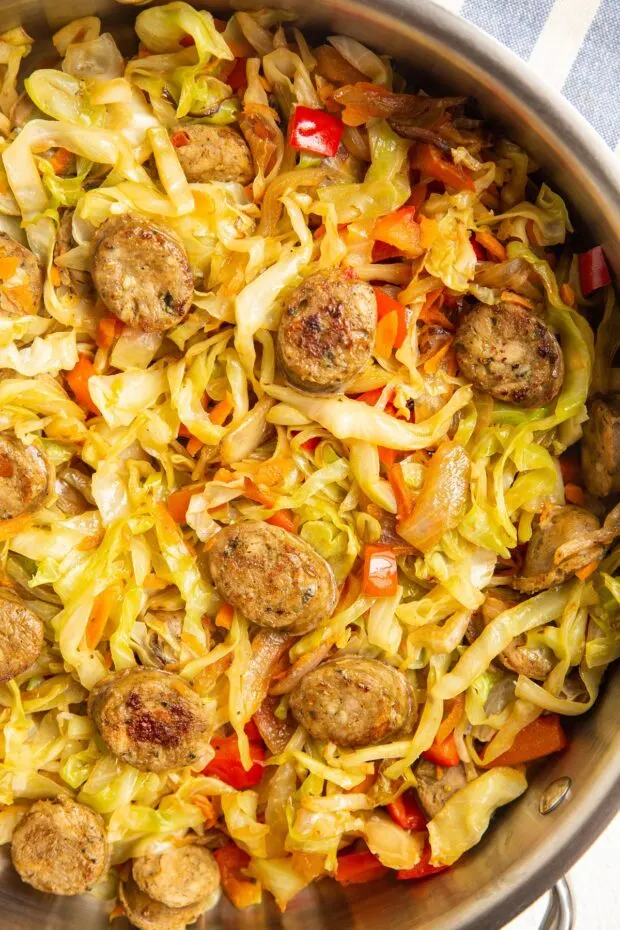 Special Diet Note: Recipe is Paleo, whole30 and low-carb.
Prep Ahead: No advance prep is needed, as the recipe comes together in a flash!
Substitutions: Add your favorite veggies such as broccoli, cauliflower, bok choy, or zucchini.
Wednesday
BACON COBB LETTUCE WRAPS — I love this meal in the summertime when it's too hot to cook! Just whip up a package of bacon and assemble these lettuce wraps with a drizzle of creamy mustard dressing.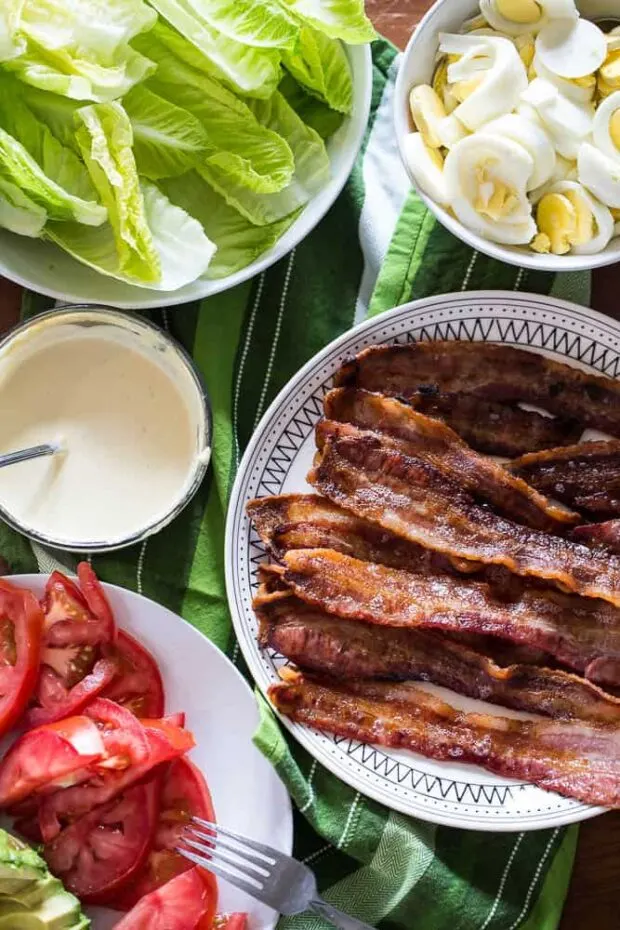 Special Diet Note: This recipe is low-carb, keto, and paleo.
Prep Ahead: You can cook the bacon a day or two in advance to make prep a little quicker for these lettuce wraps.
Substitutions: Swap out the bacon for some sautéed, pre-cooked sausage slices.
Thursday
LEMON GARLIC BAKED CHICKEN THIGHS — are an easy go-to for weeknight meals. Serve them up with your favorite side dishes for a healthy meal.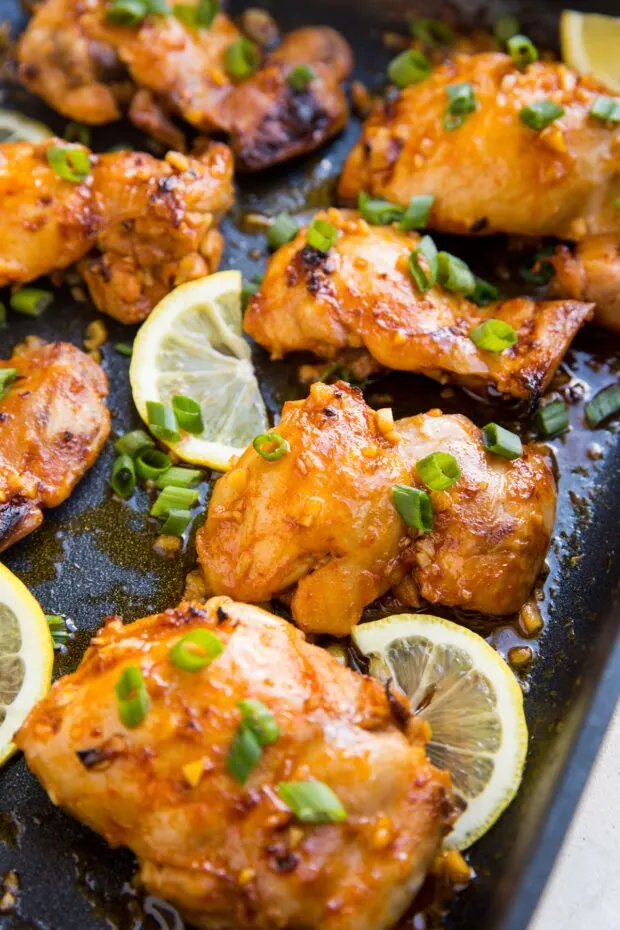 Special Diet Note: This chicken recipe is paleo, keto, and whole30.
Prep Ahead: Marinate the chicken up to 24 hours in advance.
Substitutions: Serve the chicken with your favorite side dishes. Roasted Vegetables, Broccoli Salad, or Potato Salad are great pairings!
Friday
5-INGREDIENT HARISSA ROASTED SALMON — This spicy Harissa Roasted Salmon is a summertime favorite! There are only 5 ingredients and you can make it on the grill, too.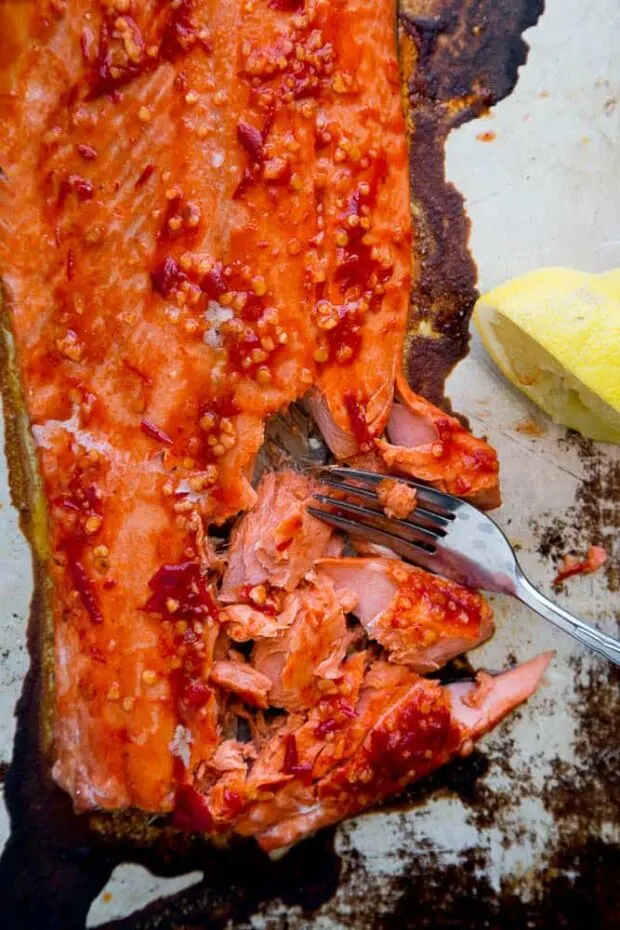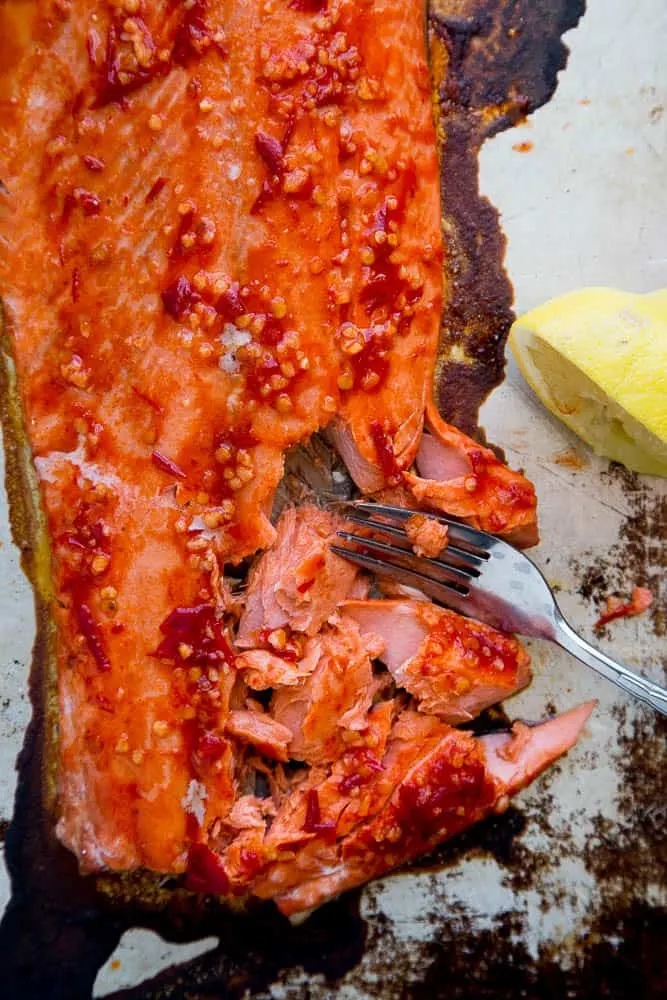 Special Diet Note: Recipe is paleo and keto friendly.
Prep Ahead: No advance prep necessary.
Substitutions: Roast some vegetables on the same pan or another pan or serve the salmon with a green salad.
Dessert
COCONUT FLOUR COOKIES — Perfectly chewy, gooey, and crispy Coconut Flour Cookies that have show-stopping amazing texture. You'd never guess they're grain-free! Recipe includes dairy-free and sugar-free options.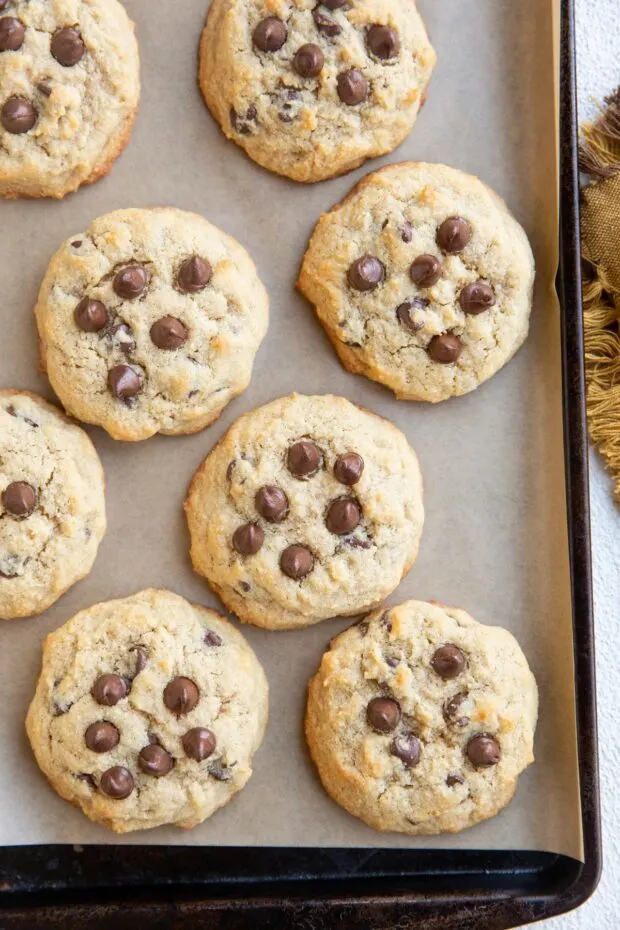 Special Diet Note: The cookies are paleo as written and can be made low-carb/keto using sugar-free sweetener.
Prep Ahead: The dough can be made up to 2 days ahead of time.
Substitutions: Use cane sugar or sugar-free sweetener for the sweetener if you'd like to switch out the maple sugar/coconut sugar. Swap the almond butter for peanut butter if desired.
Grocery List
Click HERE to download a handy printable grocery list!