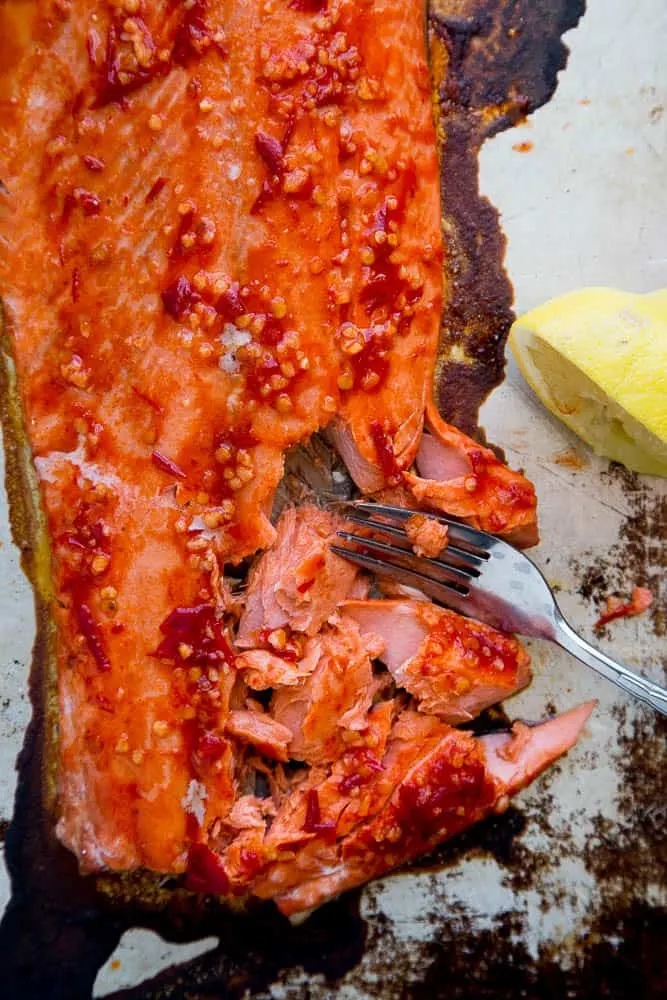 I'll get to this amazeballs roasted salmon in a second. If you've been hanging around here for a while you'll know a few things about me. . .
I have an undying love for bacon & avocados.
Roasted vegetables = life.
I love me a kick of heat.
That last one is fairly recent. Well, "fairly" meaning 7 years ago when I was pregnant with my 3rd child. Before that point I never put hot sauce or chili flakes on ANYTHING. My husband always did, and I thought he was nuts. During the aforementioned pregnancy I suddenly craved a little heat. I started putting a few drops of Tapatio on my scrambled eggs and a pinch of chili flakes on my pizza.
After my daughter was born (Interestingly enough, she has the most fiery personality out of the four kids.) I still craved that kick of heat.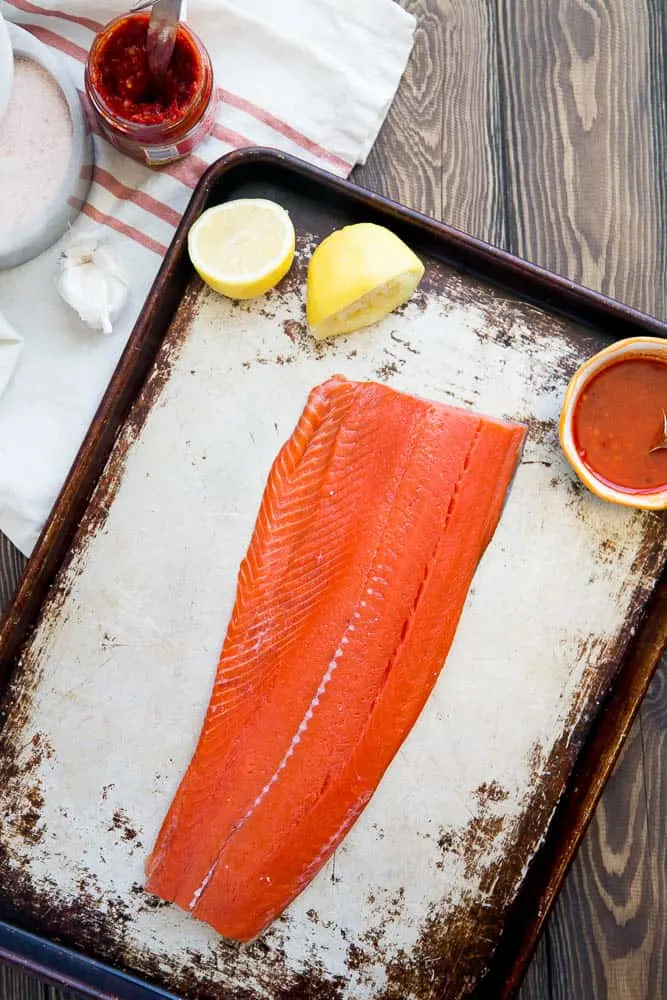 Fast forward to now and my affinity for spicy sauces and condiments has compounded quite a bit. On any given day you'll find in my kitchen a half dozen different Mexican hot sauces, chipotle peppers in adobo sauce, wing sauce, sriracha, Asian chili paste, Italian chili paste, several kinds of chili powder, and a recent favorite — Tunisian harissa paste.
Harissa paste is apparently having a moment right now, and I'm totally loving it. It's not too hard to find either. Amazon has a TON of different kinds. I got my first jar at Trader Joe's and have been happily playing with it ever since. (Psst… a smidge will turn regular ranch dressing into something quite spectacular.)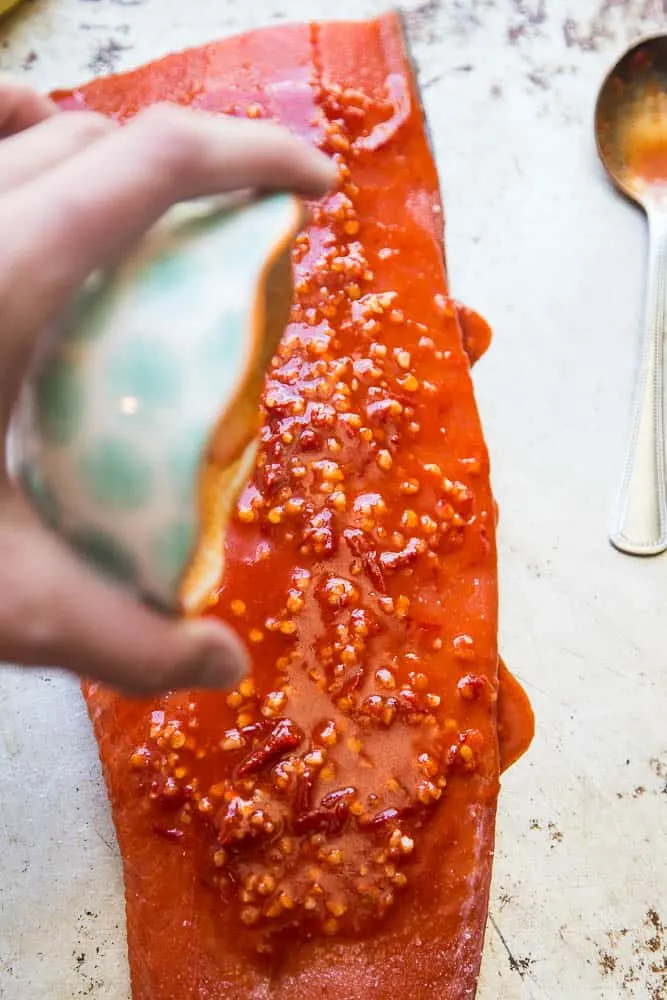 Which brings me to this roasted salmon. I've always been a die-hard foil/parchment packet girl when it comes to salmon.
Until I realized that I usually overcooked it when I roasted it in the oven. *eyeroll* It always turned out dry and flavorless.
Besides not overcooking it, I think the other secrets to great salmon are seasoning it well and using some acid to brighten the flavors. Harissa paste definitely provides some salt — I barely had to salt this fillet. And although it is acidic, I used lemon juice, too.
I can't tell you how much I loved this salmon. It was tender and perfectly seasoned and has a spicy kick, but it didn't make my nose run. (My husband's goal when he eats spicy food. I'm not quite there yet. I like to actually taste my food too, thx.)
This roasted salmon only has FIVE ingredients, guys. I served this with some simple roasted asparagus, but any of these sides would be great with it! I also included instructions to make this on the grill (see recipe notes).
What to Serve with Roasted Salmon
Syrian Salad with Za'atar Dressing
More Roasted Salmon Recipes
Wild-caught salmon is one of my favorite summer time meals. Most of the time I make my Grilled Cajun Foil-Packet Salmon, Garlic Butter Salmon Sheet Pan Meal, or Creamy Dill Roasted Salmon, but this Harissa Roasted Salmon might be a contender for my favorite.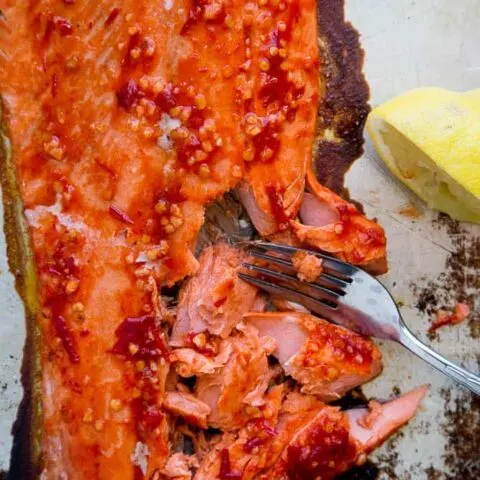 5-Ingredient Harissa Roasted Salmon
This spicy Harissa Roasted Salmon is a summertime favorite! There are only 5 ingredients and you can make it on the grill, too. Perfect for palo, keto, and Whole30 eaters.
Ingredients
1 to 1 1/2 lb whole salmon fillet (or the same amount in smaller cuts
sea salt
2 teaspoon harissa paste
1 teaspoon minced garlic
1 lemon
Instructions
Preheat your oven to 350 degrees. Line a large rimmed baking sheet with parchment, foil, or spray with nonstick spray.
Place the salmon on the prepared baking sheet. Sprinkle lightly with sea salt.
In a small bowl, combine the harissa paste, garlic, and juice from half of the lemon. Pour the mixture over the salmon, using a spoon to spread it around to coat the whole fillet.
Roast for 16-20 minutes, depending on the thickness of your fillet. My fillet was 1.25 pounds and 18 minutes was perfect. It should be just barely cooked through and easily pulls apart with a fork.
Squeeze the juice from the other half of the lemon over the fillet (or over individual servings). Serve warm.
Disclosure: This post contains Amazon affiliate links. Purchases made by using these links doesn't cost you any extra and helps to keep my content free.