These marinated Thai steak kabobs are easy, flavorful and delicious — especially with a drizzle of coconut curry sauce. If you serve them alongside some coconut rice, they're positively dreamy.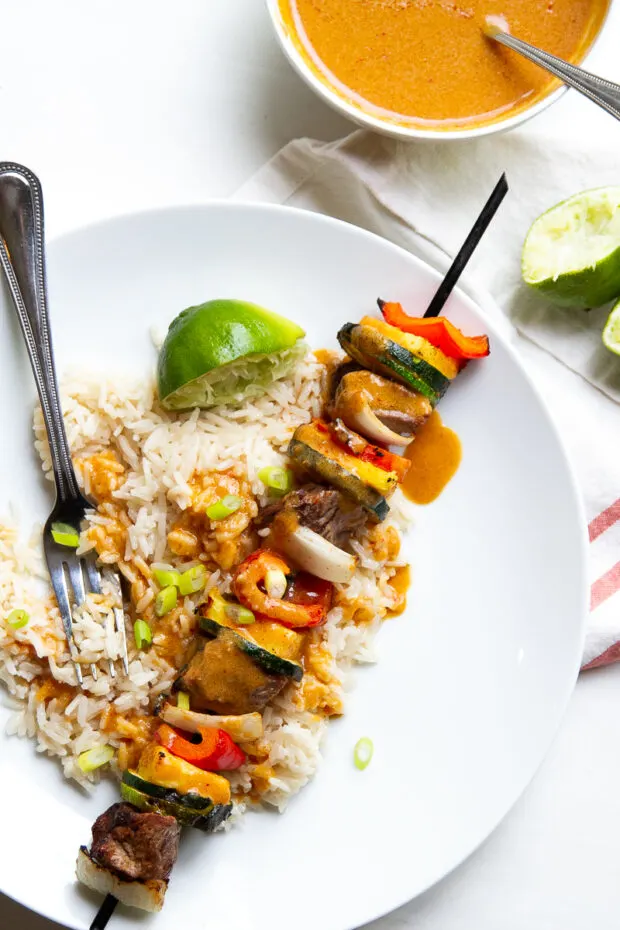 I've been heavy on the Thai inspired recipes lately, but I'm not going to apologize for it.
If Thai flavors intimidate you, know that it's easy to find the ingredients you need and once you have a few things on hand (fish sauce, lime juice, Thai curry paste) you can make a LOT of different things.
I'll link to some of my other favorite easy recipes that are Thai inspired at the bottom of this post to give you more ideas!
OK, about these Thai steak kabobs. Or skewers. Or whatever you choose to call them. This is SUCH a great recipe. I made it 3 times in about a week trying to work out the kinks and we always ate all of them.
And please, PLEASE make the Coconut Rice to go with them. It's worth an extra couple of cans of coconut milk. I promise.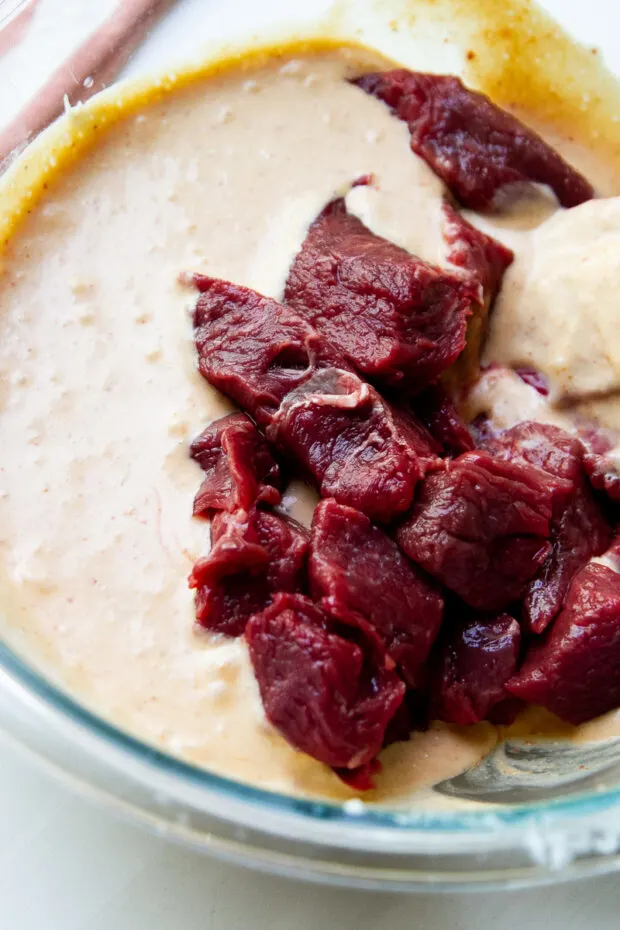 I marinated chunks of steak in a large bowl with a rich, coconut curry mixture that doubles as a sauce later. It only take 5 minutes and a handful of ingredients to make. Just trying to make your dinner prep as easy as possible. :)
What kind of steak is best for kabobs?
Thicker steaks like filets, strip steaks, or sirloin steaks are best.
Avoid using thinner steaks like skirt steak or flank steak for these kabobs. You could definitely use the marinade and just cook that type of thinner steak whole on the grill. Then serve Thai grilled steak slices with some grilled vegetables and coconut curry sauce. That would also be delicious. I may do that next time.
Can I use a different kind of meat?
Sure! Chicken or pieces of pork loin would work well here. Or large chunks of firm fish, like salmon or cod.
What are the Thai steak marinade ingredients?
Coconut milk — full-fat if possible.
Fresh lime juice — for extra lime flavor, try adding a little lime zest, too!
Fish sauce
Thai Curry paste — more on this in a minute
Coconut sugar or brown sugar — optional, but highly recommended to offset some of the salty, pungent flavors of the fish sauce and curry paste. It will also mimic the sweetness of dishes found in Thai restaurants, if that's what you're used to.
How long should I marinate the steak?
If you're short on time, an hour at room temperature is the very minimum. You can chill these for at least 2-24 hours before grilling.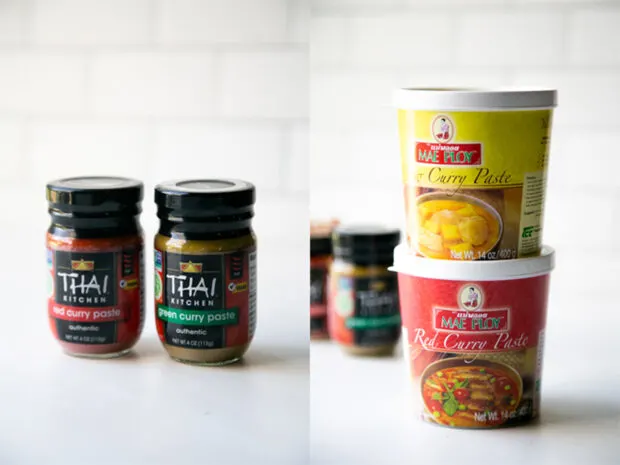 Where do you find Thai curry paste?
Curry paste allows you to get all of your favorite Thai flavors without having to hunt down (sometimes) hard to find ingredients like lemongrass, galangal, shrimp paste, and lime leaves.
It also has ingredients that are easy to find, but will just save you some prep time like fresh ginger, garlic, coriander seed, and chilies.
The easiest curry paste to find is Thai Kitchen. You can find it in the Asian section of most grocery stores. Despite the spicy warning on the side of the bottles, they're not actually that spicy. Like, hardly at all.
My favorite curry pastes are made by Mae Ploy and can be found in an Asian grocery store if you have one. Or on Amazon. I love Mae Ploy because the flavors are fresher, they're less expensive per ounce, and they have a little more heat to them. Especially the Panang paste.
Both types of curry pastes are free from preservatives and other "filler" ingredients, too, which is nice.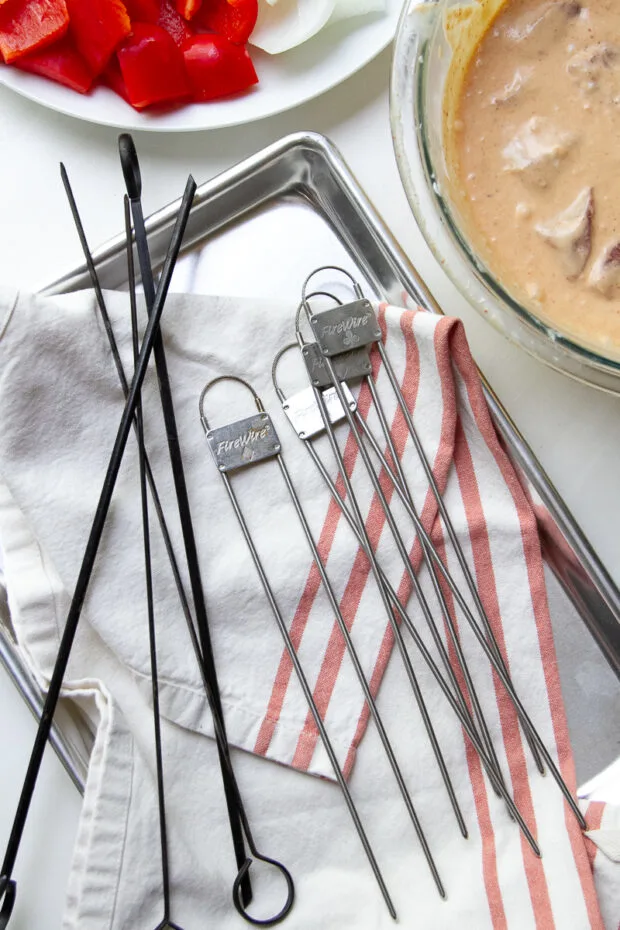 What kind of skewers are best for kabobs?
I have a few different kinds. I prefer metal skewers over wooden skewers so I don't have to worry about them burning on the grill or needing to soak them beforehand. I ALWAYS forget to soak them.
I have a set of plain, black metal ones I use most often. I also have these double-pronged skewers that are helpful if you have larger pieces of meat or vegetables that have a tendency to spin. Or ones that you're afraid will fall off and need a little more stability.
These skewers are great for that. Mine are made by Firewire (which also makes some pretty fabulous flexible wire skewers), but I couldn't find a link for you, so here are some similar double-pronged skewers on Amazon.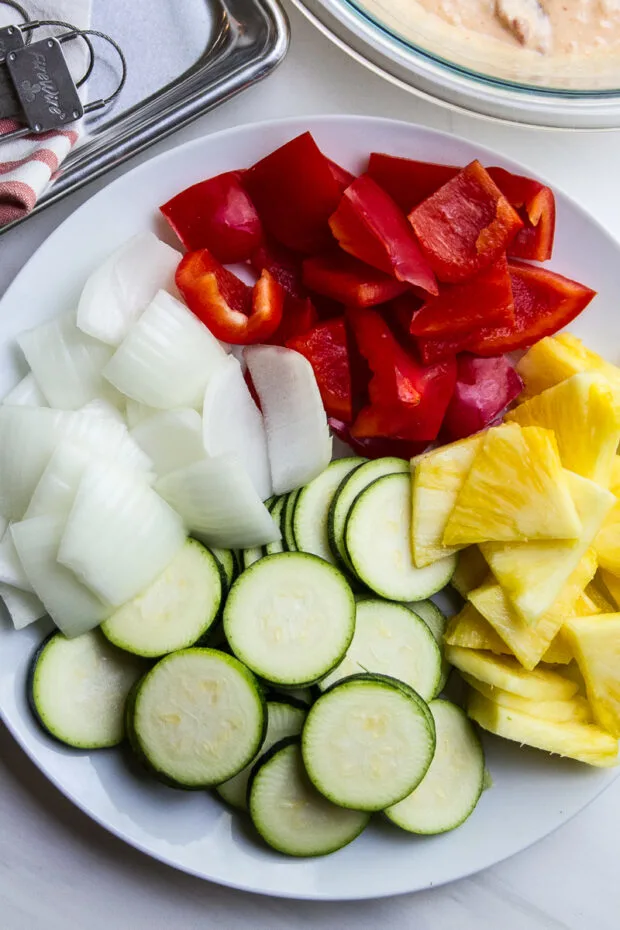 Vegetables for Thai steak kabobs
Some people choose to thread ONLY meat on their skewers and cook the vegetables separately so everything is cooked evenly.
I like to thread them together because it's pretty. And if you do it right, you can get them cooked evenly this way as well. Here are a few things to keep in mind:
If you like your steak medium-rare, choose things that have a quick cooking time and slice any longer cooking veg into thin strips (if possible). Onions, bell peppers, zucchini, and pineapple are my favorites.
Keep the steak chunks fairly large to avoid overcooking them before the vegetables are finished. Mine are roughly 1 1/2-2 inches long and at least an inch wide.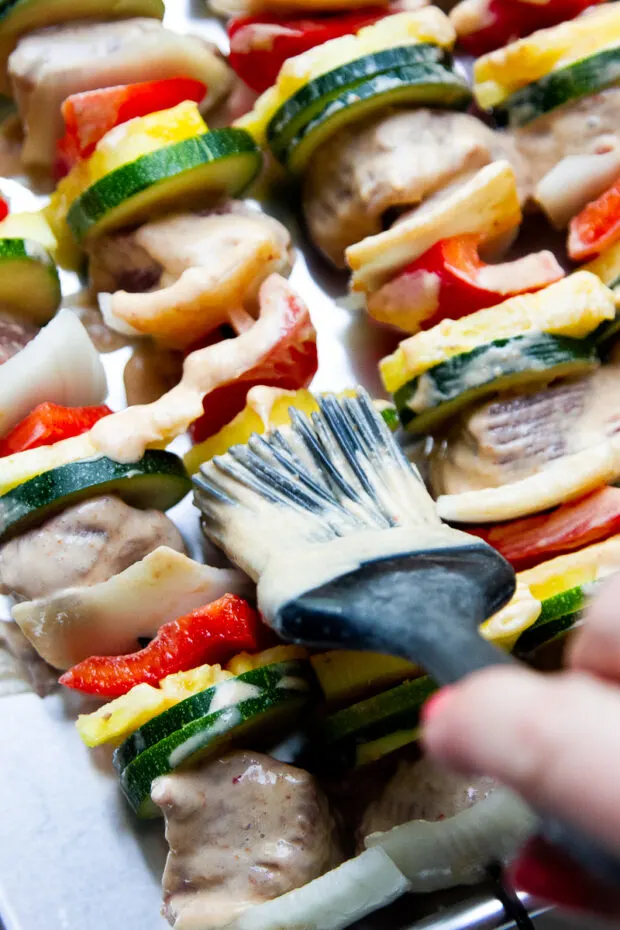 Once you get everything threaded onto the skewers, brush some of the leftover marinade over them to season the vegetables and put the remaining marinade into the pot with the reserved marinade we pulled out earlier.
Now comes the magical part.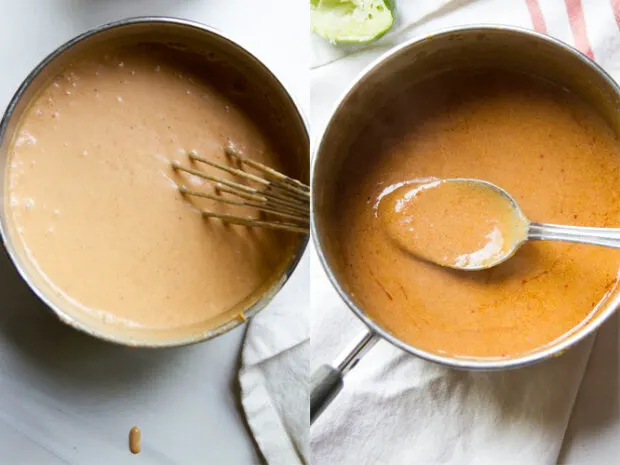 While the skewers are grilling, cook the marinade over medium-high heat for a few minutes to create a super delicious coconut curry sauce.
I like to add a little peanut butter in my sauce to make it richer and a little thicker, but that's optional, of course. When it's finished, just transfer it to a small bowl while the rest of the food cooks.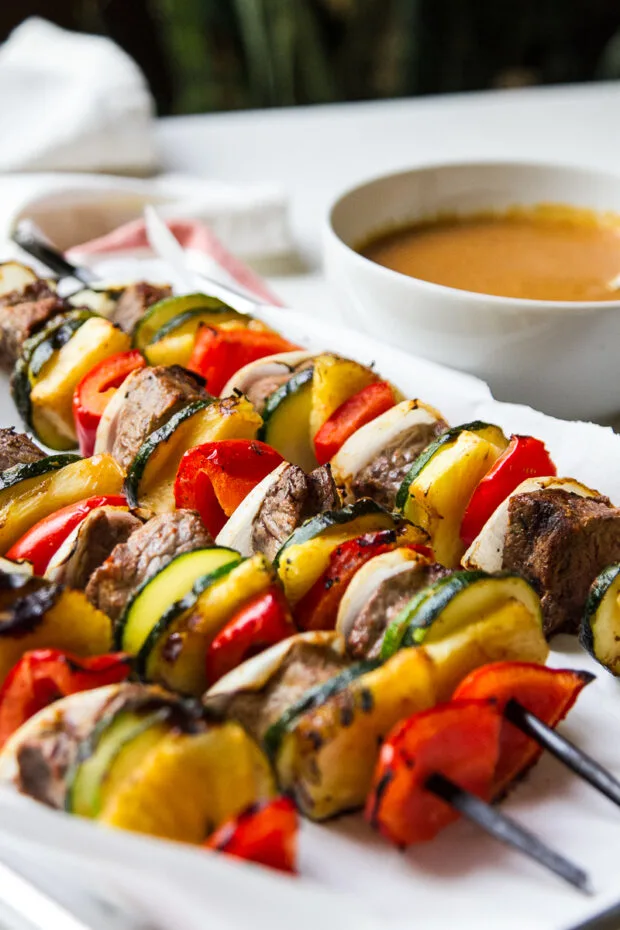 Ummm… how amazing do those look?? Let them rest on a cutting board or on a paper towel lined plate to catch any juices.
What to serve with Thai steak kabobs?
Hands down, some of my Instant Pot Coconut Rice. You can also make this on the stovetop (adaptation is in the recipe notes).
Plain jasmine rice or Roasted Cauliflower Rice would work, too, if you're not a rice eater.
I like to sprinkle some thinly sliced green onions or sliced Thai basil (if you can find some) on there, too. A little bit of green makes things pretty and I like the freshness it adds.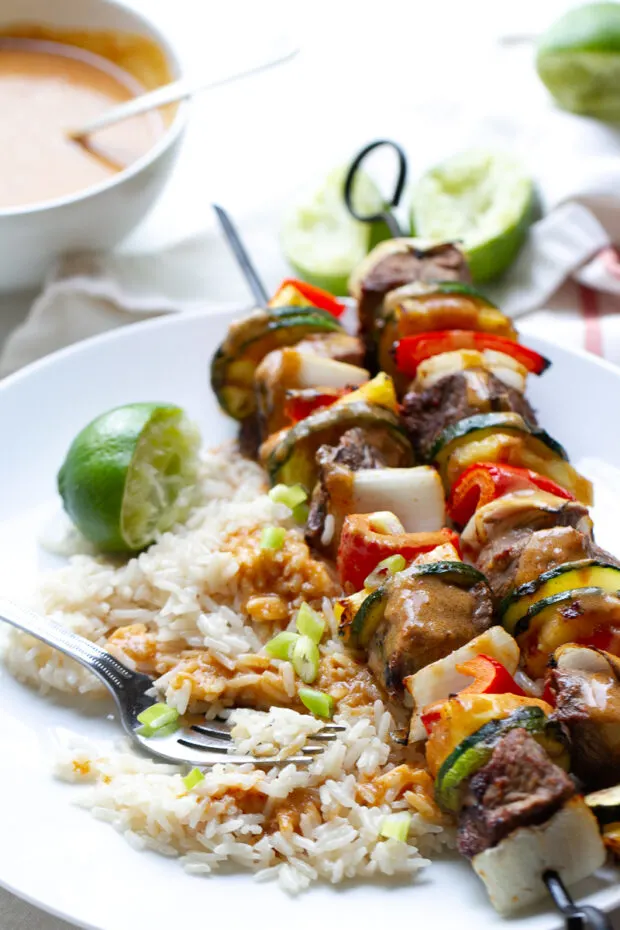 Here are a few of my favorite easy Thai recipes on my site that use Thai curry paste:
More Recipes with Thai Curry Paste on Perry's Plate
Pineapple Salmon Curry is a copycat version of a restaurant dish here locally. The curry sauce is very similar to the sauce in this recipe.
Thai Peanut Curry with Ginger Chicken Meatballs is a fun twist on a curry with tender chicken (or turkey!) meatballs.
Easy Thai Chicken Curry for Instant Pot is a good recipe to start with if you're new to Thai flavors or you're introducing kids. This curry is very mild (but can be spiced up if needed!).
Thai Green Curry Zoodles with Shrimp & Broccoli is a knock off of a Noodles & Co dish that's a great meal for hot summer months! Comes together quick with minimal time at the stove.
Shredded Red Curry Chicken with Slaw makes a great meal prep recipe! This chicken is great with the slaw in the recipe, but also makes some pretty great Thai-inspired tacos.
Thai Coconut Curry Soup (Chicken Khao Soi) is a richly flavored soup with loads of veggies and tender chicken.
---
If you make one of my recipes, be sure to post it on social media and tag me at @perrysplate or #perrysplate so I can send you some love!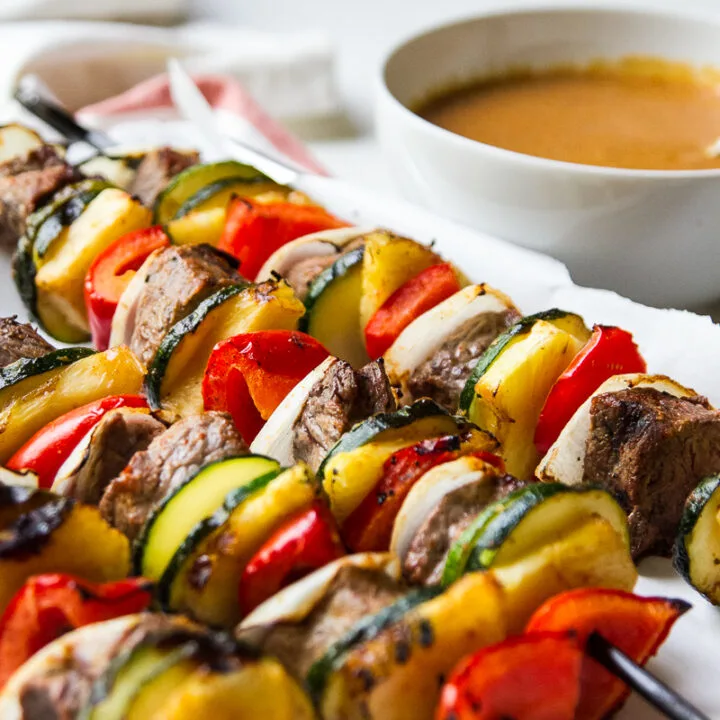 Thai Steak Kebobs with Coconut Curry Sauce
Total Time:
1 hour
30 minutes
These Thai marinated steak kebabs are flavorful and delicious -- especially with a drizzle of coconut curry sauce. If you serve them alongside some coconut rice, they're positively dreamy.
Ingredients
1 13.5 oz can full-fat coconut milk
2 Tablespoons coconut sugar or brown sugar
2 Tablespoons fish sauce
1 1/2 Tablespoons curry paste (any kind)
Juice from 2 limes (about 3-4 tablespoons)
1 1/2 - 2 pounds steak cut into 1 1/2-inch chunks
1 large zucchini, sliced into 1/4-inch rounds
1 bell pepper, any color, roughly cut into 1 1/2 inch pieces
1/2 large onion, cut into large pieces
1 1/2 cups thinly sliced pineapple pieces
1/4 cup peanut butter (optional)
Instructions
In a medium bowl, whisk together the coconut milk, coconut sugar, fish sauce, curry paste, and lime juice. The curry paste can get a little clumpy, so make sure to whisk it well.
Transfer all but 1/2 cup of marinade to a small saucepan. Add the chopped steak to the bowl with the 1/2 cup of marinade. Toss to coat evenly. If you think the steak needs more marinade, grab a little more from the saucepan.
Marinate the steak at room temperature for 1 hour or chilled up to 24 hours. Store the saucepan full of marinade in the fridge if you are marinating the steak for more than an hour.
When you're ready to cook the steak, start the rice (if serving this with rice). Preheat your grill to high heat.
Thread the steak onto metal skewers along with the the thinly sliced zucchini, bell peppers, onion, and pineapple. Our skewers are 12 inches and I can get 4 pieces each of steak and veg/fruit on each skewer.
Brush some remaining marinade over each skewer, covering the vegetables. Transfer any remaining marinade to the saucepan with the reserved marinade from earlier.
Grill the skewers for about 10 minutes, depending on the thickness of your steak and how well you'd like them done. Flip halfway through grilling.
Meanwhile, bring the saucepan full of marinade to a boil, reduce heat to medium-low and cook on a low simmer for 5-8 minutes. Whisk in peanut butter (if using) and cook for another minute or two until the sauce has slightly thickened.
Serve skewers with coconut rice and a drizzle of coconut curry sauce.
Notes
The coconut curry sauce is rather strong tasting. I like it this way, but if you taste the sauce and it's a little much for you, you can tone it down by adding a 1/2 can of coconut milk.
Recommended Products
As an Amazon Associate and member of other affiliate programs, I earn from qualifying purchases.