These healthy meal plans are for six dinner recipes and a dessert thrown in for fun! All of these recipes are (mostly) paleo friendly, seasonal, and most can be easily adapted to be Keto/Low-Carb or Whole30 friendly.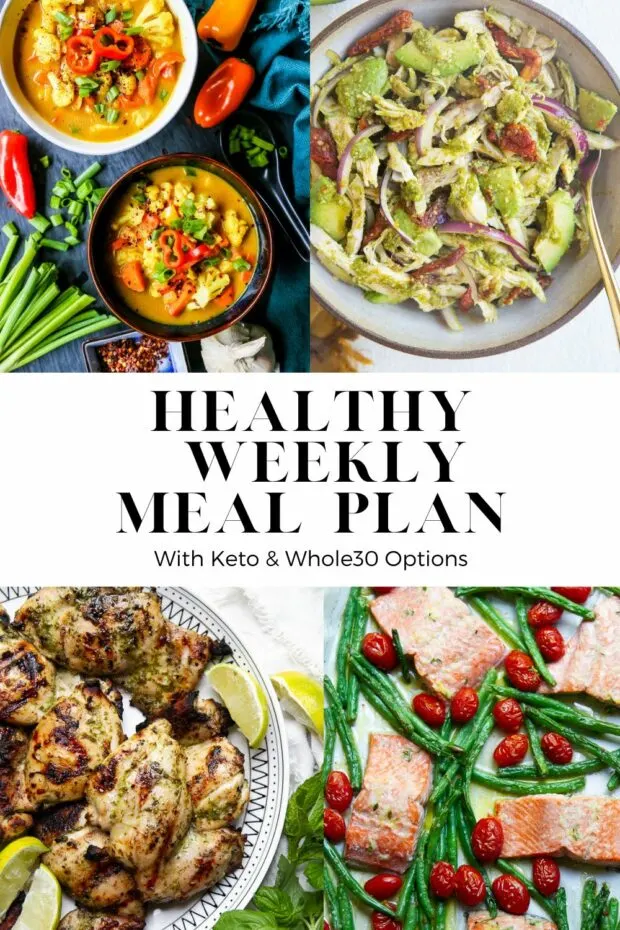 Hello!
Our heatwave here in Idaho & Nevada finally gave us some relief! Julia and I are relieved and excited to move on to more comfy, cozy recipes in the coming weeks.
This week is a good transition meal from summer to fall with a couple of grilling recipes (including my new favorite marinade!), a couple of quick sheet pan meals, and a light vegetarian soup!
And, of course, a little treat for the week. These peanut butter bites are super tasty and can be made a la almond style if you like.
xoxo
Natalie
---
Sunday
GRILLED CHICKEN WITH HERBY LIME MARINADE — This grilled chicken is marinated in a fresh herb & lime marinade. Use any fresh herbs you have on hand for this! If you want to go all-cilantro for some cilantro lime chicken, go right ahead. Serve it over a fresh salad or alongside some grilled or roasted vegetables.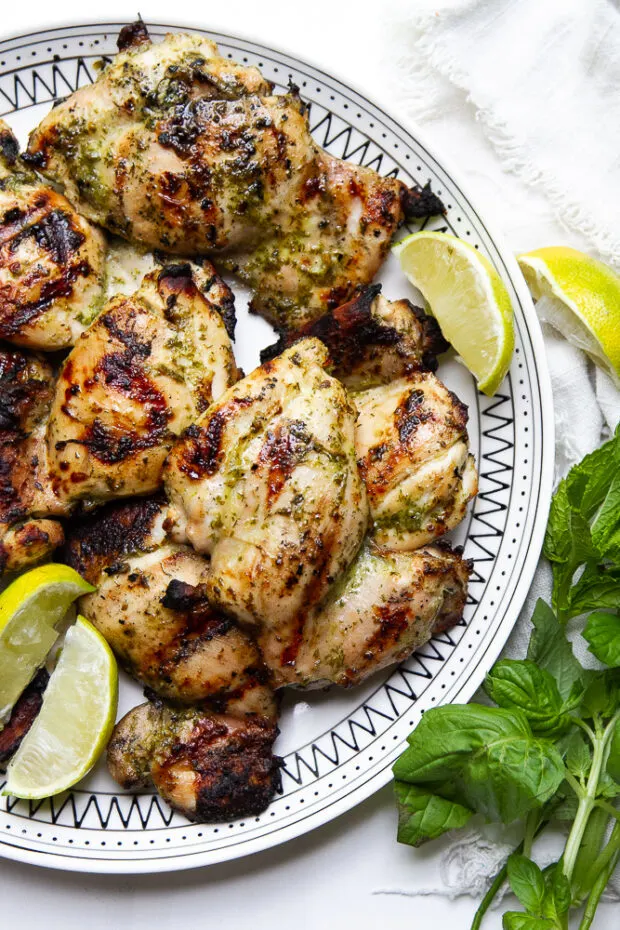 Special Diet Note: Recipe is paleo, low-carb, & Whole30 friendly.
Prep Ahead: Chicken can marinate for up to 48 hours.
Substitutions: Use lemon juice instead of lime if you prefer. Use any combination of fresh herbs, or simply use one whole bunch of cilantro to make cilantro-lime chicken. Serve with a salad or some roasted/grilled vegetables.
Monday
VEGETABLE COCONUT CURRY SOUP — This easy vegan, whole30 and paleo-friendly soup recipe comes together in just over 30 minutes. Make it using your favorite vegetables and/or add in some animal protein to change it up over and over!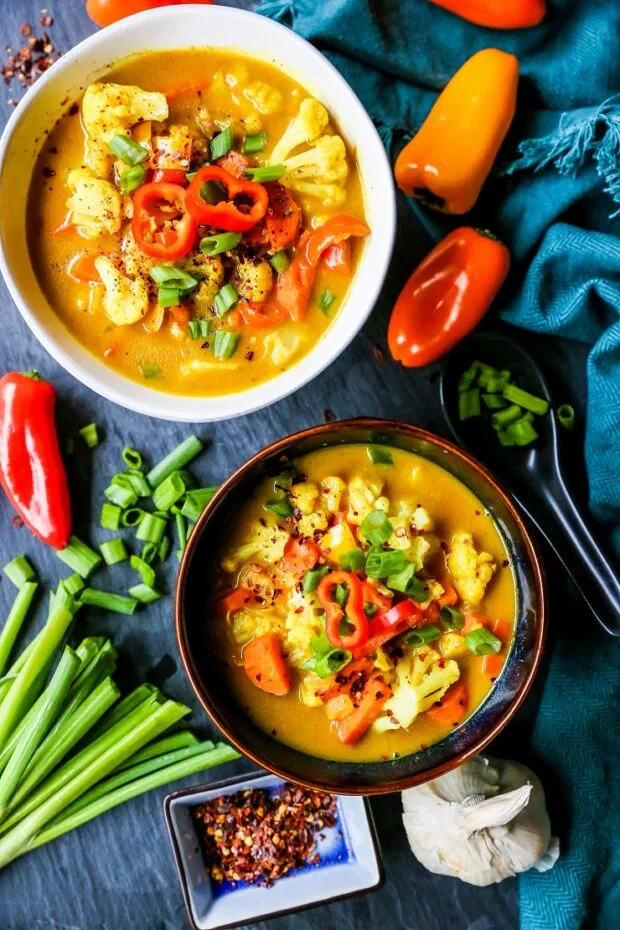 Special Diet Note: This veggie soup recipe is vegan, vegetarian, paleo, and whole30.
Prep Ahead: No advance prep is needed, as the soup comes together quickly!
Substitutions: Add chicken, beef, shrimp, or your favorite source of protein if you'd like.
Tuesday
GRILLED SHRIMP TACOS WITH PINEAPPLE AVOCADO SALSA — Smoky grilled shrimp pairs up with sweet pineapple salsa in these delicious grilled shrimp tacos! They're done in under 30 minutes, too.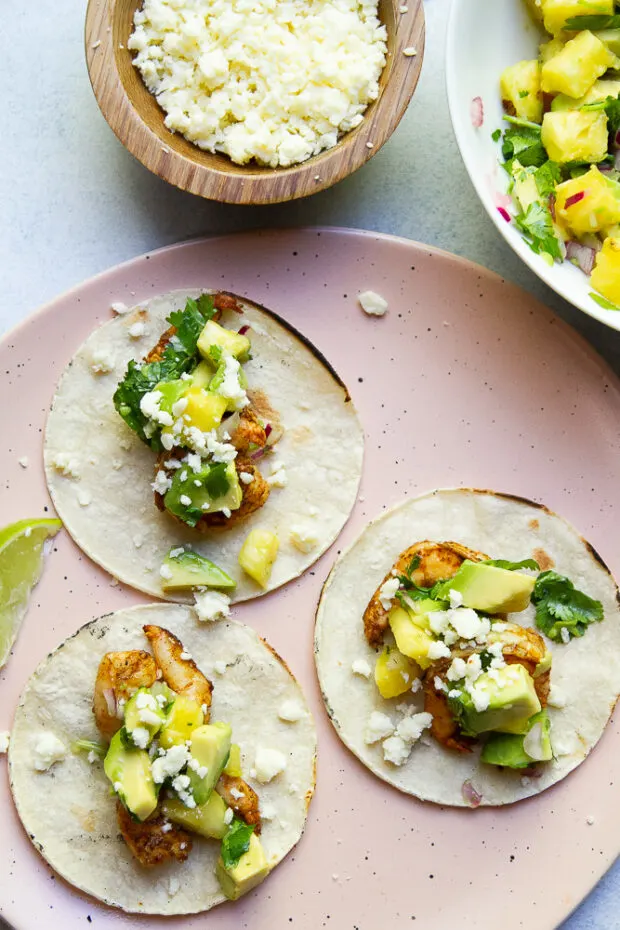 Special Diet Note: Recipe is paleo with grain-free tortillas and omitting the cheese.
Prep Ahead: The salsa can be made a day or two ahead (just add the avocado immediately before serving so it doesn't get brown.)
Substitutions: Serve the shrimp and salsa over a bed of salad greens if you like.
Wednesday
PESTO CHICKEN SALAD WITH AVOCADO — A quick and easy Pesto Avocado Chicken Salad recipe requires only 5 basic ingredients and is just so delicious! This chilled and refreshing chicken salad recipe is ideal for the warm months of the year, plus it's easy to customize!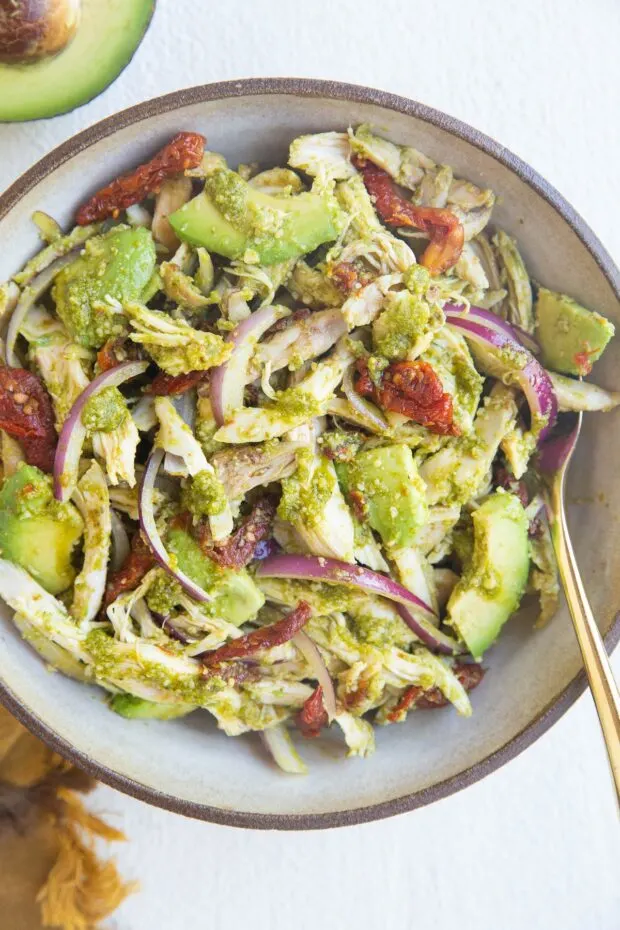 Special Diet Note: Recipe is low-carb and can be made paleo if using a dairy-free pesto sauce.
Prep Ahead: Recipe comes together quickly, especially if you use leftover cooked chicken or store-bought rotisserie chicken – no advance prep is needed
Substitutions: Use four cans of canned salmon or canned tuna in place of chicken if desired. If making this several days ahead of time, wait until you eat the salad to add the avocado.
Thursday
GARLIC BUTTER SALMON SHEET PAN MEAL — This easy, versatile garlic butter salmon is roasted on a sheet pan with any quick-cooking vegetables you like! Just 10 minutes under the broiler and dinner is on the table in a flash.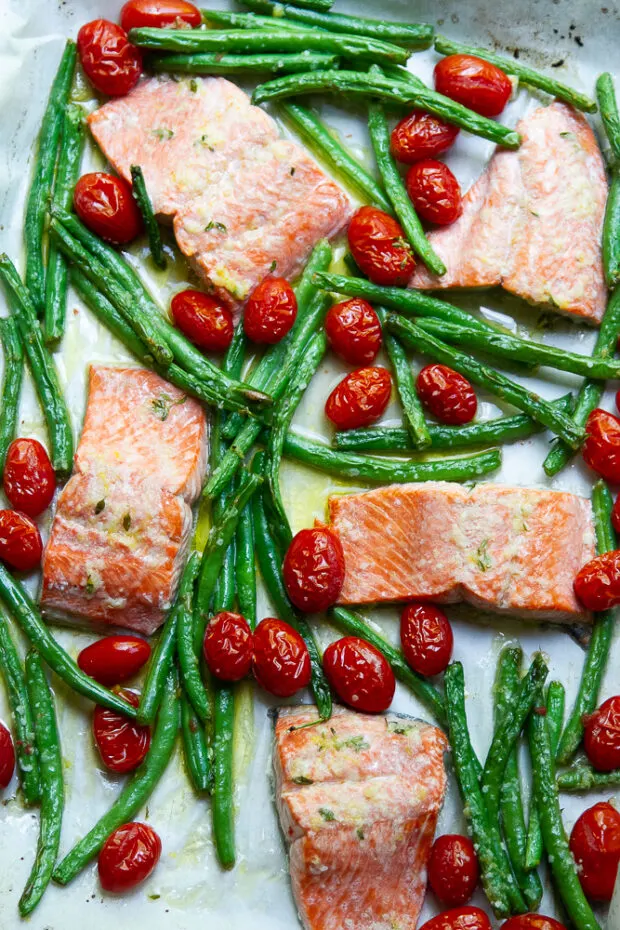 Special Diet Note: Recipe is paleo and dairy-free using ghee or avocado oil. It's also low-carb and Whole30 friendly.
Prep Ahead: No need to prep ahead. It comes together quickly.
Substitutions: I recommend using vegetables that cook quickly under a broiler — like green beans, cherry tomatoes, chopped cabbage, small broccoli florets, or asparagus. Try swapping out the salmon for a pound or two of shrimp!
Friday
TACO STUFFED DELICATA SQUASH — This easy recipe with chili-spiced ground beef, onion and cheese is the ultimate healthy comforting meal!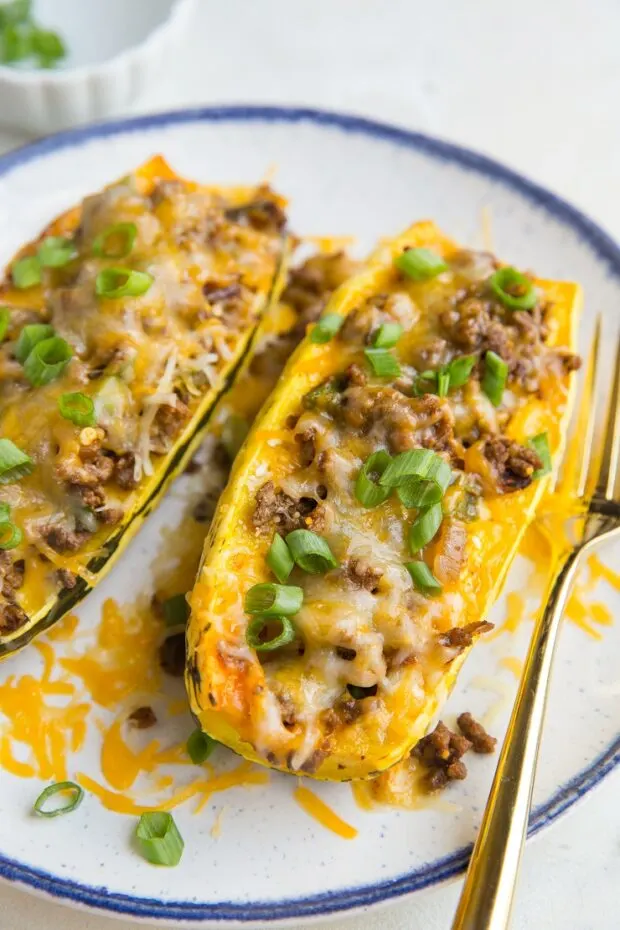 Special Diet Note: For dairy-free or paleo, omit the cheese or use your favorite non-dairy cheese. This recipe is moderate carb.
Prep Ahead: You can roast the delicata squash up to 4 days ahead of time.
Substitutions: Swap the ground beef for ground turkey, chicken, or pork. Finely chop any additional veggies, such as broccoli, spinach, tomatoes, cauliflower, etc. and cook them in with the ground meat if you'd like.
Dessert
PEANUT BUTTER PROTEIN BITES — These soft & delicious peanut butter protein balls are a perfect, portable snack full of protein and healthy fats. Add some freeze-dried strawberries for a PB&J taste!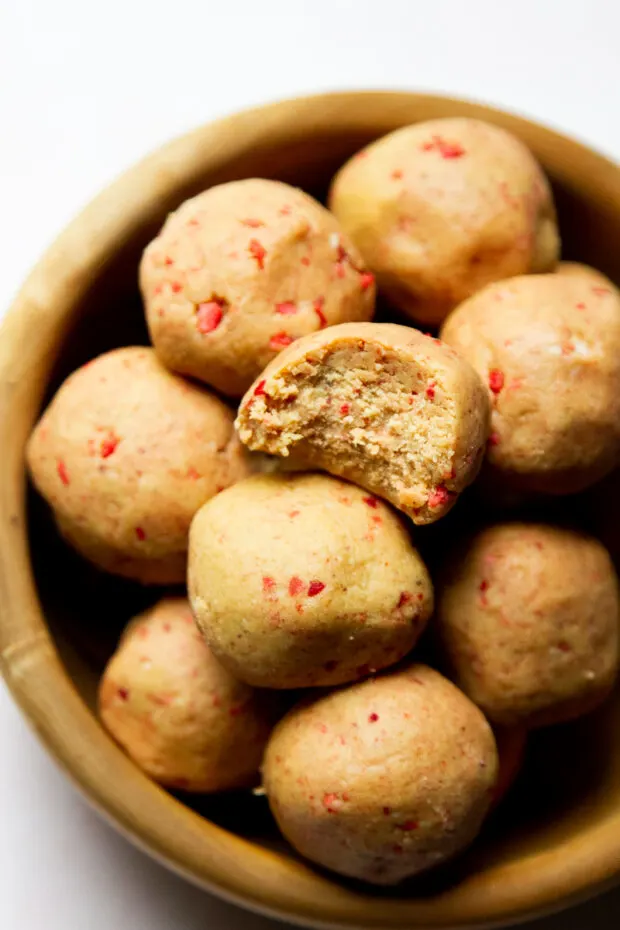 Special Diet Note: Recipe is grain-free. It's also dairy-free by using dairy-free protein powder.
Prep Ahead: No need to prep! These stay good in an airtight container for up to a week so they can be made far in advance.
Substitutions: If you're avoiding peanut products, replace the peanut butter protein with more of the vanilla or even chocolate protein and replace the peanut butter with almond butter or cashew butter.
Grocery List
Click HERE to download a handy printable grocery list!