This easy, versatile garlic butter salmon sheet pan dinner comes together easily with any quick-cooking vegetables you like! Just 10 minutes under the broiler and dinner is on the table in a flash.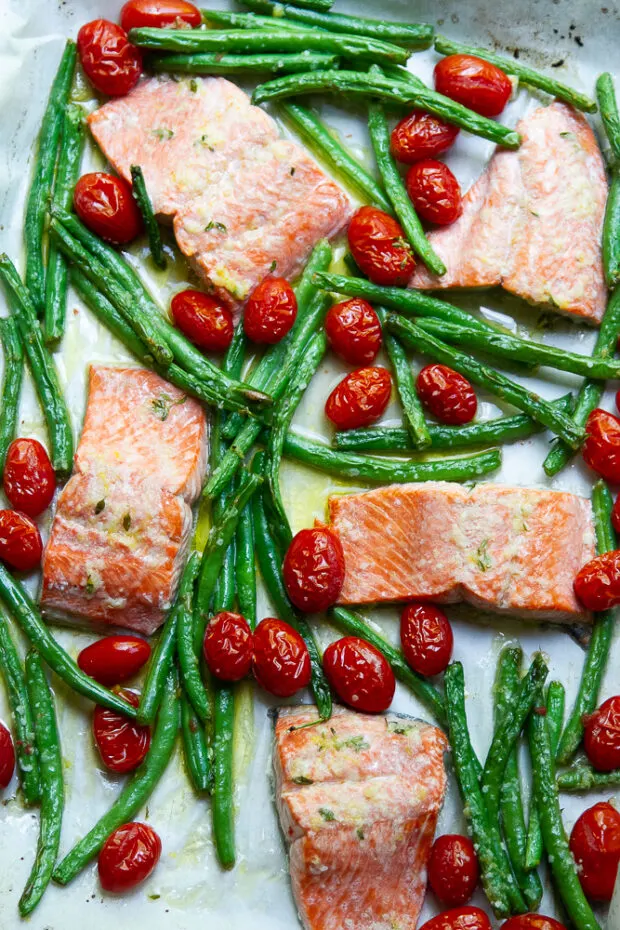 I get so excited when wild sockeye salmon fillets is in season and at a great price at Costco. I'm a big salmon lover. My kids are sometimes hit and miss when it comes to salmon, but they ALL loved it when I made it this way.
Add enough garlic and butter to something and it's delicious, right? Heh.
Hello — this salmon sheet pan dinner is such an easy recipe. This healthy meal comes together really quickly and you can use whatever quick-cooking vegetables you like. More on that later.
Wild caught salmon vs farmed salmon
I try to buy wild-caught salmon because of its health benefits. Among other things, It has a higher amount of omega-3 fatty acids than farmed salmon. (Most, if not all Atlantic salmon is farmed salmon.)
Copper River salmon, King salmon and coho salmon are also good choices. Most salmon from the Northern Pacific Ocean or the Pacific Northwest of the United States is wild caught.
It's the same principle as beef. If you raise the animals in good conditions and feed them things they're biologically designed to eat, then they're healthy animals and produce healthy meat and fish for us to eat.
Wild-caught salmon is more expensive than farmed salmon most of the time. I try not to be snobby about things like this and recognize that if farmed salmon is what a person can manage — that's fantastic. All salmon has benefits. And it's a much better choice than something less nutritious.
Look at that brilliant red salmon color, though! Wild salmon usually has a darker color than farmed salmon (but not always).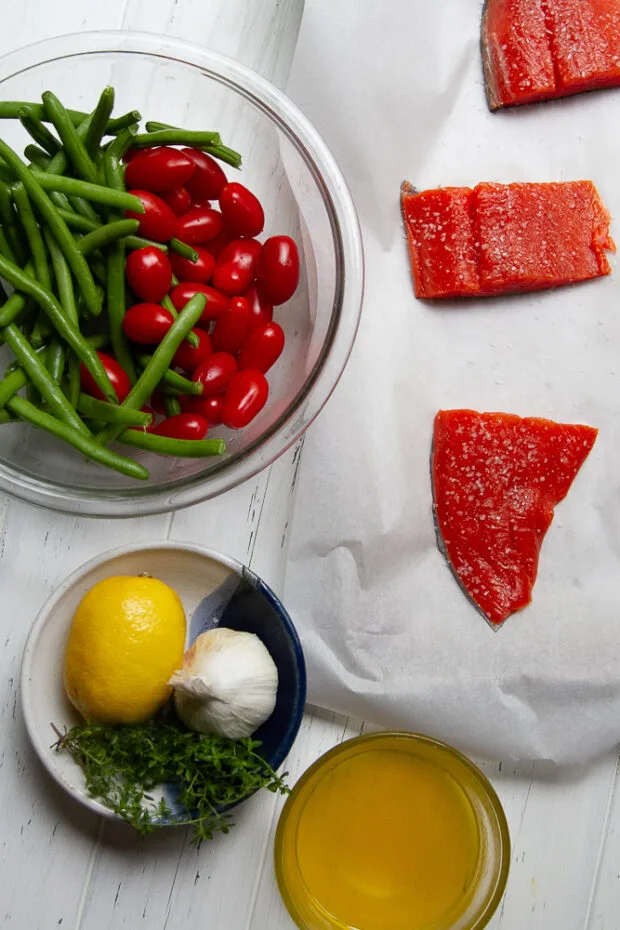 How to Broil Salmon with Skin
I usually buy salmon that's fresh (or has been previously frozen and thawed) in big, long fillets. It always has skin.
When I cook salmon under the broiler, I put the fillets skin-side down.
When I'm grilling them, I put the salmon skin side up first, and then flip them to be skin side down the second half of cooking. I find this is the best way to keep them from sticking to the grill.
You can make this recipe with the whole fillets, but I prefer cutting them into fillets because there's more surface area for the garlic butter. And that's a very good thing.
Grab a large parchment paper lined baking sheet, pat your salmon fillets with a paper towel to remove any moisture, and let's get started!
What Vegetables to broil with a Salmon Sheet Pan Dinner
For this recipe, you'll need some quick-cooking vegetables. Things that will cook well in just 10 minutes under the broiler. Here are a few ideas:
Green beans
Grape tomatoes
Chopped Cabbage
Thinly sliced zucchini & yellow squash
Small broccoli or cauliflower florets
Asparagus
Kale, chard, or other dark leafy greens
Chunks of halloumi or paneer cheese (not a veg, but would be delightful here)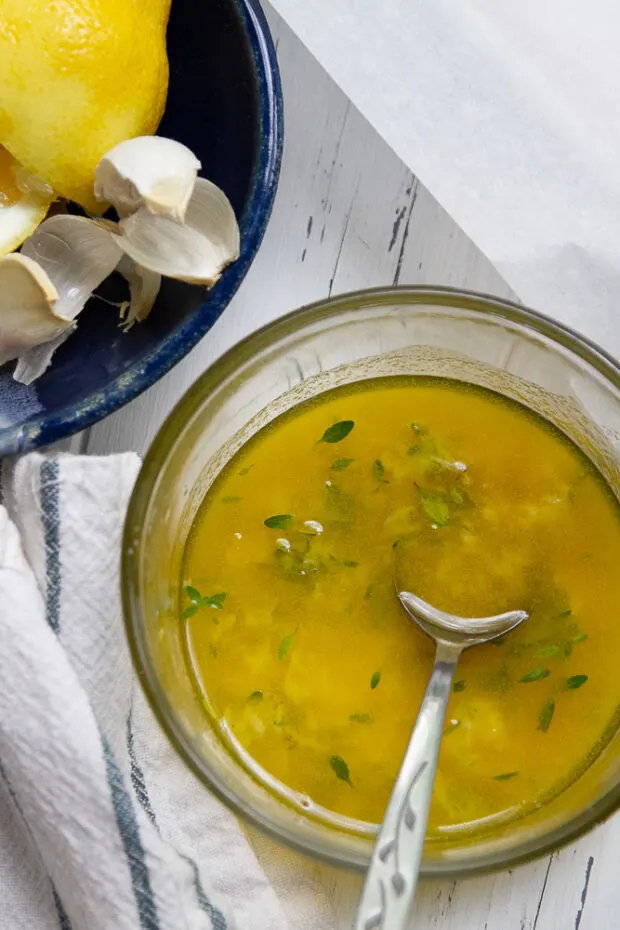 Garlic Butter for Salmon
OK, let's talk about this garlic butter situation. Mix some melted butter with a bunch of fresh garlic and lemon juice in a small bowl. I like to add a little fresh thyme or other fresh herbs, too. A pinch of dried would work here as well.
I highly recommend using melted butter or ghee, but if you're avoiding butter for any reason, you can swap it out for coconut oil or avocado oil.
Ghee is my favorite for this because of its nutty flavor. It's easy to make Homemade Ghee, too! Ghee is simply butter that has had its milk fats removed — also called clarified butter.
This recipe cooks quickly, so I don't worry about the butter burning, but for longer cooking recipes, ghee is nice because it has a higher smoke point. The milk fats are usually what burns quickly and since those have been removed it makes ghee a nice choice.
You can have that yummy butter flavor AND roast or pan fry things. It's a game changer for hash browns. Trust me.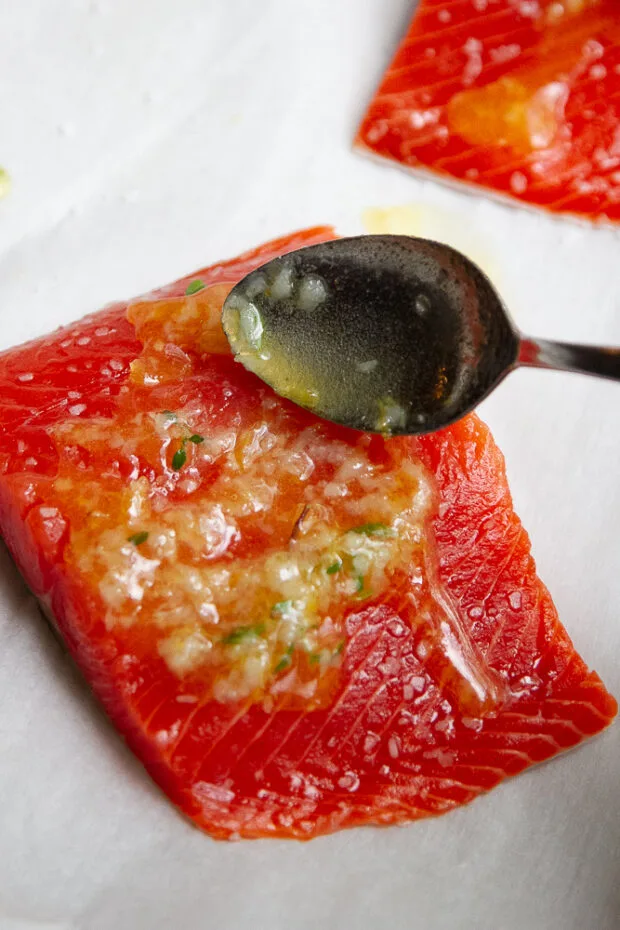 Preparing Salmon for the Oven
Place salmon on your baking sheet and sprinkle with a little kosher salt. Put a spoonful of the garlic butter mixture over each fillet. Toss the rest of the garlic butter with the vegetables and arrange them on the pan with the salmon.
That's it, my friends.
If you're wanting to do a smaller batch, you can use a baking dish instead of a sheet pan.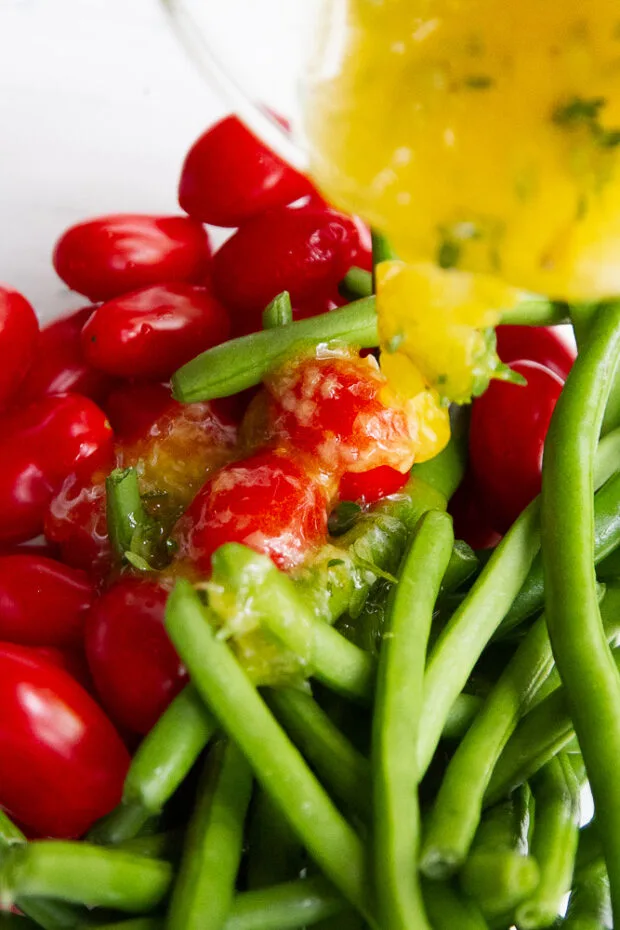 How to tell if salmon is cooked
Broiling these salmon fillets for 10 minutes was perfect for the few batches that I tested for this recipe. If your fillets are unusually thick or thin you may have to tweak the cooking time by a minute or so.
An easy way to tell if they're cooked through is by sticking a fork in the middle. If it flakes pretty easily and it's no longer dark pink on the inside, it's cooked through. You'll want to shoot for an internal temperature of about 140.
Fish is really easily to over cook, so if I see a tiny bit of dark pink in the middle I'll still pull it from the oven because the residual heat from the fish will finish it off.
If you're buying high quality salmon, it's always good to err on the side of being a little underdone than overdone. I mean… people eat raw salmon all the time at sushi restaurants.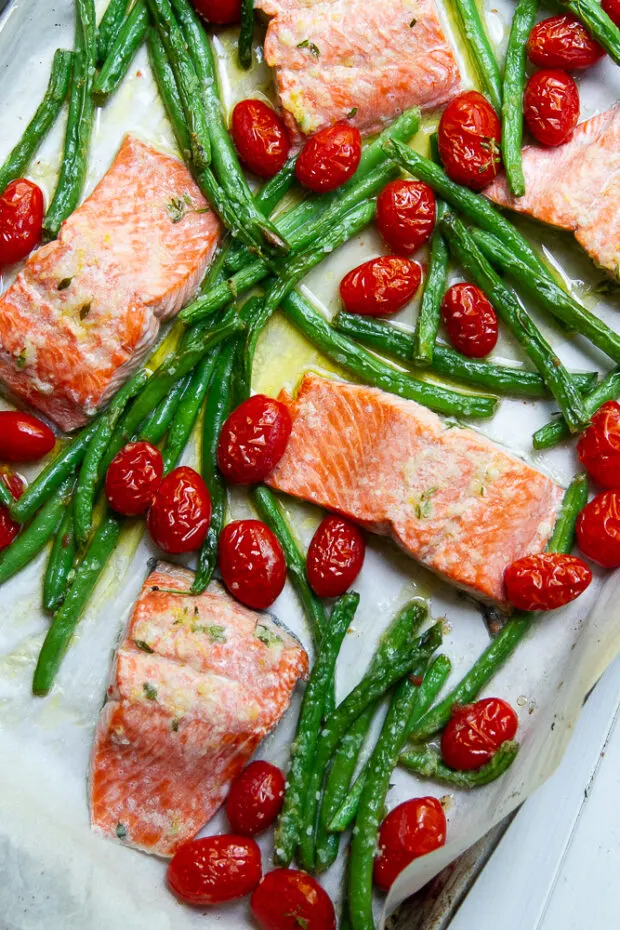 What to serve with Garlic Butter Salmon
The nice thing about this recipe is that it's good to eat even at room temperature!
If you're wanting something more substantial than salmon and vegetables, here are a few easy ideas to bulk up this meal.
Lemon Herb Instant Pot Rice is a great option because it goes beautifully with the salmon and vegetables AND you've already got lemon and fresh herbs on hand. Start this before you start prepping your salmon, and they should be finished around the same time!
Easy Instant Pot Mashed Potatoes would also be good. I love mashed potatoes with fish! Don't eat potatoes or looking for a low-carb option? Try my Instant Pot Cauliflower Puree with Garlic & Rosemary.
Cucumber Tomato Salad with Feta would bulk up your vegetables and keep things light.
Syrian Salad with Za'atar Vinaigrette is a quick green salad if you're wanting something leafy and cool.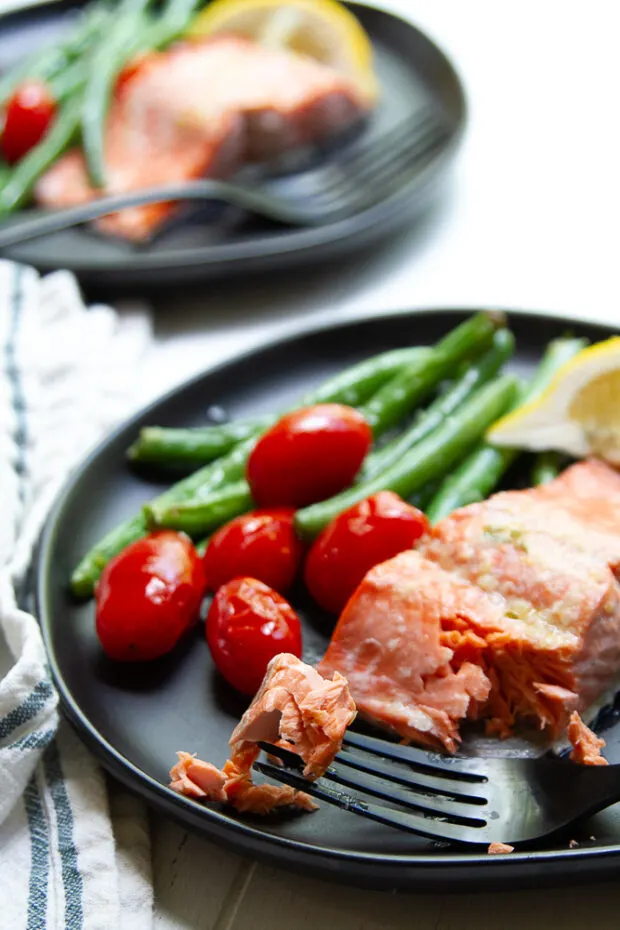 If you like this easy baked salmon recipes, try one of these others!
More Easy Salmon Recipes on Perry's Plate
Sweet Chipotle Salmon with Hot Honey Glaze is a delicious parchment-packet meal! Season salmon with chipotles, honey, and lime for a delicious addition to a salad.
Creamy Garlic & Dill Roasted Salmon is topped with an herby, garlicky mayo-based topping that flavors this salmon so well!
5-Ingredient Harissa Roasted Salmon is super simple and a great base for tacos, salads, or on its own with your favorite side dish. Don't have harissa? Swap it out for sriracha.
More Easy Sheet Pan Meals on Perry's Plate
Hawaiian BBQ Chicken Sheet Pan Meal
Quick Sausage & Veggie Sheet Pan Meal
Baked Pesto Chicken & Vegetables
---
If you make one of my recipes, be sure to post it on social media and tag me at @perrysplate or #perrysplate so I can send you some love!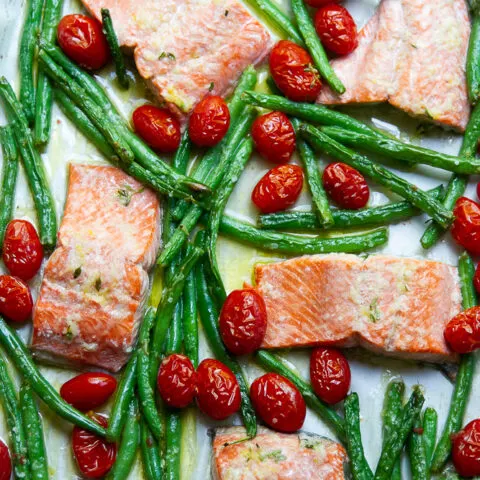 Garlic Butter Salmon Sheet Pan Meal
This easy, versatile garlic butter salmon is roasted on a sheet pan with any quick-cooking vegetables you like! Just 10 minutes under the broiler and dinner is on the table in a flash.
Ingredients
5-6 salmon fillets
sea salt
4 cups quick cooking vegetables (see note)
1/3 cup melted butter or ghee
3 grated garlic cloves
1/2 teaspoon lemon zest
Juice from 1/2 of a lemon
1-2 teaspoons fresh thyme leaves or 1/4 teaspoon dried thyme
Instructions
Line a large rimmed baking sheet with parchment paper. Preheat your oven broiler to high.
Lay the fillets on the salmon with a few inches of space between them. Sprinkle the salmon with generous pinches of salt.
In a small bowl, combine the melted butter, garlic, zest, lemon juice, and thyme.
Brush or spoon some of the butter mixture over the salmon.
Put the vegetables in a medium bowl. Toss the vegetables in the rest of the butter mixture, then spread them on the pan around the salmon.
Broil on an upper rack in the oven for 10 minutes. If your salmon fillets are especially thick, it might need an extra minute or two. The salmon should flake easily with a fork and not have any darker pink on the inside.
Notes
Any quick cooking vegetables will work here -- cherry tomatoes, green beans, broccoli, chopped cabbage, shredded Brussels sprouts, kale, and other vegetables that will cook adequately in 10 minutes under a broiler.
Recommended Products
As an Amazon Associate and member of other affiliate programs, I earn from qualifying purchases.
Nutrition Information
Yield

6
Serving Size

1
Amount Per Serving
Calories

681
Total Fat

41g
Saturated Fat

13g
Trans Fat

0g
Unsaturated Fat

24g
Cholesterol

175mg
Sodium

383mg
Carbohydrates

22g
Fiber

6g
Sugar

9g
Protein

54g
The information shown is an estimate provided by an online nutrition calculator. It should not be considered a substitute for a professional nutritionist's advice.