These delicious chewy ginger molasses cookies are gluten free AND sweetened with coconut sugar! They're bold in flavor, too, having loads of fresh ginger. Want them extra spicy? Add a touch of cayenne! The chocolate drizzle is optional, but makes them more festive.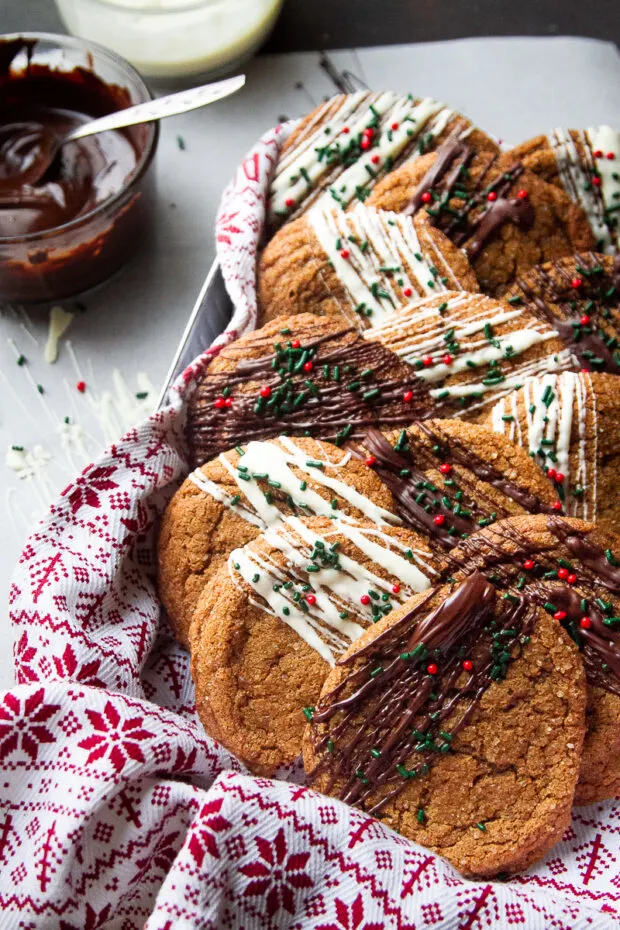 If I had to choose just one kind of Christmas cookie to make during December it would be these chewy gluten free ginger cookies. Chewy ginger molasses cookies are one of my all-time favorites!
Jump Start Your Labor Cookies
This recipe is a mash up of the super chewy delicious molasses cookies my mom made when I was a kid and a recipe for "Jump Start Your Labor" cookies I came across several years ago — but made gluten free. They're soft and chewy and everything I love in a ginger molasses cookie!
In case you're wondering… these cookies did not, in fact, jump start my labor. I tried to give kid #3 a little nudge and ate a dozen of those cookies. The result was a massive amount of heart burn and zero baby.
The good thing about that experience is that I realized how much I LOVE bold, spicy ginger molasses cookies! Adding lots of fresh ginger and a touch of cayenne to these cookies is a fun surprise and gives them a nice, mellow burn.
If the cayenne freaks you out, just omit it. They've got enough kick with the fresh ginger and all of those spices as it is!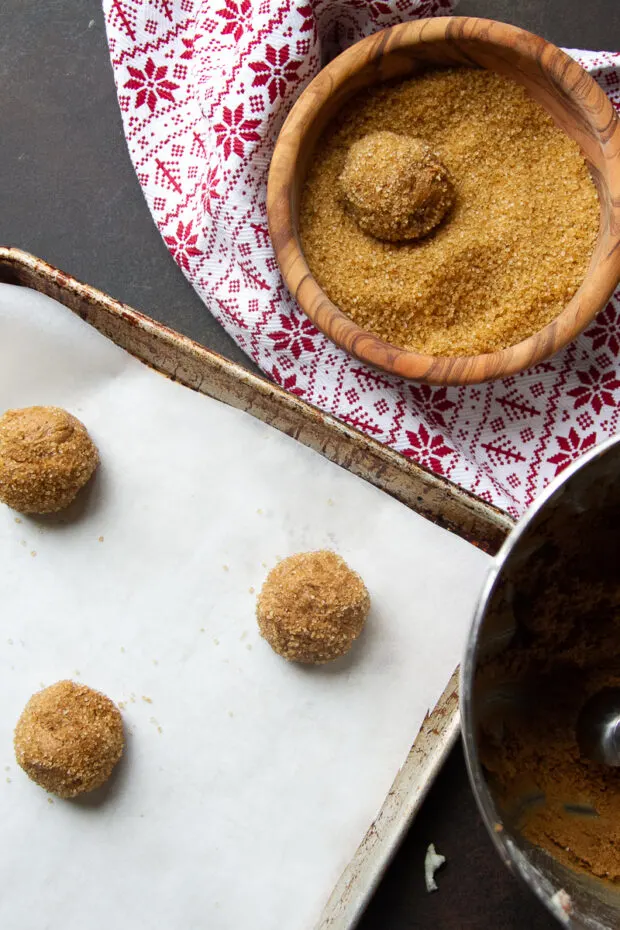 How to grate fresh ginger
My favorite way to grate fresh ginger is to store it in the freezer and use a microplane grater! It's much easier to grate frozen ginger and there will be less waste since your fresh ginger will be preserved in the freezer. It's one of my favorite kitchen hacks.
More recently I've been buying frozen crushed ginger cubes because they're so convenient! I just pop them out of the molds and microwave them for 15-20 seconds until theyre thawed before adding them to the cookie dough.
If you use a Microplane grater to grate fresh ginger, you might not need as much flour in your cookie dough. I added an extra 1/4 of flour because the frozen ginger is more moist. The recipe will guide you through this to make sure the ginger cookie dough is the right consistency.
Ingredients for gluten free ginger molasses cookies:
All of these ingredients are easy to find at your grocery store. If you do a lot of gluten-free baking, you might already have most of these on hand:
Palm oil shortening (I use this instead of vegetable shortening for health reasons, but you can use vegetable shortening if that's what you prefer)
Butter
Coconut sugar or brown sugar
Molasses
Egg
Fresh ginger
Cinnamon, ground ginger, ground cloves
Baking soda
Salt
Gluten-free flour blend
Turbinado sugar or raw sugar for rolling (optional)
Chocolate chips or melts for drizzling/dipping (optional)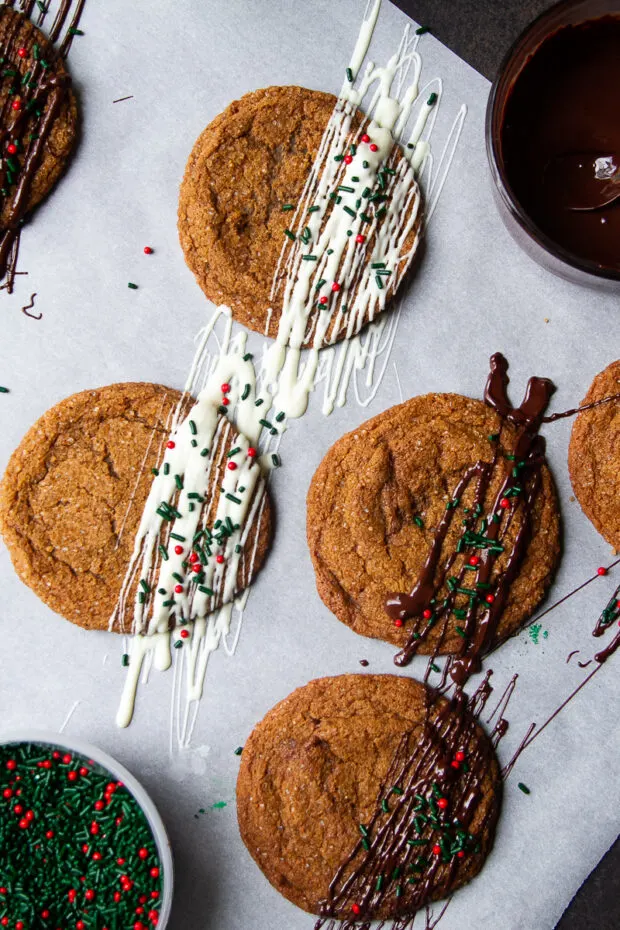 How to make these gluten free Christmas cookies
It's pretty straightforward like a typical cookie recipe — cream the fat and sugar REALLY well, then add the rest of the wet ingredients.
I just toss the dry ingredients in at once and blend slowly instead of using a separate bowl to whisk them together.
Chilling the dough is a super important step, too! It allows the gluten free flour blend to absorb the moisture in the dough and create a great, chewy texture and not spread too much in the oven.
Rolling the dough balls in raw or turbinado sugar and dipping the finished cookies in white or dark chocolate is optional.
FAQs
Best kind of gluten free flour for gluten free ginger cookies?
My favorite blend to use for gluten free cookies is Namaste gluten free flour blend. I buy it at our Costco, but you can also find Namaste flour on Amazon.
If you already have a gluten free flour blend that contains xantham gum that works well for you in cookies, it would probably work well here.
Can I use all butter instead of shortening?
Yep. The cookies might spread a little more in the oven (be sure to chill the dough well so they don't spread TOO much). They also won't be quite as chewy, but they'll still be soft and delicious.
Do I have to roll the cookie dough balls in sugar?
Nope. This is also optional. I like to do it because it gives them more texture and a little sparkle.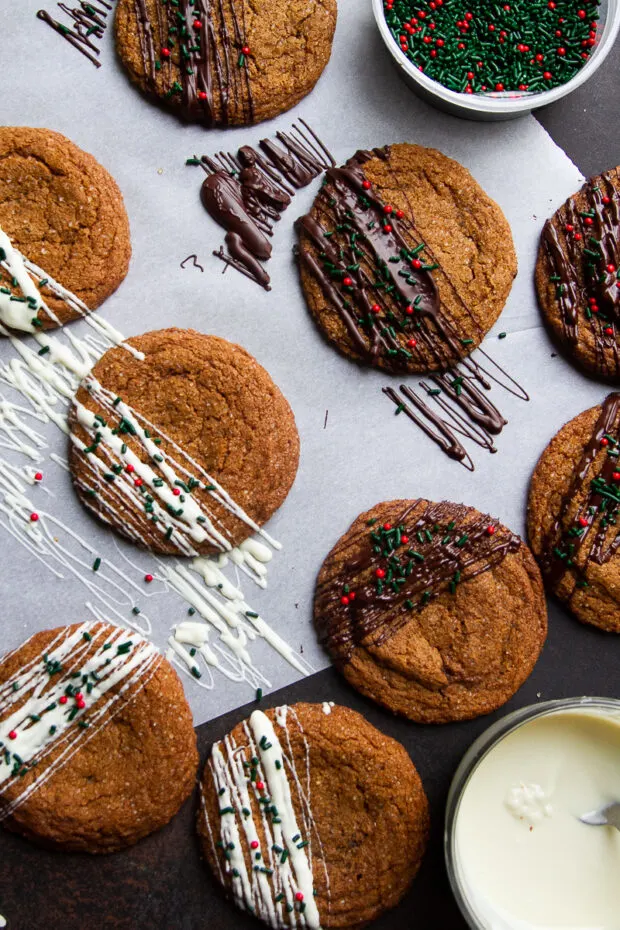 Can I use brown sugar instead of coconut sugar?
Sure! Feel free to use an equal amoun of brown sugar.
I used coconut sugar because it's a natural sweetener and has a lower glycemic index. It has a similar caramel-like taste as brown sugar and swaps out well in recipes like this.
It also creates a chewy texture, somtimes moreso than brown sugar, like in this recipe: Gluten Free Peanut Butter Oatmeal Cookies.
Can I use blackstrap molasses in these cookies?
I wouldn't. I tested these with unsulphured molasses and can't guarantee the outcome if you use blackstrap molasses.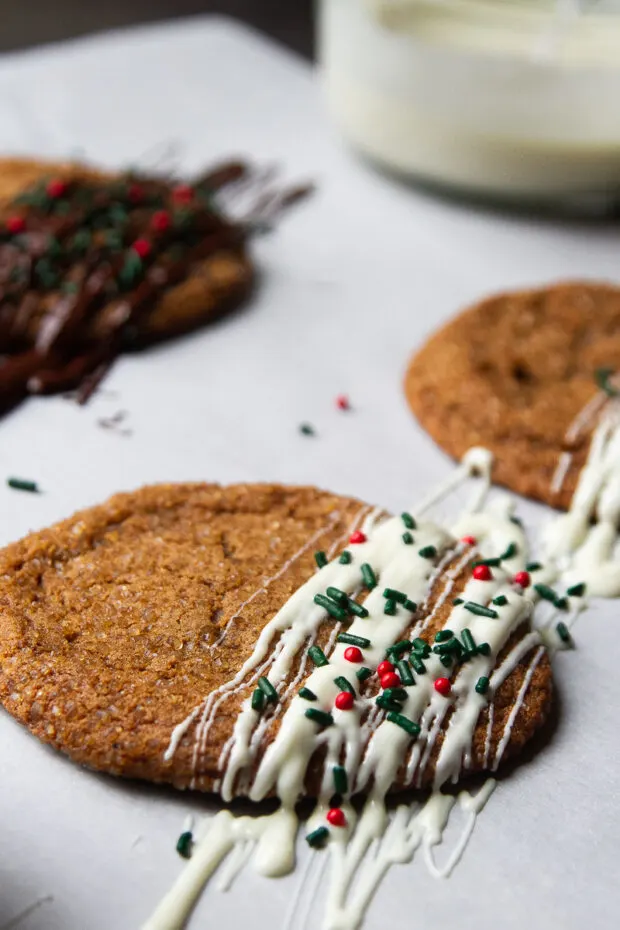 Cayenne? WHY?
The fresh ginger adds a bolder ginger flavor and a slight touch of heat to these cookies, but if you'd like a little more, add some cayenne.
Cayenne was included in the original "Jump Start Your Labor Cookies" and I fell in love. These aren't slightly spiced molasses cookie recipe, it's a bold one.
Do I have to chill the cookie dough?
YES. Don't skip this step. Chill the dough for at least 30 minutes, up to 24 hours.
This helps the gluten free flour fully integrate into the dough and the texture of the cookies will turn out better. It'll also help the dough not spread so much in the oven — especially if you use all butter instead of combination of butter and shortening.
Ginger Molasses Cookies vs Gingersnaps
Gingersnaps are usually crispy cookies whereas ginger cookies or molasses cookies are usually denser and chewy.
I like to buy gingernaps at the store to grind up for pie crusts, but prefer chewy molasses cookies if I want to simply eat one.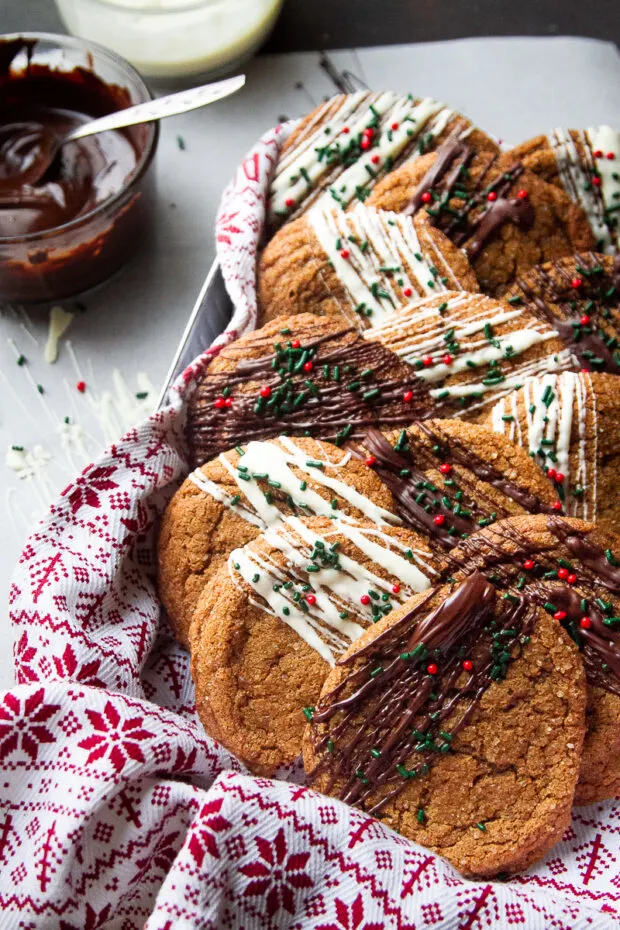 More Gluten-Free Christmas Cookie Recipes
Here are a few more of my favorite gluten free cookies and bars to make for the holidays! Some are simply gluten free, others are grain-free and paleo-friendly.
Gluten Free Peanut Butter Oatmeal Cookies
Gluten Free Apple Cookies with Maple Glaze
Paleo Chocolate Chip Fudge Bars
---
If you make one of my recipes, be sure to post it on social media and tag me at @perrysplate or #perrysplate so I can send you some love!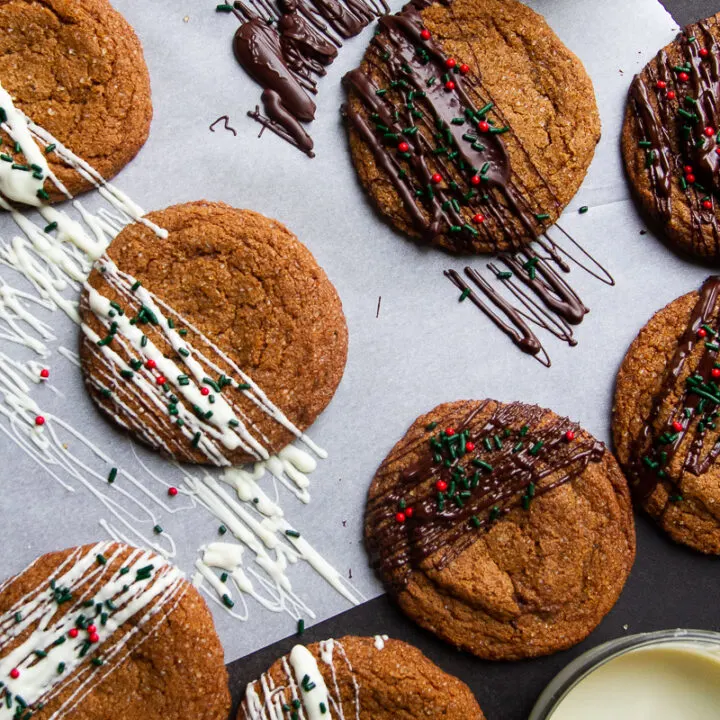 Chewy Gluten Free Ginger Cookies
Yield:
1 dozen large cookies or 20-24 small
These delicious chewy ginger molasses cookies are gluten free AND sweetened with coconut sugar! They're bold in flavor, too, having both ground AND fresh ginger. Want them extra spicy? Add a touch of cayenne! The coarse sugar coating and chocolate drizzle are optional, but makes them extra festive.
Ingredients
1/2 cup palm shortening
4 Tablespoons butter, room temperature
1 1/4 cup coconut sugar
1/3 cup molasses
3 Tablespoons fresh grated or microplaned ginger
1 egg
2 teaspoons ground cinnamon
2 teaspoons ground ginger
1 teaspoon ground cloves
1 teaspoon baking soda
1/4 teaspoon sea salt
1/4 teaspoons cayenne pepper (optional)
2 1/4 cups gluten free flour blend (see note)
Optional:
1/2 cup raw turbinado sugar, for rolling
Instructions
Beat the palm shortening and butter together in the bowl of a stand mixer or in a large mixing bowl with an electric mixer. Add the coconut sugar and beat well until the mixture lightens in color, about 2-3 minutes.
Add the fresh ginger, molasses, and egg and beat until just combined. Add spices, baking soda, salt, and 2 cups of flour. Mix on low until combined. If the dough looks especially wet and sticky, add the extra 1/4 cup of flour. It should be sticky, but not wet or goopy.
Transfer dough to the refrigerator and chill for at least 30 min and up to 24 hours.
When you're ready to bake, preheat your oven to 375 degrees F. Line a large baking sheet with parchment paper.
If you're rolling the dough in raw sugar, put the sugar in a bowl. Form balls about the same size as a golf ball or two scoops from a small cookie scoop. Roll each dough ball in the raw sugar and place on the parchment.
Space out the dough balls 3 inches apart because they'll spread and create large cookies. I wouldn't put more than 5 on a cookie sheet.
Bake for 9 minutes until the edges are slightly golden and the middles are a little on the soft side. I like to hit the pan hard on the counter after taking them out of the oven so they fall quickly and create ripples on the edges.
Let them cool for several minutes before transferring to a wire cooling rack to cool completely. Taste and texture is best when they've completely cooled off or even the next day. They'll soften after they've been stored in an airtight container for a few hours.
Optional Chocolate Dipping Instructions:
Melt 1 1/2 cups of dark or white chocolate chips or melts in a small bowl in 20-second increments in the microwave, stirring after each one.
Use a fork to drizzle some chocolate over the cookies or dip them halfway into the chocolate.
Lay them on a parchment lined baking sheet to set (chilling helps this go more quickly). Add some holiday sprinkles while the chocolate is stil wet if you prefer.
If you use white chocolate, I recomment using chocolate melts, almond bark, ghirardelli, or guittard white chocolate chips. I've used Lily's white chocolate chips successfully, too, if you're looking to reduce the amount of sugar even further.
Notes
I use Namaste gluten free flour for cookies with great results. If you have a different blend you prefer, use that. Just make sure your blend contains xantham gum so the cookies don't fall apart.
If you'd rather use all butter instead of palm shortening, go ahead. The cookies might spread more in the oven and might not be as chewy as when you use shortening, but they'll still be tasty.
You can use all brown sugar in place of the coconut sugar if you prefer. I like using coconut sugar because it has a lower glycemic index than white or brown sugar and it makes the cookies more chewy.
I like to add the cayenne for an extra touch of heat, but omit it if you don't want that.
I prefer making 12 large cookies, but you can make 20-24 smaller ones if you like.
Recommended Products
As an Amazon Associate and member of other affiliate programs, I earn from qualifying purchases.
Nutrition Information
Yield

12
Serving Size

1 large cookie
Amount Per Serving
Calories

346
Total Fat

14g
Saturated Fat

9g
Trans Fat

0g
Unsaturated Fat

4g
Cholesterol

26mg
Sodium

190mg
Carbohydrates

54g
Fiber

1g
Sugar

35g
Protein

3g
The information shown is an estimate provided by an online nutrition calculator. It should not be considered a substitute for a professional nutritionist's advice.
This post may contain affiliate links. Any purchases made by using these links won't cost you any extra and helps keep my content free. These links may be Amazon links as I am part of the Amazon Associate Program.