These soft, Gluten Free Apple Cookies are topped with a maple glaze and are perfect for fall! They remind me of little apple cakes with bits of tart green apple. They're also naturally sweetened!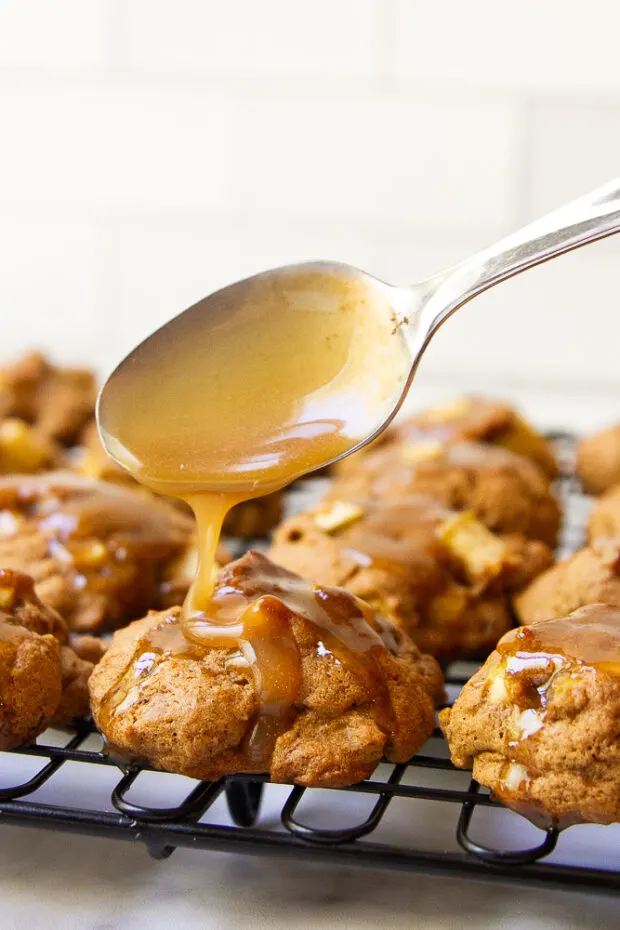 These cookies hold a lot of nostalgia for me. My mom made apple cookies when I was growing up and I've spent the last couple of autumns trying to create a gluten free version that still tastes good and doesn't completely fall apart when you eat it.
Well. I've done it. And not only are these gluten free cookies, they're also naturally sweetened!
NOTE: If you're interested in the original recipe, I added some notes at the bottom of the recipe card for you.
Let's get started, shall we?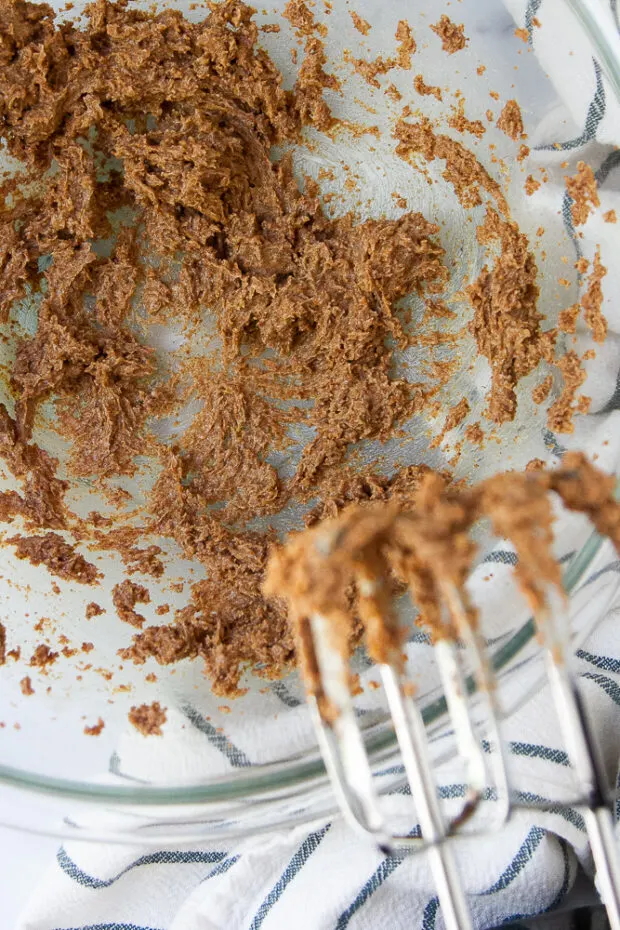 How to make apple cookies
Like most cookie recipes, you'll start with beating the sugar and butter in a large bowl into oblivion. Seriously. Beat, beat, beat.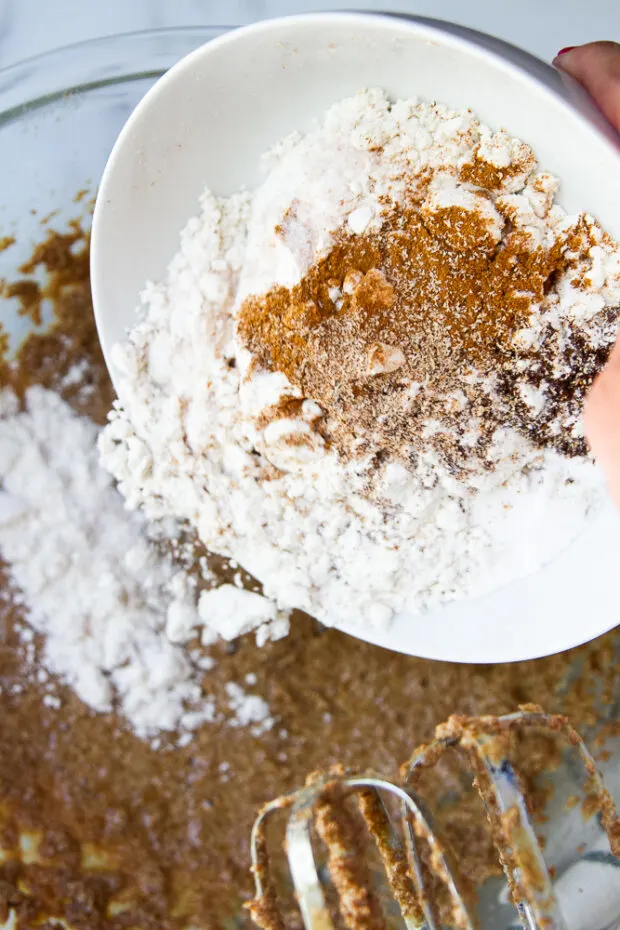 The original recipe called for brown sugar and luckily coconut sugar is an excellent replacement. It has a caramel-y taste and won't alter the color of your batter too much if there recipe is heavy on brown sugar to begin with.
Next, add the dry ingredients to the wet ingredients. You'll have your usual baking spices here (cinnamon, cloves, nutmeg) and gluten free flour.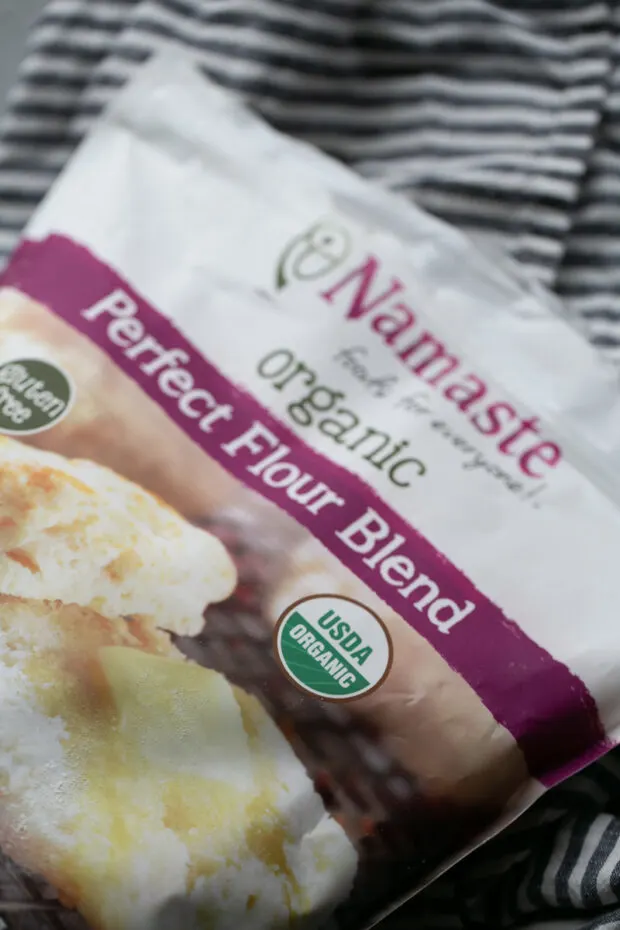 What is the best gluten free flour for cookies?
I like to use Namaste gluten free flour for cookies. It creates a better texture and holds together better than other GF flour blends I've tried. I buy it at Costco, but you can find Namaste flour on Amazon, too.
I've tried this recipe with my usual go-to GF flour mixture (found in this post) as well as combinations of oat flour, coconut flour, and a few other store-bought blends without as much success.
Unless you're confident that your GF blend is great for cookies, I can't guarantee they'll come out the same way if you use a different type of flour than what I'm recommending.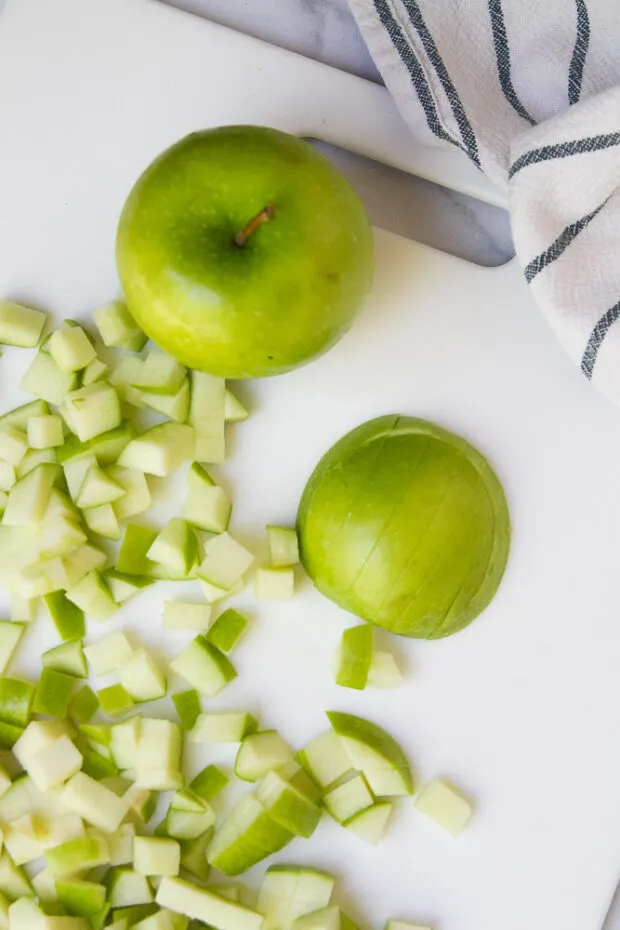 What kind of apples are best in apple cookies?
For fresh apples in cookies prefer something tart to offset the sweetness in the cookie and glaze — like Granny Smith apples. Extra sweet apples would be OK if you don't want the pop of tartness.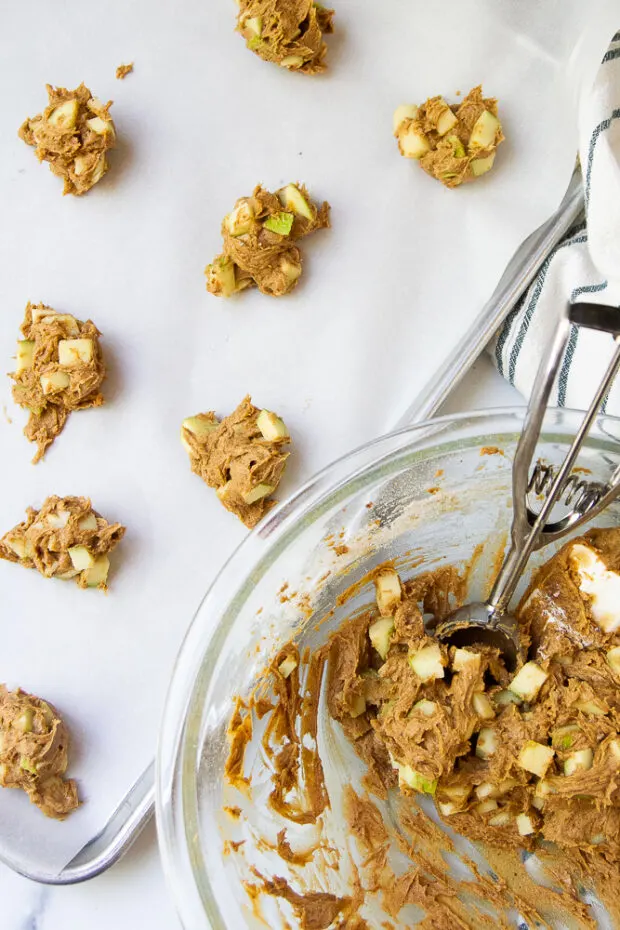 Just a note — when you add the diced apple you'll quickly realize this cookie dough is heavy on the apples. I love them this way. My kids, however, have this vendetta against bits of semi-cooked apples. (They don't even like bits of apples in their oatmeal.)
I used a cookie scoop to put them on a parchment paper lined cookie sheet or baking sheet. The dough is a little bit sticky so the cookie scoop helped a lot.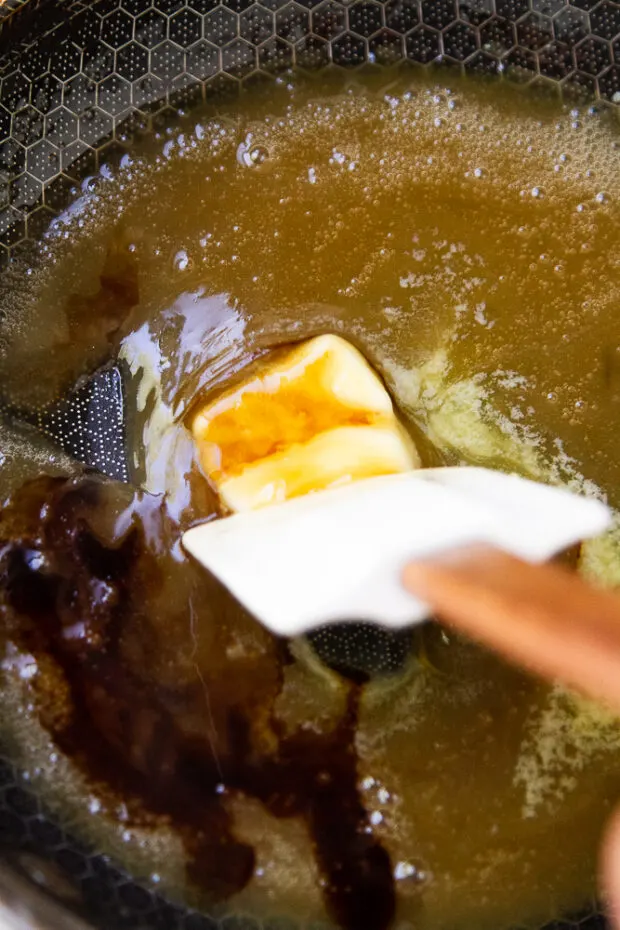 How to make Maple Glaze
The original recipe called for a typical glaze made from powdered sugar, butter, milk, and maple flavoring. Trying to make a glaze or a frosting that's naturally sweetened is tough, guys.
For this version I used mostly maple syrup thickened with some tapicoa starch and finished off with a little room temperature butter, maple extract, and a pinch of sea salt. It's really tasty.
I prefer not to use artificial extracts when I bake, so when I hunted around for a natural maple extract it was surprisingly hard! I finally found some maple extract on Amazon that wasn't artificial-based. I liked adding a little of this to the glaze to give it stronger pop of maple. It's totally optional, though.
The glaze is a little runny, but if you add more tapioca to make it thicker it takes on this really weird viscous texture. So…. don't. lol
Don't these look delcious? I love their warm cinnamon flavor — they taste a little like apple pie cookies. But, really, they're more of a cake texture — similar to a pumpkin cookie.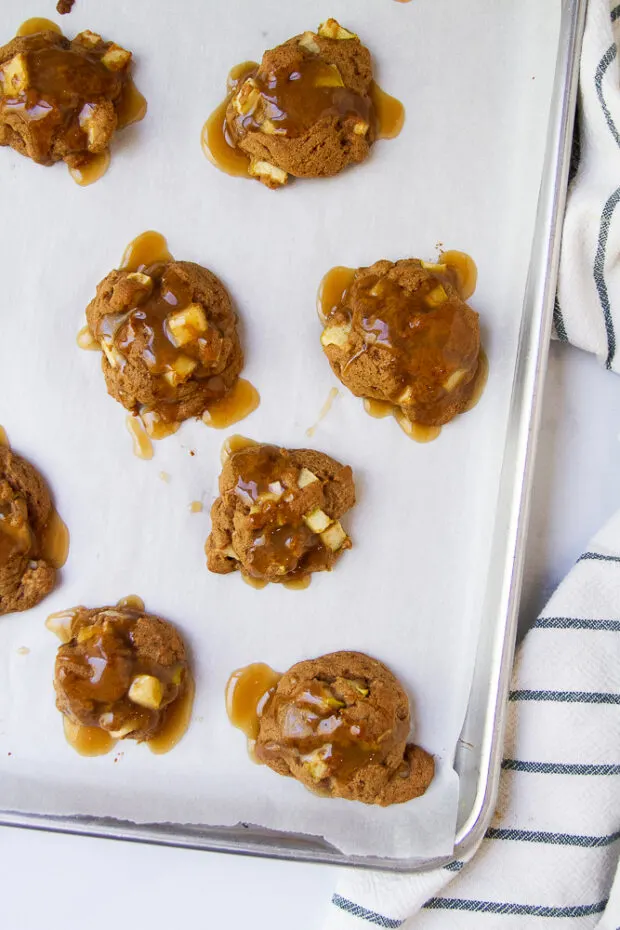 Can I adapt these to be Vegan Apple Cookies?
Sure! To make vegan cookies out of this recipe, use vegan butter and a flax egg.
If you've never used a flax egg, just mix 1 Tablespoon of flaxseed meal with 3 Tablespoons of water in a small bowl, and let it sit for 5 minutes until it starts to turn gelatinous. You can make a chia egg the same way, using chia seeds in place of the flaxseed meal.
You could also try using peanut butter as a binder if you don't want to make a flax or chia egg. I'd use maybe 2 Tablespoons of peanut butter. But just a warning…. the peanut butter will give it a pretty strong flavor and might overpower the apple.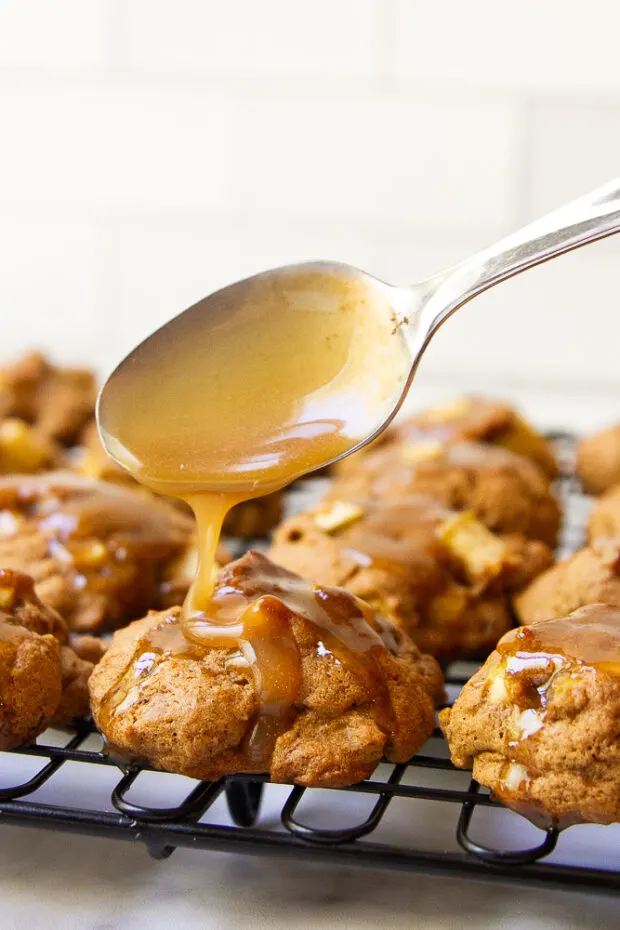 How long do these apple cookies stay fresh?
Stored in an airtight container, they'll be great for 4-5 days. Unlike most other cookies, I prefer these the second day. Or at least after they've been sitting for several hours. I think the apples release more moisture because they seem to be even softer and more delicious.
Do you need to use a stand mixer?
Nope. You can use a hand mixer if that's what you have. I wouldn't make the batter in a food processor, though, because it'll over mix the cookie dough.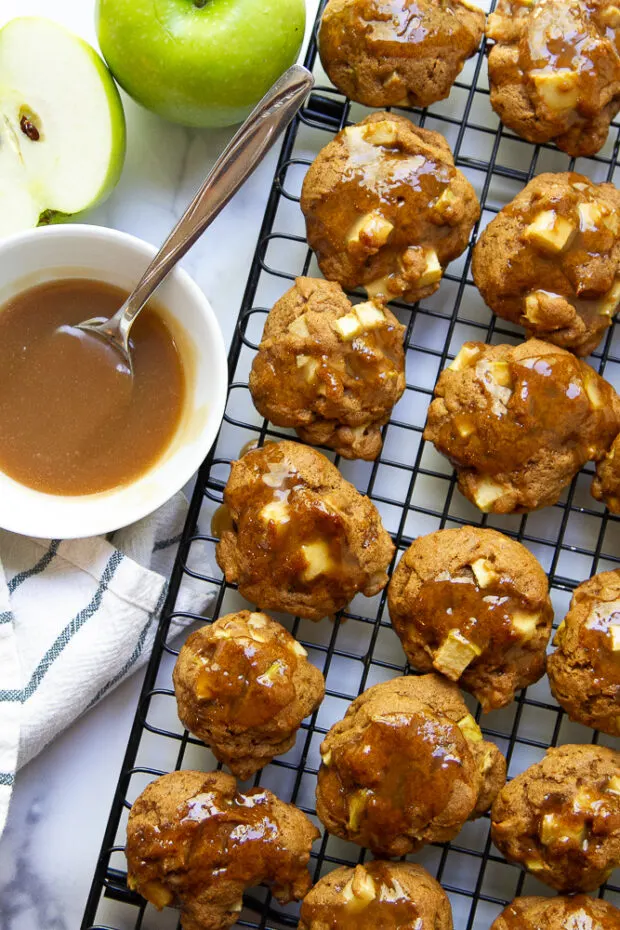 Spice variations
You can use pumpkin pie spice or my Chai Spice Blend in place of the spices in this recipe. That would be a fun variation!
If you like this recipe, try one of my other gluten-free cookie recipes!
More Gluten Free Cookie Recipes on Perry's Plate
Chewy Gluten Free Peanut Butter Oatmeal Cookies are super delicious and you wouldn't even know they were gluten-free or naturally sweetened!
Paleo Sea Salt Chocolate Chip Cookies are my favorite paleo chocolate chip cookie.
---
If you make one of my recipes, be sure to post it on social media and tag me at @perrysplate or #perrysplate so I can send you some love!
SaveSave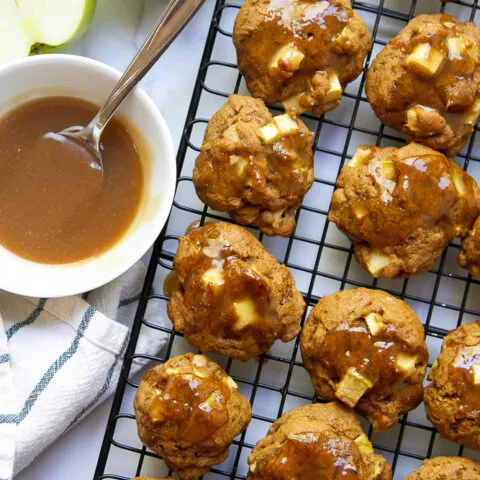 Maple-Glazed Apple Cookies
These soft, Gluten Free Apple Cookies are topped with a maple glaze and are perfect for fall! They remind me of little apple cakes with bits of tart green apple. They're also naturally sweetened!
Ingredients
½ cup butter, softened (4 ounces or one stick)
1 cup coconut sugar
¼ cup milk (any kind)
1 1/4 cups Namaste Gluten-Free Flour
1 egg
3/4 teaspoon salt
1 teaspoon cinnamon
¼ teaspoon nutmeg
¼ teaspoon cloves
3/4 teaspoon baking soda
2 cups chopped tart apple
For the Glaze:
1/3 cup pure maple syrup
1 1/2 teaspoons tapioca flour
1 Tablespoon butter
1/2 teaspoon maple flavoring
Pinch of sea salt
2 Tablespoons milk (any kind)
Instructions
Preheat oven to 400 degrees F.
Cream butter and coconut sugar together in a large mixing bowl until light in color, about 1-2 minutes.
Add egg and milk; stir to combine. Add remaining dry ingredients (except apple) and stir just until combined. Gently fold in the apples.
Drop by heaping tablespoons onto a greased baking sheet. Bake at 400 for about 10 min or until tops don't look wet anymore.
To make the glaze, whisk together the maple syrup, 2 Tablespoons of milk, and the tapioca flour in a small skillet or saucepan.
Heat the mixture over medium-high heat, stirring CONSTANTLY with a rubber spatula, scraping the bottom, until the mixture is bubbly and just starting to thicken.
Remove the glaze from the heat and stir in the butter, maple flavoring, and salt, until the butter has melted. Set aside.
When the cookies have cooled some, drizzle a spoonful of glaze over eatch one. Eat them immediately or store them in an airtight container for later once they have cooled. (I like them better when they've been sitting for a few hours!)
Notes
Original recipe adaptation:
Swap out the GF flour for 2 cups of all-purpose flour.
Use brown sugar instead of coconut sugar.
Glaze recipe: 1 Tablespoon melted butter, 1 cup powdered sugar, 1/4 teaspoon maple flavoring, 2-3 Tablespoons of milk. Whisk together all ingredients in a small bowl.
Recommended Products
As an Amazon Associate and member of other affiliate programs, I earn from qualifying purchases.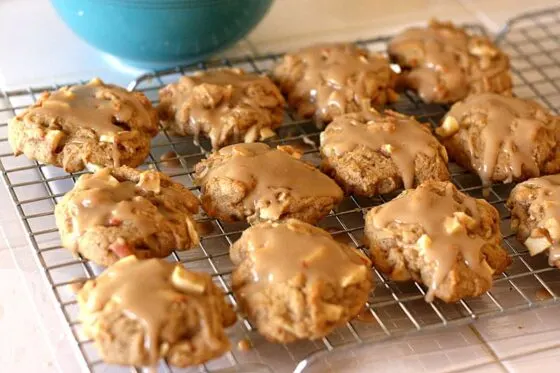 Here's a photo of the original recipe! If you aren't concerned with making these gluten-free or naturally sweetened, I put the original recipe changes in the recipe notes above.
---
This post may contain affiliate links. Any purchases made by using these links won't cost you any extra and helps keep my content free. These links may be Amazon links as I am part of the Amazon Associate Program.