Hey there! You may be wondering what these apple cookies are doing on a paleo-ish food blog. Well…. it dates back to when I wasn't a paleo-ish blogger, and it's one of our favorites. And it's apparently one of your favorites, too, because it's been flying around Pinterest like crazy for the past few years.
Eventually I'd like to clean it up and make it (at least) gluten and dairy-free, but in the meantime it'll stay and have a home here on my blog as totally-worth-it recipe we'd indulge in.
---
What. a. weekend. We had a sudden death in my family so the kids and I (Dad had to work) packed up the car and made the 10-hour trek up to Idaho for the funeral. We just got back last night, safe and sound. I'll give you a full report next time, complete with a sweet love story, some fabulous eats, and healthy dose of vomit. (Am I allowed to say "vomit" on a food blog?)
Meanwhile, I thought it would be fitting to leave you with a cookie recipe from my childhood. My mom had a subscription where she received a number of recipe cards each month, which accumulated into a giant box of recipes, with spiffy divider tabs and all. This cookie recipe was from that collection and became one of our favorites.
The cakey texture of these cookies remind me of mini apple cakes. I made them one Sunday evening when we had company over for dessert and games. We loved them while they were still warm, topped with ice cream!
This recipe was actually already on my site, but it was one of those without a photo, comments, and the recipe was missing the FLOUR. Wow, I'm embarrassed. I hope no one tried to make them during the three years they were posted. Yikes.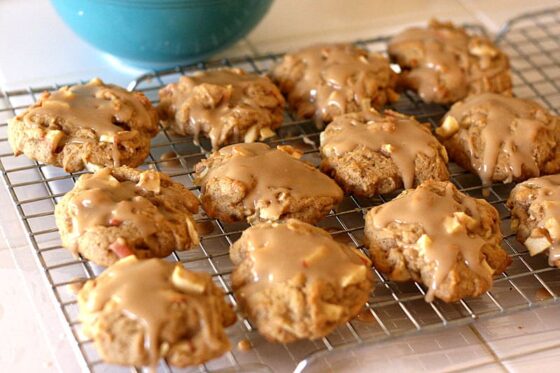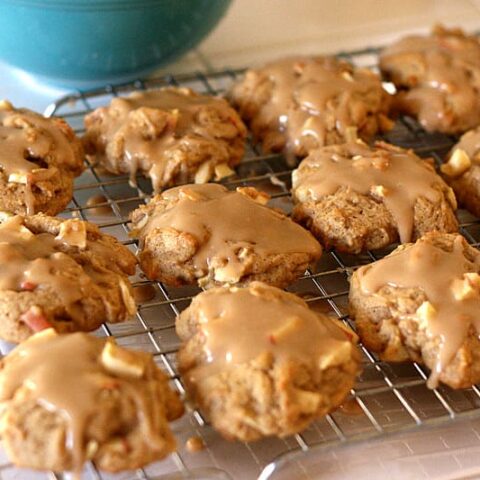 Maple-Glazed Apple Cookies
My mom used to make these apple cookies for us when we were kids. The maple glaze was my favorite part!
Ingredients
½ cup butter, softened (4 ounces or one stick)
1 cup brown sugar
¼ cup milk
2 cups flour
1 egg
1 teaspoon salt
1 teaspoon cinnamon
¼ teaspoon nutmeg
¼ teaspoon cloves
1 teaspoon baking soda
2 cups chopped apple
Glaze:
1 Tablespoon melted butter
1 cup powdered sugar
¼ teaspoon maple flavoring
2-3 Tablespoons milk
Instructions
Preheat oven to 400 degrees F.
Cream butter and sugar together in a large mixing bowl until light in color, about 1-2 minutes.
Add egg and milk; stir to combine. Add remaining dry ingredients (except apple) and stir just until combined. Gently fold in the apples.
Drop by heaping tablespoons onto a greased baking sheet. Bake at 400 for about 10-12 min or until tops don't look wet anymore.
To make the glaze, whisk together all glaze ingredients in a small bowl. When the cookies have cooled for a few minutes, drizzle each cookie with glaze.
Save
Save