When I was a kid my best friend's mom made these oatmeal fudge cookie bars that I was obsessed with. They had soft, chewy crust with a ripple of thick, smooth fudge throughout.
I couldn't stop eating them. I wanted to make a paleo version, so I took the recipe for "A Big Chocolate Chip Cookie" from my cookbook and reworked it into these Paleo Chocolate Chip Fudge Bars.
I also couldn't stop eating these.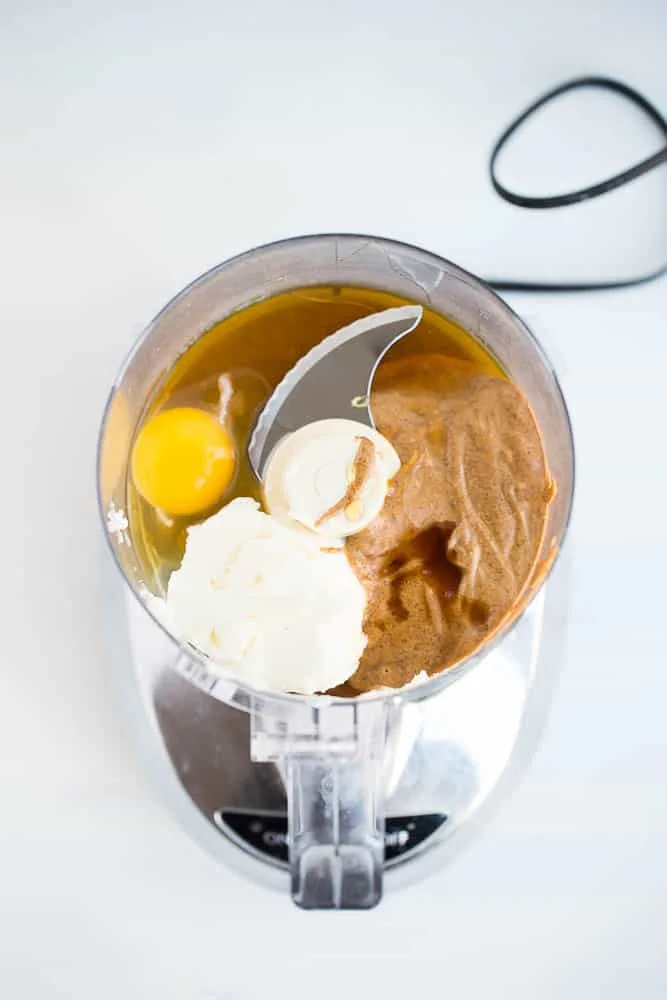 A note about palm shortening — that fluffy white stuff that looks suspiciously like vegetable shortening.
Palm shortening acts like regular shortening in baked goods, giving them some substance and chewiness. Just make sure you use a palm shortening that's made from 100% palm oil and not a blend of different oils.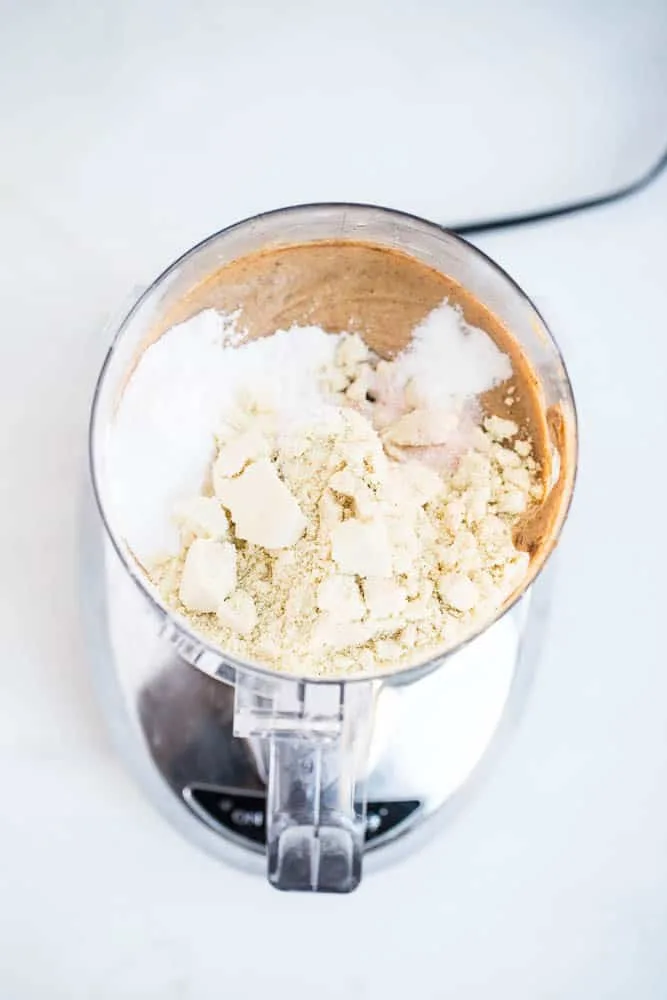 You don't have to use a food processor for this — an electric hand mixer would be fine.
I just like using my processor because it's sitting right in front of me on my counter all the time. And my hand mixer is in a plastic case in the pantry behind a bag of coconut sugar. Plus I'd have to get a bowl out of the cabinet. Oy.
Obviously the processor is the clear choice.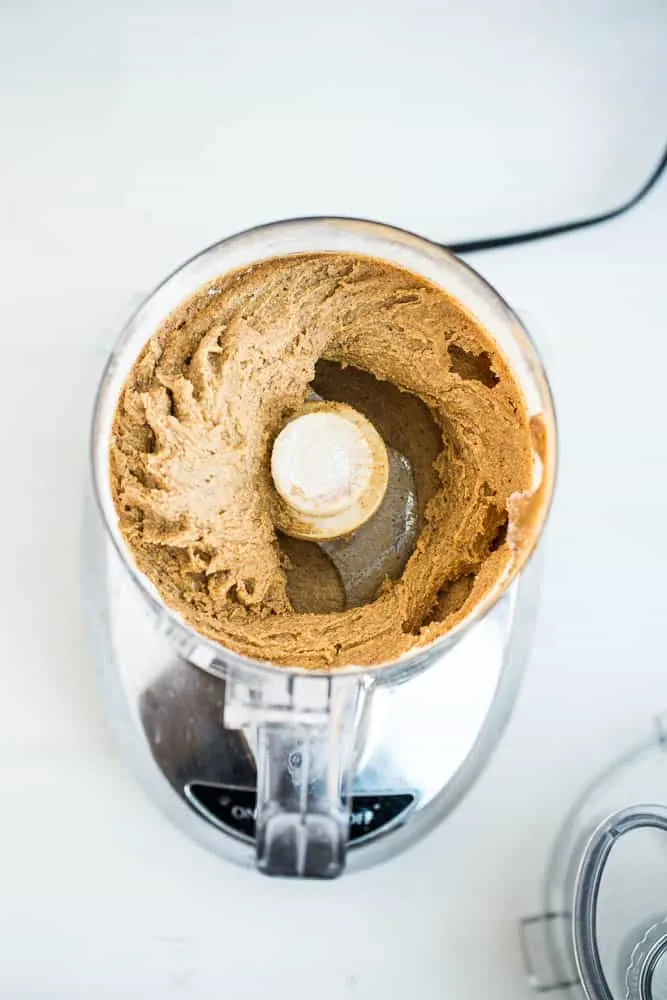 I suppose the downside to using a food processor is that you have no beaters to lick.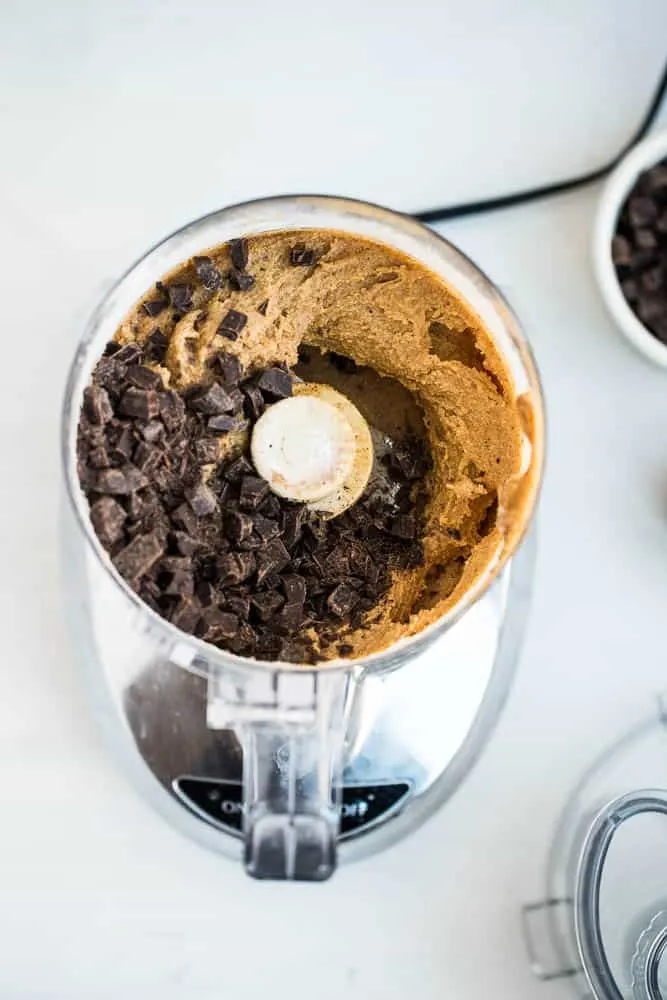 This chocolate. *swoon* I found some 70% cacao Ecuadorian fair trade dark chocolate in the Sprouts bulk bin last week.
It's my new favorite super dark chocolate.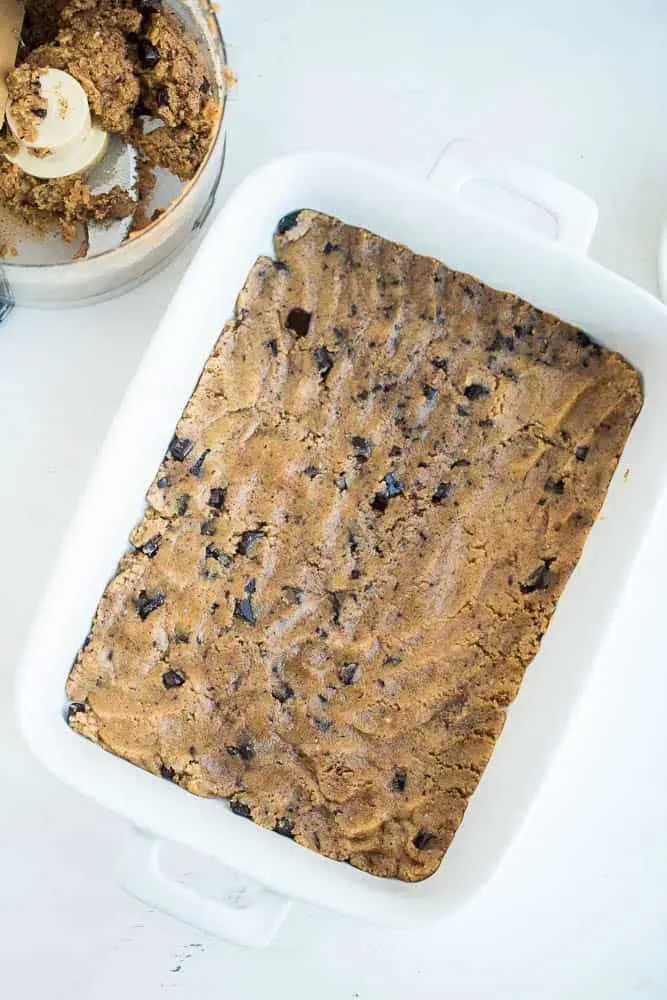 After trying a lot of paleo chocolate chip cookie recipes, I decided that bars are best. And since paleo baked goods tend to be either super goopy or crumbly, extra chocolate serves as a binder. Convenient, no?
I like my chocolate chip cookies loaded with chocolate — like a wad of melted chocolate with cookie dough bits scattered throughout that's impossible to eat without your fingers (and face) getting all chocolatey.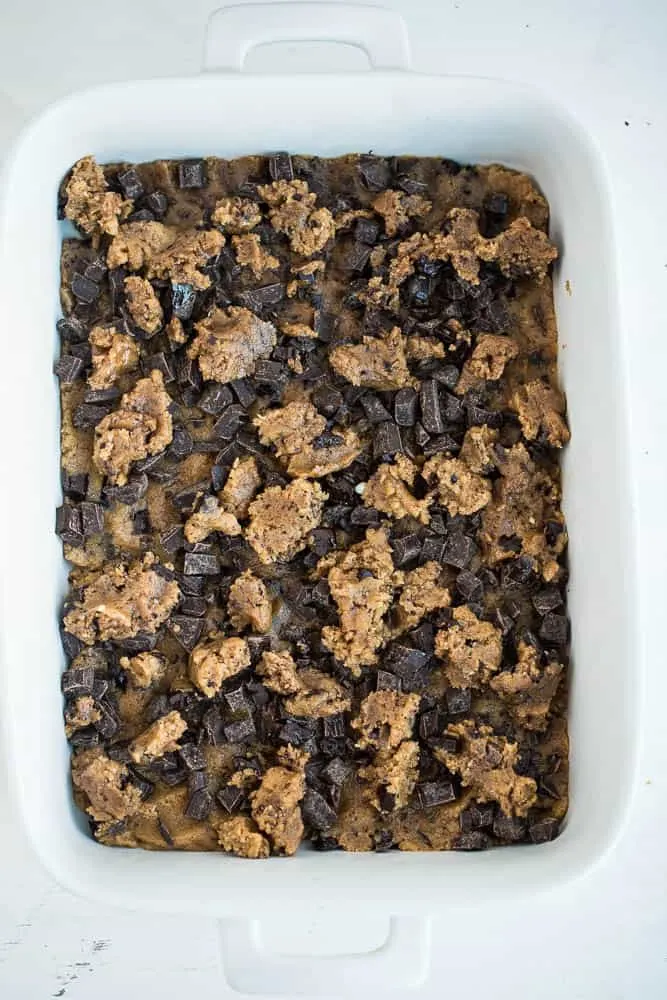 To make that rippled effect, save a quarter of the dough and press the rest into the pan. Sprinkle MORE chocolate on top with the reserved dough….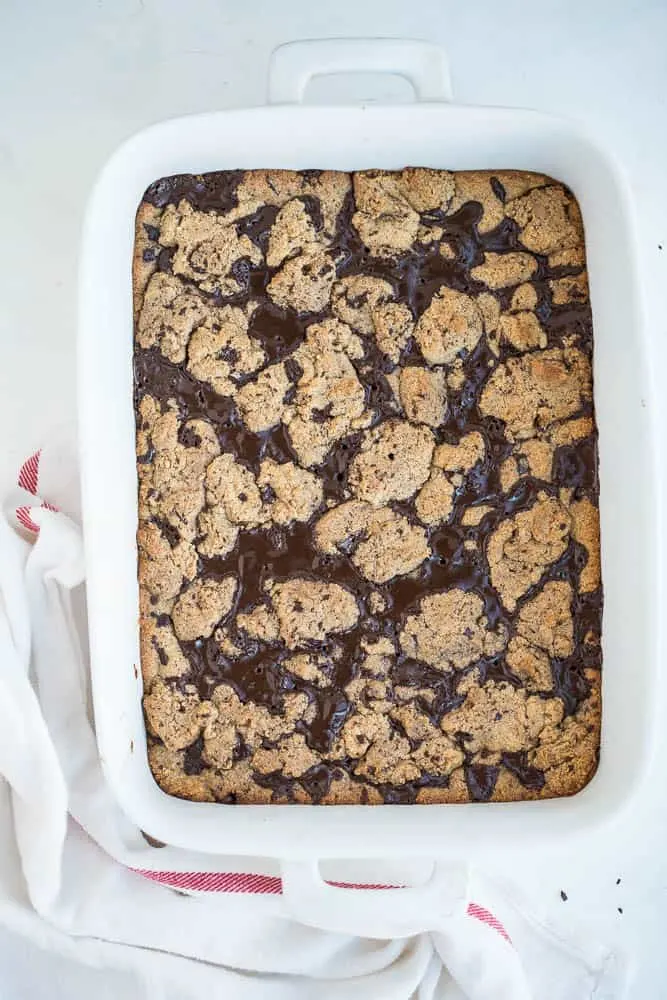 et voila. Ripples.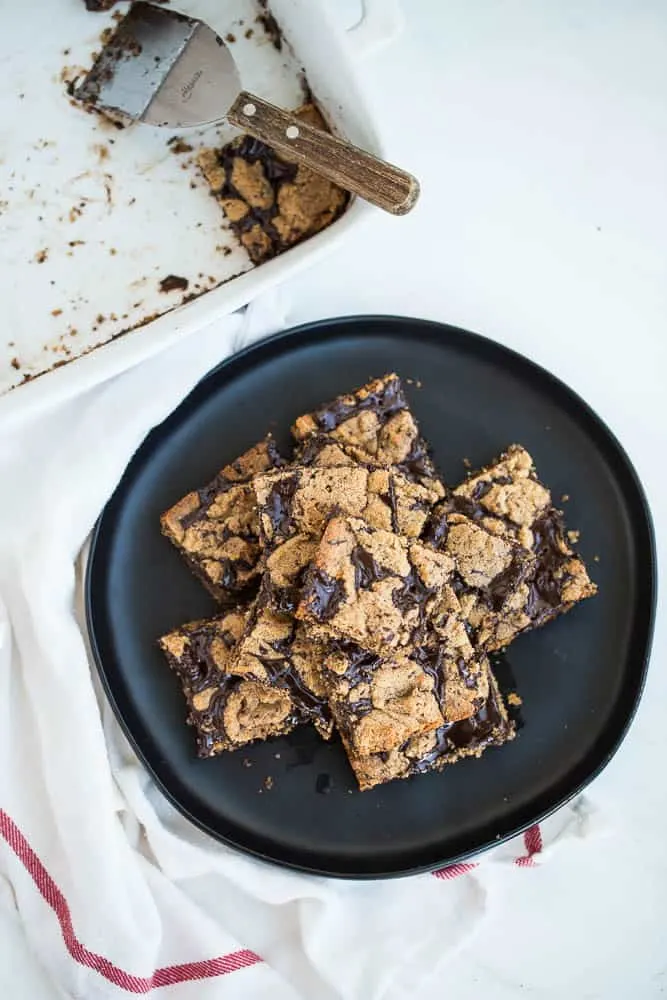 They come out of the pan beautifully, too! Chocolate acts as a really great binder.
Bring these paleo chocolate chip cookie bars to a party during the holidays and your paleo and gluten/dairy-free friends will love you!
If you're have a hankering for a chocolate cupcake instead, Erin's paleo cupcake recipes are the bomb. Try her chocolately Paleo Cupcakes over at Texanerin Baking!
More Paleo Dessert Bar Recipes on Perry's Plate
These Paleo Samoa Cookie Bars are DELISH and bonus — there are NO nuts in this recipe! These Girls Scout cookie knock offs are such a great grain-free dessert.
Save some leftover cranberry sauce from Thanksgiving and make some Paleo Cranberry Orange Bars!
Flourless Peanut Butter & Jelly Bars only have 5 ingredients! Use any kind of nut butter you like if peanut butter isn't your thing.
SaveSave
SaveSave
SaveSave
---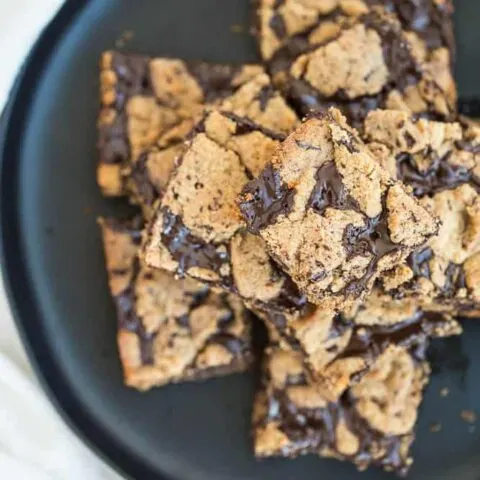 Paleo Chocolate Chip Cookie Fudge Bars
Yield:
Makes about 15 squares
You'd never know these gooey chocolate chip cookie bars were grain-free and dairy-free! You can easily make them low-carb or keto, too, by swapping out the sweetener for a low-carb alternative.
Ingredients
1/2 cup palm shortening
1/2 cup almond butter
1/4 cup honey or coconut sugar
1 egg
1 teaspoon vanilla extract
10-12 drops vanilla stevia
1/3 cup tapioca flour
1 cup blanched almond flour
1/2 teaspoon sea salt
1/4 teaspoon baking soda
1 1/4 cup chopped dark chocolate
Instructions
Preheat your oven to 350 degrees F. Prepare a 9x13" baking dish with nonstick spray.
In the bowl of a food processor (or a large mixing bowl with a hand mixer), blend the palm shortening, almond butter, honey, egg, vanilla, and stevia until smooth.
Add the tapioca flour, almond flour, salt, and baking soda. Blend until smooth again. Add 1/2 cup of the chocolate chunks and pulse (or mix) until combined.
Spread 3/4 of the dough evenly in the prepared baking dish. Sprinkle the rest of the dark chocolate evenly over the dough. Break up the remaining dough into small bits and sprinkle them evenly over the chocolate.
Bake for 20-25 minutes until the edges are golden brown and a toothpick inserted into the center comes out clean.
Let the cookie bars cool completely before slicing -- they'll come out more easily.