Vampire Cookies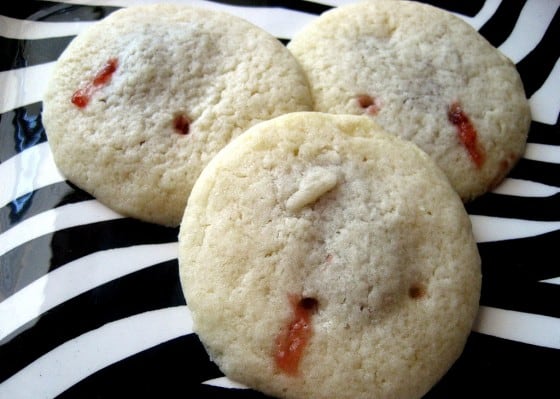 Aren't these rad? I wanted to make these last year for Halloween, then for the Twilight movie premier (no regrets there – the movie was weak), but didn't. I was 8 months pregnant. That's my only excuse.
These were pretty easy to put together. That's coming from someone who
despises
rolling out cookie dough. (They ALWAYS stick to the counter. ALWAYS!) The dough is much easier to handle when it's chilled, so working quickly is a must. I also got to try out my new silicon baking liner on these. LOVED it!
Taste? They were good, but weren't amazing — just a simple butter cookie with strawberry filling. These are definitely for looks. I'm surprised that I made them at all because I'm usually more concerned about what something tastes like than fussing over appearance. (Which is why the Wilton cake decorating class fell on my deaf ears. Buttercream made with shortening is disgusting. Especially when you're pregnant. The end.)
Vampire Cookies

Ingredients:

3/4 cup butter, softened

1/2 cup sugar

1 large egg

1/2 tsp vanilla extract

1/8 tsp almond extract

1 1/2 cups all purpose flour

1/4 tsp salt

approx 1/2 cup red jam (raspberry/strawberry)

Directions:

Cream together butter and sugar in a large bowl until light and a bit airy. Beat in egg and extracts. 
Add flour and salt to the bowl and mix them into the butter-sugar mixture at low speed until dough is just combined.

Wrap dough in plastic wrap and refrigerate for at least 1 hour.


Preheat oven to 325F. Divide dough in half and keep the portion you are not using in the refrigerator.
 Roll dough out on a floured surface until it is about 1/8-inch thick. Use a cookie or biscuit cutter to cut out 2-inch rounds.


Place rounds on a baking sheet, put a teaspoon of jam on each of them and cover with another round of dough. Press edges down lightly, sealing the edges together. Use a toothpick and poke two small holes (like a vampire bite) in the top of each cookie.
 Bake for 10-12 minutes, until cookies are set.


Cool for about 5 minutes on the baking sheet, then transfer to a wire rack to cool completely.
 Dip a toothpick in some extra red jam and re-insert in the "bite" holes you made before baking to emphasize them, if not already red. Draw a blood trick down from one of the bites with the jam, if desired.
Cookies are best the day they are made.

Makes 2 dozen.

Nat's Notes:
1. I don't like almond extract, so I left it out.