This is my all-time favorite summer smoothie — perfect to make when strawberries and watermelon are ripe and sweet!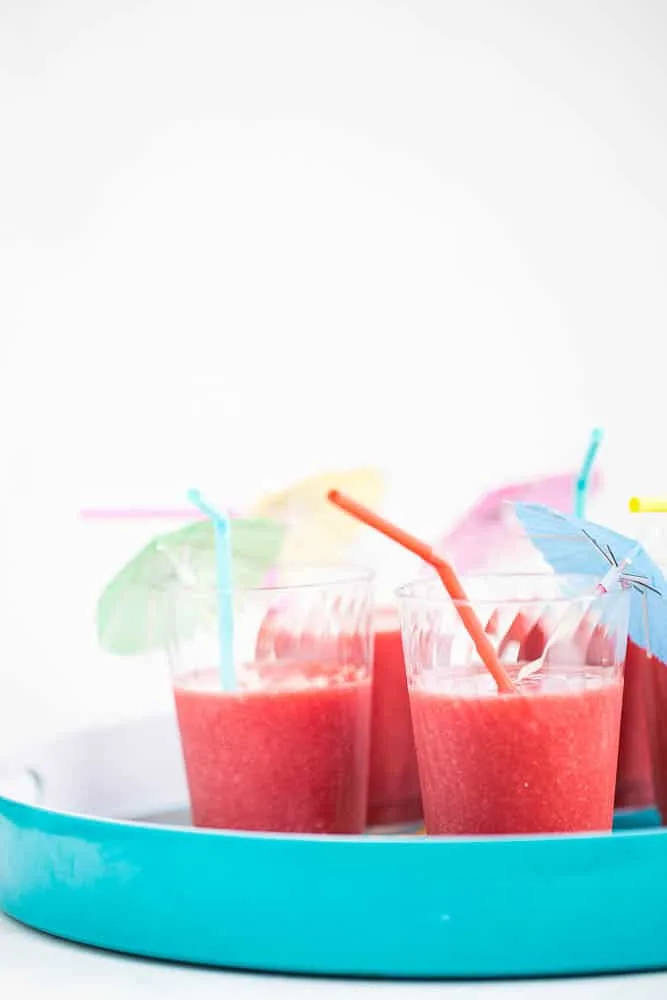 We're in our second week of summer vacation, and after a rigorous boot camp of learning to close the back patio door, I think we may survive with minimal flies buzzing around the house.
I don't consider myself a summer person. I get hot really easily, and I don't like the heat. I'm not usually an outdoorsy type, either, and prefer to hang out at home. I'm basically a vampire.
I love watermelon though. Especially when it's in the form of a watermelon smoothie. I don't know why I don't already have a watermelon smoothie recipe on here. I love watermelon and it's such a great addition to a green smoothie. Or any smoothie, really.
AND. I do love going on day trips to Lake Tahoe, which isn't too far from our home. And I love wearing flip flops all the time and not having to put socks on my kids. Or pick up socks around the house.
I do like having a bit of color on my skin, too, so I guess I'm not a total vampire. I just wish I could get away with wearing a lot of black in the summer. I like black. But there's that whole getting hot issue. Sigh.
My youngest daughter turned 5 last week, and since this year was an off year for birthday parties, we had a little party at home. Her biggest party request? To wear make up. I can do make up. All three girls were giddy as I pulled out some eyeshadow, blush, and lip color to put on.
My little guy even glossed himself pretty well. And then he pulled out Steve's electric razor and pretended to shave. He kills me.
Since it was hot that day, the birthday girl also wanted to play outside in the sprinklers. So we all put our swimsuits on and went outside, all dolled up, for a glam sprinkler party. (They've been watching a lot of Barbie: Life in the Dreamhouse on Netflix. Can you tell?)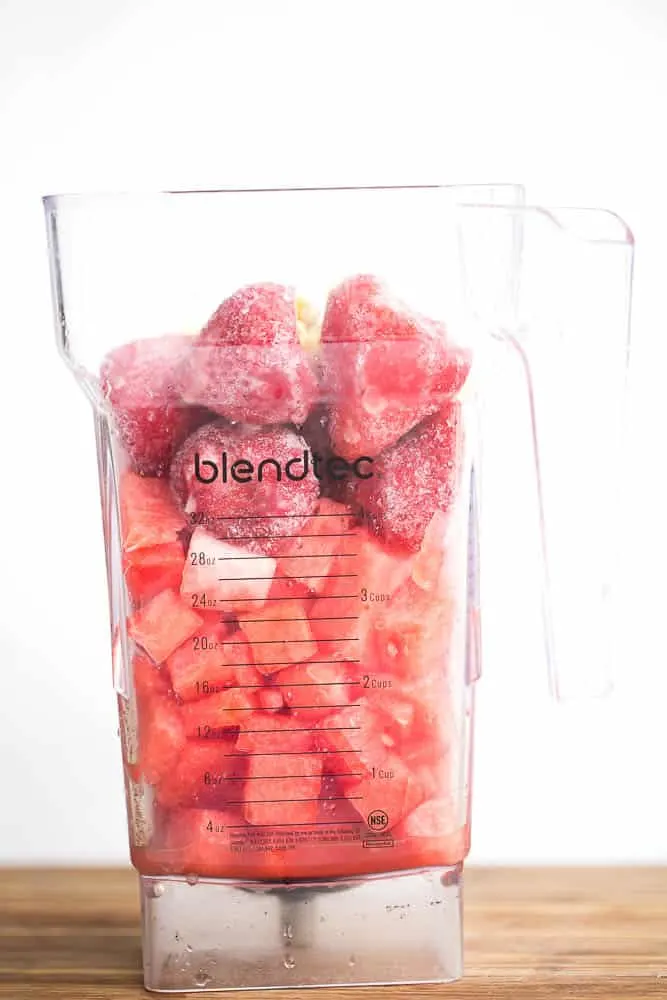 I ran into the house to whip up one of our favorite summer treats — Strawberry Watermelon Smoothie with Ginger & Lime. I posted this recipe a long time ago along with a couple of other frozen treats, but I decided it deserved its own post.
It has just a few simple ingredients and it's naturally sweet. You don't need to add any kind of sweetener at all. AND it tastes amazing. We make this delicious smoothie so many times during the summer. Or, at least i try to. It's hard to keep fresh watermelon on hand with four kids wandering in and out of the kitchen all day claiming they're hungry. Summer, man.
When I make this, I don't even measure anymore. I just fill my blender pitcher with watermelon up to the 4 cup mark, add a couple handfuls of frozen strawberries, fresh lime juice, and some fresh ginger. A splash of coconut water would also be good, but you don't really need any liquid because of the watermelon.
By the way, that order is important — don't put frozen stuff in first when you make smoothies or else you'll spend a lot of time adding liquid and scraping the sides to help it blend.
Frozen strawberries are key here because there isn't any ice in this smoothie. Those strawberries are what makes this smoothie frozen and slushy. I buy organic strawberries most of the time at Costco. Or if you have some really great fresh ones, pop them in the freezer overnight on a sheet pan and then store them in the freezer in a zip top bag.
Actually, you could use frozen watermelon here, too, but I'd prefer using frozen strawberries since the watermelon provides a lot more liquid and helps the smoothie to blend smoothly without needing extra liquid.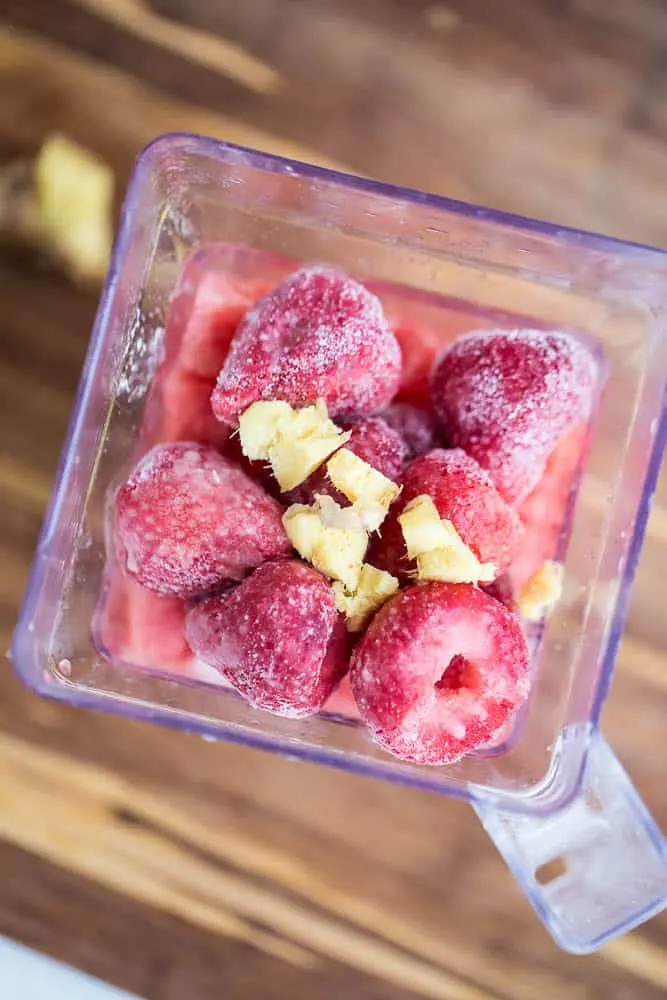 The chopped ginger is kind of the star of the show here. It's what makes this watermelon smoothie so insanely good. I'm a huge ginger fan, though, so if you aren't, just use a little or omit it entirely.
I especially like the combination of strawberry and ginger — I made some Roasted Strawberry and Ginger Ice Cream and while back that blew my mind. Ginger is also good with melon — like this Melon Salad with Ginger Mint Dressing that's so great for summertime potlucks.
So it only makes sense that ginger would be good with both strawberries AND watermelon. Together. Right?
By the way, If you store your ginger in the freezer (seriously, it makes it SO much easier to grate with a microplane grater!), just grate about an inch worth. You don't even have to peel it either.
You're welcome for that, by the way. Storing ginger in the freezer has been one of the best kitchen hacks I've found! No more tossing dried up leftover ginger bits that never found a home.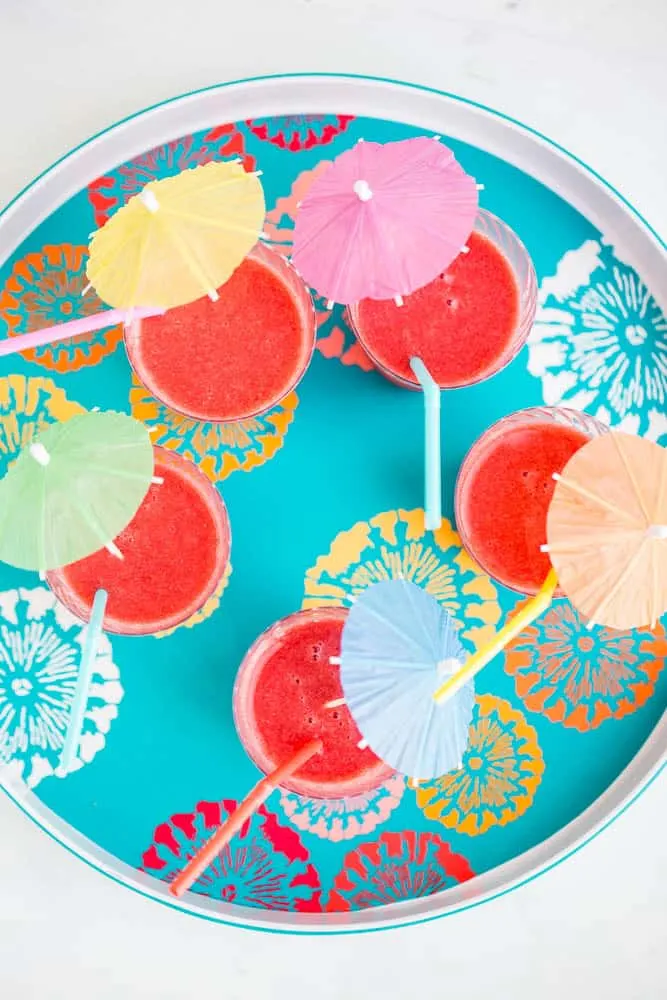 And thanks to an impulse purchase at the Michael's dollar section a few weeks ago, we had little umbrellas in our smoothies. The perfect treat for a glam sprinkler party.
One more note — I think it goes without saying that using a seedless watermelon is a good idea.
You don't have to have a fancy blender to make this smoothie. Just a regular one will do.
---
If you make one of my recipes, be sure to post it on social media and tag me at @perrysplate or #perrysplate so I can send you some love!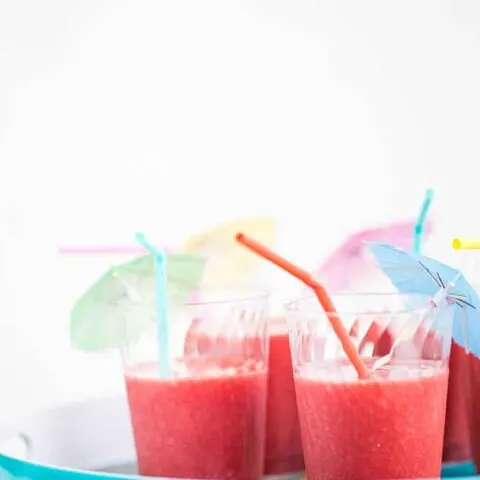 Strawberry-Watermelon Smoothie with Ginger & Lime
Yield:
Makes about 1 quart of smoothie
This is my all-time favorite summer smoothie -- perfect to make when strawberries and watermelon are ripe and sweet! | perrysplate.com
Ingredients
4 cups of chopped watermelon
2 cups of frozen strawberries
juice from 1/2 of a lime
1 Tablespoon chopped fresh ginger
Instructions
Place the ingredients into the blender in the order listed.
Blend thoroughly until everything is smooth and combined.
Pour into glasses and serve.
This post may contain affiliate links. Any purchases made by using these links won't cost you any extra and helps keep my content free. These links may be Amazon links as I am part of the Amazon Associate Program.