Fruit 'n' Yogurt Pops
My girls love these yogurt pops. I made them all summer, and everyday Sophie asks me, "pop-aco affer nap?" (Popsicle after nap?) They're a great incentive for her to take a nap. Otherwise she drives me batty all evening. Like last night.
So it's November and I'm still making them. And when we run out, she tells me we need to make more. No more yogurt? "Go to store. Get yogurt." Yogurt pops are going to be a year-round staple for us, I imagine.


After making these pops over the summer, I created one that was easier, less time to make, and a bit healthier. I've had a few people ask me about these and what I put in them, so I thought I'd post it here. I like using plain, whole milk yogurt because I can control the sugar content. Some fruit is sweeter than others, so sometimes just a smidgen is needed to take the edge off the yogurt. (Although Sophie will eat bowls full of that stuff plain. Sour cream, too. She's nuts.)
Try to find organic or at least preservative-free yogurt, free of hormones. I like the Mountain High brand or the organic European-style they sell at Trader Joe's. Making it yourself would be even better. That's on my list to do eventually.


No, she doesn't have a lazy eye. She just looks that way in pics sometimes. They feel awfully good on teething gums, too.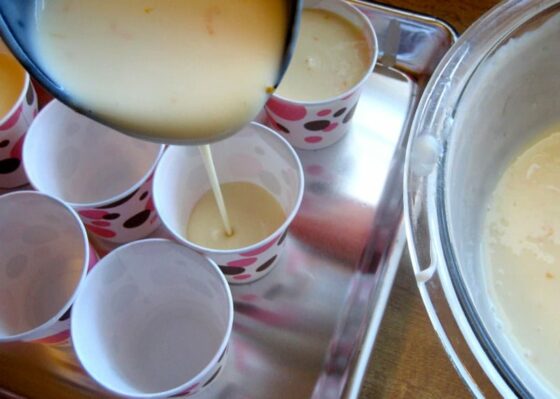 I made them the same way I made the other pops, but without the layers. If you want to see more photos and instruction, check out that post.
Fruit 'n' Yogurt Pops

Ingredients:

2 c. plain, whole-milk yogurt
1 1/2 - 2 c. smashed fruit or 100% fruit juice
up to 1/3 c. sugar or honey (to your liking)
1/2 tsp vanilla

Other stuff:
12 popsicle sticks
12 3-ounce paper cups (the "bathroom" ones)

Directions:

Place paper cups into a freezer-safe container that you will put into the freezer. Combine all ingredients thoroughly in a medium-sized bowl, then ladel into paper cups. Place a piece of aluminum foil over top (it's easier if you line up the cups into a square). With a sharp knife, make tiny slits over each cup, then place the popsicle through the slits. (If you just shove the popsicles in without making the slits first, the foil will probably tear and your sticks won't stand up straight.)

Freeze for several hours, or until frozen solid. Remove foil and place pops into a gallon-size freezer bag. Begin bribing your children.

Makes a dozen pops.

Nat's Notes:
1. Using more fruit juice will yield icier pops. Smashed fruit seems to keep them creamier. So does using whole-milk yogurt.
2. You probably know this already, but don't put honey in these if you're giving them to a baby under 1 year of age.

Here are the variations we've tried. Not to be cliche, but the possibilities really are endless. . .

Orange Cream: 1 1/2 c. orange juice + 1 tsp. orange zest
Orange Pineapple: 1 c. orange juice + 1 c. pineapple puree + 1 tsp. orange zest
Strawberry Lemonade: 1 c smashed strawberries + 1/4 c. lemon juice + 1/4 tsp. lemon zest
Peachy Cream: 5 smashed peaches + 1 tsp lemon juice
Mango Cream: 2 smashed mangoes + 1 tsp lemon juice
Blackberry Cream: 1 1/2 c smashed blackberries + 1 tsp lemon juice
Pomegranate Kiwi: 4-5 smashed kiwis + 1/2 c pomegranate juice + 1 tsp lime juice

(If you're wondering why I add lemon/lime juice, it gives the pops a "brighter" flavor.)