Fettuccine Carbonara
Fresh, homemade pasta is one of my favorite things. Once in a while I'll get ambitious (at the same time as I have an extra hour or so) and make my own pasta. I love making things from scratch, including pasta, but this has only happened . . . um . . . 3-4 times in the past few years.One of those times happened to be recently, and because it's such a rare occurrence (believe me I'd do it more often if I had the time), I made a bigger batch and decided to dry it out. I got to use my spiffy
pasta drying rack
(cheap and saves SO much space). I learned a couple of things about hanging fettuccine out to dry.
1. Pasta bends slightly while it dries.
2. Long, bent pasta is hard to contain without breaking.

Here they are, ready to be dried.
After my fettuccine dried, it was really hard to get them off the rack without breaking all of them. Next time I'll let them dry halfway, then stack them on a cookie sheet to finish drying. It was even harder to figure out how much pasta I had and to measure some out for a recipe. A trifle dish and a scale seemed to be the only solution. . .
I couldn't see the read-out if I placed a pan on the scale. It seems my trifle dish isn't a unitasker afterall! This could be a creative, abstract centerpiece, too. *snicker*
Recipes for homemade pasta are simple and easy to find. I just used the one that came with my pasta roller. (And because I cheat and use a Kitchen-Aid pasta attachment I thought it would be dumb to do a post about it.)I used half my pasta to make Fettuccine Carbonara, and I think it was definitely the best version of this I've ever had.
Moral of the story is: fresh pasta is amazing, but this carbonara is great with store-bought pasta, too. :)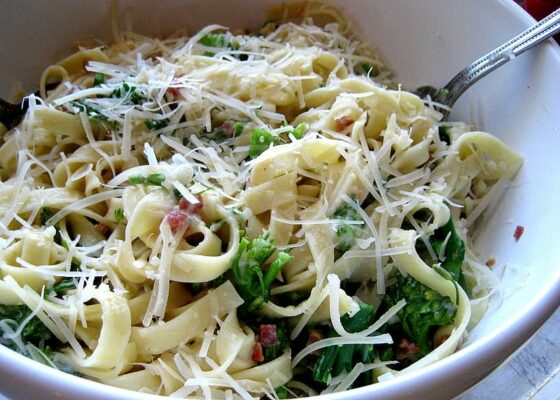 Fettuccine Carbonara

Ingredients:

4 large eggs
2/3 c shredded Parmesan cheese
1/3 c shredded Pecorino Romano cheese
2 garlic cloves, minced
1/2 tsp freshly ground black pepper
4 ounces thinly sliced pancetta (or bacon), finely chopped
12 ounces egg fettucine
1 medium bunch broccoli rabe (baby broccoli), cut into 1/2-inch pieces.

Directions:

In a medium bowl, whisk together the eggs, both cheeses, garlic, and pepper; set aside. Cook pancetta in a large nonstick skillet over medium heat until crisp, about 7-10 minutes. Remove cooked pancetta from skillet with a slotted spoon and set aside. Discard drippings.

In a large pot of salted boiling water, cook the pasta until almost tender (about 3 minutes less than package directions); at this point add the broccoli rabe to the pot. Cook just until broccoli rabe is crisp-tender and pasta is tender, about 3 more minutes. Drain pasta broccoli rabe mixture, reserving 1/2 c cooking liquid.

Return hot pasta-broccoli rabe mixture to the pot (off the heat). Immediately add the egg-cheese mixture, pancetta, and 1/4 c hot cooking liquid; toss to combine, adding more cooking liquid by spoonfuls to moisten as needed. Season to taste with salt and pepper. Serve immediately.

Serves 4.

Nat's Notes:
1. If you're worried about the eggs not cooking through you can either use pasteurized eggs or return the pot to the stove over low heat and stir constantly while you add the ingredients to the hot pasta.
2. The original recipe called for 4 additional eggs, to be fried in the pancetta drippings and placed over each serving of pasta. I took this to a potluck and thought the eggs might be too risky. I'm not a fan of runny yolks anyway, but if anyone tries it like that, I'd like to know what you think!
3. You could use regular broccoli if you can't find broccoli rabe.

adapted from Bon Appetit January 2009