CSA Wednesdays: Cucumbers & Radishes + Cuke & Radish Sandwich with Goat Cheese Spread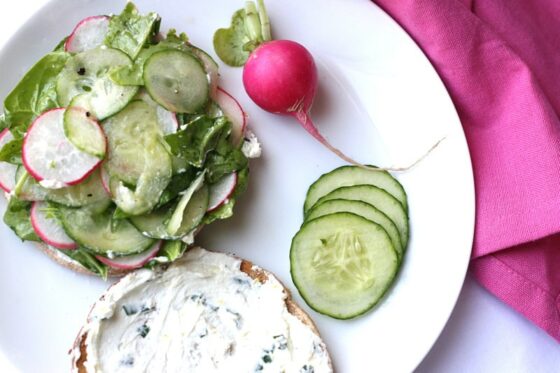 I wasn't planning on combining radishes and cucumbers in a CSA Wednesday post, but I couldn't decide in which post to include this sandwich. Plus I have, like, three recipes that contain radishes.
And, hello. Look how gorgeous they look together.
Here are a few recipe ideas to use up your cucumbers and radishes. I have to admit. If I have anything leftover from my CSA box week after week (after week), it's the radishes. I don't care for them by themselves, so I've had to get creative!
Cucumbers
Fish Tacos with Strawberry-Cucumber Salsa
Shrimp and Cucumber Lettuce Wraps with Fresh Dill
Cajun Shrimp and Marinated Cucumber Salad
Spicy Buffalo Chickpea Salad
Cool Cucumber Raita (included in the Easy Chicken Masala Meal post)
Radishes
Parisian Tuna Sandwich (On my top 5 most favorite sandwich list.)
Thai Corn Chowder
Southwest Cabbage Slaw (I've included radishes in this slaw, which is a fantastic garnish for tacos and fried eggs.)
Or slice both of them up and dip them in….
Easy Hummus
Beet & Chickpea Hummus
Sun-Dried Tomato Hummus
Basil Hummus
Roasted Vegetable and White Bean Dip
Homemade Ranch Dressing
Here's a brand new recipe for you! One morning as I was running errands with my girls I was thinking about what I was going to make for lunch. I created this sandwich in my head as we hopped from store to store and couldn't wait to come home and try it.
I made the girls lunch, then started on my little dream sandwich. Not only was it better than I anticipated, both of my girls promptly pushed their plates aside and wanted a sandwich like mine.
I did NOT expect that. They're good eaters, but I was sure they'd turn their nose up at something like this. (I think they wanted it because I didn't offer it to them.) I made another identical sandwich and they shared it. Then they had it again the next day for lunch, (almost) eating the entire thing each.
Cuke & Radish Sandwich with Lemon-Herb Goat Cheese Spread

Ingredients:

For the sandwich:
1/2 an English cucumber (or 1 medium sized regular cucumber, peeled), sliced very thinly
3 radishes, sliced very thinly
2-3 cups of fresh baby spinach, torn
1 T extra-virgin olive oil
1 T red wine vinegar
salad and pepper to taste
Bread/buns for 4 small sandwiches

For the spread:
1/3 cup soft goat cheese (chevre)
1 T greek yogurt
1 T chopped fresh chives
1 tsp lemon zest

Directions:

In a medium bowl combine the cucumber & radish slices as well as the torn spinach. Drizzle the olive oil and the vinegar over top and sprinkle with a pinch or two of salt and pepper. Mix thoroughly (hands are good), then set aside for about 10-15 minutes.

Meanwhile, combine the ingredients for the spread in a small bowl. Toast the bread.
To assemble, spread some of the goat cheese on to slices of bread and place a generous amount of the cucumber-radish mixture between them.

Makes 4 small-ish sandwiches. (If you use the Sandwich Thins. You might want to make more of the salad and spread if your sandwiches are larger.)

Nat's Notes:
1. A mandolin slicer is excellent for slicing the cukes and radishes very thin. I had one for two days while I made this sandwich and decided I didn't like the quality of the mandolin so I returned it.