BLT Chicken Salad with Warm Bacon Dressing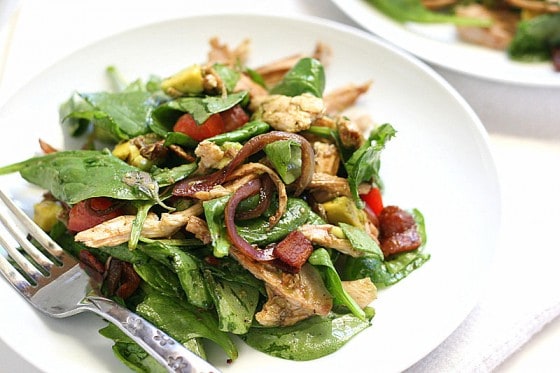 This salad is so hearty and filling I have a hard time remembering it is, in fact, a salad.
It starts off with what looks like a great salad by itself… shredded chicken, chopped tomatoes, avocados and bacon crumbles over a giant bowl of baby spinach. Would be great with a light vinaigrette or buttermilk dressing!
Not today, though.
We're going for the dark stuff. It looks a lot like the remnants of an oil change, but it's way better.
Pay attention now. Seriously.
After the bacon was cooked, I left all of the drippings in the pan and added balsamic vinegar and thinly sliced onion to sizzle away for a couple of minutes. The result: a warm bacon "vinaigrette." A quick meal for a hot day. (Unless it's so hot you can't handle cooking bacon. Then I would definitely save it for later.)
You can't switch out the bacon. Then it would be a "Chicken LT Salad with Warm… Dressing." What that warm dressing would be made out of is beyond me.
See why leaving the bacon out makes no sense? That's pretty much my stance on most things.
Speaking of bacon and salads… check out the step-by-step post I did for the Tasty Kitchen Blog! Have you ever had a Breakfast Salad? The maple vinaigrette and cinnamon toast croutons might just convince you to try it.
BLT Chicken Salad with Warm Bacon Dressing

Ingredients:

6 slices uncooked bacon, cut into 1/2-inch pieces
1/2 medium red onion, sliced very thinly
3 T balsamic vinegar
10-12 ounces of fresh baby spinach or mixed salad greens
3 cups cooked, shredded chicken
1 avocado, peeled, pitted, and cubed
2 Roma tomatoes, seeded and chopped

Directions:

Cook the bacon in a skillet over medium heat until crisp, stirring frequently. Transfer the bits to a stack of paper towels to drain.

Remove all but 3 T of bacon drippings from the pan and return it to medium heat. (I had just slightly more so I left all the drippings in the pan.) Add the onion and vinegar to the drippings and stir to heat through, about 2-3 minutes. Remove the pan from the heat.

Place the salad greens in a large bowl. Top with shredded chicken, chopped tomato and avocado. Pour the warm onions and dressing over the top. Toss to coat and sprinkle the bacon bits over the top.

Makes about 4 main dish servings.

adapted from Bon Appetit's Fast Easy Fresh Cookbook