The Morning Smoothie (for people who hate green smoothies)

Out of the Perrys in our household, I'm the last to embrace the green smoothie. After making these for a couple of years now, my husband never gave up on me and managed to find a concoction that I like.
That's love.
Calling this smoothie a "green" smoothie is a stretch because it isn't even green, but it has spinach in it. So it's a green smoothie to me.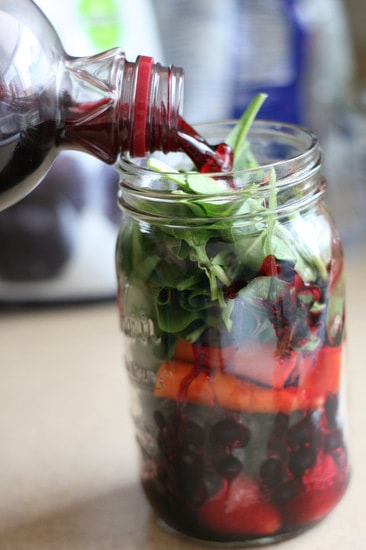 I was never fond of blending a bunch of fruits and vegetable together and drinking it.
*shudder*
Steve used to get more adventurous, adding leftover salad greens, bell peppers, fresh lemon, ginger and whatever else was in the fridge to his smoothies. The kids ate it (sometimes), but I always made a face when he offered me some.
Here's the magical combination of ingredients that finally made me like green smoothies. (Well, this one anyway.) Frozen strawberries, frozen blueberries, carrots, spinach, and pomegranate juice.
The strawberries and carrots add quite a bit of sweetness so I don't feel the need to add any additional sweeteners. The spinach is a pretty mild green, so there's no bitterness, and the pomegranate juice (the only fruit juice we buy) adds some sweetness as well as some tartness to bring out the flavors in the berries.
It just works.
Using an immersion blender for this is so great. I figured out when I made the Mango-Berry Swirled Smoothies that my immersion blender fits in a wide-mouth quart-sized mason jar. We usually use an ugly plastic cup, but I grabbed a mason jar this time. They're much easier on the eyes. Plus, it was easier to show you what's going on inside.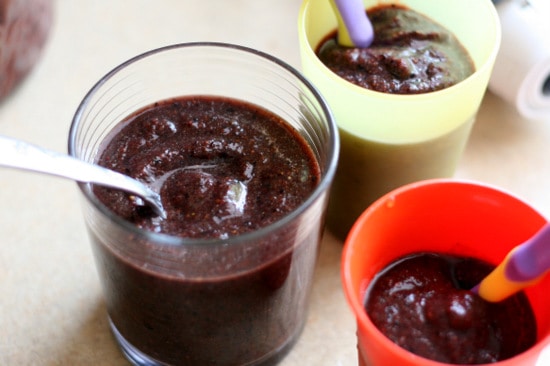 One batch of this will feed one adult and both of my kids. If Steve and I are both home in the morning, we'll make a little more. My kids like to eat it with a spoon because it's icy and thick — kind of like they're eating sorbet for breakfast. I'm all about desserts for breakfast that aren't really desserts.
The Morning Smoothie

Yield: about 3 cups

Total Time: 5-10 minutes

Ingredients:

3-4 frozen strawberries
about 1 cup frozen blueberries
1 large carrot, cut into 3-4 pieces
a couple handfuls of fresh baby spinach
about 1 cup 100% pomegranate juice (like POM)

Directions:

Combine all ingredients in a large plastic cup or a wide-mouth quart-size mason jar. Blend with an immersion blender, adding more juice or water, if you find it's too thick.

Nat's Notes:
1. If you don't have an immersion blender, go buy one. You'll love it. You can also use a regular blender for this, but you'll end up using a lot more liquid to get it to blend (unless your berries aren't frozen).
2. Feel free to play with the fruits and vegetables in this. You can also add coconut milk (which is fantastic, by the way) or protein powder.
3. My husband likes adding fresh ginger and some fresh lemon juice to his. I'm not digging that yet. I also don't add any sweetener because I find the strawberries and carrot add plenty of sweetness.

from Perry's Plate (my husband, Steve)