This is the best low sugar granola recipe with warm baking spices, toasted coconut, and tart cranberries! It's also gluten-free, dairy-free, naturally sweetened, and super customizable. The way it's written is our favorite way to make this homemade granola, but you can tweak it to fit your tastes.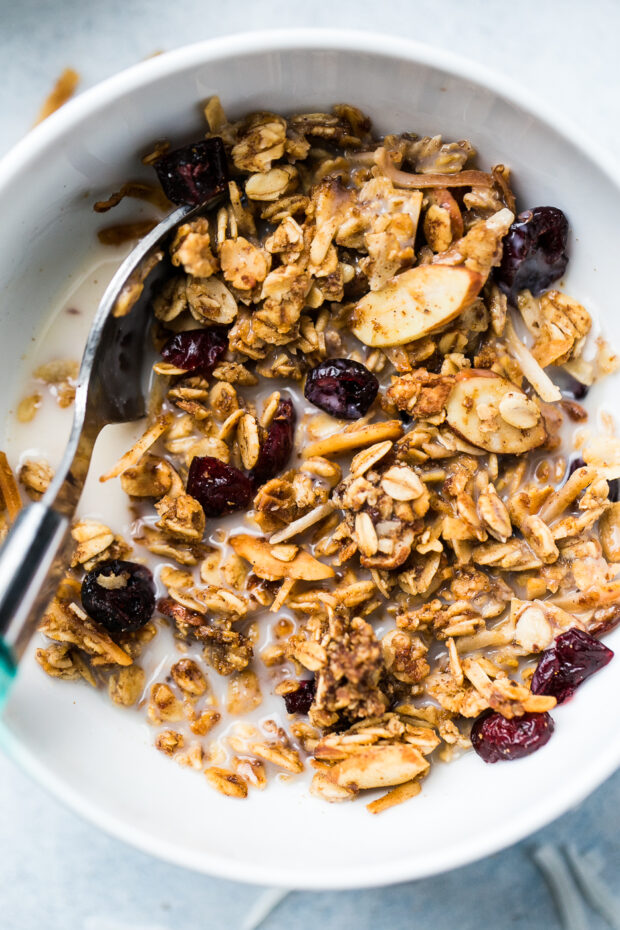 I've really come to love homemade granola.
I prefer eating a substantial breakfast, and cold cereal, although convenient, has never quite cut it for me. Granola, to me, combines the best of both worlds — a hearty, healthy, yet quick & convenient breakfast.
This homemade granola recipe has been my go-to for over 10 years now. Before that I never made granola because the recipes I came across had enormous amounts of refined sugar and vegetable oil. And granola brands you'd see at the grocery store weren't any better. I mean, you might as well be eating a candy bar.
Then I saw this healthy granola recipe, or rather, a basic skeleton of a recipe in an old Bon Appetit magazine that could be added to or left as is (it's quite good as is). I loved that it used coconut oil and some natural sweeteners, but left room for adaptation.
The result is a crunchy, chewy, slightly sweet compliment to fruit, yogurt, or a mere splash of milk. This granola recipe is very flexible, has less added sugar than other recipes. I made a double batch of granola almost every week for years — it totally replaced our boxed breakfast cereal and makes a delicious, healthy snack when the kids had the munchies.
I also ate granola (with some mini chocolate chips mixed in) as a way to subside the hankering I had for a freshly baked chocolate chip cookie. It mostly works. At least it helps to postpone the moment when I pull out my mixer.
Over the years we've played around with the recipe — using different kinds of whole grains, healthy fats, and natural sweeteners. I'll share some variations with you that we've loved!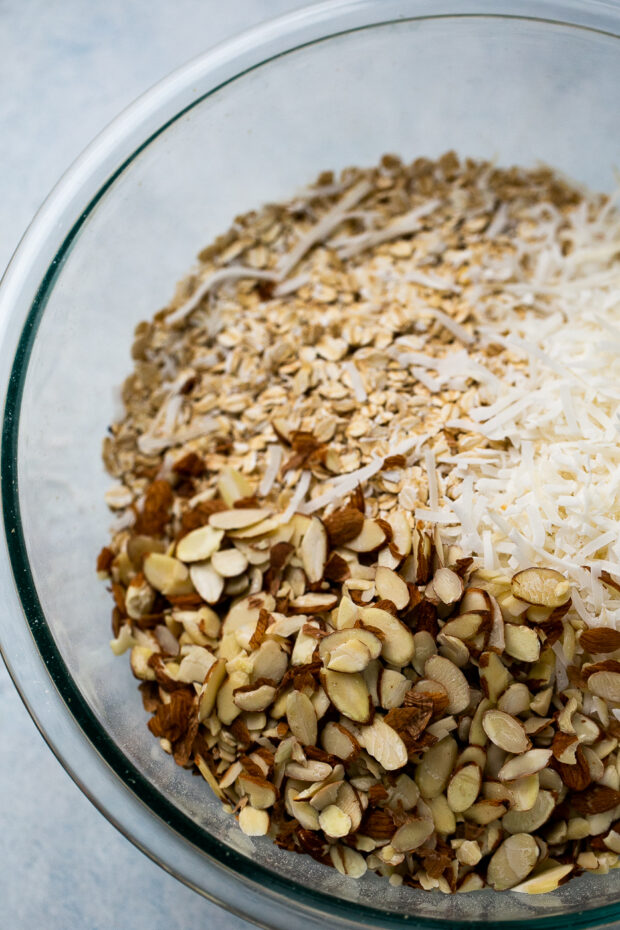 How to make Low Sugar Granola
The recipe in the box down there is just a jumping off point for you to adapt this to your liking. Basically there are two parts, the dry stuff and the wet stuff. You'll want a very large bowl for this, too.
The Dry Stuff
We like rolled oats, shredded coconut (or coconut flakes), and chopped nuts. Sometimes I add some seeds like milled flax seeds, hemp hearts, sesame seeds, chia seeds, sunflower seeds, or pumpkin seeds. Use any ancient grains you like that can be toasted and consumed without needing to be cooked.
To make gluten-free granola, find certified gluten-free rolled oats and check the ingredients on other add-ins you might decide to use.
The beauty of this recipe is you can play with the measurements of the dry components.
If you wanted fewer oats, just replace them with more coconut or nuts.
Can't have nuts? Use all coconut.
Don't like coconut? Use all nuts.
Don't like either? Use all oats!
Just make sure you have about 4 1/2 cups of dry components.
This is also where you'd add spices, cocoa powder (mmmm. chocolate granola is delicious), or any granulated sweetener.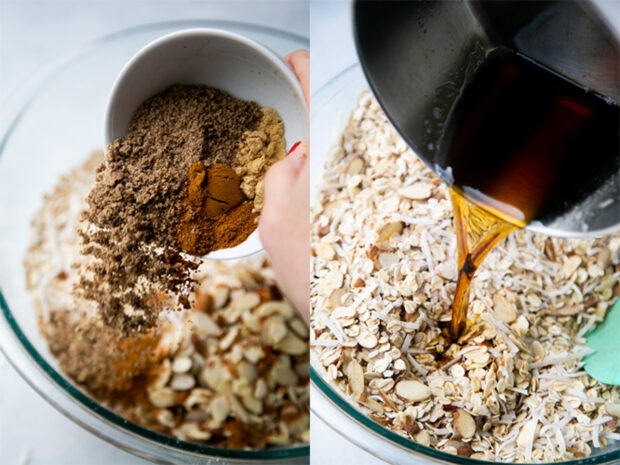 The Wet Stuff
The wet components are simply oil and liquid sweetener.
About the oil
I use coconut oil, but if you don't like coconut oil, use light olive oil or avocado oil to keep the oil's flavor relatively neutral and heat safe. By that I mean — you don't want your oil to be burning in the oven. All three of the oils I mentioned are safe for high-heat cooking.
Butter will burn, unfortunately, but if you use a combination of melted butter and a heat-safe oil, it'll help.
About the sweetener
My favorite sweetener to use when I make granola is maple syrup. The flavor is so good. You could also use honey, coconut sugar (tastes like brown sugar!), or a low-carb sugar like Lakanto monkfruit sweetener or another sweetener using sugar alcohols. Sometimes I add some liquid stevia to boost the sweetness without adding extra sugar.
This recipe isn't low-carb by any means (hello, oats), but if you're wanting to reduce your sugar consumption overall, using a low-carb sweetener isn't a bad idea.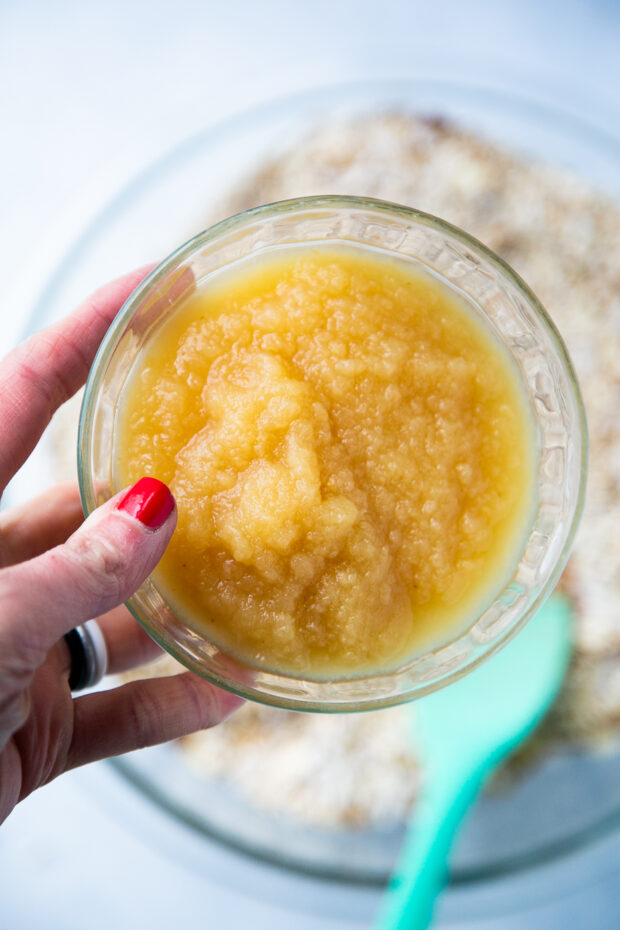 How to make granola with clumps
Some people prefer crunchy granola. I like granola that's chewy with clumps. That doesn't sound super appetizing when I typed that out just now.
Some recipes incorporate egg whites into their granola which can help create those chewy clusters. I'm pretty lazy and don't want to separate eggs if I don't have to.
So, I use applesauce! Applesauce creates clusters, but also adds a little more sweetness to the granola so you don't have to add as much sweetener.
You can also use peanut butter, almond butter, canned pumpkin, or sweet potato puree in place of applesauce. These don't add a lot of sweetness, so you'll have to add a little more sweetener to compensate.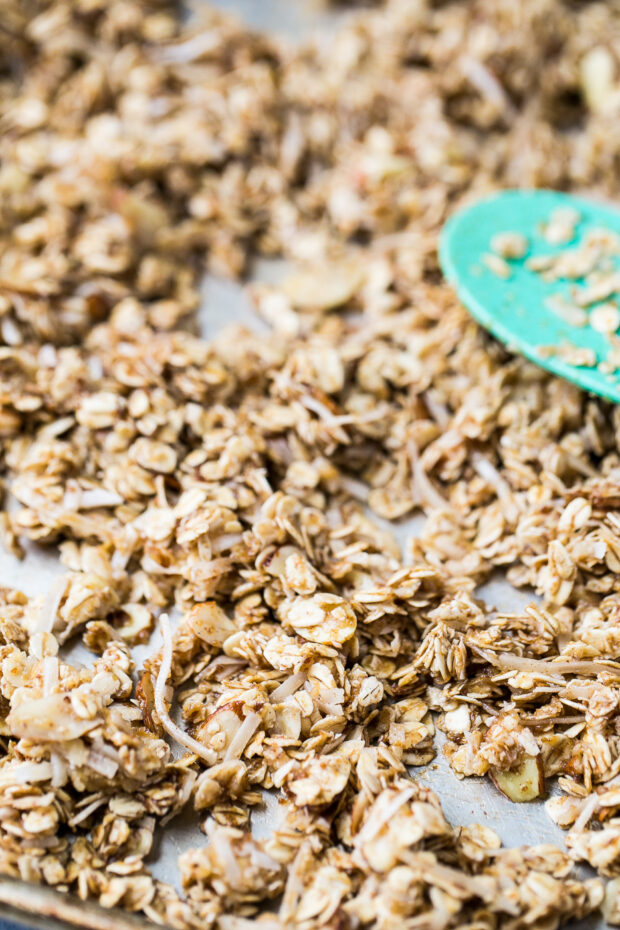 Granola Add-ins
Adding some dried fruit is a delicious way to add some tartness and sweetness. Make sure you add any dried fruit or chocolate after the granola has baked.
Dried fruit does have a lot of sugar (usually cane sugar) so use a light hand. Cranberries are our favorite dried fruit to add in after the granola has baked. Chopped dried apples, blueberries, cherries, and apricots are delicious, too.
I love adding bits of crystallized ginger and mini chocolate chips to granola, too. Add the chocolate after the granola has completely cooled or it'll be a melty mess. (Not the worst thing ever.)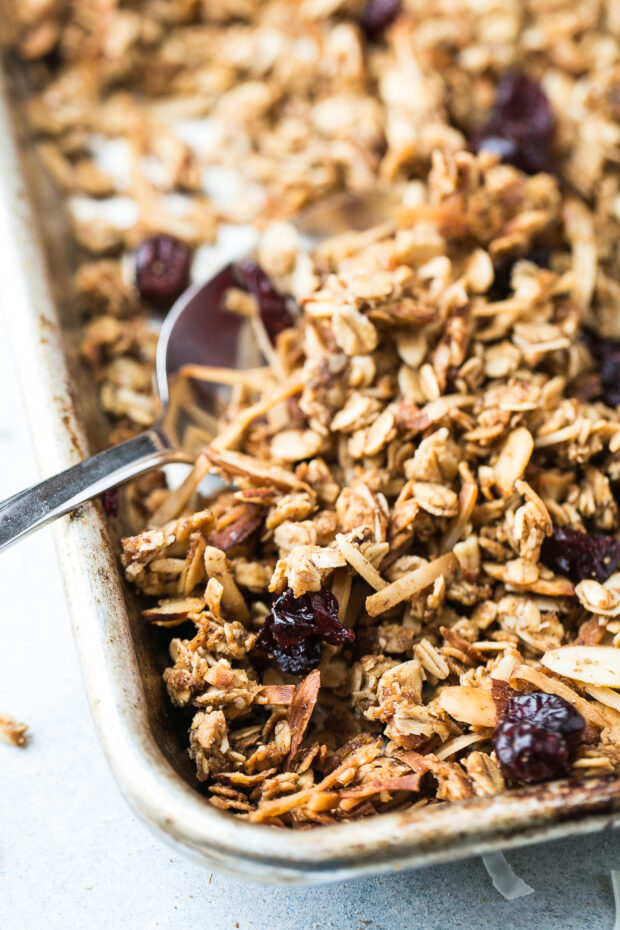 Ways to Use Granola
Granola is a pretty versatile food! Besides eating it like breakfast cereal with milk, here are a few other ways use granola:
Sprinkle it over a bowl of greek yogurt or chia pudding and fresh fruit (my personal favorite)
Add it to muffin, pancake, or waffle batter for some extra texture.
Use it as a base for a trail mix, by adding more nuts, seeds, and dried fruit
Sprinkle it on a salad that has a sweet vinaigrette (like this Strawberry Salad)
Use it as a streusel the next time you make a fruit crumble.
Stir it into cookie batter. (Clearly we've strayed from keeping total sugars down at the point. haha.)
How to Store Homemade Granola
Just keep it in a lidded container at room temperature. That's it. It should stay great for a couple of weeks. Even when it gets slightly stale it's still delicious.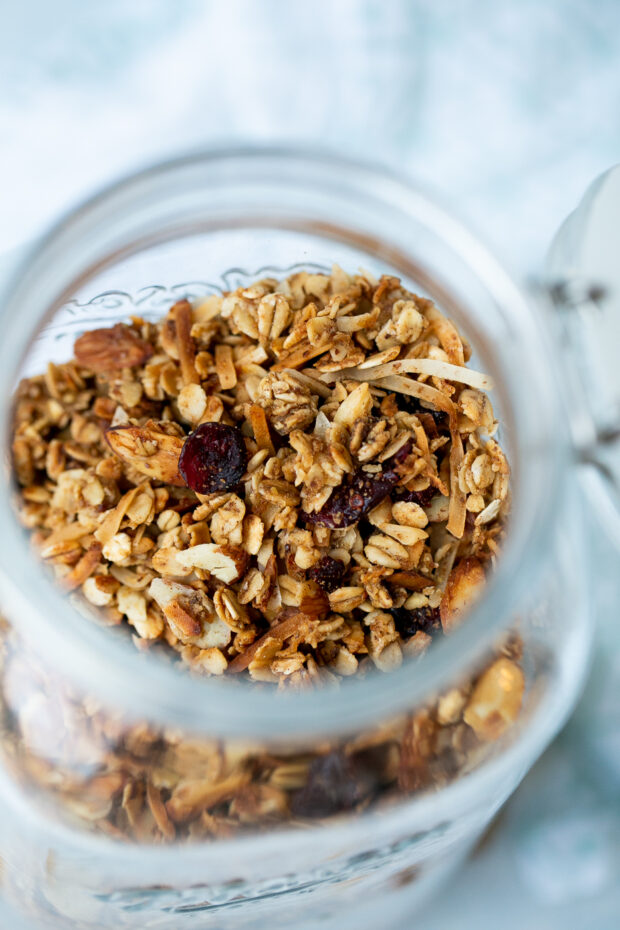 Granola Variations
It's so easy to make the healthiest granolas in a variety of flavors and keep the sugar content down. Here are a few of our favorite variations — omit the spices and dried fruit from the original recipe in all of these adaptations.
Chocolate Granola
Add 1-2 Tablespoons of cocoa powder to the dry ingredients and mix in some mini chocolate chips after the granola has cooled.
Extra Coconutty Granola
Replace 1 cup of the oats with more coconut. Use thick, full-fat coconut milk in place of the applesauce. Add a teaspoon of coconut extract to the wet mixture if you like. Dried blueberries and cashews are great in this, too.
Pumpkin Pie Granola
Replace the applesauce with canned pumpkin puree or sweet potato puree. Use chopped pecans if you have them. Replace the spices with Pumpkin Pie Spice. Dried cranberries and mini chocolate chips are a great add-in, too.
Peanut Butter Granola
Replace the applesauce with peanut butter. Use chopped peanuts. To make this a PB/Chocolate situation, add in 1-2 Tablespoons of cocoa powder to the dry mixture and stir in mini dark chocolate chips after the granola has cooled.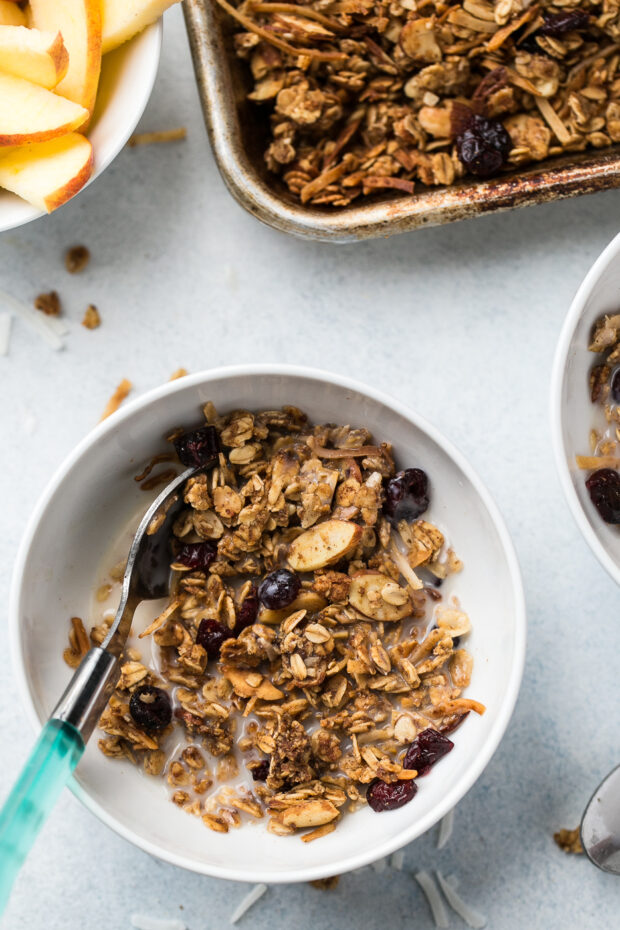 That's it! This is just about everything you need to know to get your granola on. Let me know if you come up with any great variations!SaveSave
---
If you make one of my recipes, be sure to post it on social media and tag me at @perrysplate or #perrysplate so I can send you some love!
SaveSaveSaveSave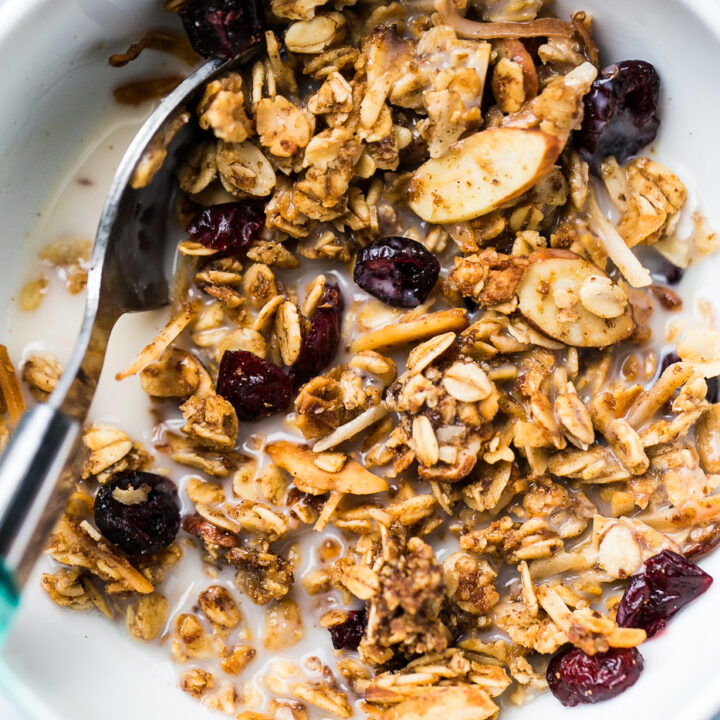 The Best Homemade Granola (Low Sugar)
This is the best low sugar granola recipe with warm baking spices, toasted coconut, and tart cranberries! It's also gluten-free, dairy-free, naturally sweetened, and super customizable. The way it's written is our favorite way to make this homemade granola, but you can tweak it to fit your tastes.
Ingredients
3 cups old-fashioned gluten-free rolled oats
1 cup unsweetened shredded coconut
1/2 cup chopped nuts
2 Tablespoons milled flaxseed
3/4 teaspoon ground cinnamon
1/2 teaspoon ground ginger
1/4 teaspoon salt
3 Tablespoons coconut oil
1/3 cup honey or real maple syrup
1/2 cup applesauce
1/2 teaspoon vanilla extract
1 cup dried cranberries
Instructions
Preheat oven to 325 degrees F.
Mix the first six ingredients in large bowl.
Melt the coconut oil in a small saucepan over medium heat. Do not boil. Remove from heat and stir in the honey (or maple), applesauce, and vanilla.
Pour the liquid mixture over oat mixture; toss to coat evenly. Spread evenly on a large rimmed baking sheet.
Bake until golden, stirring every 15 minutes, about 35-40 minutes until golden brown.
Remove from the oven and let it cool for 15 minutes. Toss in the dried cranberries.
Eat immediately or allow it to cool to room temperature and transfer it to a lidded container. Store at room temperature for up to 10 days.
Notes
The coconut and nut measurements can be switched up. You can add all coconut or all nuts if you like.
I like milled flaxseed, but you can use hemp hearts, toasted quinoa, or any other seed if you like.
The applesauce serves two purposes here. First, it serves as an added sweetener which reduces the amount of honey/maple you'll need. Second, it helps the granola to clump up and give it a chewier texture. I really love that texture for granola, but if you're a crispy granola kind of person, leave out the applesauce all together.
For a fun fall variation, substitute the applesauce with canned pumpkin or sweet potato puree! You may need to add a little more sweetener for the pumpkin variation since the pumpkin requires a bit more sweetness and doesn't add any itself.