Guacamole Chicken Salad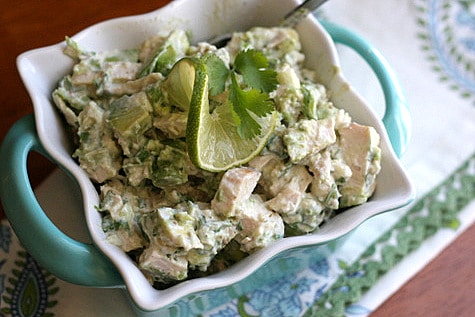 This salad was a very happy accident.
Well, not entirely. I was trying to make a salad (and not, say… trying to paint my nails.)
The fact that the chicken was smothered in deconstructed guacamole was an accident. I wanted to make a chicken salad-type thing for lunch and started adding things. Then a lone avocado on the counter was staring me in the face as if to say, "Well, you put lime, cilantro, and onions in there. Were you planning on including me, too?"
Um, yes. I was absolutely planning on doing that.
The fact that both of my kids begged me to make it again tells you how great this was. They ate theirs in pita halves, and I put mine over a bed of Romaine lettuce. I only wish I had more leftover chicken!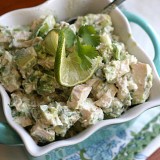 Guacamole Chicken Salad
Yield: 2-3 servings
Total Time: 15 minutes
Ingredients:
2 cups leftover cooked chicken, cubed or shredded
1/3 cup whole plain Greek yogurt
2-3 T salsa verde (optional)
1 green onion, chopped
1/4 cup chopped fresh cilantro
1/4 cup crumbled Cotija cheese (feta would work, too)
1/2 an avocado, diced
juice from 1/2 a lime
generous pinches of salt and ground cumin
Directions:
In a medium bowl combine the chicken, yogurt, salsa verde, onion, cilantro, and Cotija cheese. Mix thoroughly. Gently fold in the avocado. Add the lime juice, salt, and cumin and stir again gently. Taste and adjust seasonings if necessary.
Serve wrapped in a tortilla, in a pita, with chips, or over salad greens. Or by itself.