Apple-Squash Soup with Bacon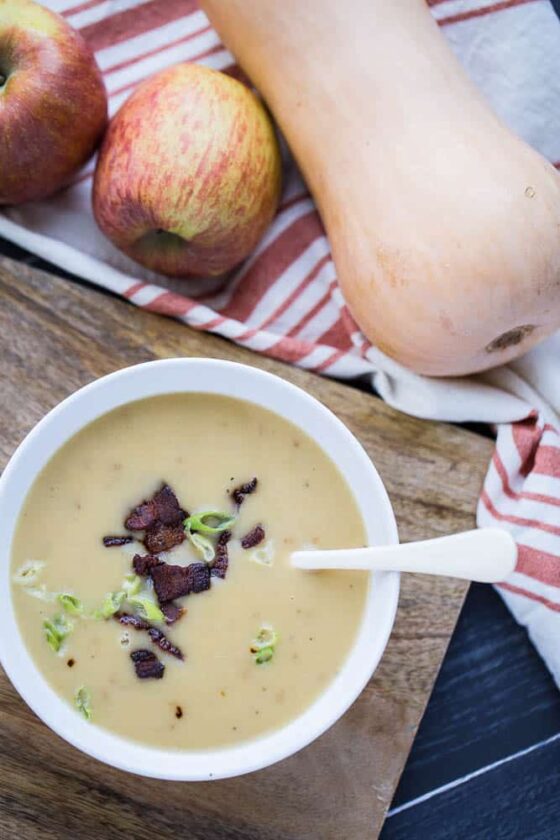 I updated this apple-squash soup recipe (formerly Apple-Cheddar Squash Soup) to be paleo and Whole30 friendly and added slow cooker and Instant Pot variations in the recipe notes!
When you see this soup in pre-pureed form you might run for cover. Chunks of onions, potatoes, apples and squash simmering away looks more like a dare than your dinner. Once you get to the end and taste the final result — it'll be come one of your favorites!
And here's a little secret — it's even better the second time around. Once I made a giant batch and froze it and I swear it was even better the second time I had it. But, that may have been because I only had to warm it up?
Confession: I always put cheese in this apple-squash soup. It's like eating a bowl of cheese fondue — I swear I'll eat like 4 bowls in one sitting if I'm left unattended. If you happen to be dairy-free, this soup is also super good without cheese.
If pureed butternut squash soup is your thing, you might want to try this Paleo Indian-Inspired Butternut Squash Soup, too!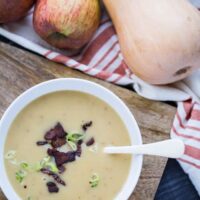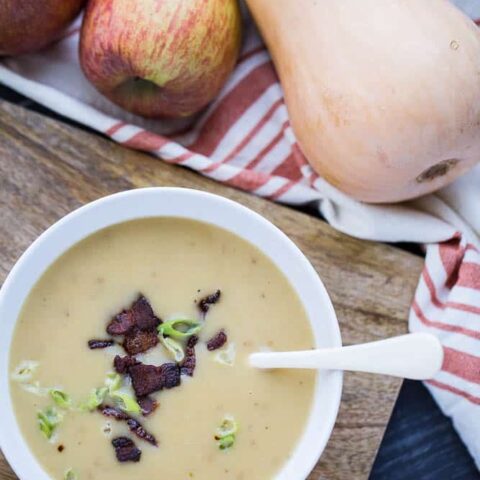 Apple-Squash Soup with Bacon
Yield: Serves 8

Prep Time: 20 minutes

Cook Time: 45 minutes

Total Time: 1 hour 5 minutes

This apple-squash soup is perfect for fall! There are paleo & Whole30 adaptations as well as stove top, slow cooker, and Instant Pot instructions.
Ingredients
10-12 ounces of thick-cut bacon (nitrate-free and uncured if possible)
1 medium onion, thinly sliced
2 medium apples, cored and thinly sliced
1 large Yukon or russet potato, diced
1 pound chopped & peeled butternut squash, fresh or frozen
1 teaspoon sea salt
1/2 teaspoon freshly ground black pepper
1/2 teaspoon dried rubbed sage
1/3 cup unsweetened apple juice or cider
1 Tablespoon tapioca or arrowroot flour
1 cup almond or coconut milk
4 cups low-sodium chicken or vegetable broth
2 Tablespoons red wine vinegar
Thinly sliced green onions, for garnish
Instructions
Cut the bacon into 1-inch pieces and cook in a large soup pot over medium heat until it reaches desired crispness, about 15 minutes. Remove the bacon with a slotted spoon and transfer it to a plate lined with a couple of paper towels.
Drain all but 4-5 Tablespoons of the bacon drippings from the pot. Return the pot to the stove and add the onion, apples, potato and squash. Season with salt and pepper and cook until the onion is soft, about 8 minutes. Stir in the sage and cider and cook over high heat, stirring, until the cider has reduced some.
Whisk the tapioca flour into the coconut milk and pour the mixture into the pot with the broth. Bring to a low boil; reduce to a simmer and cook, stirring, until the potato and squash are soft, 12 - 15 minutes.
Puree the soup with an immersion blender (or in batches in a counter-top blender) until smooth. Stir in 1 Tablespoon of the vinegar. Taste, and add more salt, pepper, or vinegar, if necessary.
Serve with a sprinkle of bacon and green onions.
SaveSave
SaveSave
SaveSave