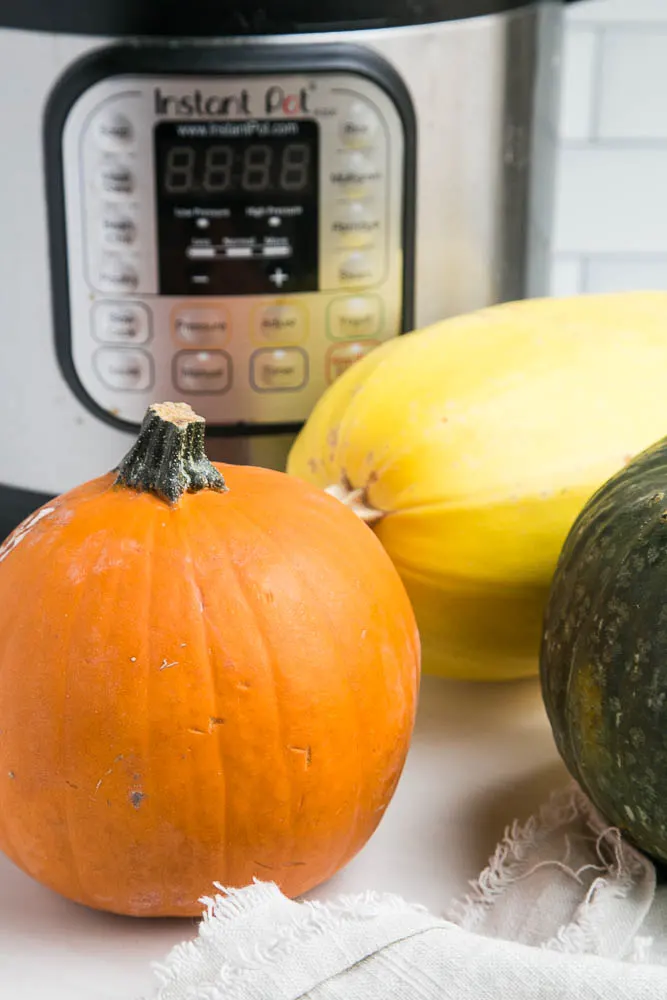 Cooking squash in an Instant Pot is ridiculously easy!
You can even make your own pumpkin puree if you're feeling ambitious. Or at the very least, mildly interested.
If you've got squash exploding out of your garden you can cook a bunch and freeze it for quick soups and sides during the winter, too.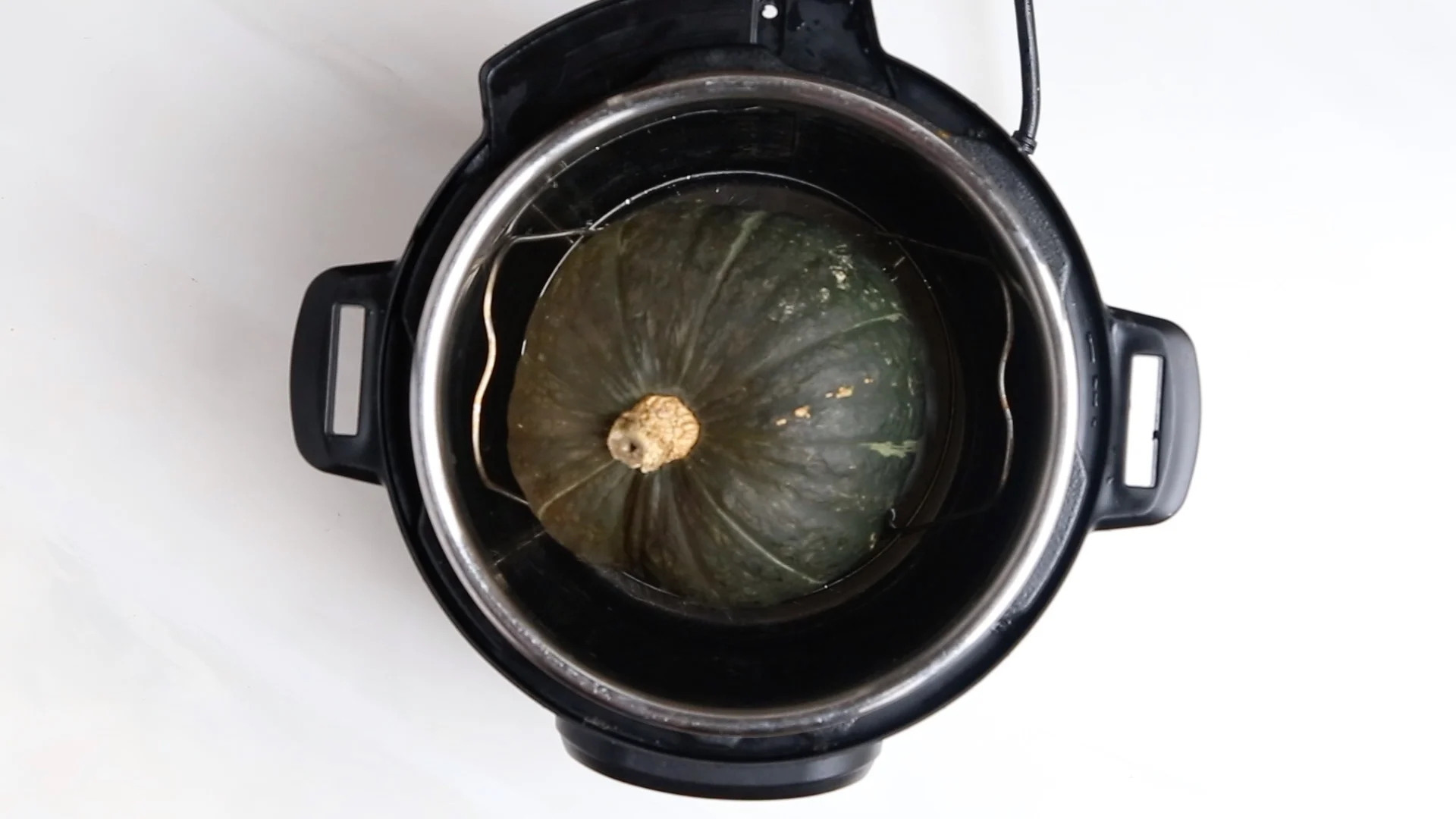 Those little pie pumpkins and smaller squashes (like acorn, kabocha, small spaghetti squash and butternuts) can be put into the pot WHOLE, which is great news.
That means you don't have to cut the squash in half and there's a 76% less chance of losing a finger. Whoop!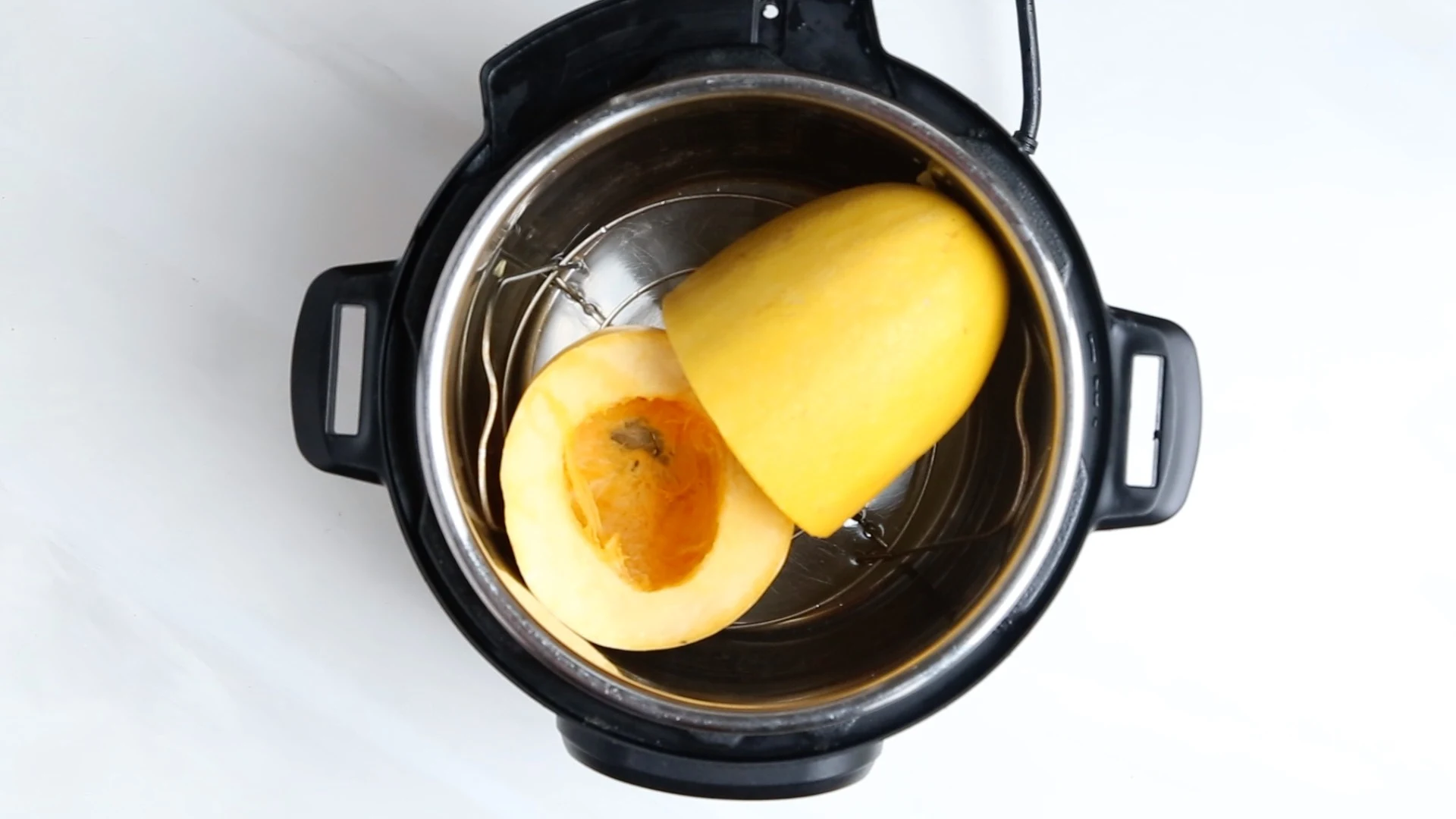 But if you can't fit the whole thing in make sure your knife is sharp. Get the knife into the middle a half inch or so deep and work your way around it until you can get it apart.
It helps to be higher up, too, so if you're on the short side, stand on a step stool so you have more leverage. Or put your cutting board on the floor.
The good news is you won't have to cook it for long. And sometimes it's easier to get all of the seeds out before it's cooked.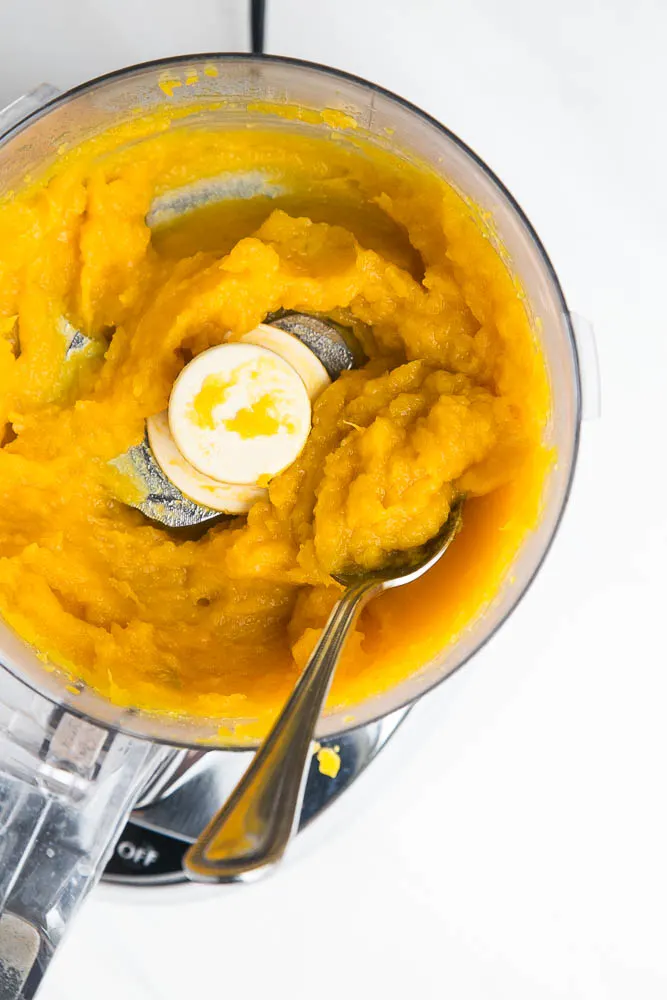 After the pie pumpkin comes out of the Instant Pot, the peel practically falls off. The pumpkin flesh is easy to scrape out, too.
Put it in a food processor or a blender and process until smooth, but DON'T ADD WATER!
Homemade pumpkin puree is already a little wetter than canned puree and you don't want it so wet that it won't be compatible with recipes that call for canned puree.
It'll also be lighter and brighter in color than store bought. (And it freezes well!)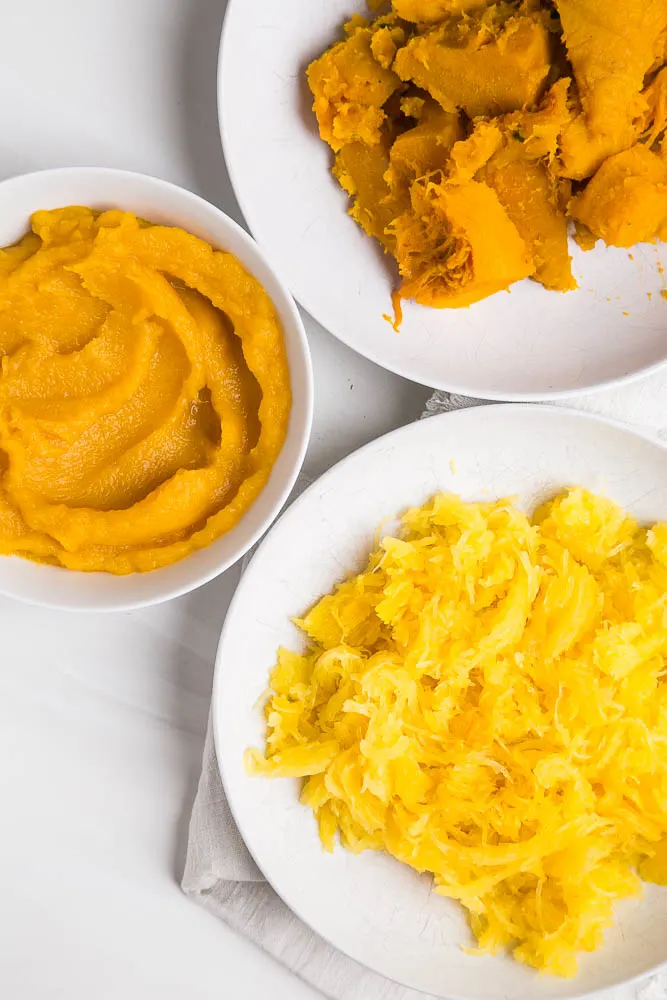 Actually, they all freeze well!
One of Steve's patients brought us three GIANT spaghetti squashes. I mean two of them were about the thickness of my thigh, and I've got pretty meaty thighs.
I'm excited to get them all cooked and frozen so I can torture my kids by making spaghetti squash bakes and silky squash soups all winter.
(Still working on them. They'll like squash eventually. Or Steve and I will have a LOT of leftover lunches.)
Look how easy it is!
If you're looking for some easy, healthy pumpkin and squash recipes, here's a run down of all of them on my site!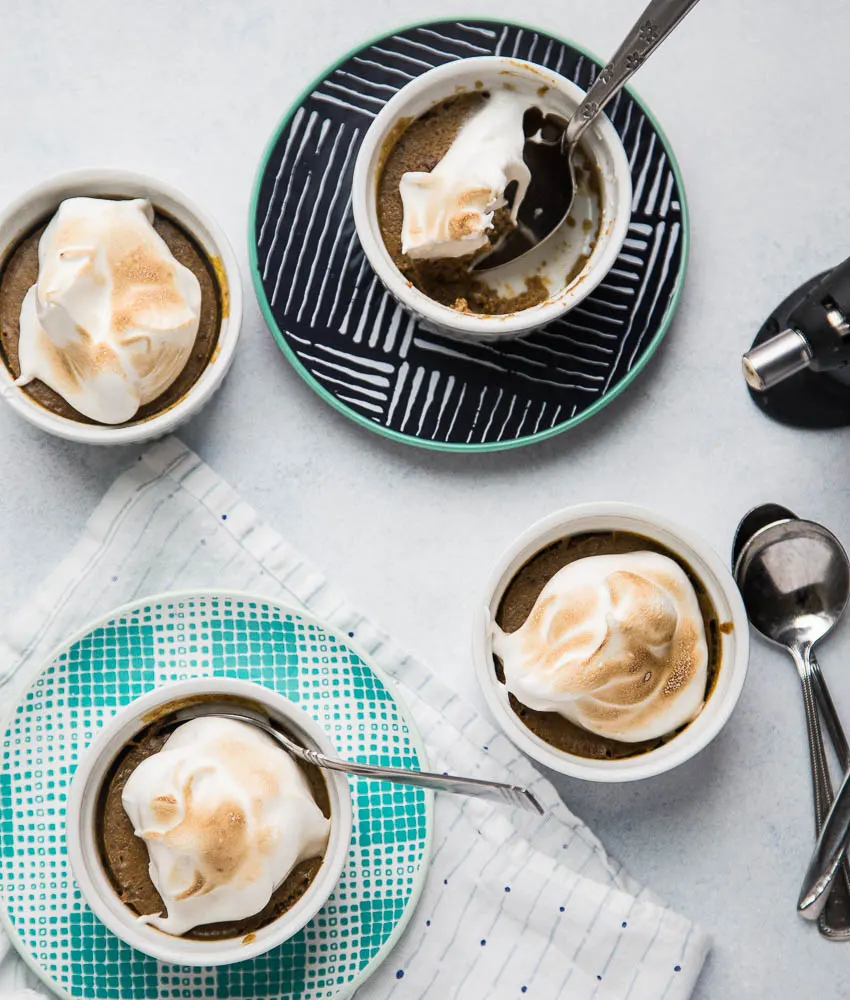 Favorite Pumpkin Recipes
Crustless Pumpkin Pie Cups for Instant Pot is a favorite from my Instant Pot cookbook — little chai-spiced pumpkin custards topped with low-carb marshmallow fluff. You'll love these!
Pumpkin Cheesecake Swirl Brownies are a long standing tradition. And we make them the real-deal way, but I also included keto adaptation in the post!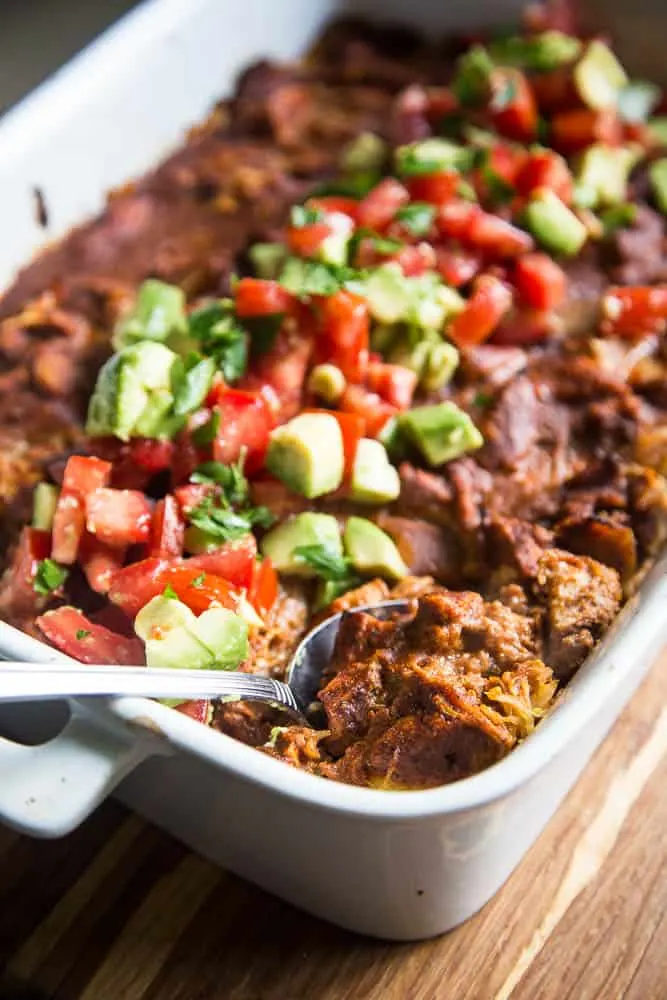 Spaghetti Squash Bakes (and more)
I'm fond of spaghetti squash bakes. What can I say?
Chicken Enchilada Spaghetti Squash Bake uses my homemade enchilada sauce!
If you're into buffalo-ing all the things you'll love this Buffalo Ranch Chicken Spaghetti Squash Bake.
This low-carb bake that mimics our favorite pizza in Boston — BBQ Pulled Pork Spaghetti Squash Bake.
This Green Chile Chicken Spaghetti Squash Bake might be my favorite of the bunch with its creamy ranch-chile sauce. Mmm.
Here's a great meatless paleo meal that's still hearty! Spaghetti Squash with Roasted Mushroom & Garlic Sauce.
And pssst… you can use spaghetti squash in place of zucchini in my Paleo Zucchini Flatbread!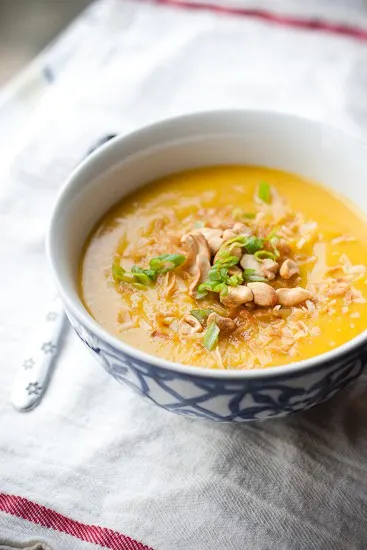 Silky Squash Soups
I've gotten so fond of smooth butternut squash soups! You can use kabocha, acorn, and other hard winter squashes in place of butternut in these recipes.
Paleo Indian-Inspired Butternut Squash Soup is my most often made squash soup, and the toppings totally take it over the top.
This Apple-Squash Soup with Bacon was my gateway into squash soups. (And if you add sharp cheddar it's like eating cheese fondue.)
Azteca Squash Soup with Chorizo is one of my favorite flavor profiles for squash! I love the sweet and spicy playing off each other.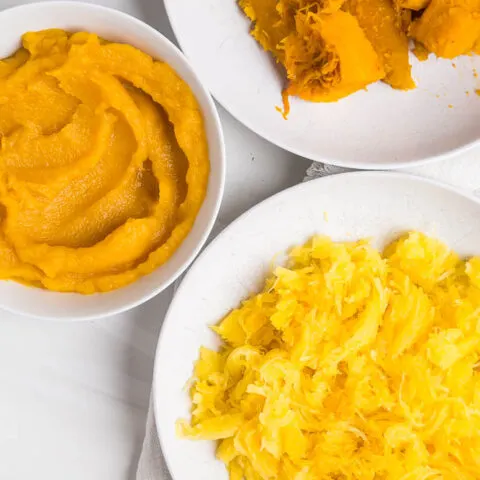 How to Cook Pumpkin and Squash in an Instant Pot
Cooking squash in an Instant Pot is the only way to go! It's super fast and easy with minimal clean up.
Instructions
Put the rack in the Instant Pot stainless insert along with a cup of water.
If the squash fits into the Instant Pot insert whole, put it on the rack and cook on high pressure for 13-18 minutes, depending on the size and type of squash (see notes).
If the squash doesn't fit whole, cut it in half, scrape out the seeds and put it in the insert. Cook on high pressure for 7-10 minutes, depending on the size and type of squash (see notes).
When the pressure cycle is finished, release the steam manually and carefully transfer the squash (or halves) to a sheet pan or large plate.
Remove the skin and seeds (if needed) from the squash. Use the squash immediately or put it in a lidded container to chill or freeze.
If you'd like to make homemade pumpkin puree, make sure all of the seeds are removed from the pie pumpkin and transfer the pumpkin flesh to a blender or food processor and process until very smooth. Chill until ready to use. Keeps in the fridge for about a week.
Notes
Types of squash & recommended cook times (add or subtract 2-3 min if squash is exceptionally larger or smaller):
Pie pumpkin -- whole: 13-15 min, halves: 7-8 min
Spaghetti squash -- whole: 15 min, halves: 7 min
Butternut squash -- whole: 18 min, halves: 13 min
Kabocha squash -- whole: 18 min, halves: 13 min
Acorn squash -- whole: 13-15 min, halves: 7 min