Paleo Butternut Squash Soup (Indian Style)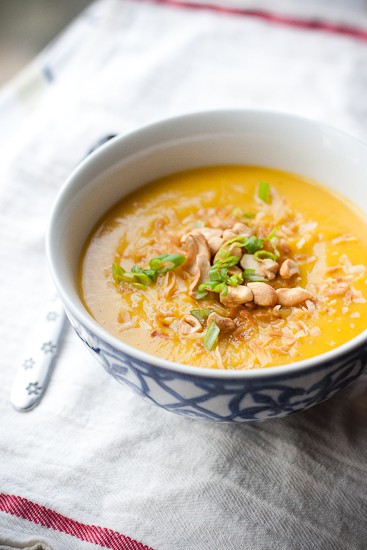 I was sifting through my file of saved recipes and came across this butternut squash soup that I had taken from Ina Garten's book, Back to Basics. I loved her condiment suggestions and skimmed the recipe to see what I would have to change to make it paleo.
You know what? IT ALREADY WAS.
It wasn't intentional, I'm sure, but I figured any recipe from Ina Garten would have to be adapted, at least a little bit.
Ok, I did switch out her oil. I don't roast anything with olive oil. But still. I was excited about this one, and left the recipe mostly as-is.
Oh, wait. She suggested putting… um…
are you ready for this?
BANANAS on the soup.
Even if I LIKED bananas, I'm not sure I'd want them on my soup. I don't even like peeling them for my kids because then my HANDS smell like bananas. (I will eat them mashed up in baked goods or frozen and made into ice cream. That's it, though.)
I think this lovely, curry-infused butternut squash soup is perfect without them, thankyouverymuch.
This soup comes together so easily and is very similar to the Apple-Cheddar Squash Soup I posted forever ago. The last time I made it I roasted the vegetables in the morning, and did the rest right before dinner. Super fast.
By the way, if you want my favorite recipes for homemade chicken stock or homemade curry powder, see the posts below!
Paleo Butternut Squash Soup (Indian Style)
Yield: Serves 4-5
Prep Time: 15 minutes
Cook Time: About an hour
Total Time: About an hour and 15 minutes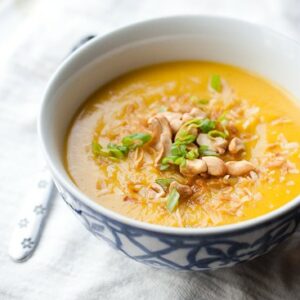 Ingredients:
1 large butternut squash

2 yellow onions

2 apples, preferably sweet

3 Tablespoons coconut oil, melted

1 quart chicken stock

1/2 teaspoon curry powder

2 Tablespoons white wine vinegar

salt and pepper
Condiments for serving:

Thinly sliced green onions

Flaked coconut, lightly toasted (I've used both sweetened and unsweetened.)

Roasted, salted cashew pieces
Directions:
Preheat oven to 425 degrees F.
Peel the butternut squash, remove the seeds, and chop into 1-inch cubes. Peel and chop the onion into 1-inch cubes. Chop the apple into 1-inch cubes. (No, I don't peel them.)
Place all of the cubes in a large bowl and toss them with the coconut oil, 1 teaspoon salt, and 1/2 teaspoon pepper. Divide the cubes on two rimmed baking sheets and spread evenly in a single layer. Roast for 35-45 minutes, tossing once or twice, until very tender.
Transfer the vegetables to a large pot and add the chicken broth. Add curry powder and let it simmer for 5-10 minutes. Blend using an immersion blender or work in batches using a regular blender. The soup should be smooth. Stir in white wine vinegar.
Ladle soup into bowls and sprinkle with condiments.
Nat's Note: The condiments make this soup SO good. Don't leave them out!
Adapted lightly from Ina Garten
Disclosure: This post contains an Amazon.com affiliate link.