I discovered a blog recently that features mostly, if not entirely, gluten-free recipes. (It was actually a post about
Homemade Nutella
that got my attention.) After making her Tangy Peanut Sauce to go on these wraps,
Elana's Pantry
has won me over. I love this sauce. If I had to be placed in a bathtub full of my choice of condiment, it would be this. Just make sure there's a gigantic veggie tray beside that bathtub.
Oh yes, the wraps. They were good too. You could put whatever vegetables you wanted in these, and as long as you poured a bunch of that sauce over top, it would be awesome. Did I mention how much I loved it?
I updated this post and reworked these into spring rolls! You can find the recipe here: Thai Chicken Spring Rolls with Spicy "Peanut" Sauce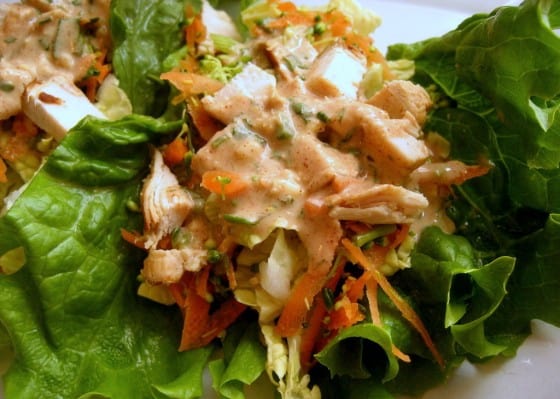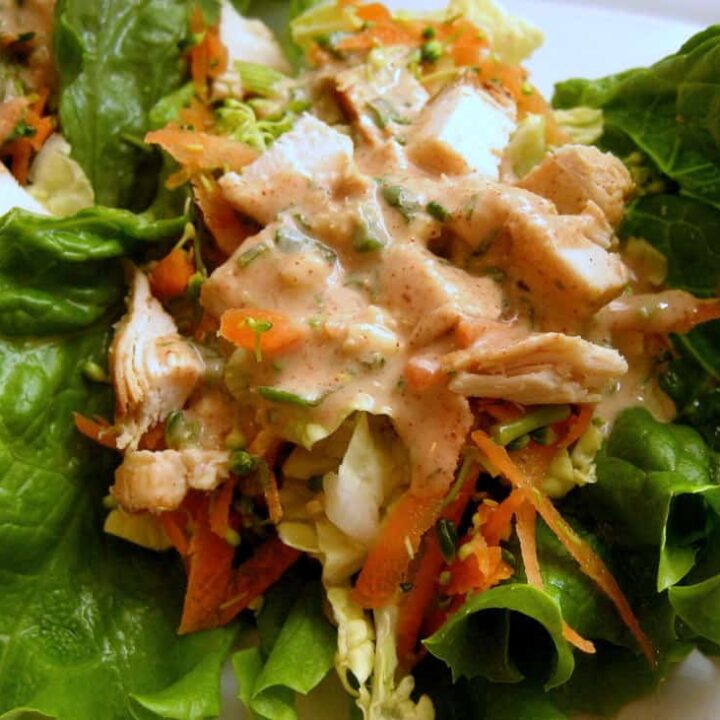 Thai Chicken Wraps + Tangy Peanut Sauce
I love how fresh and light these lettuce wraps are. The tangy "peanut" dressing (with or without peanuts) ties everything together. You may be tempted to drink it with a straw.
Ingredients
For the wraps:
12 Bibb or Romaine lettuce leaves
4 Napa cabbage, leaves thinly chopped
1 pound chicken breast, grilled and then diced into ½-inch cubes
1 cup raw broccoli, finely chopped
1 cup shredded carrots
¼ cup scallions, thinly sliced
For the peanut sauce:
½ cup peanut butter or creamy roasted almond butter
¼ cup lime juice, freshly squeezed
2 teaspoons fish sauce
2 teaspoons sesame oil
2 teaspoons rice vinegar
2 teaspoons honey
¼ cup water
¼ cup cilantro, minced
2 cloves garlic, pressed
2 teaspoons ginger, freshly minced or grated on a Microplane zester
1 teaspoon chili powder or diced jalapeno pepper
Instructions
To make the peanut sauce:
In a quart jar, combine nut butter, lime juice, fish sauce, sesame oil, vinegar, agave and water. Seal jar and shake well.
Add cilantro, garlic, ginger and chili powder and shake again until ingredients are well combined. Store in the refrigerator. Keeps for a week or so. Use as a dip for jicama and cucumber, or serve over salad or spring rolls. It's also great over fish or chicken or sucked through a straw. (OK, maybe too far.)
To assemble the wraps:
Spread out the lettuce leaves. Place a tablespoon of each into the leaf: cabbage, chicken, broccoli, carrots and scallions.
Drizzle with peanut sauce and serve. Serves 4
Notes
Nat's Notes:
I looked for ume plum vinegar, but had no luck. I had no idea what it is. (So I looked it up.) I used rice vinegar because I had it on hand. White wine vinegar would also work well.
I used almond butter. I was surprised how "peanutty" the sauce still tasted.
To simplify things, I put the cabbage, broccoli, carrots and scallions into a bowl and mixed them together. This mixture is also good alone with the peanut sauce and served as a slaw/salad.