These delicious Mediterranean-inspired bowls have ultra-seasoned crispy ground turkey and can be customized how you like. I love that they're done in under 30 minutes and always a hit with our kids!
Lean ground turkey has a reputation for being bland and dry and boring, right?
Well. There are a few tricks you can use to make sure your sauteed turkey is flavorful and your turkey burgers and turkey meatloaf will actually get some compliments.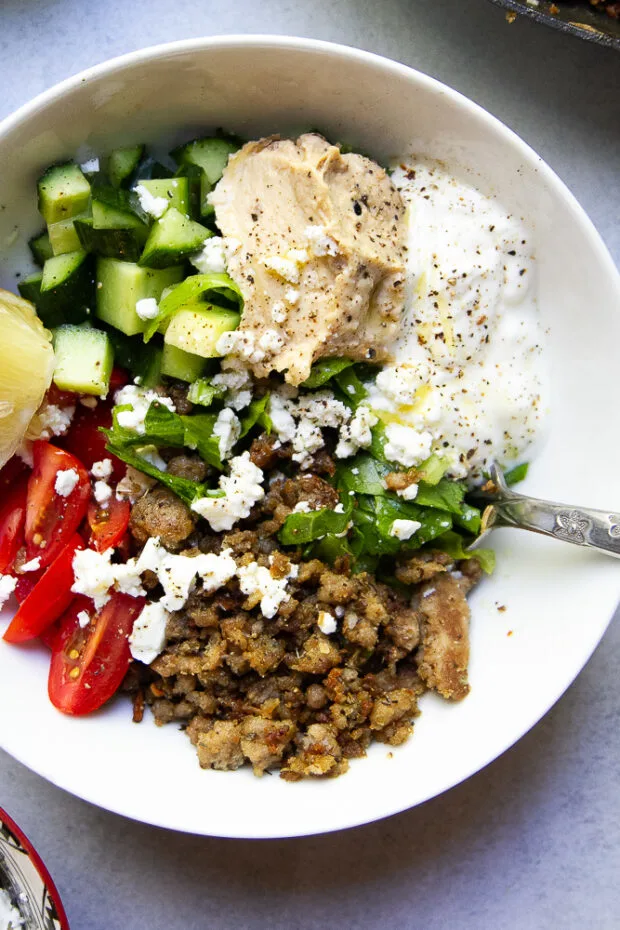 How to Cook Ground Turkey
Here are a few of my best tips on how to cook ground turkey so it actually tastes good.
Add moisture
If you're making turkey burgers or meatloaf,, add some shredded zucchini, shredded carrots, minced bell peppers, or another type of quick cooking vegetable to the ground meat. It will release some moisture as it cooks and a great way to keep those burgers moist.
Add fat
It seems counterintuitive to add fat to really lean ground turkey because the appeal of ground turkey is that it's an extremely lean protein.
Some say it's a healthier alternative to beef, but I'd rather define "healthy" according to the way meat is sourced. Grass-fed beef is far healthier than conventional red meat and poultry you find in the grocery store. I digress….
I'm not saying that you should go nuts here, but a little bit of fat will go a long way. Try adding a little peanut butter along with some Thai-inspired ingredients to your turkey burgers!
Add LOTS of flavor
Ground turkey has a very mild flavor (like chicken) and is an excellent blank slate for bold flavors. Use a heavy hand with that seasoning or other bold ingredients — like soy sauce, chili powder, or worcestershire sauce.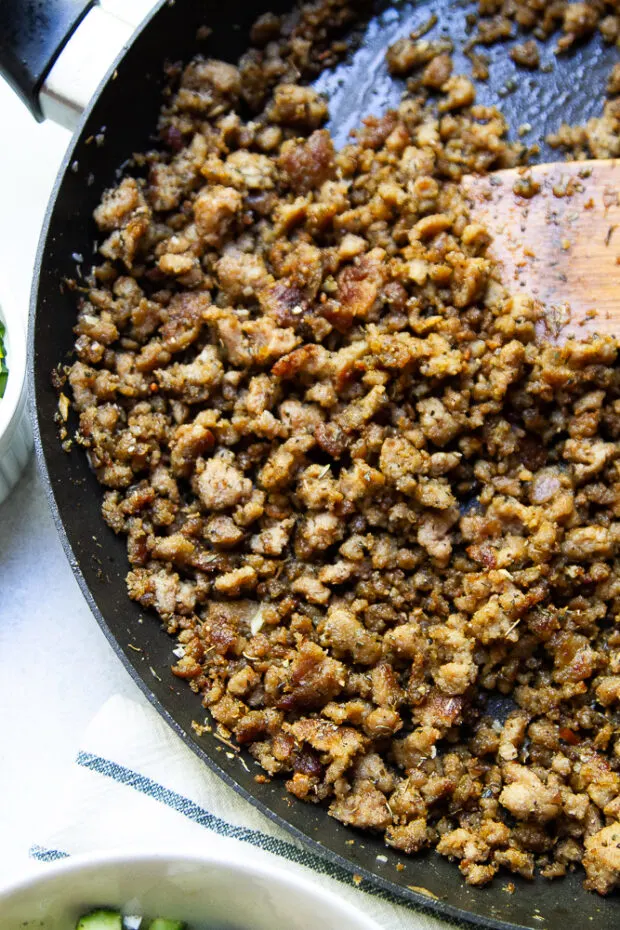 How to make Crispy Ground Turkey
For these bowls, I used two of the techniques above to create boldly flavored ground turkey bits that are crisped up on the edges.
Start off by cooking the ground turkey until it's cooked through with an appropriate internal temperature. So, when it isn't pink anymore. Then take it a step further…
Raw ground turkey is weird and mushy, right? A pound of ground turkey doesn't crumble quite as nicely in the beginning like ground beef does. Be patient. It'll get there. Let the ground turkey get really, really browned.
Using extra avocado oil and extra seasoning blend (along with an extra few minutes at medium-high heat in the skillet) does a great job at creating a better texture and flavor of the ground turkey meat.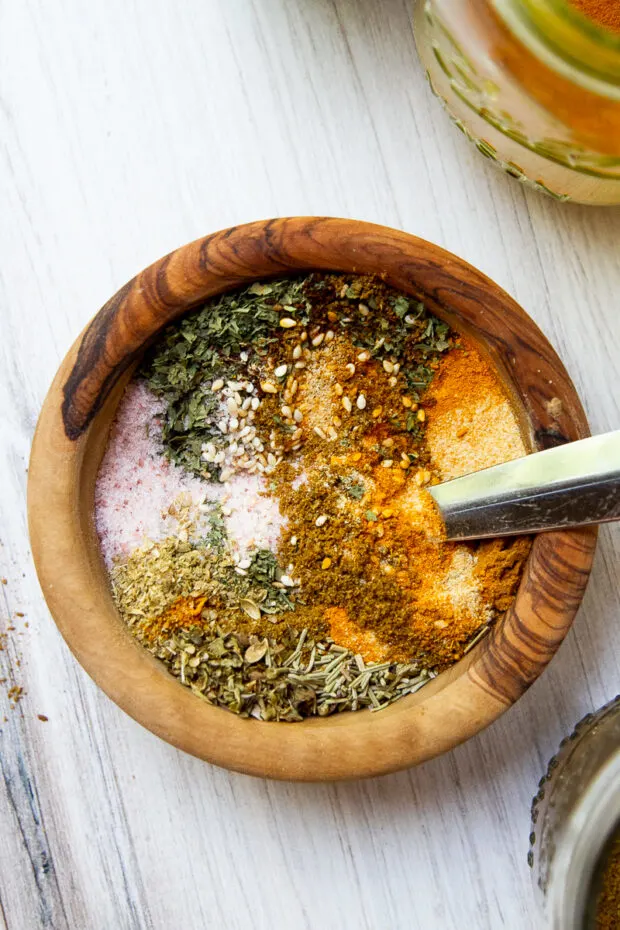 Seasoning the Ground Turkey
My favorite seasoning blend for this particular recipe is my Middle Eastern Seasoning. It has a lot of herbs and a bit of curry. Steve said this turkey tasted a little like falafel — to give you an idea of the flavor.
It doesn't have any unusual spices or herbs. It's heavy on the garlic powder, cumin, and dried parsley and all of the ingredients are easy to find in the grocery store. You can also use this seasoning in my Gyro-Inspired Shredded Beef!
My Greek Seasoning is also really good here as well as any other Middle Eastern-ish type of seasoning like Za'atar or the North African blend, Ras el Hanout.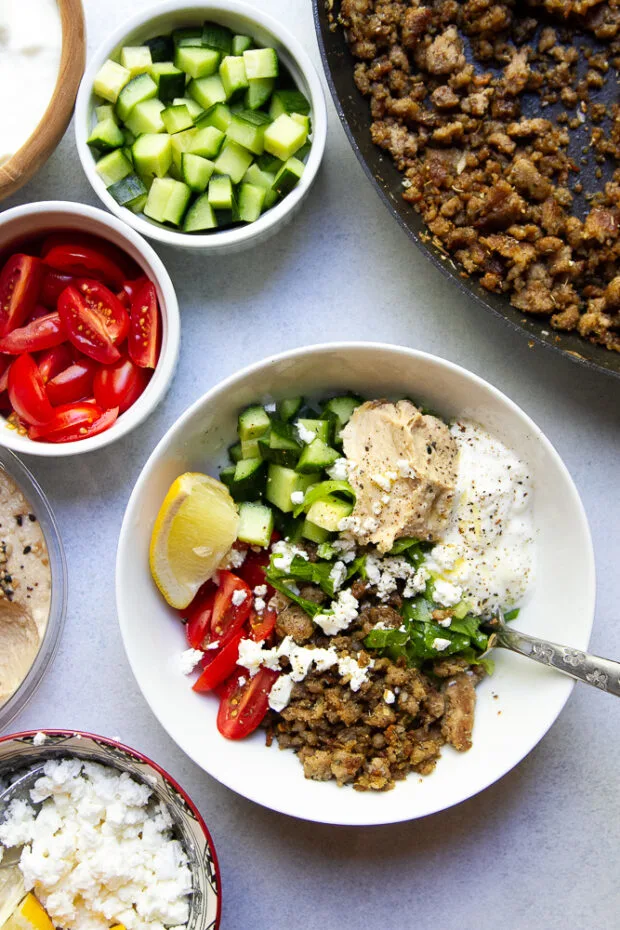 Assembling the Mediterranean Ground Turkey Bowls
One of my most favorite meals is my Gyro-Inspired Shredded Beef made into a bowl like this with Tzatziki sauce and Cucumber Tomato Salad with Feta. It's not a last-minute dinner you can make on the fly in 30-minutes. It's more like something that I'd cook for company and one of the most delicious meals that my family loves.
These easy turkey bowls are a shortcut version of this made with the same seasoning and most of the same components! It's literally one of the best ground turkey recipes I've ever had.
You can adapt this how you like to fit your taste or dietary preferences, but this is what I used:
Steamed rice or salad greens as a base
English cucumbers
Cherry tomatoes
Feta cheese
Hummus
Plain Full-Fat yogurt (or Greek yogurt)
Fresh lemon juice
extra-virgin olive oil
One of my favorite things about this meal is that it allows my kid to assemble their own bowls.
The best way to avoid complaints about dinner is to give your kids some control over what they're eating. Build your own bowls are PERFECT for this. (And why we have taco salads/bowls so frequently!)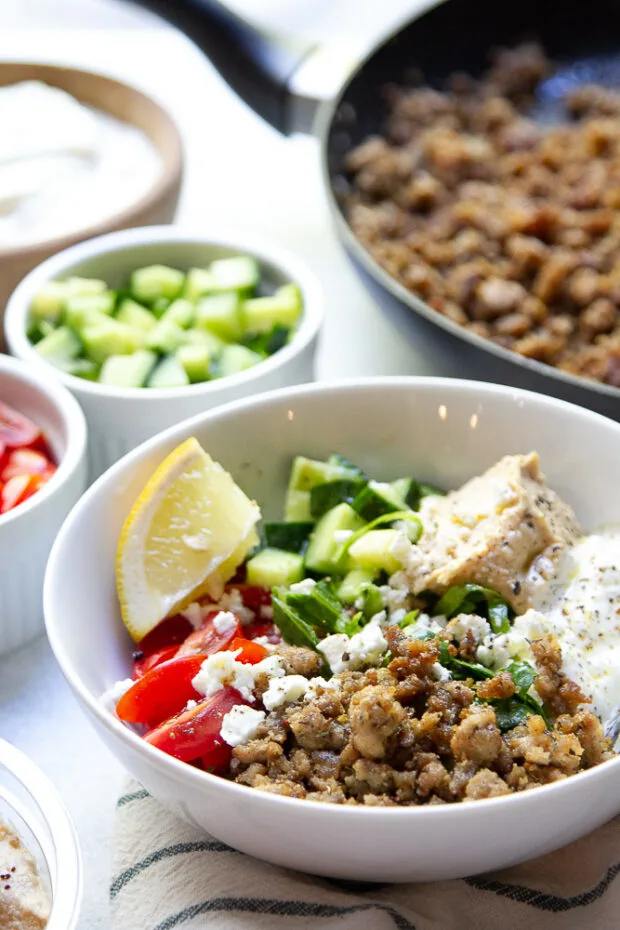 Ground Turkey for Meal Prep
This recipe would also make a great meal prep for a week's worth of lunches or dinners for busy weeknights for one person!
Just store each component in an airtight container or assemble each meal in those meal prep containers — saving the drizzle of olive oil and lemon juice right before serving.
You know…. this technique would make fabulous filling for ground turkey tacos by using your favorite taco seasoning!
Adding a little extra color to your ground meat is helpful when you're making sloppy joes or turkey chili. Grab a can of tomato sauce and try using ground turkey in my Healthy Sloppy Joe's recipe!
If you like this recipe, check out some other easy ground turkey recipes on my site!
More Ground Turkey Recipes on Perry's Plate
Moroccan Paleo Turkey Chili is a delicious and unique spin on a chili recipe! It's one of my favorite recipes for fall because it's light healthy dinner, yet still incredibly filing.
These Thai Chicken Lettuce Wraps can be made with ground turkey, too! They can also be made into bowls if you don't want to bother with lettuce wraps.
Green Chile Turkey Burgers are so full of flavor and adding some guac-ranch and a fried egg gives the burger extra richness and flavor!
Italian Stuffed Paleo Stuffed Zucchini is stuffed with "turkey sausage" which is just ground turkey with some fresh herbs! You can use bulk Italian turkey sausage, too, if you can find it.
---
If you make one of my recipes, be sure to post it on social media and tag me at @perrysplate or #perrysplate so I can send you some love!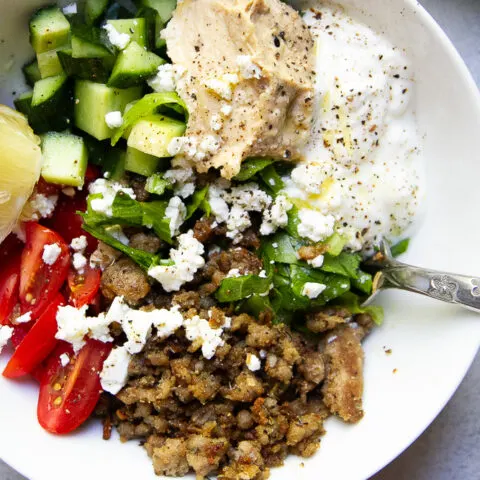 Mediterranean Ground Turkey Bowls
These delicious bowls have ultra-seasoned crispy ground turkey and can be customized how you like. I love that they're done in under 30 minutes and always a hit with our kids!
Ingredients
4 Tablespoons avocado oil, divided
1 1/2 pounds ground turkey
1 English cucumber, diced
1-2 cups halved cherry tomatoes
1 cup crumbled feta cheese
Steamed rice or chopped salad greens
2 lemons
Extra-virgin olive oil
Hummus & plain yogurt, for garnish
Instructions
Start cooking your rice, if you are choosing to use it as a base for your bowl.
Heat 1 Tablespoon of avocado oil to high heat in a large skillet. Add the ground turkey and cook for 10-12 minutes, breaking it up with a spatula, until it is cooked through and starting to get golden brown in spots.
Add the remaining 2 Tablespoons avocado oil and seasoning to the turkey. Continue to cook, breaing the turkey into even smaller pieces, until it is very golden brown and crisped up, another 5-10 minutes.
Meanwhile, prep your bowl ingredients.
Assemble the bowls by scooping some rice or salad greens into a bowl. Top with a few spoonfuls of seasoned turkey, cucumbers, tomatoes, hummus, plain yogurt, and feta. Squeeze 1/4 lemon over the whole bowl and drizzle with about 1 Tablespoon of extra-virgin olive oil. Add some freshly ground pepper and a spicy condiment, if desired. I recommend chili crunch or harissa paste for this bowl, but you can use sriracha if you like.
Notes
1. I love the MIddle Eastern Seasoning with this recipe, but there are a few others that would be great as well. Try using my Greek Seasoning, Za'atar Seasoning, or another bold Mediterranean-inspired seasoning blend.
Nutrition Information
Yield

6
Serving Size

1
Amount Per Serving
Calories

653
Total Fat

46g
Saturated Fat

13g
Trans Fat

0g
Unsaturated Fat

29g
Cholesterol

166mg
Sodium

2868mg
Carbohydrates

24g
Fiber

5g
Sugar

7g
Protein

40g
The information shown is an estimate provided by an online nutrition calculator. It should not be considered a substitute for a professional nutritionist's advice.