These Asian-inspired spicy ground turkey bowls come together quickly and are a tasty weeknight dinner served alongside dreamy coconut rice and some marinated cucumbers. Don't stress — it can be as spicy or mild as you prefer.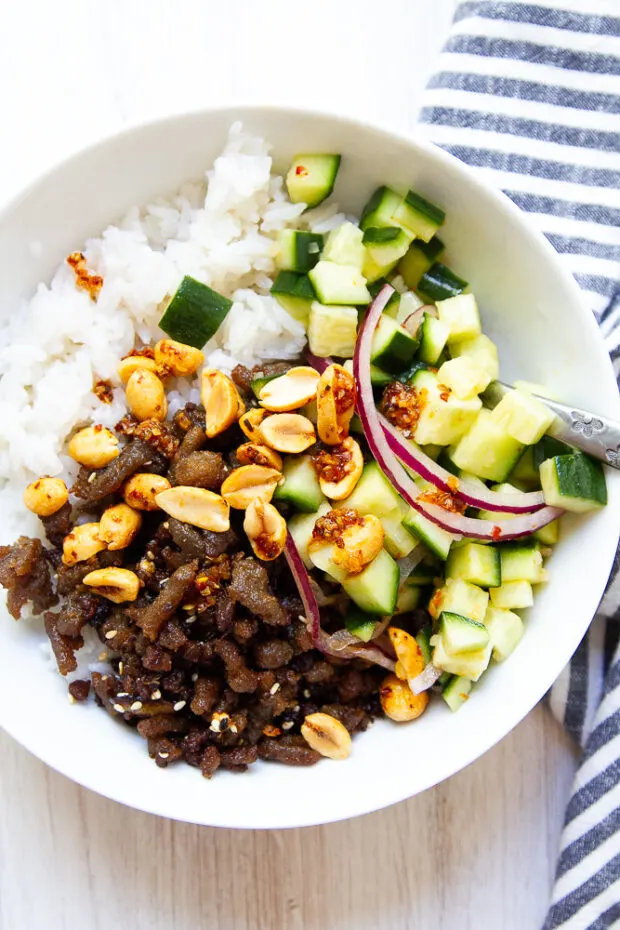 Ground turkey recipes are becoming favorites of mine lately. I love how versatile lean ground turkey is and how it cooks up in just a few minutes and makes an easy, healthy weeknight meal.
If you tried my Easy Mediterranean Ground Turkey Bowls, this will seem familiar to you. I used the same method to transform that ground turkey (or turkey mince) into crispy, flavorful bits of heaven.
Except this time, it has some heat and a garlic-sesame-soy flavor profile.
I paired the spicy ground turkey with my favorite coconut rice and some marinated cucumbers for some tang. Finished off with a sprinkle of roasted peanuts and more of my favorite spicy condiment which I'll get to shortly.
How to Make Spicy Ground Turkey
I used the same technique of crisping up the ground turkey in a little extra olive oil or avocado to create those crusty edges and deeper flavors. Use whatever kind of skillet you prefer.
For this particular recipe, I used lots of garlic, sesame oil & seeds, and soy sauce/tamari.
Spicy Condiment Options
You can adjust the spice level to be as spicy or as mild as you like and use whatever spicy condiment you prefer!
I love chili crunch, which is a mixture of dried onion, dried garlic, and chili flakes mixed with oil. Trader Joe's has a great version, but you can also find it online.
I recommend a neutral or an Asian-style spicy condiment (I wouldn't use a Mexican hot sauce). You can also use any of these to add heat to your ground meat:
crushed red pepper flakes
cayenne pepper
sambal oelek (a chili-based condiment found in the Asian aisle of the grocery store)
sriracha
Making the spicy marinated cucumbers
These are similar to my Simple Marinated Cucumbers. If you haven't had those, they're delicious and super versatile. They're probably the most often made veggie side dish we have around here.
For these bowls I wanted to give these cucumbers a little more spunk. I diced them instead of slicing them thinly, added some thinly sliced red onion, and some heat to the vinegar dressing.
Which ever spicy condiment you added to the turkey works for these too!
Assembling the ground turkey bowls
When your coconut rice is finished, spoon some into a bowl, add some of that tasty ground turkey, a big heap of marinated cucumbers, and whatever other garnishes you like!
Garnish ideas:
Roasted Peanuts (Trader Joe's has some Chili Onion Peanuts that are super good!)
More spicy condiment (mmm. yes.)
Chopped fresh cilantro
Toasted sesame seeds
Sliced green onions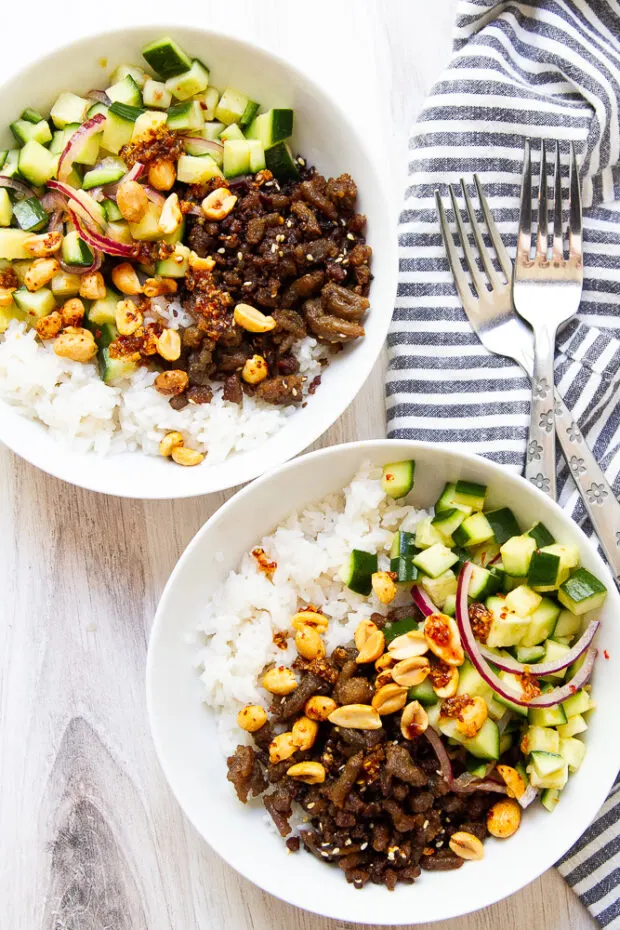 Ingredient substitutions
WHITE RICE: Make coconut brown rice instead (and add more water/coconut milk to make the ratio appropriate for brown rice). If you're avoiding rice completely, try making quinoa. Or Roasted Cauliflower Rice.
SOY SAUCE: Try using tamari — it's a wheat-free fermented version of soy sauce that's super delicious. If you're avoiding all soy products completely, I'd recommend using coconut aminos.
CUCUMBERS: Not a cucumber fan? Add some quick-cooking vegetables to the turkey during the last 5 minutes of cooking to make a stir fry. Ground turkey stir fry would be good with green beans, small broccoli florets, trimmed asparagus, or thinly sliced zucchini or summer squash.
TIPS:
Get the coconut rice started first, followed by the marinated cucumbers. That way your rice will finished and your cucumbers will be flavorful when your turkey is finished.
Cook your turkey longer than you think you need to. Get it really toasty and brown — the crispier the better!
When adding your spicy condiment, start slow and taste as you go along. You can always add more, but if there's too much in there….
Use the turkey meat in lettuce wraps if you don't want to make bowls! Or serve it with some Asian-style salad or slaw.
This is a great option for meal prep! Divide the rice and seasoned ground turkey and condiments in small microwave-safe containers. Store the cucumbers separately (it will keep for up to a week!) and add them to the bowl after you've reheated the rest.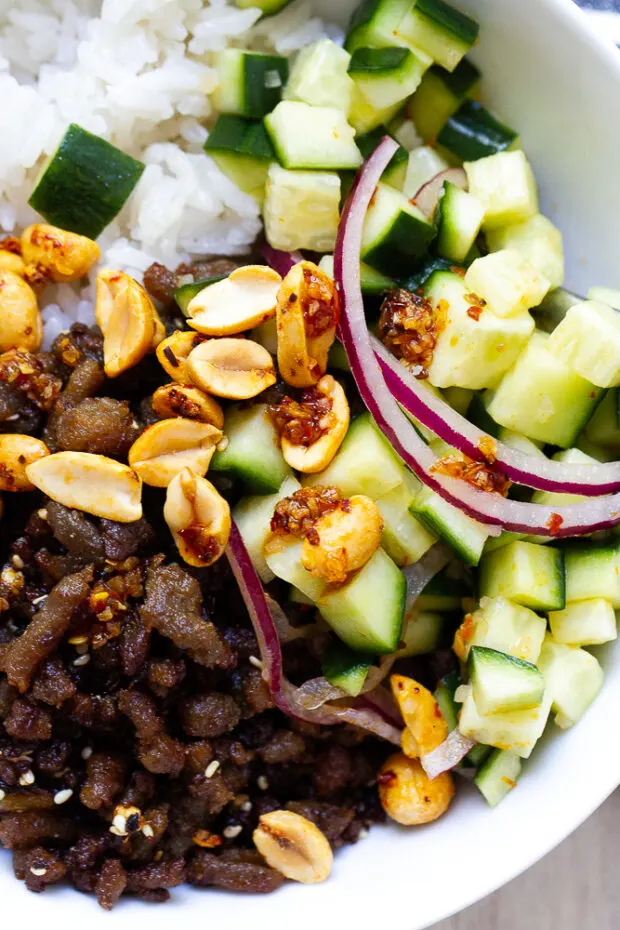 More Healthy Ground Turkey Recipes:
If you like this recipe, try one of my other recipes featuring ground turkey!
Mediterranean Ground Turkey Bowls
Green Chile Turkey Burgers with Guac-Ranch
Moroccan Paleo Turkey Chili
Thai Turkey Lettuce Wraps
Italian Paleo Stuffed Zucchini with Turkey Sausage
---
If you make one of my recipes, be sure to post it on social media and tag me at @perrysplate or #perrysplate so I can send you some love!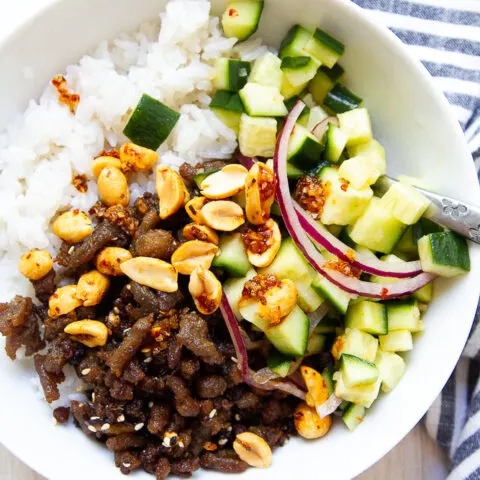 Spicy Ground Turkey Bowl with Coconut Rice
These Asian-inspired spicy ground turkey bowls come together quickly and are a tasty weeknight dinner served alongside dreamy coconut rice and some marinated cucumbers. Don't stress -- it can be as spicy or mild as you prefer.
Ingredients
For the Cucumbers
1 1/2 English Cucumbers, diced
1/4 small red onion, thinly sliced
1/3 cup rice vinegar
1 Tablespoons sweetener
1 1/2 teaspoon salt
1-3 teaspoons chili crunch or sambal oelek, to taste
For the Turkey Bowls
2 Tablespoons coconut oil
2 shallots, thinly sliced
1 1/2 pounds ground turkey or chicken
3 garlic cloves, Microplaned or grated
2 Tablespoons soy sauce or tamari
3 Tablespoons sesame oil
1-3 Tablespoons chili crunch or sambal oelek, to taste
sesame seeds
Garnishes: roasted peanuts, additional spicy condiment of choice, thinly sliced green onions, and/or chopped fresh cilantro
Instructions
Get your coconut rice started.
Make the marinated cucumbers by putting the cucumbers and sliced red onions in a medium sized bowl. In a small bowl or liquid measuring cup, combine the ingredients for the dressing (rice vinegar, sweetener, salt, spicy condiment) and add 1/3 cup of water. Pour over the cucumbers and onion and toss well. Set aside while you prep the turkey.
Heat the coconut oil in a large skillet over medium-high heat. Add the sliced shallots and cook for 2-3 minutes until they're soft.
Add the ground turkey, turn up the heat to high, and cook, stirring often, until the turkey is cooked through and starting to form golden brown bits. Reduce the heat if it starts to scorch. Usually it won't since the turkey releases quite a bit of liquid.
Add the garlic, soy sauce/tamari, sesame oil, and chili crunch (or whatever spicy condiment you like). Continue to cook, stirring often, until the turkey is mostly covered in deep golden brown spots and has lots of crispy edges. There shouldn't be much, if any liquid in the pan either.
Remove from heat and assemble bowls by adding some coconut rice to each bowl along with as much spicy ground turkey and marinated cucumbers as you like. Top with your choice of garnishes.
Notes
I like to use coconut sugar when I make marinated cucumbers, but you can use any granulated sweetener you like. If you use a liquid sweetener it doesn't always distribute evenly in the dressing unless you pop in in the microwave and warm it up.
Recommended Products
As an Amazon Associate and member of other affiliate programs, I earn from qualifying purchases.
Nutrition Information
Yield

6
Serving Size

1
Amount Per Serving
Calories

651
Total Fat

46g
Saturated Fat

16g
Trans Fat

0g
Unsaturated Fat

24g
Cholesterol

151mg
Sodium

1535mg
Carbohydrates

20g
Fiber

3g
Sugar

9g
Protein

41g
The information shown is an estimate provided by an online nutrition calculator. It should not be considered a substitute for a professional nutritionist's advice.