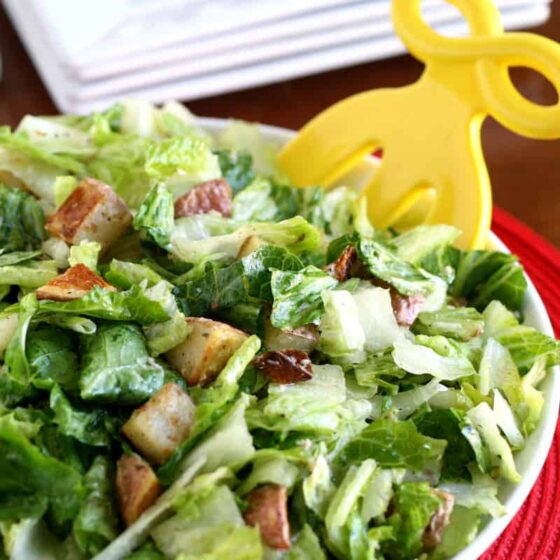 I've already told you how much I love The Roasted Vegetable
by Andrea Chesman. I checked it out from the library several weeks ago and fell so in love with it that I ordered it from Amazon.
I love roasted vegetables, so naturally I want to make every single thing in this book. The next two recipes I have for you are ones that I adapted from her book. The Chipotle-Roasted Vegetable Layered Salad was fantastic and flavorful, and the roasted potato salad I'm sharing with you today didn't disappoint, either.
It's kind of a quirky salad. Is it a lightened potato salad or a green salad with substance? I like to think of it as a wonderfully dressed green salad with roasted potatoes in place of croutons. I especially loved the Parmesan-Herb dressing as it complimented both the greens and the potatoes well.
We ate this as a light lunch, but it would also be great alongside a big, juicy steak. Or chicken. Or with bacon crumbled over top. (Most things are great with bacon crumbled on top, so that's no surprise.)
Disclosure: This post contains Amazon affiliate links. Purchases made by using these links doesn't cost you any extra and helps to keep my content free.
---
If you make this recipe, be sure to post it to social media and tag me at @perrysplate or #perrysplate so I can send you some love!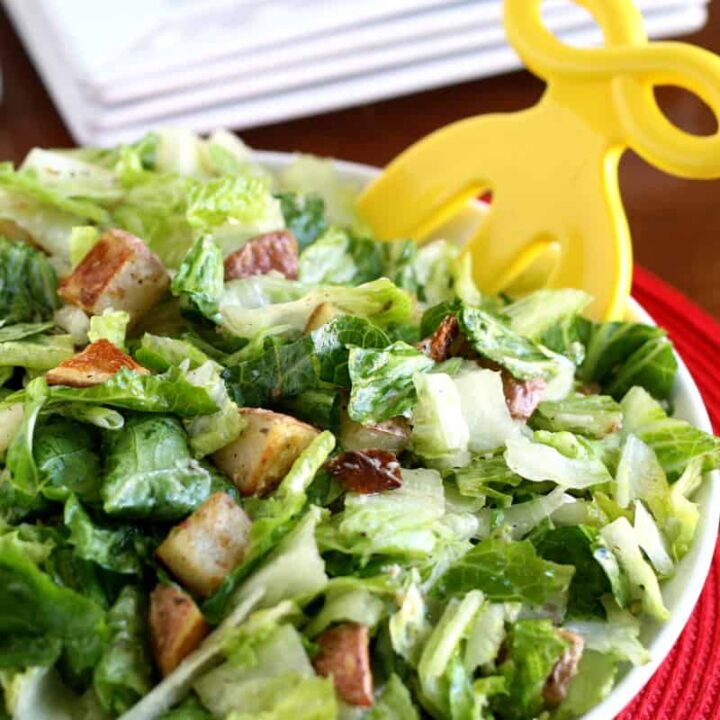 Roasted Potato Salad with Parmesan-Herb Dressing
Yield:
2-3 main dish or 4-6 side dish servings
Bits of roasted potatoes make this salad a bit heartier. And are a fun gluten-free replacement for dried out croutons.
Ingredients
2 Tablespoons red wine vinegar
2 teaspoons Dijon mustard
1/3 cup extra virgin olive oil
Sea salt and freshly ground black pepper
1 1/2 pounds new potatoes or small red potatoes, cut into 1-inch chunks
1 shallot, minced (or 1 Tablespoon minced onion and/or garlic)
1/3 cup finely grated Parmesan cheese
6 cups (about 10 ounces) mixed salad greens
2 teaspoons mixed dried (or 1/4 cup fresh) herbs such as oregano, basil, marjoram, parsley, thyme, and sage (I used an Herb de Provence blend)
sliced tomatoes and cucumber for garnish (optional)
Instructions
Preheat oven to 425 degrees F.
Prepare a rimmed baking sheet with non-stick spray. Whisk together the vinegar, herbs (if using dried), and mustard in a small bowl. Slowly drizzle in the oil, whisking until fully combined and thickened. Season with a pinch or two of salt and pepper, to taste.
Place the potatoes and shallot on the rimmed baking sheet. Drizzle with 3 T of the vinaigrette and use hands to toss the mixture, ensuring the potatoes are coated. Arrange them in a single layer on the baking sheet. Roast for 30-40 minutes, until the potatoes are lightly browned and tender when pierced with a fork. Stir every 10 minutes or so for even cooking. When they're finished, sprinkle with half of the cheese, toss to coat, and set aside.
Just before serving, combine the greens, potatoes, remaining cheese, and remaining vinaigrette in a large bowl. If you're using fresh herbs, now is the time to add them. Toss to mix. Season with additional salt and pepper to taste. Garnish with tomatoes.